My three year old daughter came up with the best birthday party theme ever: a sprinkles birthday party. Colorful, sweet, whimsical, original: this sprinkles party had everything you could want from a birthday party theme.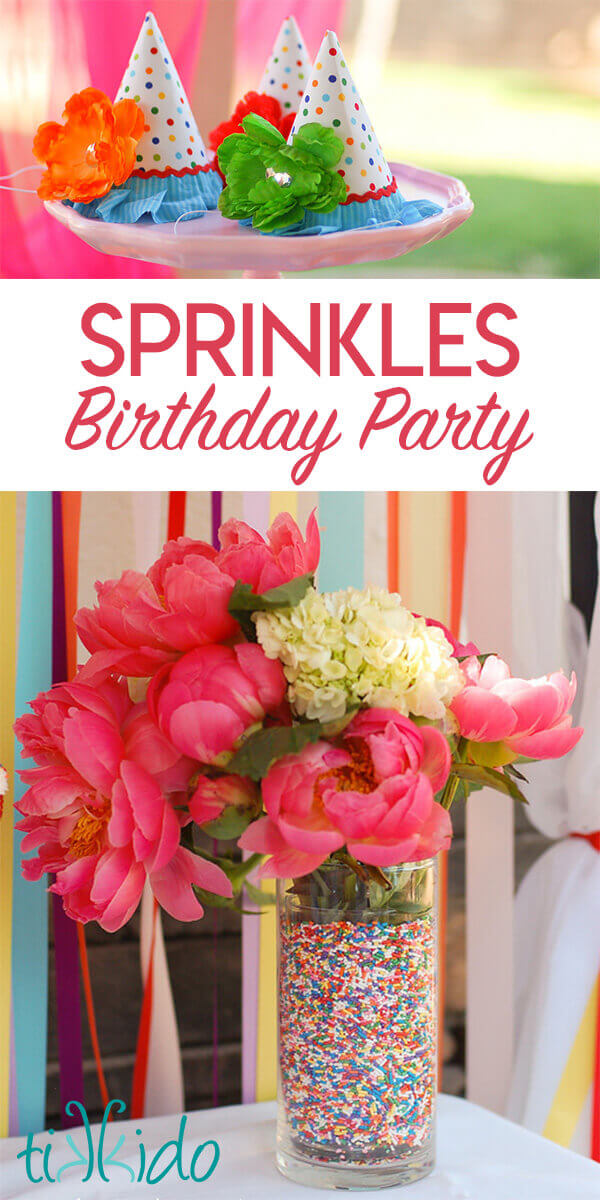 Some objects seem to carry an intrinsic joy. Bubbles. Balloons. You know what I mean--those simple delights of childhood that make children squeal with delight and make adults smile with happy memories.
Sprinkles are like that, too. What a simple way to add fun to an ice cream cone or a cake--suddenly, the treat is a celebration. That's why I was so delighted when my two year old announced that she wanted a sprinkles themed birthday party for her 3rd birthday. YES! SPRINKLES! Now why didn't I think of that??
All parties start with the invitation. It's your first chance to let guests know what to expect at the party. I knew I wanted to incorporate sprinkles from the very beginning, so created this sprinkle-topped cupcake invitation.
We had to postpone the party once due to illness, and got VERY lucky with a cold snap here in Phoenix in late May. A high of 91! Unheard of! That made our backyard party possible.
How many times have I used this Craigslist find BBQ tent? Best purchase ever! I love the sense of presence and purpose it gives the dessert table. I love how it provides a logical reason and place to have a backdrop. I love how it shades the table from our relentless Arizona sun.
At the Sprinkles party, sprinkles were everywhere. Thousands upon thousands of them. Maybe millions, I don't know, I didn't do the math. About 12 pounds worth through the whole party, though, so it's a good thing I could pick up large bulk quantities at my local Restaurant Depot! I spent about $20 on all the sprinkles at the party, but if I'd had to buy them at a grocery store...shudder. Don't even think about it.
I told you sprinkles were everywhere! On the bunting...
...on the cake topper...
...on the table tents...
...in the vases and candles...
...in with the straws and forks...
...even in the serving dishes. Everywhere!
I found the perfect pinata at my local Party City. Score! I love DIY projects, but I already had a ton for this party. Sometimes it's nice to be able to buy off the rack!
I knew when I found this random, bright polka dot fabric, that it was absolutely perfect for the Sprinkles party. I used it on the party hats [1], of course. My daughter, who LOVES party hats, who insists on wearing them to ANY party, even if it's not her own (because, duh, you need to wear a party hat to a party), refused to wear the party hats to her own party. The better to show off her self-inflicted haircut, I assume.
I also used the for the birthday girl's skirt and shirt. I had a vision of my daughter's birthday outfit, but as it so often happens, I couldn't find what I wanted. I love bustling on skirts, and drafted a pattern for this darling (if I do say so myself!) cupcake sprinkle skirt. Hooray for minimal sewing skills! I'm sure my talented seamstress friends would laugh at the ways I figure out how to do things, but I like figuring things out for myself--especially when I can't find a pattern for what's in my imagination. Which is pretty much all the time.
Plain white bags embellished with paint dots in the color of classic sprinkles were perfect for the small favors. The different colors of tissue paper were not only colorful and fun, but also helped the kids keep track of whose favor was whose.
The favors were festive and perfect for the theme of the party. I made cast resin jewelry filled with real sprinkles! In each bag, I also had a package of glow bracelets (great for our evening party), and "bath sprinkles"--fizzy, non-staining, bath color tabs [2] from Steve Spangler Science.
On Monday, I'll have part 2 of the sprinkles party on the blog--the desserts!--and you'll see where all the rest of those sprinkles were used!