Printer-friendly version
These Christmas cupcakes are topped with a miniature gingerbread baking scene.  The Christmas cupcake toppers are made out of gum paste and are entirely edible!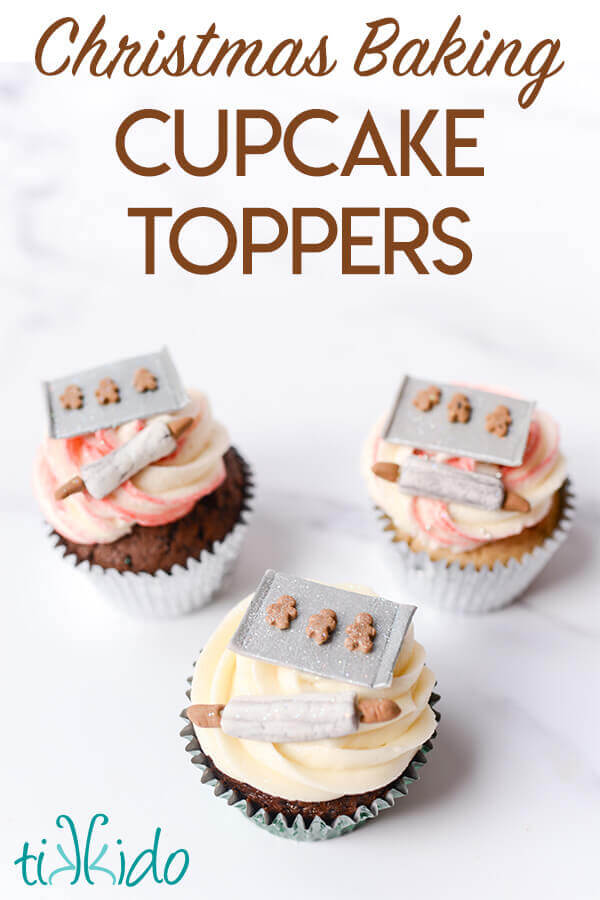 I love all things miniature, and I love all things gingerbread.  I even made a miniature gingerbread baking scene Christmas ornament a few years ago.   When I was asked to make some Christmas cupcakes for friends this week, I decided to make an entirely edible version of my miniature Christmas baking scene to use as cupcake toppers.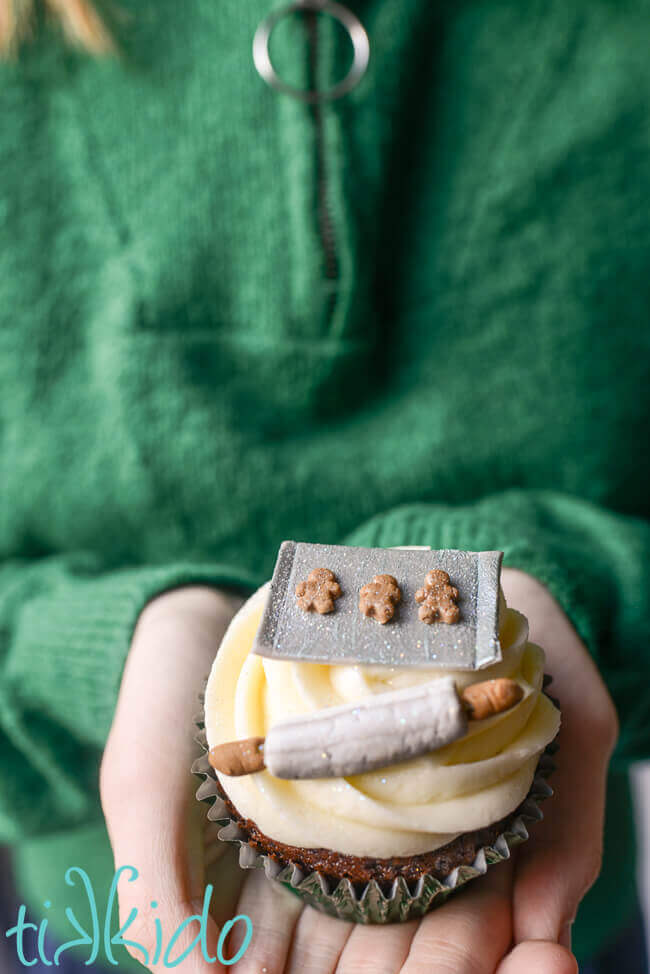 Miniature baking sheet, the tiniest little gingerbread men, and even a marble rolling pin, all made out of gum paste!  Delicious and utterly adorable.
How to Make a Gum Paste Rolling Pin for a Christmas Cupcake: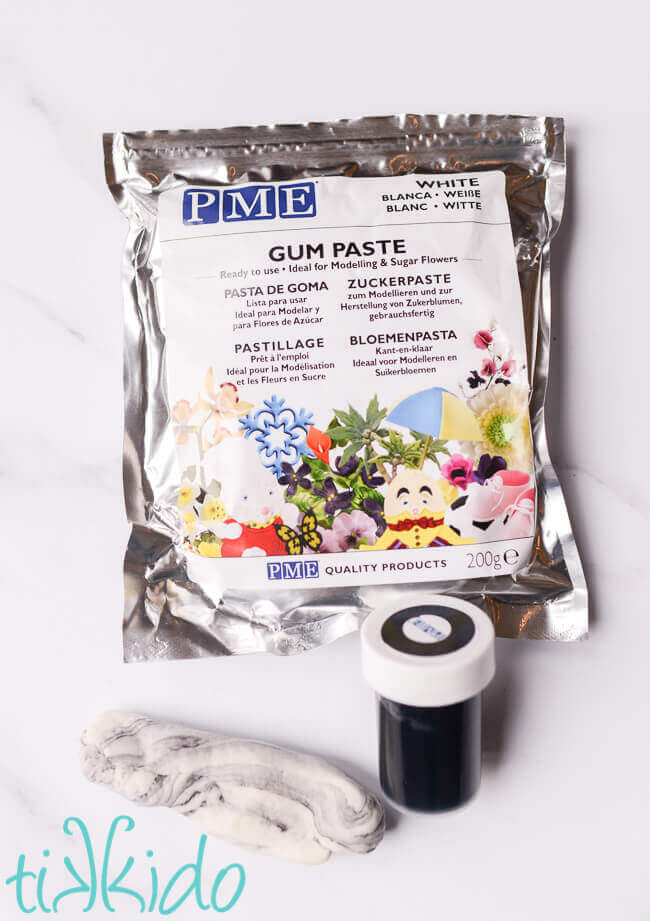 Start by adding a little bit of black food coloring to white gum paste.  Begin kneading in the color, stretching and twisting as you do so.  But stop when it's at this streaky stage, before all the color is evenly incorporated.  It looks just like marble!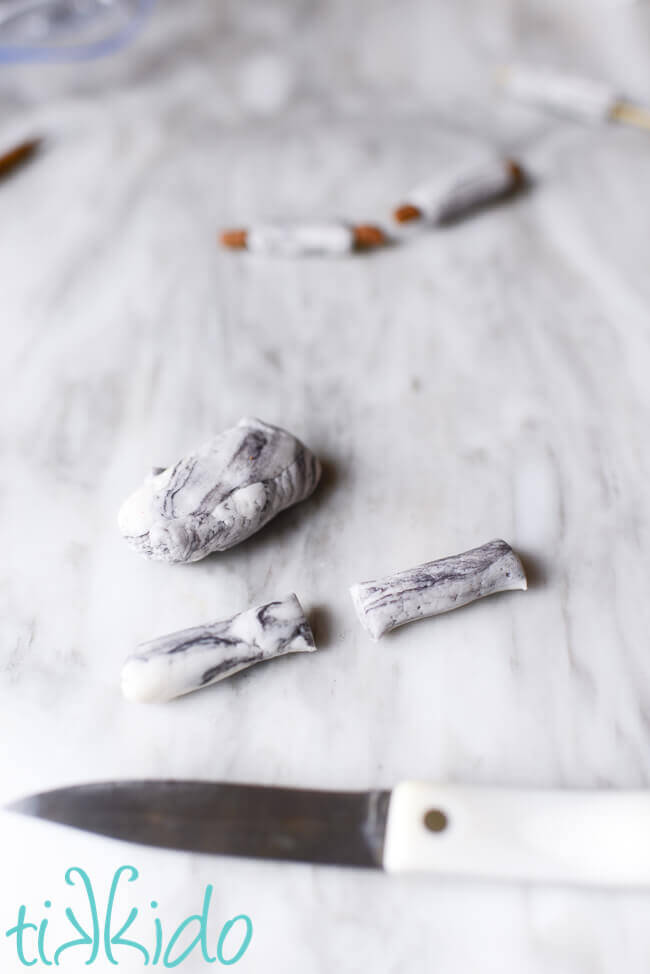 Roll the marbled gum paste into a rope.  Cut into small segments approximately 1" long each.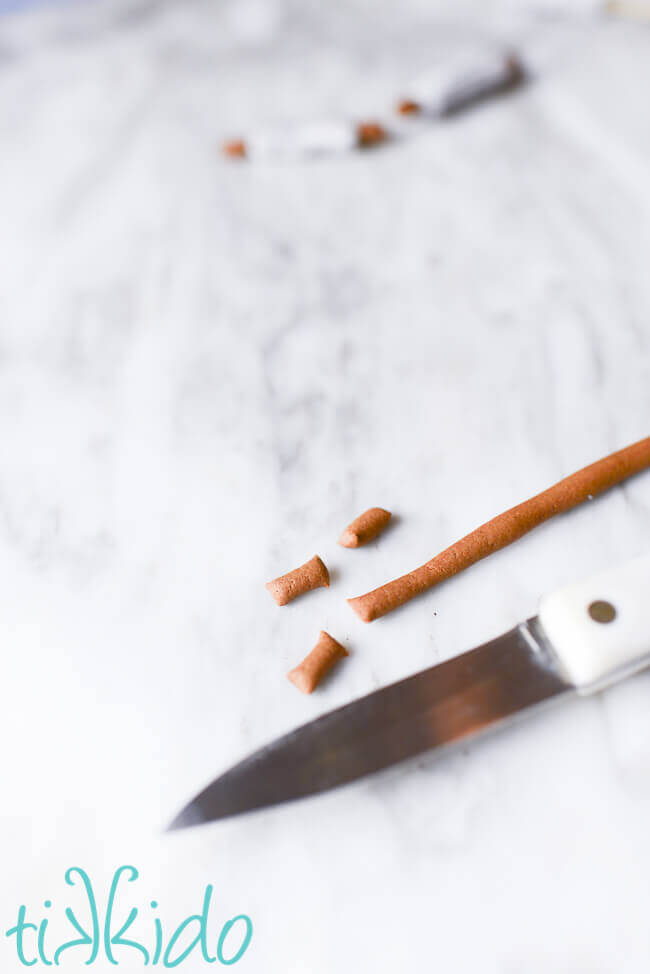 Roll a very small portion (marble sized, perhaps, at most) of gum paste into a very, VERY tiny rope (think fat spaghetti) and cut off tiny little handles for your miniature rolling pins.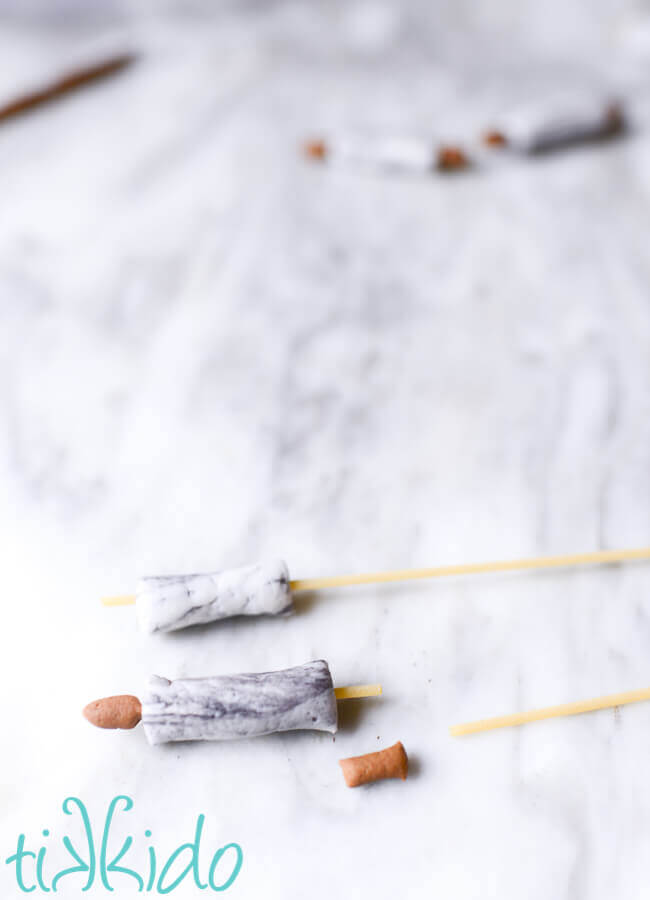 I usually like to use Satin Ice brand gum paste, and when I use that brand, I can just use a bit of vodka to glue the small bits to each other.  The brand of gum paste I used for this project was ok, but not as good as my beloved Satin Ice.  And the handles just would not stick to the ends of my rolling pins.
No problem, though!  I just stuck a piece of angel hair pasta through the center of the rolling pin, and impaled the handles on either side of the pasta sticking out.  Still entirely edible, but the pasta can give some much-needed support and structure.
How to Make a Miniature Cookie Sheet for a Cupcake Topper: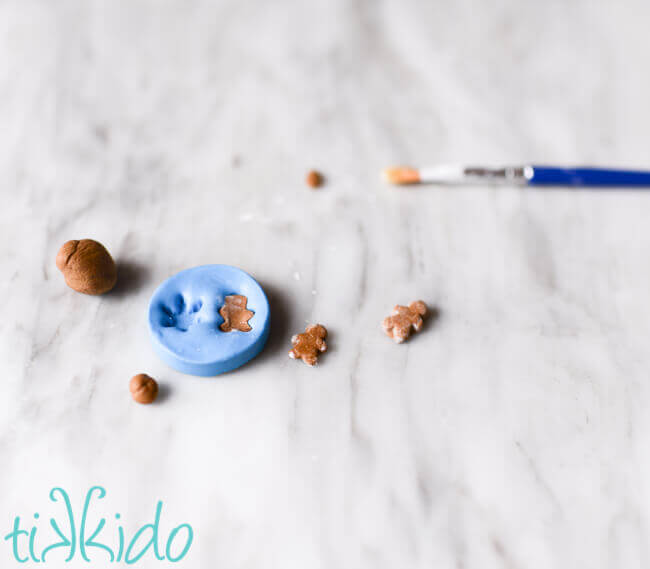 The incredibly tiny little gingerbread men were made using a silicone mold created for making dollhouse miniatures.  I bought it from the utterly enchanting shop called The Mouse Market.  
Dust the mold with a little bit of cornstarch, then press in a tiny bit of brown gum paste, and pop out the cutest, tiniest little gingerbread men you've ever seen!
I used this technique because I already had the incredibly tiny gingerbread man mold.  But if I didn't, I would have used pre-made gingerbread man sprinkles!  They would be absolutely perfect for this project.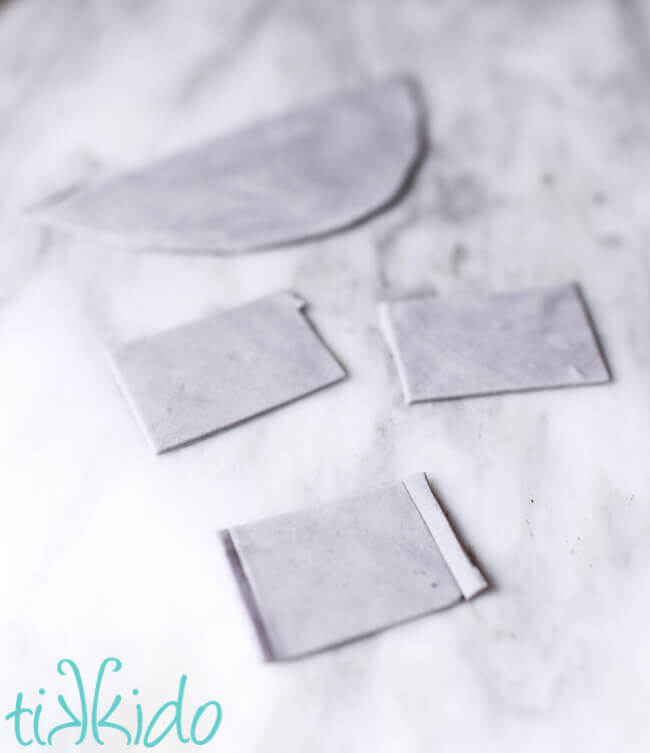 To make the miniature baking sheet, roll out a very thin layer of grey gum paste.  Cut into rectangles.  Score a line just inside from the short ends of the rectangles, and bend up at the scored line to create the raised lip of a cookie sheet.
Let the miniature cookie sheets dry for at least a couple hours before painting with a mixture of silver luster dust and vodka (or pre-mixed edible silver paint).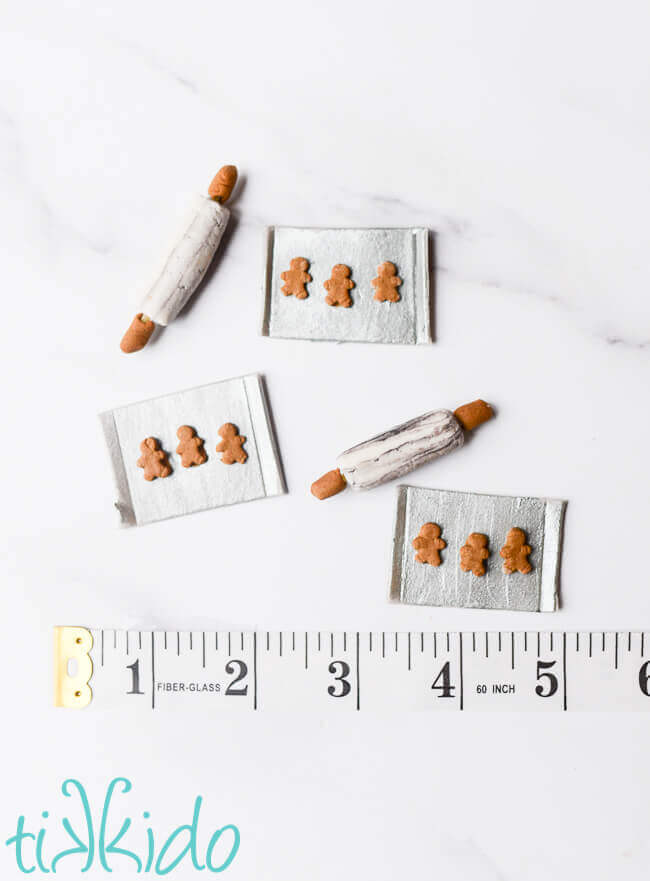 While the silver paint is still wet, set down the tiny gingerbread men.  They'll stick nicely to the cookie sheets when the paint dries.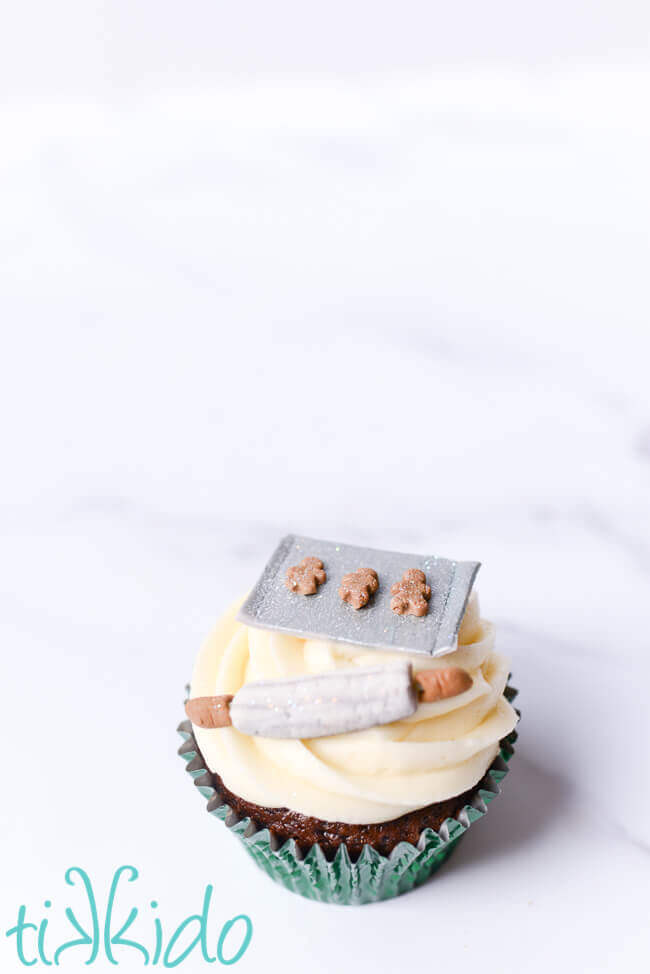 Pop those darling miniature baking tools on top of a simple cupcake and you've got a darling Christmas dessert that depicts one of my favorite parts of Christmas.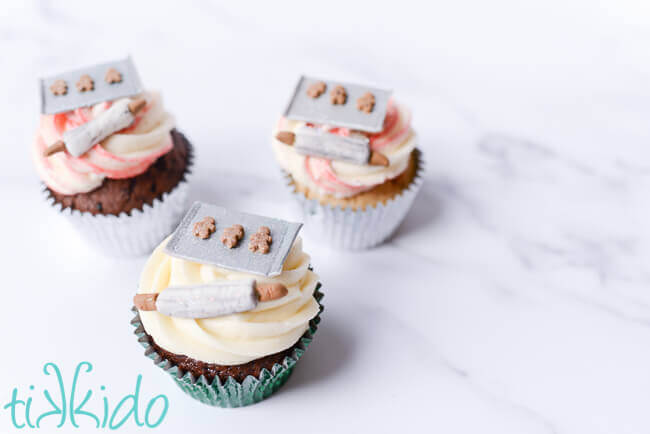 Be sure to check out the other tutorials from the Christmas cupcakes in this set.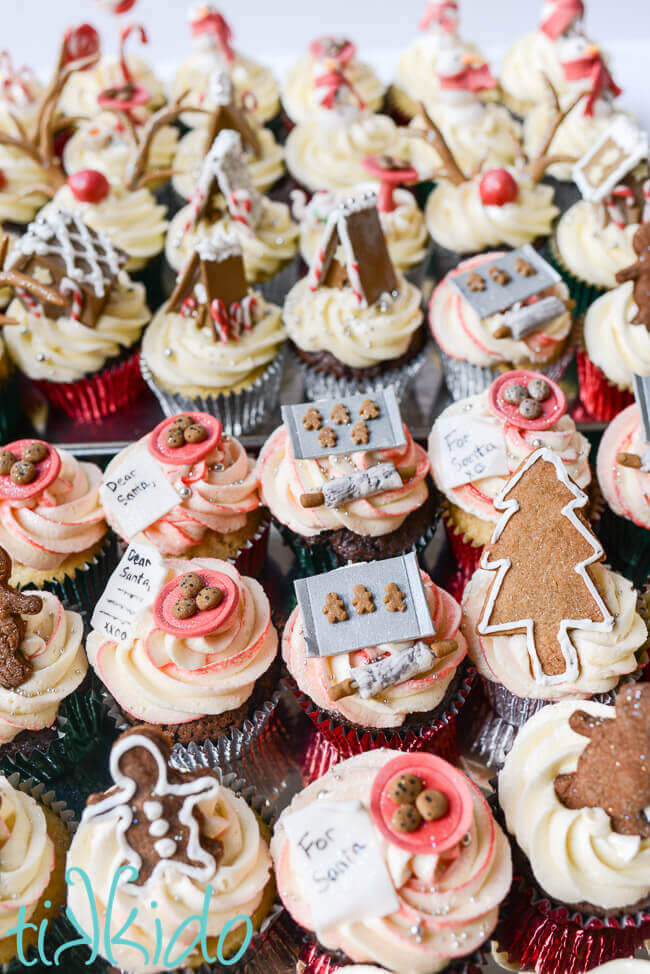 Other Christmas Cupcakes You Might Like: