Printer-friendly version
Are you ready for the onslaught of Star Wars hype slated to start this Friday?  Honestly, I didn't even realize anything was happening until very recently.  I was always more of a Star Trek girl, myself, though I did enjoy the original Star Wars movies, certainly.  And I've always thought our Shih Tzu dog (Murlin Lickyball) looked like an Ewok.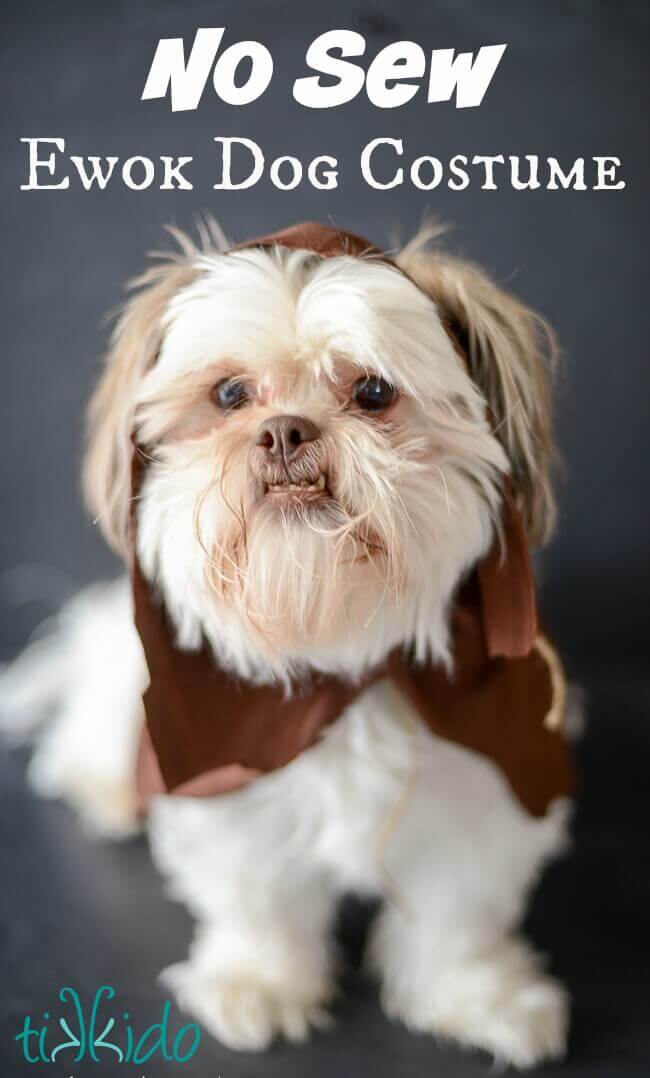 So in honor of the upcoming final three Star Wars movies and Halloween around the corner, I decided to whip up an incredibly easy, no sew Ewok costume for my dog.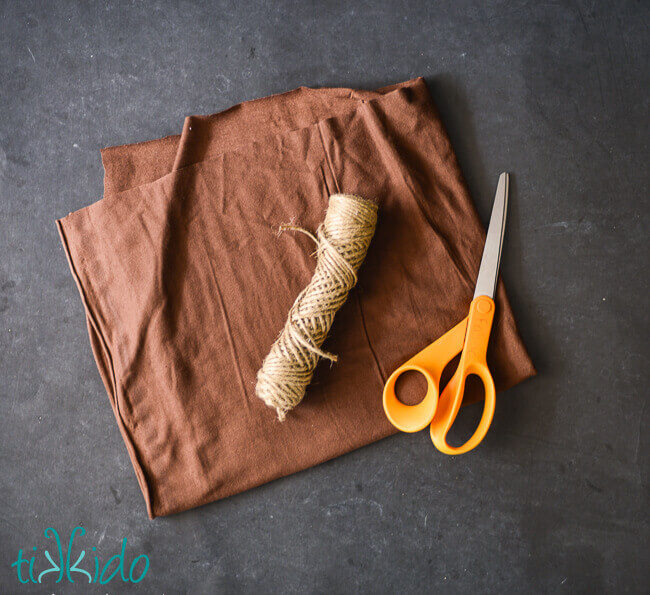 Materials for No Sew Star Wars Dog Ewok Costume:
1/2 yard of brown knit fabric
short length of twine 
scissors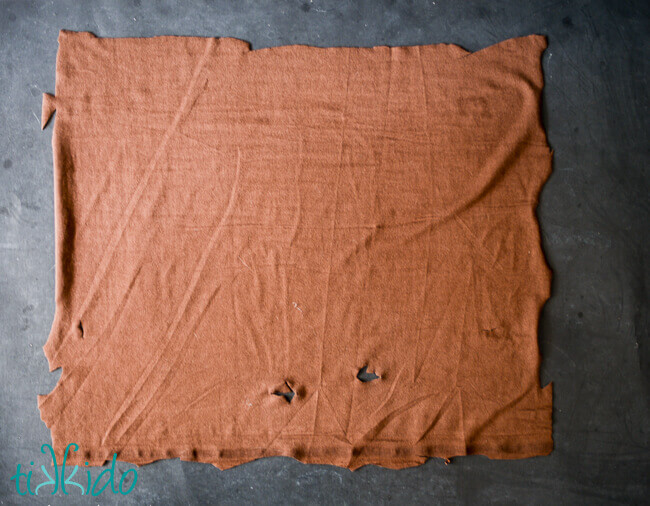 The size of your piece of fabric will be highly dependent on the size of your dog, obviously.  For my 18 pound shih tzu, my fabric was 18" wide and 16" tall.
Cut out the rectangle of fabric, making purposefully ragged cuts.  Don't you love projects where you're supposed to be messy and innacurate?
Cut two small holes for the dog's ears, slightly off center.  I cut one hole, tried it on my pup, and then marked where the second hole needed to be.  If I'd guessed and cut, I think I would have set the ear holes too far apart, so I'm glad I tried it on before cutting the second hole.
Cut two small holes on either side of the rectangle of fabric, near the edges.  This will be where you thread the twine through and tie it on your dog.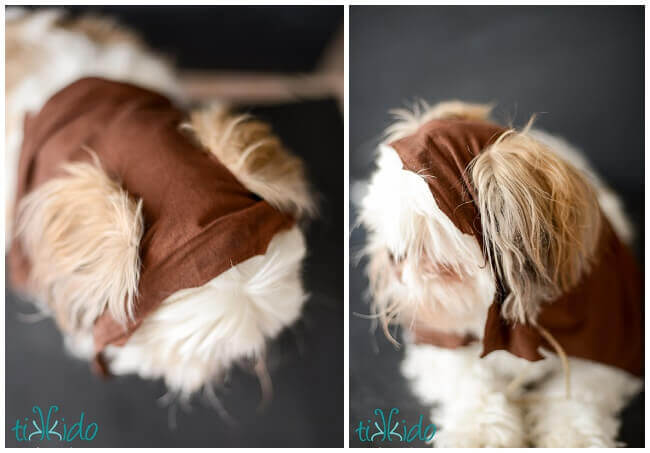 Pop the pup's ears through the ear holes.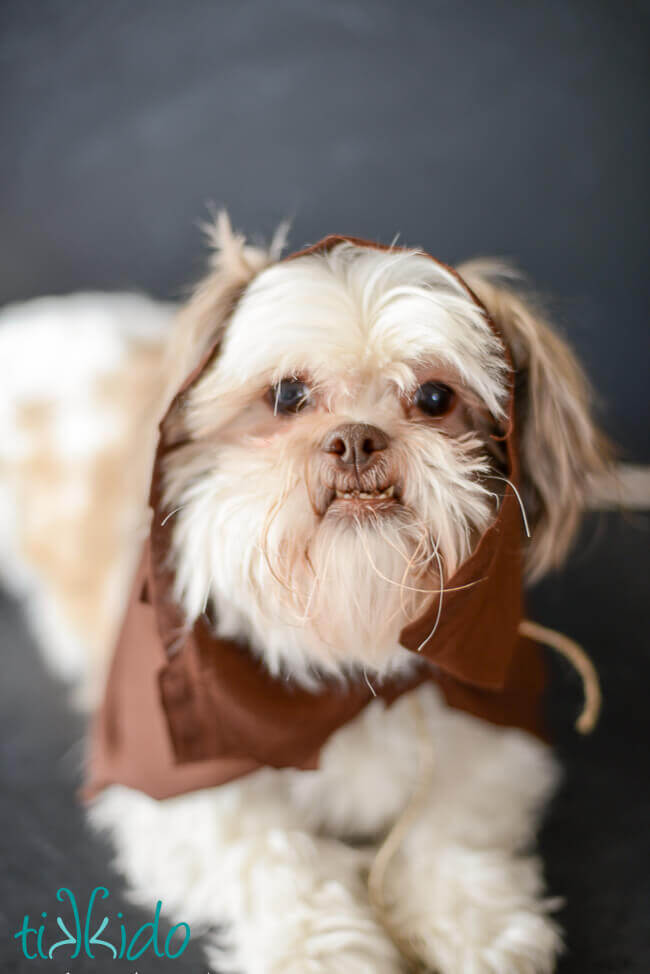 Thread the twine through the other two small holes, and tie together.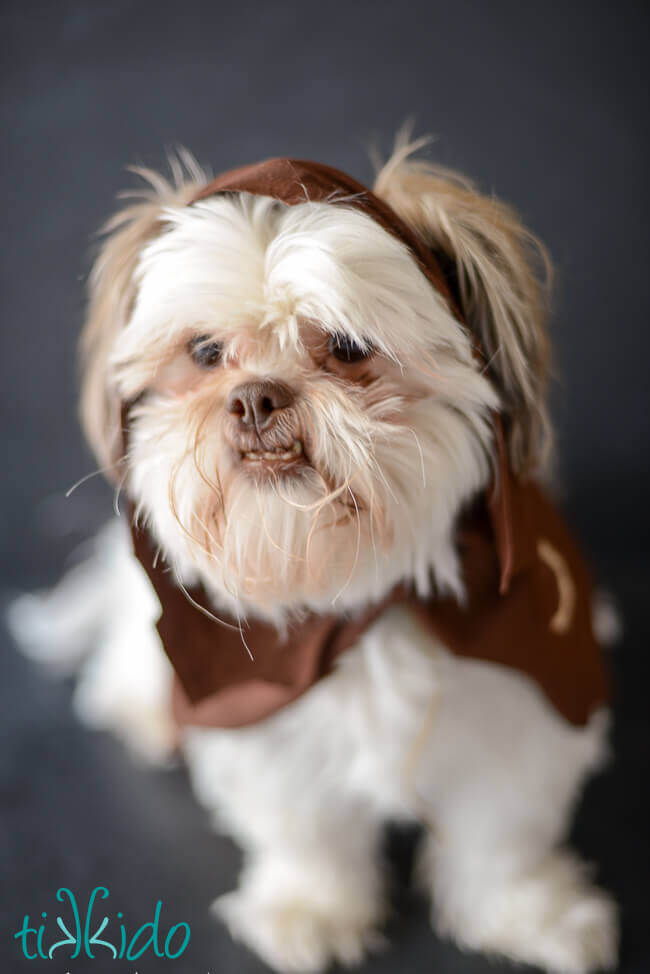 And there you have it, your very own furry ewok dog costume!  It took less than 5 minutes to make, and I can't wait for Halloween.  Can you guess what costume I'm going to make for our other dog, Morgana Le Fur?