Printer-friendly version
Yesterday's post was all about an insanely easy Valentine's Day dessert (and I assure you, it's delicious!!), but sometimes you want to put a little more time and effort into something to show people how much you love them.  If you like to show your affection and esteem by baking, this recipe for Shortbread heart cookies with homemade salted caramel and a chocolate drizzel is pretty much the best thing ever.  Two great things that go great together.  Er, three things, I guess.  This is getting a little kinky, so I'm going to head on to the recipe.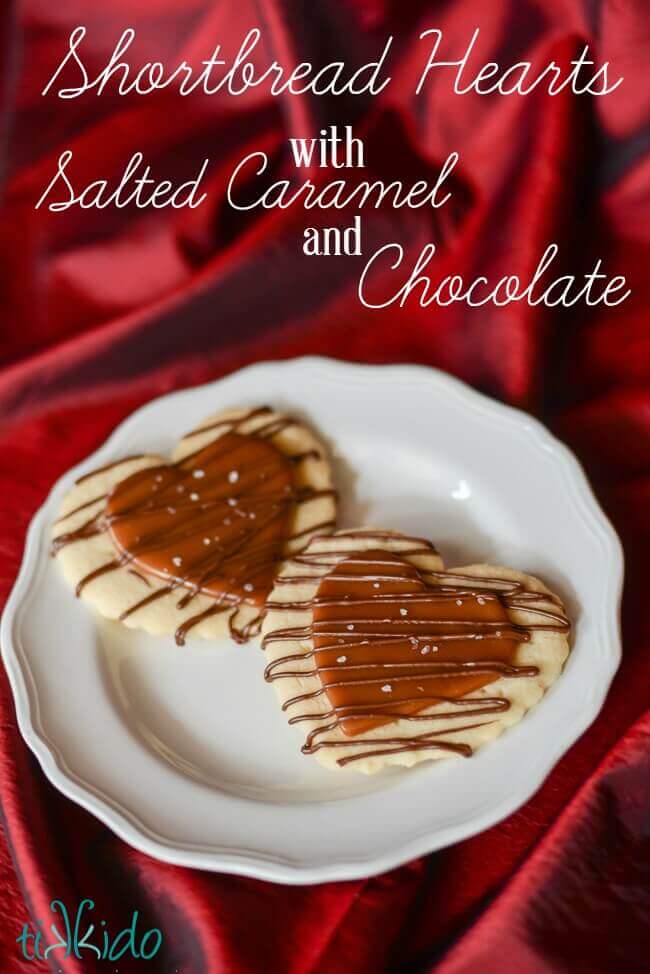 Think Twix bars, but oh so much better.  Homemade, buttery tender shortbread, amazingly flavorful caramel, a light drizzle of good chocolate, and a sprinkle of sea salt to set off the sweet elements.  Oh yes, this is worthy of your one true love.
Scottish Shortbread Cookie Recipe:
1 pound butter (4 sticks), softened
1 cup sugar
4 cups flour
1 teaspoon salt
2 teaspoons vanilla
Preheat the oven to 350 degrees Fahrenheit.  Beat the sugar and butter together, then add salt, vanilla, and flour, and mix until combined.
Roll out the shortbread cookie dough, and use a heart shaped cookie cutter to create the basic cookie shape.  Dock the dough (put tiny holes in it) with a fork or a toothpick.
Bake for 12-15 minutes, until the cookies begin to turn golden on the edges.  Let cool completely before adding the caramel and chocolate.
To make the caramel heart to top the shortbread cookie, I used my favorite salted caramel recipe.  BUT with a few modifications:
Cook the caramel to 240 degrees instead of 245.
Pour caramels in a half-sheet pan (something with a lip, just in case of runoff) lined with a silpat.  This is critical if you want to get nicely shaped, appropriately thin caramel hearts to top your cookies.
Let the caramel cool completely on the silpat pan liner.  Once cooled and firm, use a slightly smaller cookie cutter than the one you used for the shortbread heart to cut out heart shapes in the caramel.  Lift the caramel hearts carefully with a spatula and place them in the center of the shortbread heart.  No need to add any adhesive; because we cooked the caramel to just 240, it's softer than caramels you make for eating alone, and it will meld nicely to the cookie in a few minutes.
Melt some high quality chocolate (I like using Ghiradelli) carefully in the microwave or over a double boiler.  I used about half a cup of chocolate chips for the recipe.   Drizzle the melted chocolate over the cookies and sprinkle with coarse sea salt.  
Ah yes, definitely a match made in heaven.  Salty, sweet, chocolatey, buttery heaven.