Printer-friendly version
I had some leftover fabric from making my daughter's new insulated lunch bag, and I had a quirky idea.  You know I couldn't resist some crafty experimentation.  The result: Mishapocalypse ballet flats.  Mishapoca-shoes, if you will.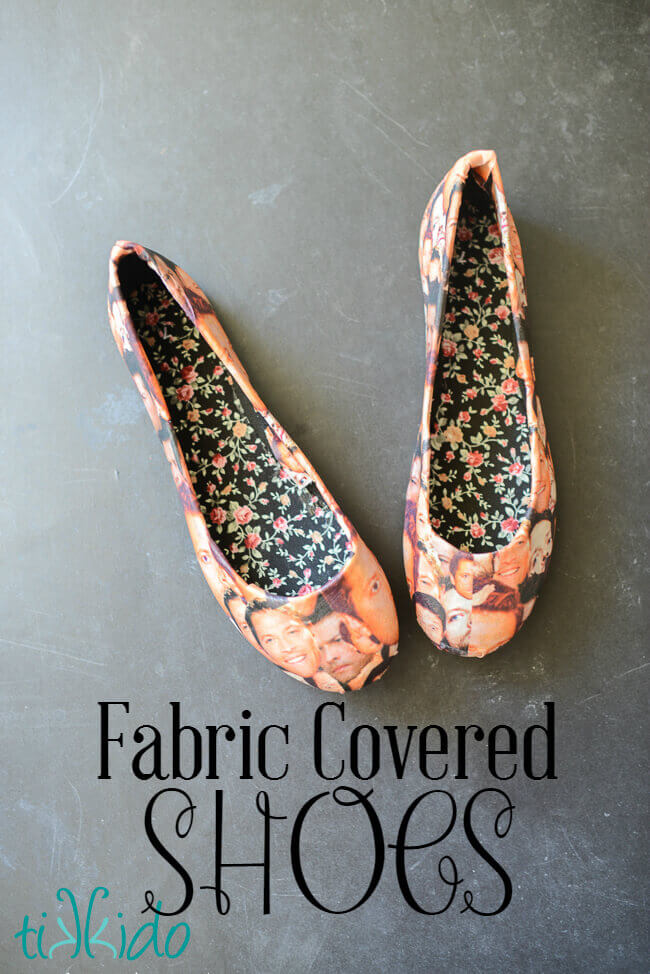 Materials for making Mishapocalypse fabric-covered shoes:
felt (for rough pattern)
permanent marker
plain fabric shoes (I used $6 ballet flats from Walmart)
fabric of your choosing (I used this Mishapocalypse fabric from Spoonflower)
fabric Mod Podge (buy here)
fabric scissors
X-ACTO craft knife (buy here)
clear acrylic spray (buy here)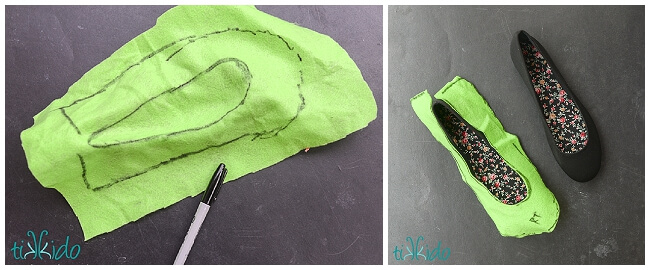 I first made an (extremely rough) felt pattern by holding a piece of felt over the actual shoe, and tracing the edges (I could feel them through the fabric) with a Sharpie permanent marker.  I used just one pattern piece, but flipped it over to get the mirror-image for the left shoe.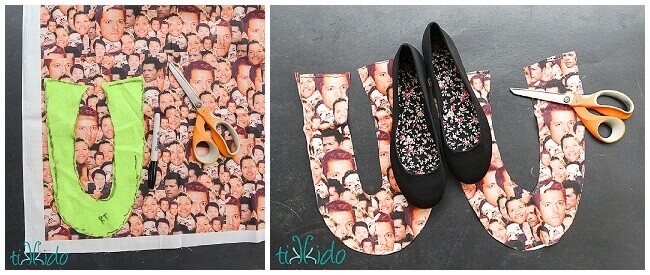 Cut your fabric larger than the pattern piece.  I added about 1cm on all sides.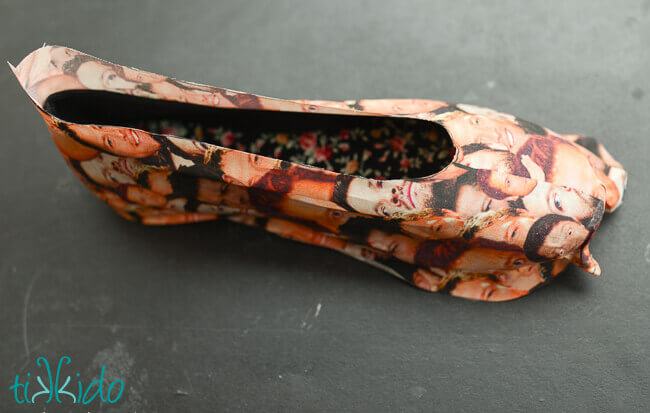 Use fabric Mod Podge to glue the fabric to the shoe.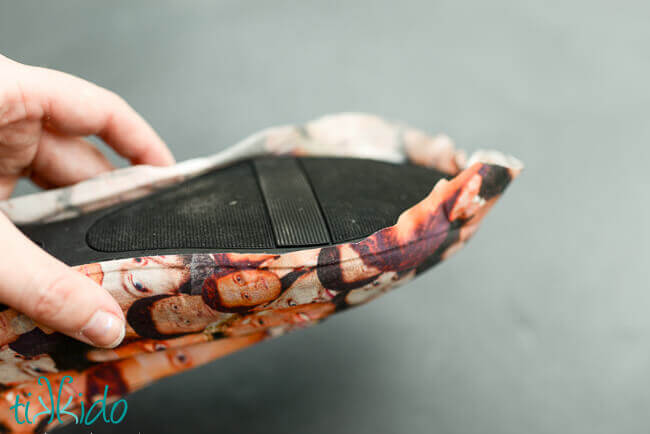 Trim away most of the excess fabric from the sole of the shoe.  You can see a grooved line where I used my fingernail to press in and mark the line where the fabric upper of the shoe meets the sole.  I used a pair of scissors to do the rough trimming.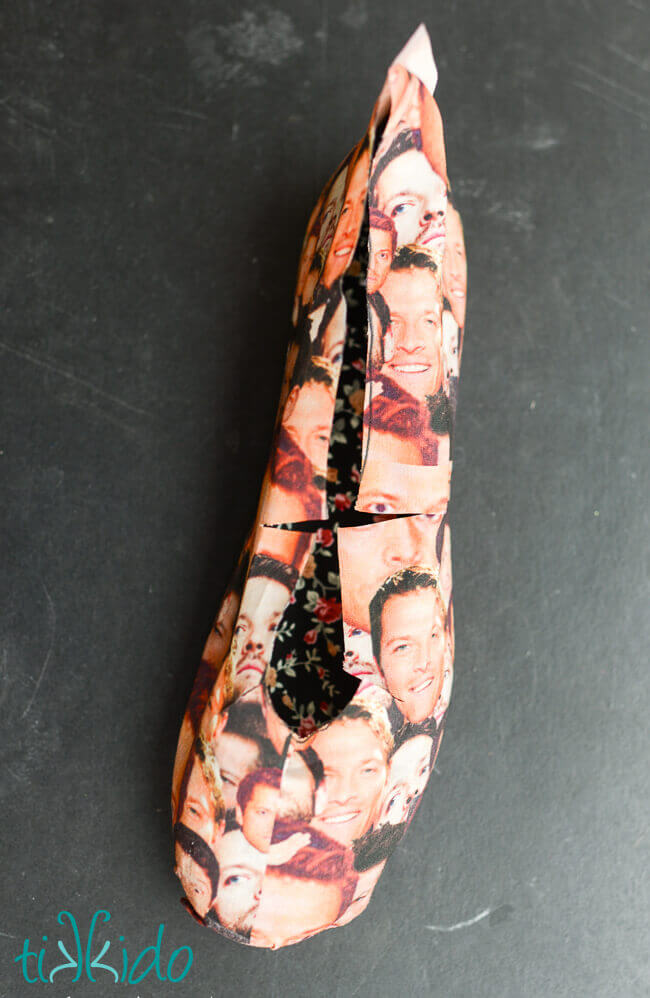 In order to be able to fold the excess fabric on the top of the shoe inside, you'll have to cut notches in any of the curved portions of the fabric.  So more notches around the curved toe than the straight sides of the shoe.  Carefully cut the slits in the fabric so that they just extend from the center to the very edge of the actual shoe, where the fabric will wrap around and inside the shoe.  Glue the excess fabric to the inside of the shoe, again using the fabric Mod Podge.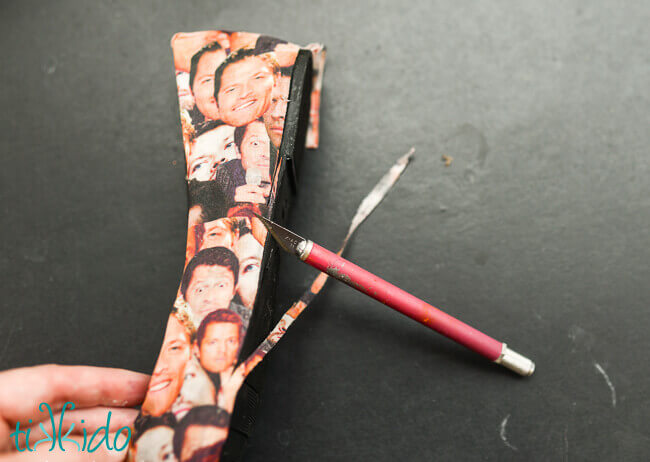 Use a very sharp craft blade to trim away excess fabric from the sole of the shoe (following that indented thumbnail line in the earlier photo).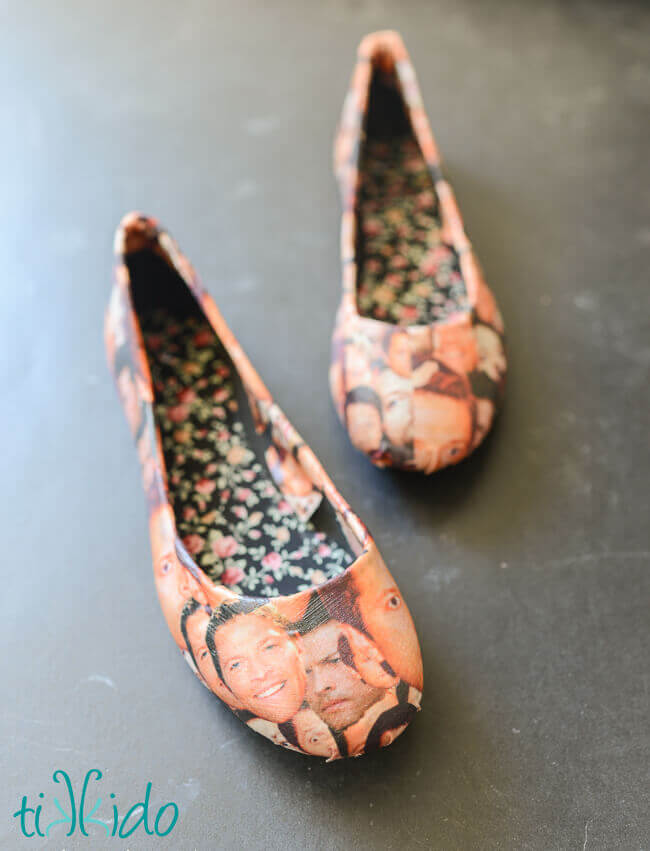 Apply an extra coating of the fabric Mod Podge and let dry completely.  Seal with a layer of clear acrylic spray.  (The Mod Podge dries a little tacky, and I didn't want the shoes to get dirty quickly.)
You could use any fabric to create shoes in practically any theme.  But who wouldn't want shoes covered in disembodied Misha Collins heads?  Right?  Right.