Printer-friendly version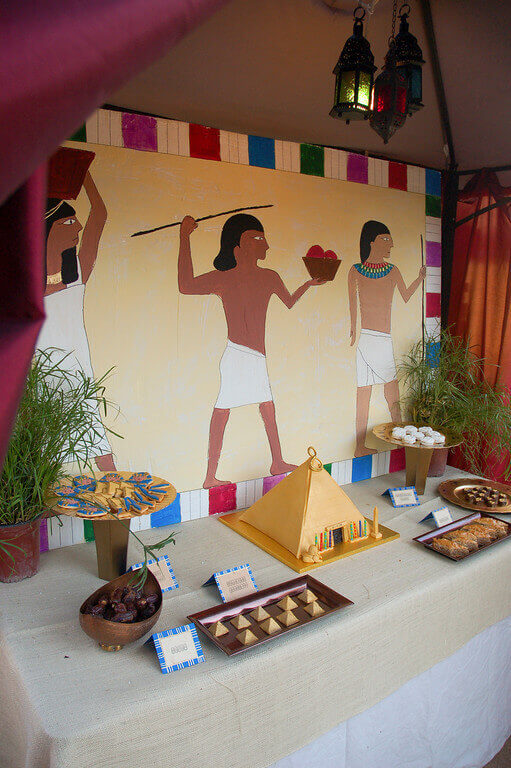 Mmmm, dessert! A highlight of any children's birthday party, certainly. And a wonderful place to have fun and be creative around a theme. I spent some time googling Egyptian desserts, but ultimately, my dessert table wasn't terribly authentic.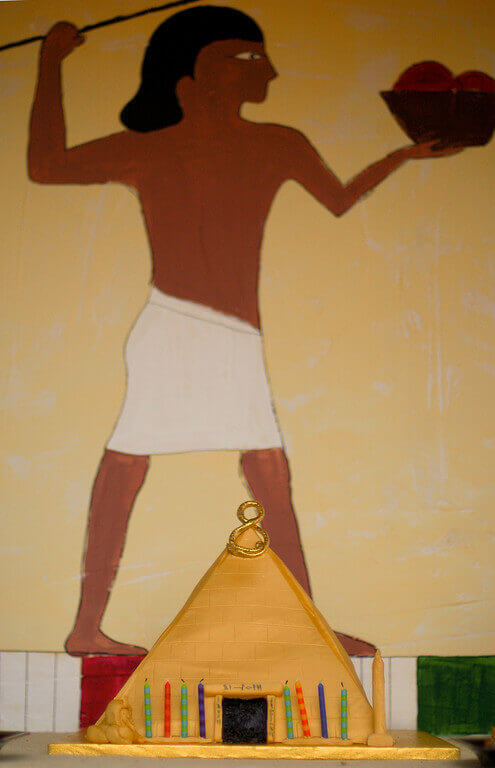 The centerpiece of the table was, of course, the cake. A simple golden pyramid of chocolate cake with salted caramel buttercream. I decided not to do two layers this year, because people invariably want the flavor I haven't yet reached when I make a carved cake. This managed to please everyone, even those who weren't particular chocolate lovers.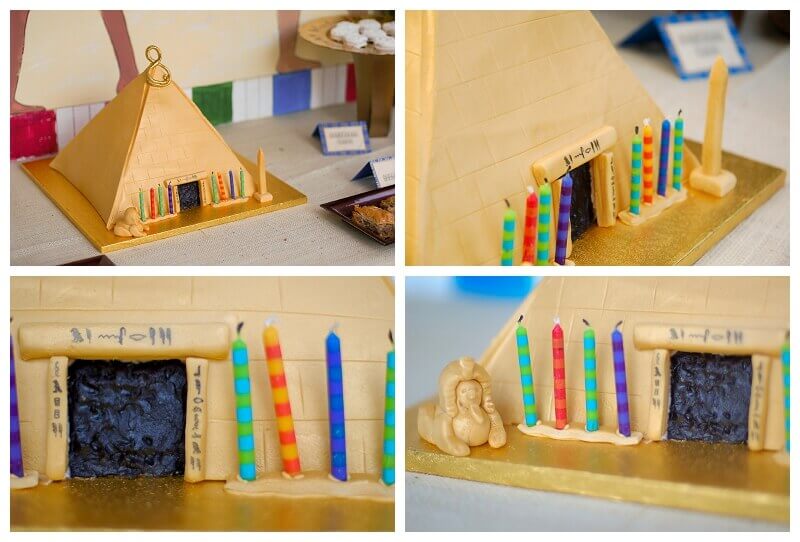 A sparkling 8, an obelisk, and a sphinx embellished this pretty stark (for me, at least!) cake. The hieroglyphics around the door say "Happy Birthday Ainsley." ;-)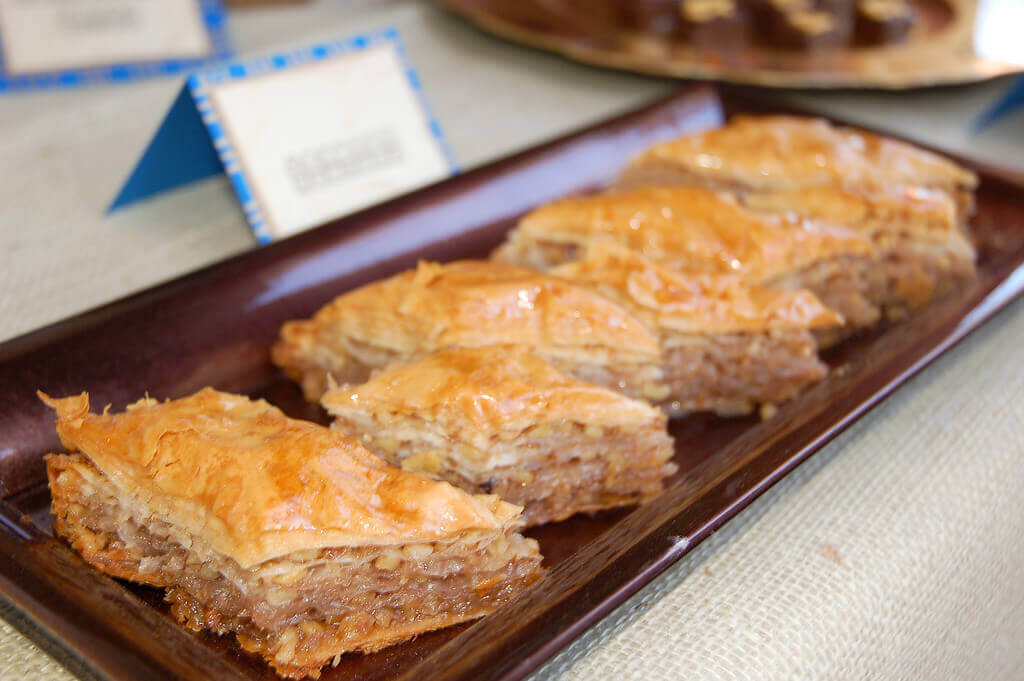 Baklava is my daughter's most favorite dessert, so when it kept coming up in my searches for Egyptian desserts, I knew it would be making anappearanceon our dessert table. I haven't made baklava since I was about 9, making it with my mother, so this was a bit of a culinary adventure. Still, it came together pretty easily and my daughter proclaimed it the best baklava ever made. She's the one I wanted to please most!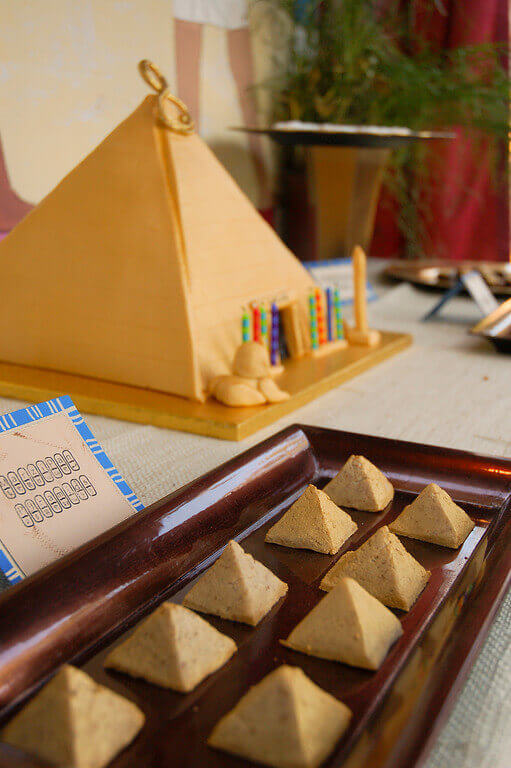 Marzipan pyramids were a big hit with the kids. I was a little surprised by how much the loved them, in fact. I tried to take the easy way out and buy marzipan at the grocery store, but evidently my local grocer doesn't turn over their marzipan stock often enough, and the tubes I bought were rock hard and impossible to recover. So I ended up having to make my own anyway. It wasn't difficult, but since I didn't have super fine almond meal, the texture wasn't quite as smooth as I'd wanted. I'm very good at rationalizing, though, and decided that these satellite pyramids were just weathered by the desert sands. ;-)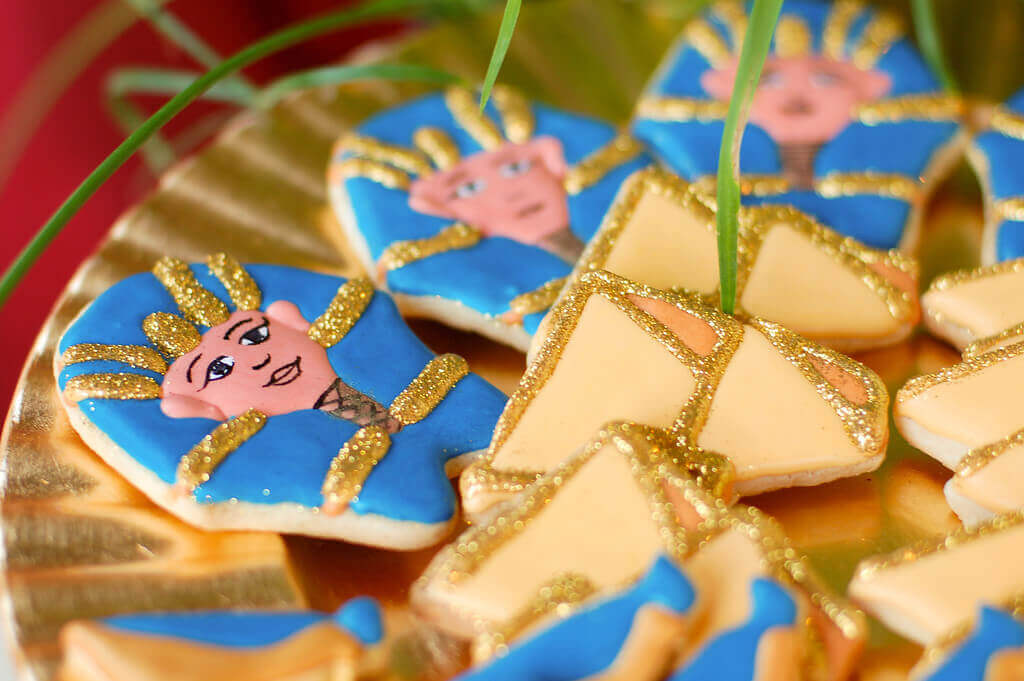 I absolutely love the Egyptian cookie cutters from Fancy Flours! The design of the cutter leaves an imprint on the cookie that makes it very easy to do intricate decorations.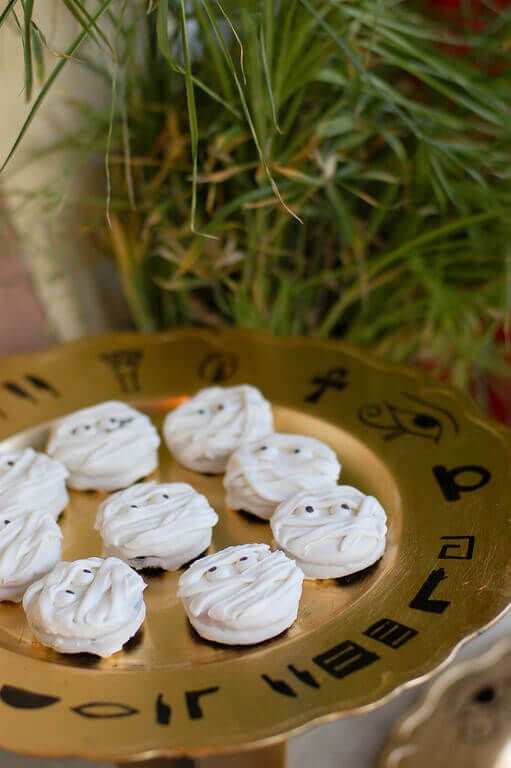 Mummified Oreos were a big hit with the guests. These are typically made with chocolate, but I decided to use royal icing instead, because it can be very hot in Phoenix in October, and using chocolates on a dessert table is a risky thing.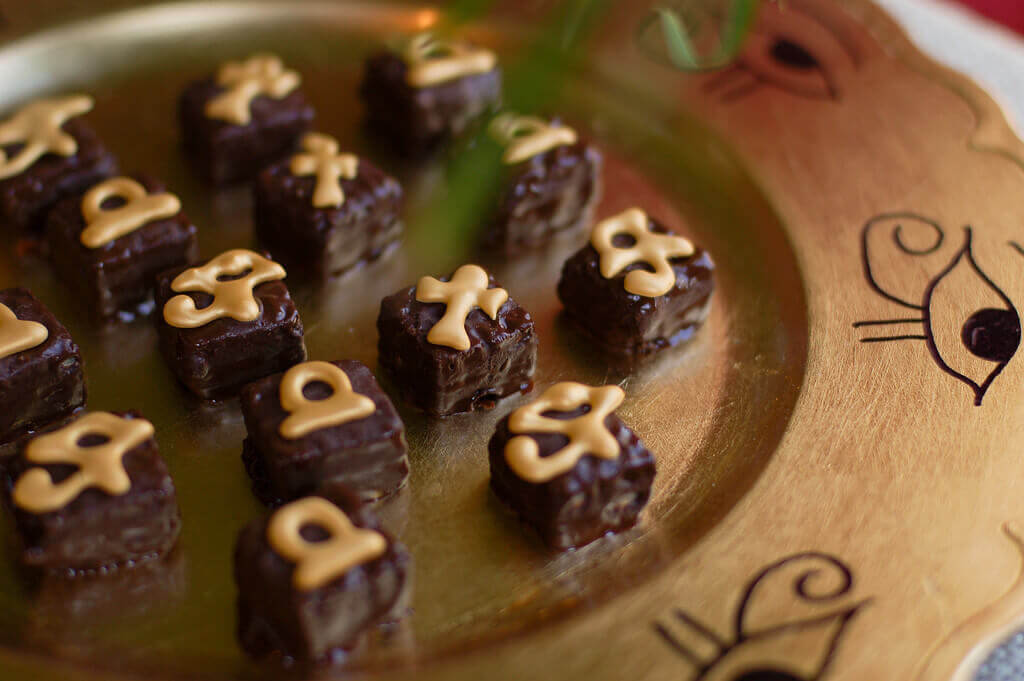 See? These little guys were melting even before the guests arrived. Still tasty, but a bit messy! We called them "Hidden Peanut Butter Treasures," but they're actually dark chocolate peanut butter wafer bites from Trader Joe's, embellished with royal icing in Egyptian designs.

The golden Egyptian plates are simple inexpensive chargers bought at the craft store with Sharpie marker hieroglyphics.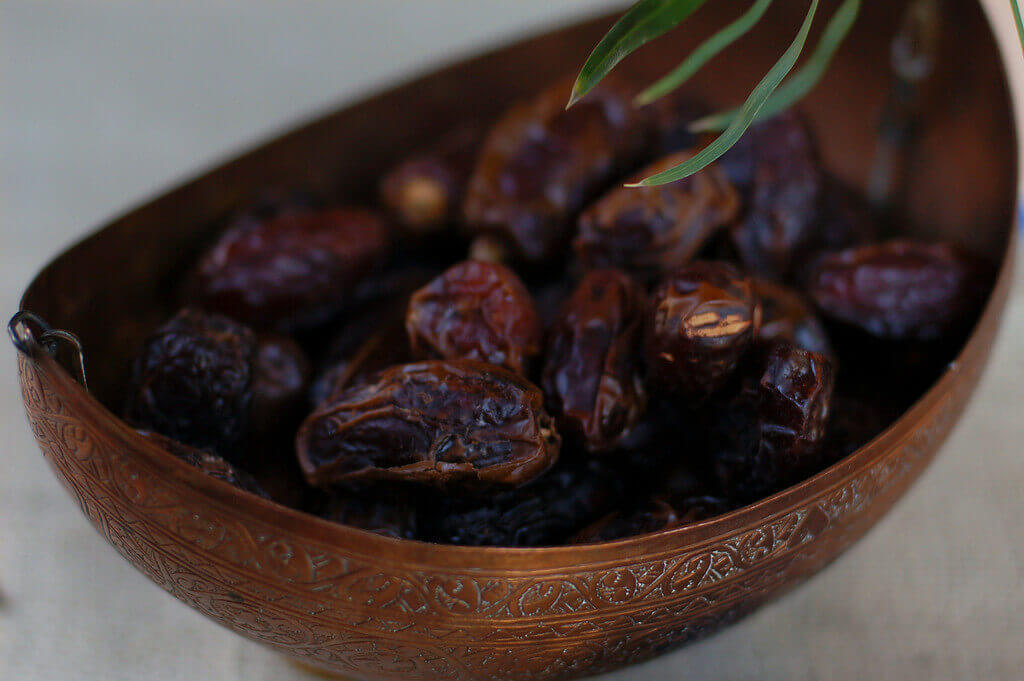 And what Egyptian table would be complete without dates? Naturally sweet and absolutely delicious. Several children tasted dates for the first time at the party!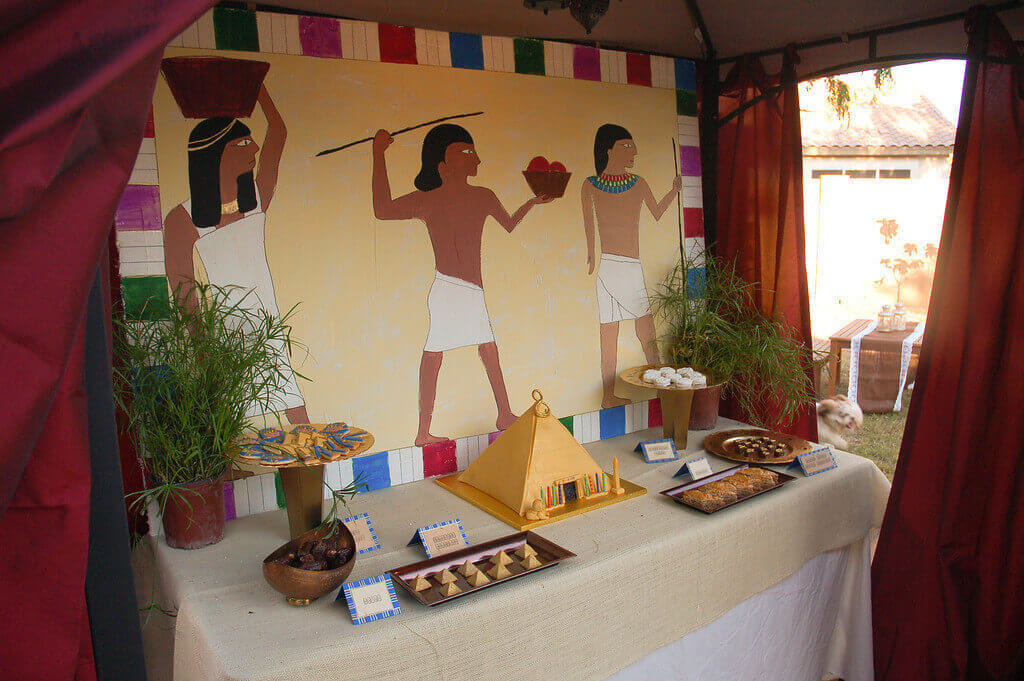 A simple white tablecloth and linen overlay covered the table, and the table was surrounded by a small tent structure originally designed to cover a grill. I bought it off craigslist a year ago, and have used it so many times. I just love the way it sets the dessert table apart (a little extra safety never hurts around kids and desserts!) but is beautiful and draws people to it. Ilovehow easy it is to put a backdrop on the table in the tent. I love how different I can make it look with a simple change of curtains (these came from our living room). My kids love to put their small table under it and dine and play in their own littlepavilion when it's not being used for a party.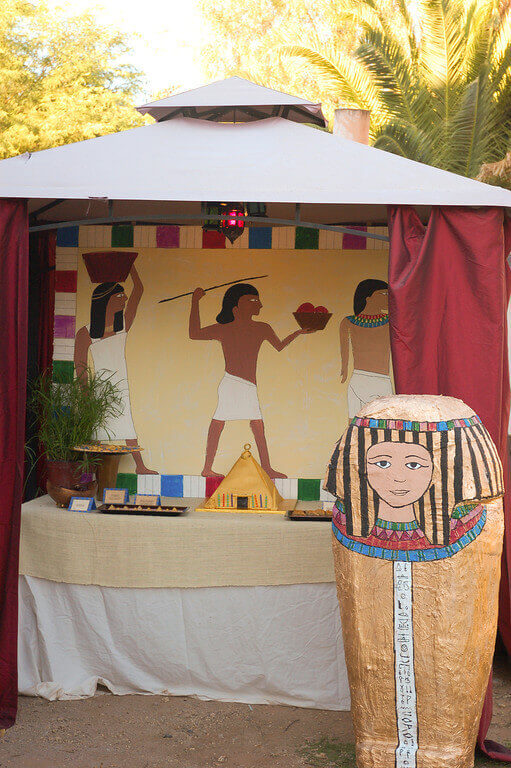 In case you missed it, be sure to check out Part 1 of the Egyptology party, and stay tuned for the final installment tomorrow.