Printer-friendly version
GISHWHES 2016 inadvertently got me ready for Halloween extra early this year!  One of the scavenger hunt items was a picture of someone buried in a coffin full of popcorn.  
As it turns out to be surprisingly difficult to find an empty coffin--especially one that someone will let you fill with popcorn--I decided to make one for myself.  I knew it would make a magnificent Halloween prop, too.  
I knew I wanted to use foam insulation sheets (so lightweight, so easy to cut) instead of wood, and after a little research, I discovered that the key to success was the type and specific brand of foam insulation sheets.  I'd only ever used the sheets I'd bought at Lowe's, but it turns out that Home Depot carries a far superior brand for creative construction.  Specifically, you're looking for the Owens Corning foam insulation board, with the Pink Panthers printed on one side.  This stuff is crafting gold.  Mine was kind of purple colored, other people report using pink and blue colored sheets with great results, too.  But it's all about the brand.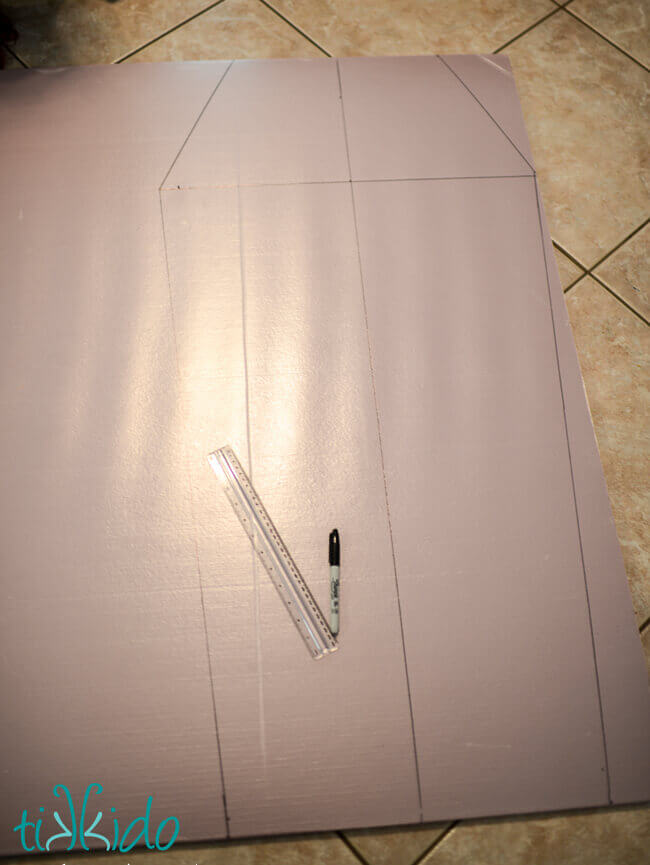 Step 1)  Trace a basic coffin shape on the insulation board.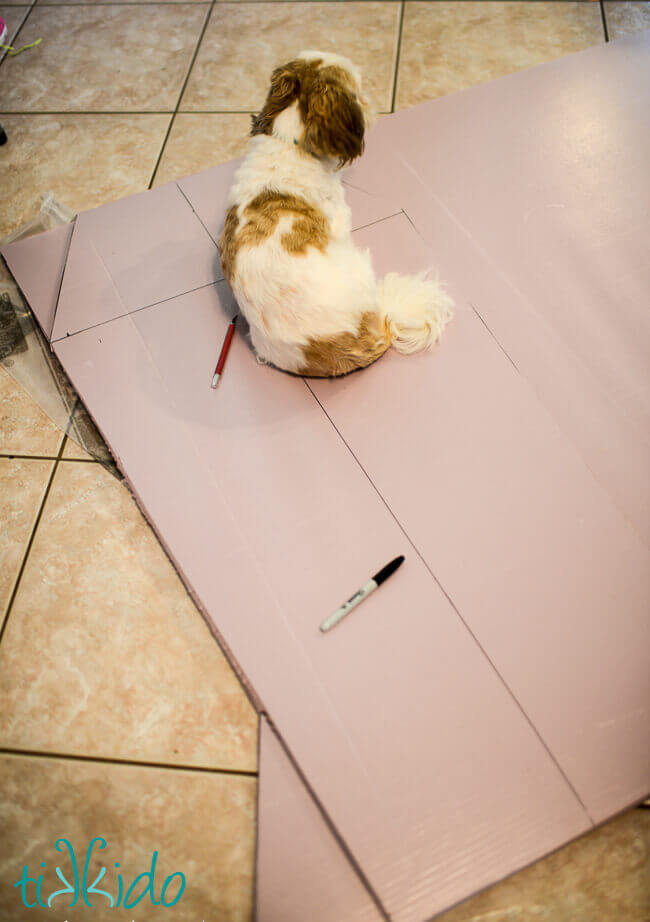 Step 2)  Keep chasing dog off the insulation board so you can cut it out with an X-acto knife or utility knife.

I managed to get an entire 4 foot tall coffin out of one sheet of the foam insulation.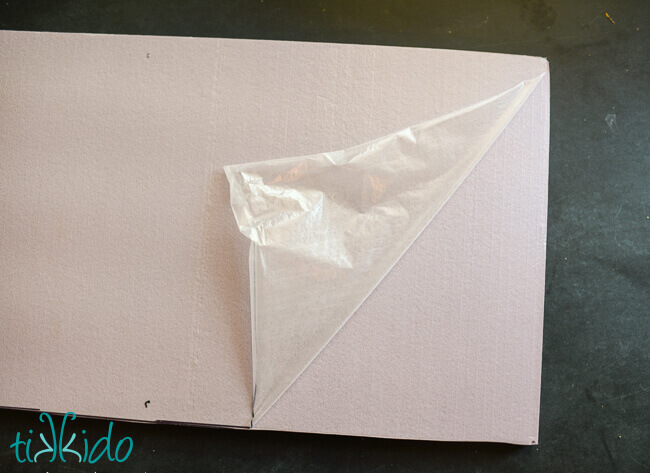 Once all the pieces have been cut out, carefully peel the plastic coating off both sides of the foam board.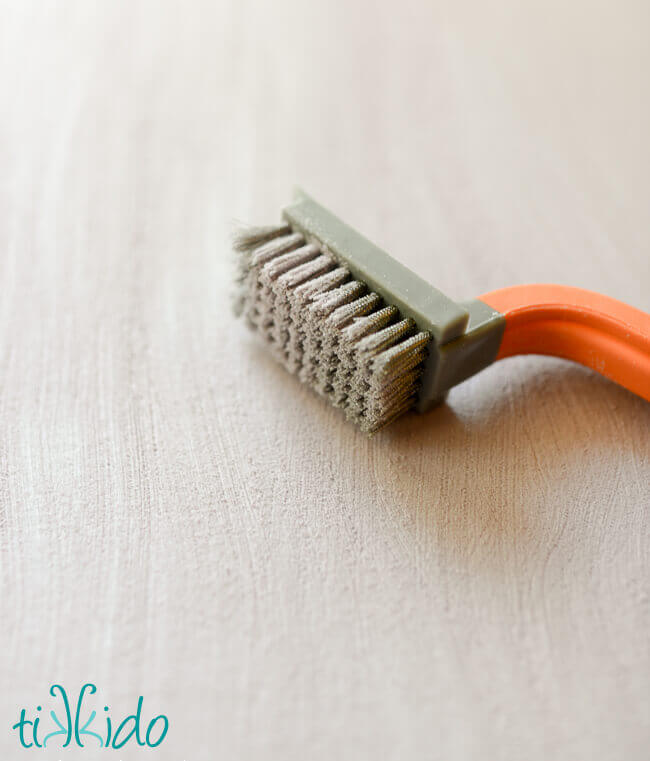 Use a wire paint-stripping wire brush to engrave wavy-lined wood texture into the surface of the foam board.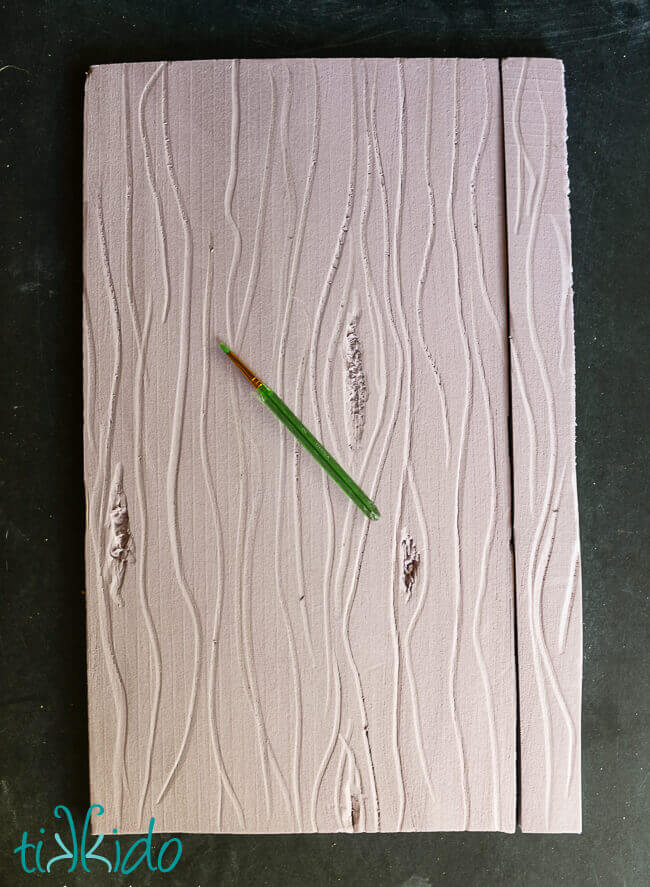 Use a narrow object to carve deeper wood-grain lines, and gouge out knots in the wood.  I used the back end of a paintbrush for this job.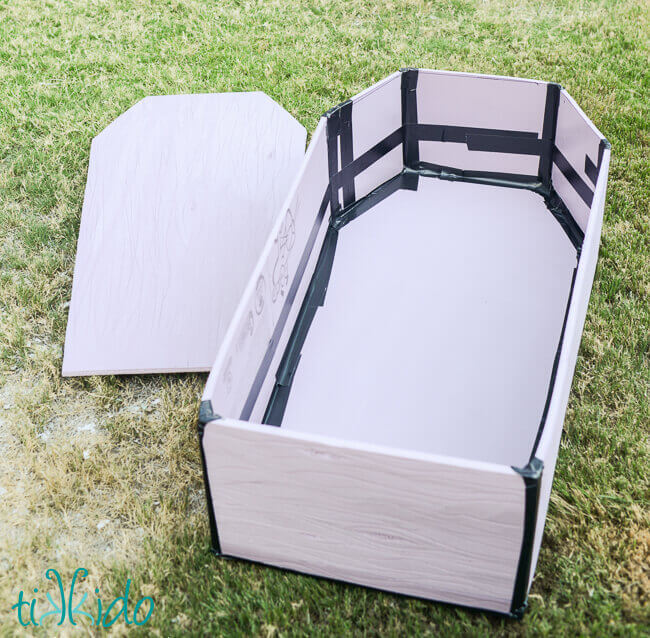 Tape the entire structure together, using duct tape.  I used black duct tape, since I knew I was planning to paint the coffin a very dark color.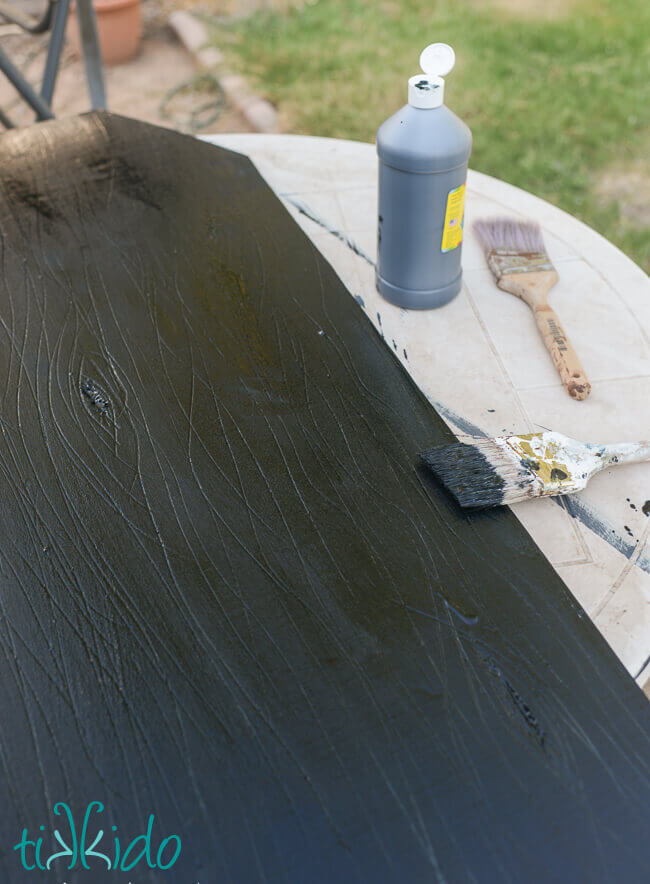 Paint the coffin in a base coat of black paint.  I just used inexpensive poster paint from my local craft store.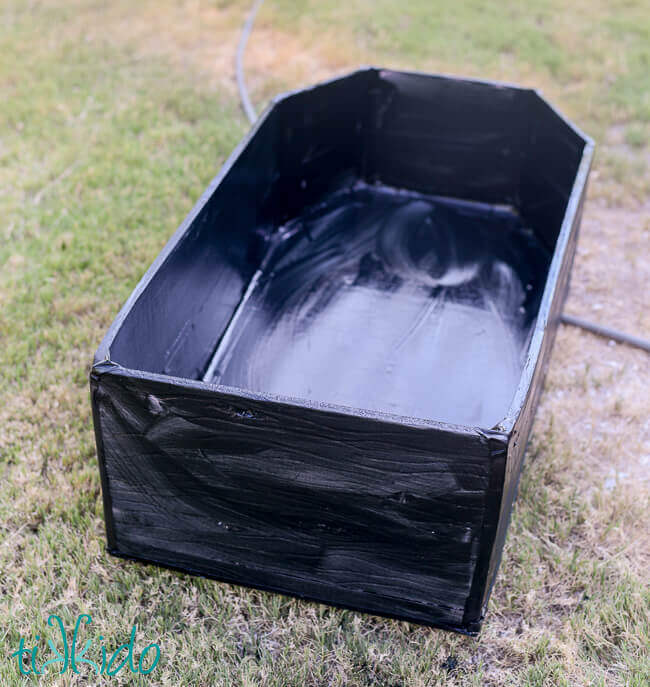 Let dry, and don't worry if the coat of paint isn't very even.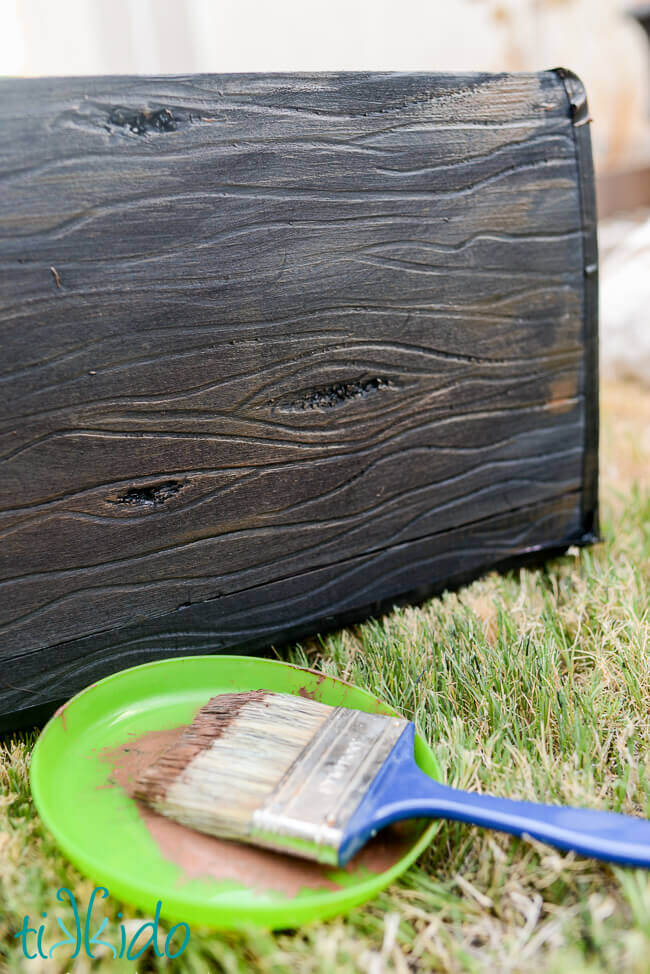 Use lighter brown and tan paints to dry brush paint highlights onto the coffin exterior.  This really makes the texture pop, and makes the foam coffin look much more authentic.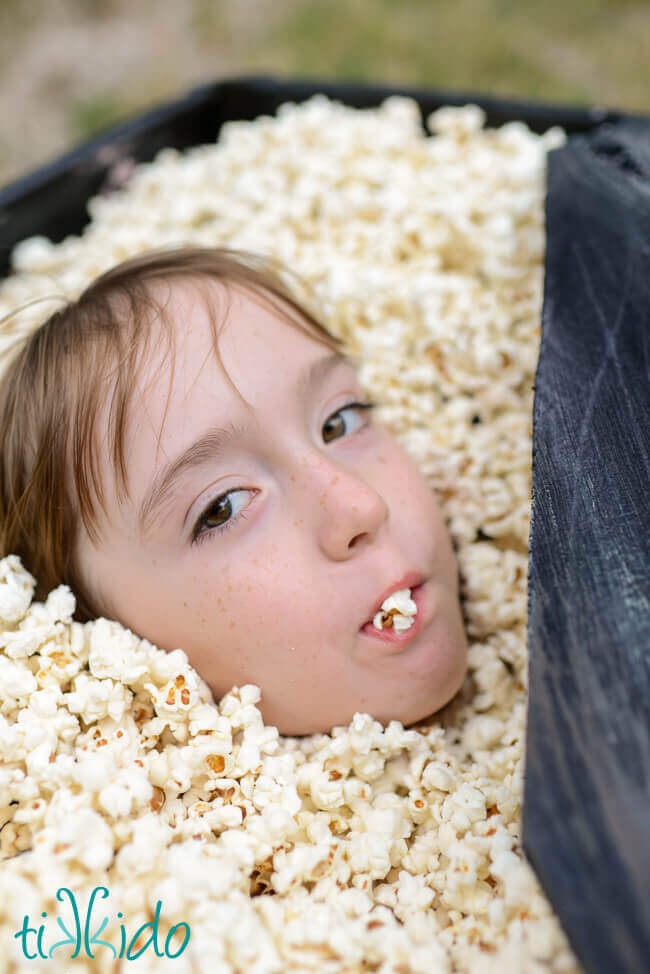 ​
At this point, for the GISHWHES scavenger hunt item, I popped a LOT of popcorn and buried my daughter inside.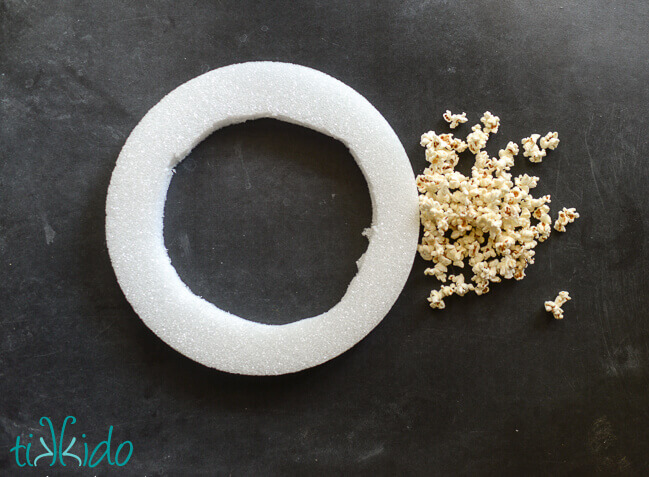 And I decided that the perfect accessory for this wacky photo would be a popcorn funerary wreath atop the coffin.  Word to the wise:  popcorn does not stick particularly well on styrofoam with a glue gun.  It worked well enough for a photo prop, but don't attempt this technique for anything you want to be durable in any way!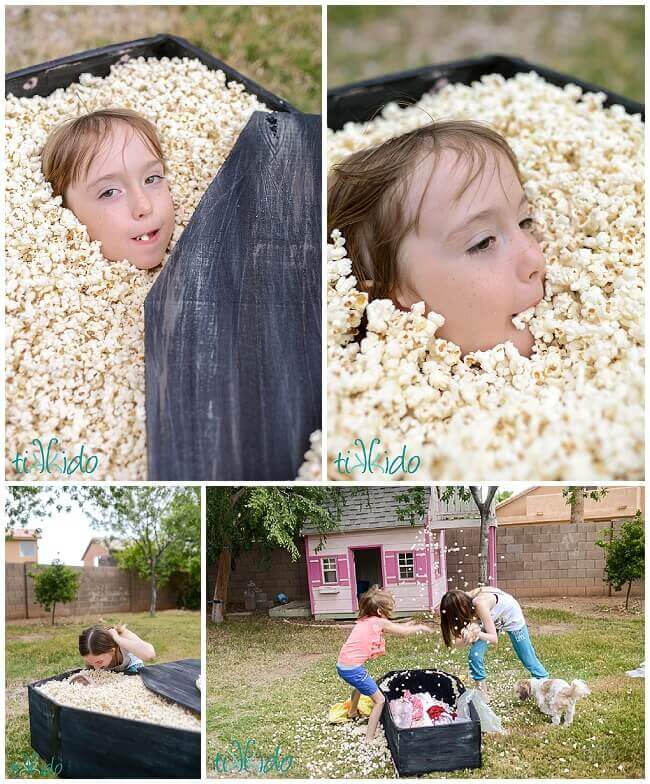 My girls LOVED helping me at every stage of this project, from building the coffin, to eating their way out of this popcorny predicament, to a massive popcorn fight at the end.  (The birds and the dogs also particularly liked that part.)
http://tikkido.com/tag/5/trunkortreatI'm thinking a coffin full of popcorn (maybe on a smaller scale ;-) ) would make an EPIC serving dish for a Halloween scary movie night get-together.  You can bet that this coffin will be appearing in this year's trunk-or-treat, too.  Ooh, maybe I could fill it with ice and have it be the creepiest beverage chiller at our Halloween party this year?  This coffin thing is turning out to be surprisingly useful.