Printer-friendly version
Viking cupcakes topped with How to Train your Dragon cupcake toppers are the perfect sweet treat for your favorite warrior.  This tutorial will show you how to make these edible viking helmet cupcake toppers out of gum paste.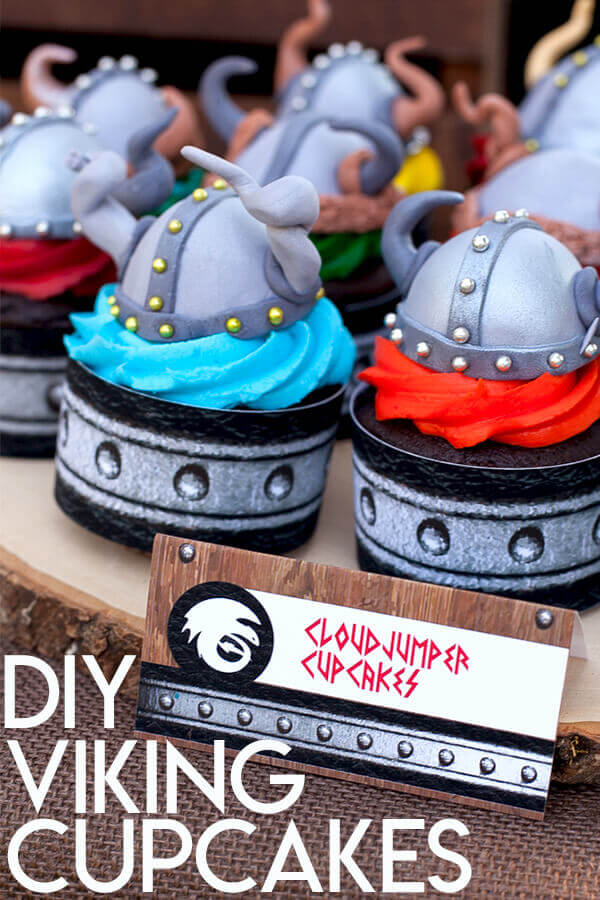 The Viking shield cookies weren't the only thing I made for Frog Prince Paperie's How to Train Your Dragon party.  I also got to make these incredibly cool, amazingly awesome viking helmet edible cake toppers!  (I'm too proud of how these turned out to be modest here).
(Photo by Frog Prince Paperie)
The gumpaste cupcake toppers made it from Arizona to Florida with only a couple tips of horns broken in transit--whew.  But that just makes them more authentic, right?  What rough-and-tumble Vikings wouldn't have an occasional broken horn?
If you're throwing a party for your favorite How to Train your Dragon fans, don't worry, they're easier than you'd think to make them for yourself.
How to Make Viking Helmet Edible Cupcake Toppers:

Here's the secret to making these How to Train Your Dragon cupcakes:  classic plastic Easter eggs!  They made the perfect mold for various shapes and sizes of miniature Viking helmets.
Start by coloring some gumpaste (I like using Americolor gel food coloring).  I love working with Satin Ice gum paste; it's worth seeking out a cake decorating store or ordering it online to get it.  Much better than Wilton's gumpaste available widely in craft stores.  For most of my helmets, I used light grey, darker grey, and brown gumpaste.

Spray the Easter egg halves lightly with olive oil, so they won't stick to the gumpaste as the helmets dry.  Use a circle cutter to cut out a thickish piece of light grey gumpaste.
Drape the circle of gumpaste over the oiled Easter egg forms, and gently stretch the gumpaste down, working out the folds and ripples as you go.  This is why we wanted a thicker piece of gumpaste; you need enough material to stretch and work those ripples out.  You'll end up with a piece of gumpaste that hugs the contours of the Easter egg, but is too long.  It looks like a little grey ghost at this point.
That's easy enough to remedy with a pair of scissors or a sharp paring knife!
Trim away the excess material, and be sure that your gumpaste isn't overlapping the edge of the plastic egg.  We want to be able to remove the form later without cracking the helmet.
Roll out the darker grey gumpaste, and cut thin strips for the metal banding over the top of the helmet and around the brim.  Glue the darker strips to the hemlet base using a little bit of vodka.
Just like with the Viking shield cookies, use the wrong end of a paintbrush to create divots for the silver nonpareils.  
Make horns for the helmets in various fun shapes and sizes, and let dry slightly as you're working on the basic helmets.
Fur accents are easily created by rolling a snake of brown gumpaste, then using an open star icing tip to create the fur texture.  Stick the points of the star tip into the gumpaste, and then twist the tip a bit as you pull it out.  Poke, twist, poke, twist, again and again until you get the look you want.
Glue nonpareiels in the divots, and glue the horns to the sides of the helmets (I needed to give the horns a little support by propping them against small cans and bottles until they dried).  Let dry overnight.
After letting the helmets dry at least overnight, carefully use a pair of needle-nose pliers to grab on to the Easter egg, and gently pull the form out of the gumpaste viking helmet.
Be careful, because the gumpaste, having been shielded from the air by the Easter egg, won't be completely dry!  
Once the forms have been removed, let the helmets completely, at least for a day.  I put mine on a cooling rack to help air have access to the softer under-sides of the helmets.
(Picture by Frog Prince Paperie)
Once the helmets are dry, it's an easy thing to add them to the top of your favorite cupcake, whether that's homemade or store-bought.
I love the way the helmets looked with these printable How to Train your Dragon cupcake wrappers from Frog Prince Paperie (link coming soon!).  What a perfect finishing touch!
Wouldn't these be cute with Hiccup's mop of reddish-brown hair (made with icing and a grass tip), and the helmet oversized and a bit askew?  
Does all this look too complicated for you?  No worries, and no shame from me!  I found these How to Train your Dragon movie edible images (licenced images of your favorite characters from the movie printed on edible icing paper) on Amazon.  You just need to cut out the circles, attach them to a circle of fondant or gum paste with a little corn syrup, let dry, and pop on your cupcakes.  
And if that's more than you want to fuss with, I found these adorable pre-cut cupcake toppers!  
Other How to Train Your Dragon Posts You Might Like:
Other Cupcake Decorating Posts You Might Like: