Printer-friendly version
Yesterday I showed you some gorgeous beverage dispensers that would be absolutely perfect for a wedding, shower, or really any party. But what to put in them? Punch!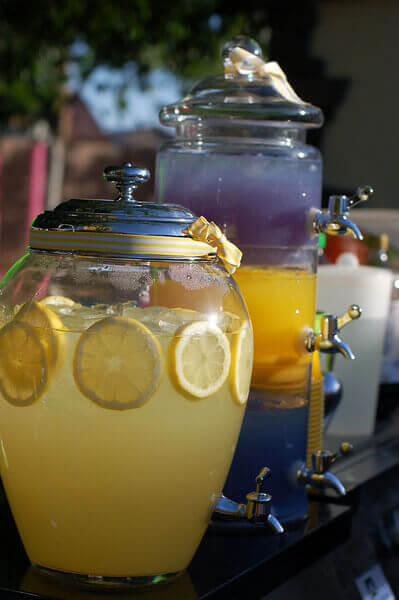 No, no, banish thoughts of high school prom and your brother's cub scout potlucks. I'm talking classic, historic, elegant punches. They're just cocktails in a great big bowl, after all. Mixing them up as a punch is a fabulous way to have and serve a signature cocktail at your wedding.

Here are some of my favorite recipes:

Mojitos by theBucketful (serves 75)
1 quart mint-infused simple syrup
2 750ml bottles of champagne (a sweet, inexpensive kind is perfect)
mint leaves for muddling and garnish
Enough limes tojuicefor 1 quart lime juice, plus have left-overs to slice and add to the punch dispenser and garnish glasses. This really depends on the size of your limes, but 30 is a good place to start.
1 1.75 liter bottle of rum (try the Cruzan brand. Delicious, and less expensive than Bacardi)
2 liters club soda
Mojitos are typically made by the glass, and the mint and lime oils are infused through the drink by muddling (basically squishing and pounding the dickens out of the lime rind and mint leaves). It's too much work to do that on this scale, so instead, we have a couple tricks to get that great flavor without so much work.
The first is to make a mint-infused simple syrup (recipe in tomorrow's post!).
The second shortcut is to make use of the lime rinds. Juice the limes, but once you're done, keep the rinds. Throw the rinds in the rum for 24 hours, then strain them out. That delicious, aromatic lime oil will remain in the rum, and add complexity to the mojito when it's all mixed together.
Mix simple syrup, lime juice, and rum together. This can be done a couple days before the event, as long as the mixture is kept in a covered container.
At the last minute, add the club soda and champagne.
Add lime slices, ice, and fresh mint leaves to the punch.
Remember to have a bowl with lime wedges and sprigs of fresh mint next to the dispenser for guests to use as a garnish.
Classic Red Sangria (makes one pitcher)
1 bottle red wine (it should be a drinkable red table wine, but doesn't need to be expensive)
1/2 cup brandy
1/4 cup cointreau (or other orangeliqueur like Triple Sec)
1 cup simple syrup
1 liter club soda/seltzer water
1 apple, cored and cubed
1 peach, pitted and cubed
1 orange, sliced
1 lemon, sliced
1 lime, sliced
Combine wine, brandy, cointreau, simple syrup, and chopped up fruit. Let sit at least overnight to let the flavors meld. Right before serving, add the club soda.
Note 1) Any fruits work really well in sangria. I like the crunch of the apples, so always include those, but throw in mango, grapes, cherries, pears, whatever you have on hand!
Note 2) When I serve sangria in abeveragedispenser like the one shown above (rather than a pitcher), I always make extra boozy fruit to put in a small serving dish beside the drink. The fruit is half the fun of Sangria!
White Peach Sangria (makes one pitcher)
1 bottle dry white wine
3/4 cup peachschnappsor peach vodka
1/2 cup brandy
1 12oz can peach nectar
1 liter club soda
1 lemon, sliced
1 cup green grapes, halved
3 peaches, pitted and cubed
1 apple, cored and cubed
Combine wine, peachschnapps, brandy, simple syrup, and all fruit. Let sit for at least 24 hours in the fridge to let the flavors meld.
At the last minute, add the club soda and ice.
Notes 1 and 2 above are relevant to this recipe, too!
Classic Champagne Punch (20 servings)
1 cup Triple Sec
1 cup brandy
1/2 cup chambord
2 cups pineapple juice
2 litersginger ale
2 750ml bottles of champagne
Mix everything but theginger aleand champagne (this part can be done a day or more ahead of time). Add the bubbly stuff right before serving.
If you want to go kitschy classic, add in somesherbetto keep things cool!
Interested in an article on the history of punch, and links to some great and classic recipes? Check out this
Chowhound
article on the topic.