Printer-friendly version
I love working with talented graphic designers, because that is not one of the skillsets I have.  I can do a lot, but I know my limits!  The Balloon Whimsy set of printables from Frog Prince Paperie provided great inspiration for the direction of the Balloons Party for Festivities magazine.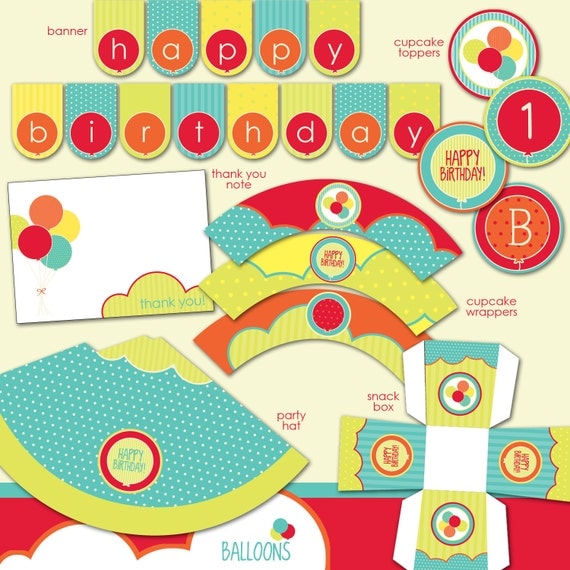 cupcake toppers from printable collections are seriously easy and adorable.  All you need is a 2" scrapbooking punch (or even just a pair of scissors), and something to stick into the cupcake.
That something is often lollipop sticks.  They're easy to find, they're inexpensive, and they're food safe.  Using something food safe is very important; plenty of things you could use are probably plenty safe for food, but by using an actual made-for-use-with-food product, you'll know you're using a safe product.
That's why I was so excited when I happened upon these curly candles in my local party store:
I saw them (in the perfect colors, too!) and immediately thought they looked like the strings of balloons flying high in the air.  I had been planning to make some elaborate homemade thing to get the same effect, and had been struggling with how to do that and respect the food safety issue.  These candles solved those issues in an instant!
I love how they look!  It's just one of those extra, easy, small touches that make a party even more special.  It's no harder than the standard way to do it, it's just thoughtful and unique.
I usually use a hot glue gun to attach my cupcake toppers to my lollipop sticks.  Fast, easy, secure.  Um, yeah, this is probably obvious to all of you, but that doesn't work so well with extremely thin candles.  A small bit of tape ends up being a far better way to attach the cupcake topper printables to the twirly candles.