Printer-friendly version
I had an opportunity to put my new philosophy of present wrapping in action this weekend!  In an attempt to cut down on my large collection of wrapping papers (oddly enough, no matter how much I have, it seems like I can't find a good one for the occasion), I've decided to wrap with plain paper and accent with pretty ribbons, greenery, yarn, etc.  Things that I have around anyway and are smaller and easier to store than lots of rolls of wrapping paper and matching ribbons.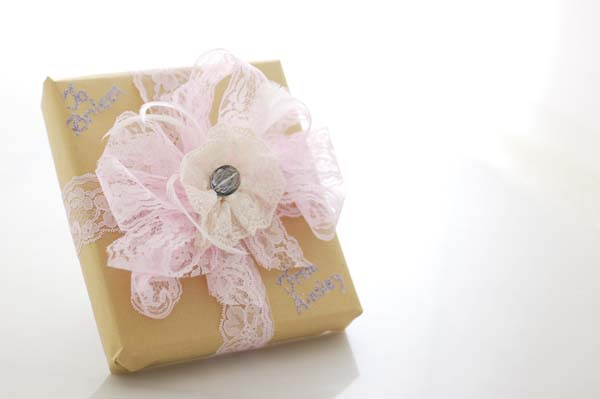 Basic craft paper, some lace, some feathers, and a sparkly crystal.  Oh, and some glitter.  Glitter makes everything better.
I bought a large bolt of pink ribbon for $10 more than a year ago, and I've used it many times since then.  It made up the bulk  of the butterfly badminton net.   It was all over the Neapolitan Ice Cream April Fool's Day party and the Blush Tea Party. I'm pretty sure it's a magical bolt, because no matter how much lace I use, there's always more.  Best $10 I've spent in a long time.  It was the perfect thing to use for my bow.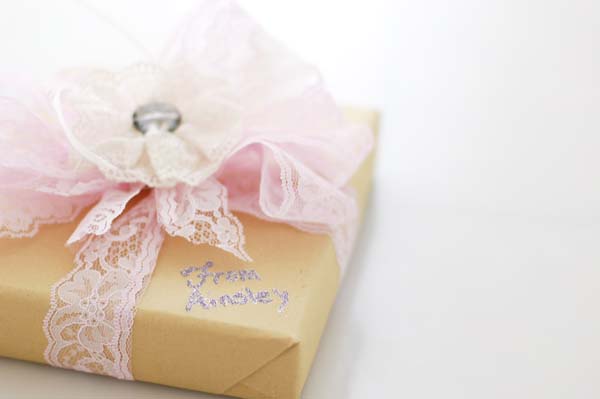 A scrap of venise lace, a pretty crystal bead, and a few feathers made the bow even prettier.  
I used a Martha Stewart glue pen and some fine glitter to write the To/From directly on the package.  No confusion because of a lost card, and we just like glitter in this house.  I couldn't resist.  
I'm liking this new philosophy!