Printer-friendly version
I have become a real fan of customized, single-use wine charms.  I first made them for the daisy-themed 40th anniversary party.  And I couldn't resist a LOTR twist on the idea for the adults' beverages at the hobbit party.
All you need are gold ring favors (available at craft and party supply stores)...
...and a scrapbook punch and some cardstock.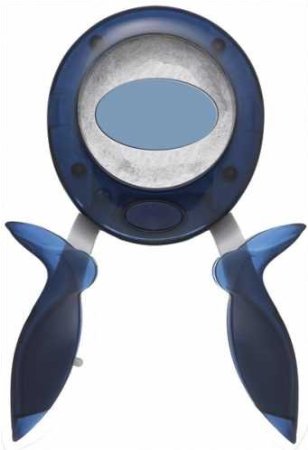 Oh, and a little single hole punch is handy, too.  
The great part about using the favor rings is that they're essentially big golden jump rings.  That is, a length of metal bent into a circle, but not attached where the ends meet.  So they're really easy to pull apart slightly, thread your paper tag right on the ring, and bend back in place around the stem of a wine glass.
Set pens out by the glasses and you're done.  One Wine Charm to Rule Them All!  Or at least keep you from drinking other people's beverages at the party.
Wouldn't this be great for a golden anniversary party?  The rings come in silver, too, so it would be perfect for a 25th anniversary party as well.  Or a bridal shower, for that matter!