Printer-friendly version
Can I stand on a soapbox for a few minutes? I love my children--dear GOD I love them, don't mistake me for one moment--but I cannot stand being defined by being a mommy. I am so much more than someone who happened to decide to contribute to the future population.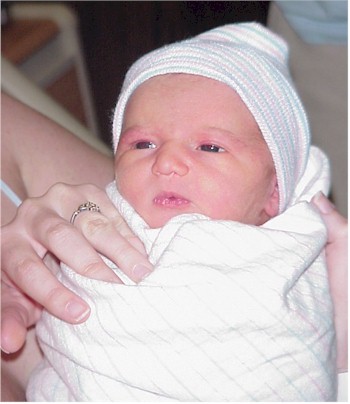 When I had my first daughter, I was already a work-from-home entrepreneur with a successful company and two employees. But I didn't have enough adult contact on a day-to-day basis and started to get a little nuts, so I searched around for some mommy-and-me groups. I found a local one through Meetup.com, and applied to join. I had to write a profile of myself and be approved to be accepted by this private group. The profile was limited to 30 words.
30 words! To describe myself! All that I am, my hopes, my dreams, my accomplishments, my hobbies, my interests. That last sentence itself was 14 words! I agonized, I edited, and at last, I came up with something that I thought represented me reasonably well. I hit submit.
And I was accepted a day or so later. I eagerly went to the meetup's page to read the profiles of the other women in the group, to read all about (or at least a brief snippet about) my potential new friends. And they all read like this: "Hi, I'm Anna, mommy to Jayden." "Hi, I'm Rachel, mommy to Gunner and Alex." That's it.
That's it! Hey, I understand how limiting the format was, but the instructions were to write a brief profile of YOU. These people defined themselves entirely by who they mothered. I tried to make it work with these ladies, I really did, but nothing really clicked, and I eventually stopped going to the meetups.
There are some women who find it entirely fulfilling to dedicate their lives to their children, for whom being a mother is the most important thing in their lives. I am not trying to disrespect those people. I'm assuming that those are lovely, dedicated, caring people. I just can't be one of them, and evidently, I'm not really going to be good friends with any of them. And that's ok. I need to have so much more that defines me than who my children are. I have interest. I have ambitions. They include my family, but are not limited to it.
But I guess that's what pisses me off so much when I get categorized as just a "soccer mom" because I drive a minivan.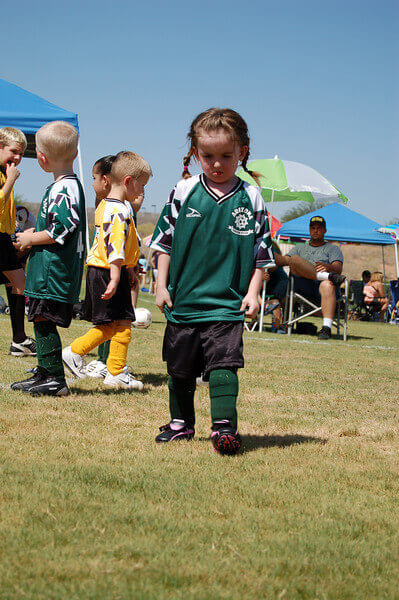 Ok, to be fair, we did sign Ainsley up for soccer once. Drew loves soccer, played through college, and still enjoys playing on adult leagues. But she hated it. Seriously. This is probably the happiest picture I have of her that season, except perhaps the one where she was picking her nose instead of playing.
But I freakin' love my Kia Sedona minivan. I had to lobby pretty hard to get it when we were buying a new car. Drew had that stereotypical aversion to getting a minivan, and kept pushing the SUVs. But I persisted. I knew what I wanted. I wanted something that, sure, could carry around a bunch of kids if I needed to, but also pretty much any damn thing I wanted to haul. Concrete blocks to build a wood-fired pizza oven in my backyard. My kayak. A double oven, 36" gas rangetop, and 36" hood (all one trip, with the kids still in the car) for the kitchen renovation. All the cabinets for the kitchen renovation. Bamboo flooring for all the bedrooms, and the new wood sub-floor to go with it. And of course road-tripping up to skiing in the white mountains, or to an out of state feis (Irish dancing competition), or to see the in-laws, or to go camping. I can do it all in my minivan, and have. My minivan is so much more than just a mommymobile. Just like I'm so much more than just a mommy.
Maybe I'm able to cast aside that stereotype and just go for the features I want because I have never in my life been the cool one. And aside from about half a year spent trying to study popular music and fashion in the 7th grade, I pretty much didn't care. I've always been pretty happy and satisfied by what I like. (Public radio! Playing the violin and the harp! Irish step dancing! Reading! Old English archeology and language! European-style board games! Cake decorating! Making stuff--of the crafty to the buildy variety!) I wasn't cool, but I was happy--and still am, making my own choices that suit my needs and likes.
Or maybe I just don't give a damn because this is the car I first drove. A Buick Electra Estate Wagon, with peeling fake wood paneling, and seatbelts for 9 people. You start with a car like this and you get over any inhibitions pretty quickly. But hell, I had a car! And I was the only one who could transport the double bass to our orchestra performances. I lived in Florida the last two years of high school, and in retrospect, I totally should have taken up surfing. I had the perfect car for it.
(Side note: you'd think that, learning how to drive in this car, I would be able to parallel park. But no. In Ohio, they had a "maneuverability test" instead and didn't teach parallel parking. So I'm desperately awful at it now and avoid it at all costs.)
Whatever the reason, I don't tie up my identity and self-worth in the car I drive. But even if I did, I think it's time to rehabilitate the minivan. It's an incredibly versatile, affordable vehicle (well, the one I bought was). It's comfortable, it's useful, and I can do anything in it. Certainly much, much more than just drive the carpool.
What, you still need to be convinced that it's ok? That it's cool?
Along with construction materials and sporting equipment, this is what we're carting around these days. My daughter and her electric guitar, heading off to a performance at a local bar with her band.
Ok, so she's 9, maybe that's not cool enough for you.
If you care about these things, even celebrities drive minivans!
Sarah Jessica Parker and Katie Couric talking about how much they love driving their minivans.
Ben Affleck and Jennifer Garner driving around in their minivan.
David Bromstad, drove a minivan for HGTV's Color Splash, too. See? Even HGTV producers think that the minivan is an incredibly versatile, helpful, useful vehicle.
I'm stepping off my soapbox now, with one final thought: minivans rock.
This post is sponsored by Kia. My Kia Sedona minivan had plenty of capacity (I loved the space), but it died a horrible, complete death 2,000 miles after it was out of warrantee. Two months after it had been at the dealer for regular maintenence and an inspection. Have not had a response back from Kia.