No flower petals, no rice, no sparklers at your wedding venue?  No problem.  You can still have a festive, colorful, gorgeous send-off with these wedding ribbon wands.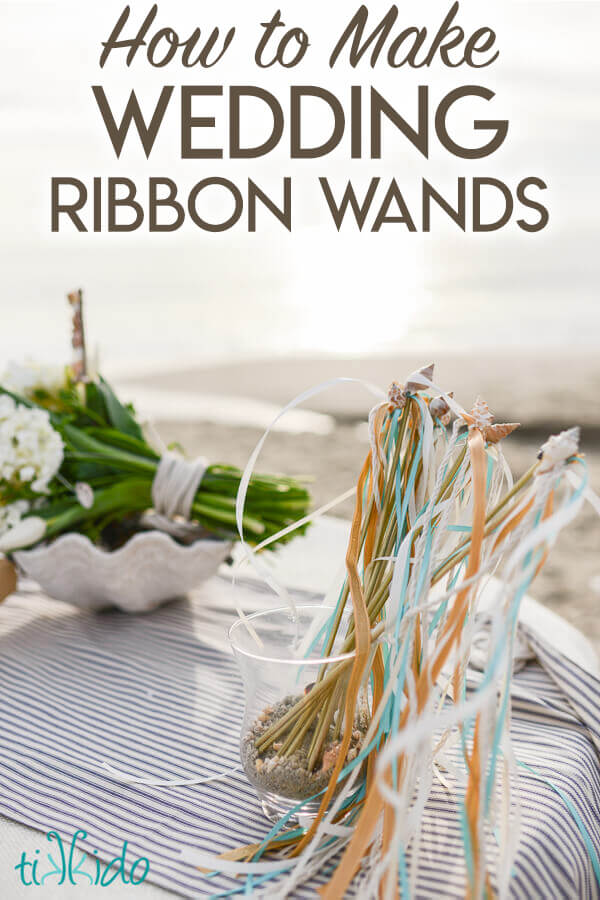 They're fast, easy, and inexpensive to make, too.  Just the kind of craft I love.  (If you're looking for a ribbon wand toy, I have a tutorial for that, too [1].)
Materials for Nautical Wedding Ribbon Wand Tutorial:
bamboo skewers

[2]

spray paint (optional)
assorted ribbons
Low temperature hot glue gun
scissors
shells

[3]
Step One:  
If you're going to paint your skewers, paint them and let them dry to the touch.  It only takes a few minutes before you can get away with heading on to the next step.  
Step Two:
Cut lengths of ribbon.  You really don't need to be careful about this at all--you actually want the ribbons all to be slightly different lengths.  So just eyeball it, be casual and loosey-goosey.  I used inexpensive satin ribbons on sale at the craft store, but gift wrap ribbon [4] (you know, the kind you curl and can buy pretty much anywhere) also looks really great on ribbon wands, and is even less expensive.  If you're making a few hundred of these suckers, maybe incorporate some satin ribbon, but definitely take advantage of inexpensive curling ribbon, too.  
In addition to ribbon, for my nautical theme, I also used some twisted cotton twine.  I love how it pulled in the theme!  Don't be afraid to think beyond ribbons.
Step 3:
Tie the ribbons to the pointy end of the bamboo skewer.  Glue a seashell on the top, pointy end, to cover the place where you tied on the ribbons and cover the sharp bit.  (You don't want people waving around pointy things near your head, after all.)  Ok, so some shells are pointy, but at least they're not as pointy as a bamboo skewer.
I just love the way ribbon wands look [5] at wedding send-offs.  
Bonus:  they're a pretty bit of wedding decor, too--especially if you're at a breezy location like the beach, where the wind will catch the ribbons in the vase and flutter prettily.
Other Nautical Wedding Crafts You Might Like: