Printer-friendly version
Decorate a store-bought piñata with crepe paper ruffles to instantly make it look custom and elegant and match your party theme. It's an easy way to get a custom piñata look without having to make an actual piñata yourself.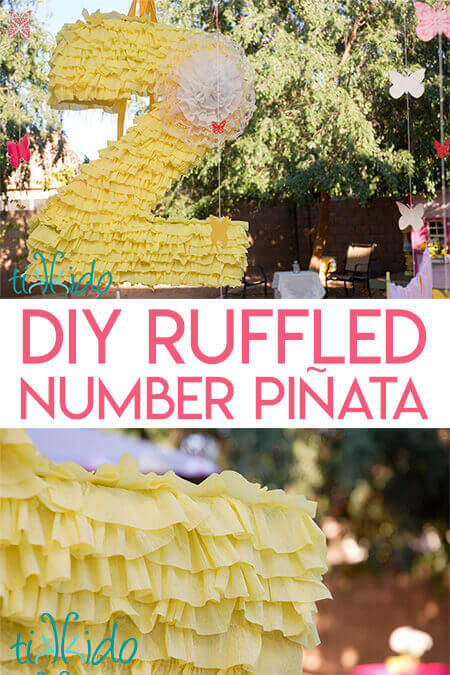 We always have a piñata at our birthday parties. It's something my parents always did for me when I was growing up, and it just wouldn't feel like a birthday celebration without one. I found a darling 2-shaped piñata at the local discount party store--only $10! But it was rainbow striped, and didn't match my party at all.

Did that stop me? Of course not! It's easy to re-decorate a piñata to fit your party theme.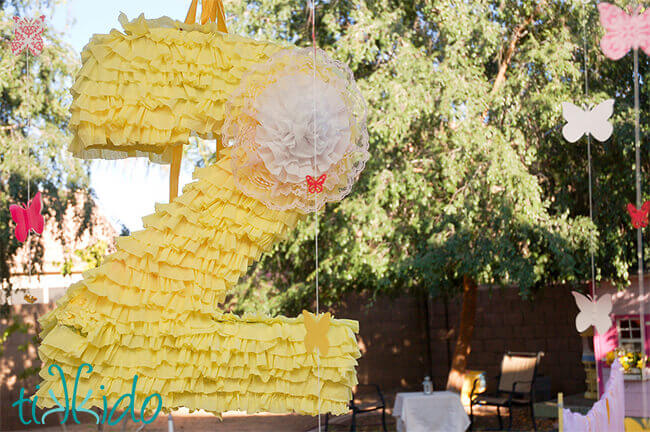 Materials for Decorating a Piñata with Crepe Paper:
A pinata, any shape, either store bought or homemade
spray paint in your general color scheme
crepe paper (I used just over two rolls for this pinata)
needle and thread
glue gun
1) Spray the pinata with your spray paint, to create a base color that will match your crepe paper as closely as possible. I discovered that the pinata kind of absorbs the spray paint, so it took several coats to get a satisfactory covering. Primer might be a good idea first.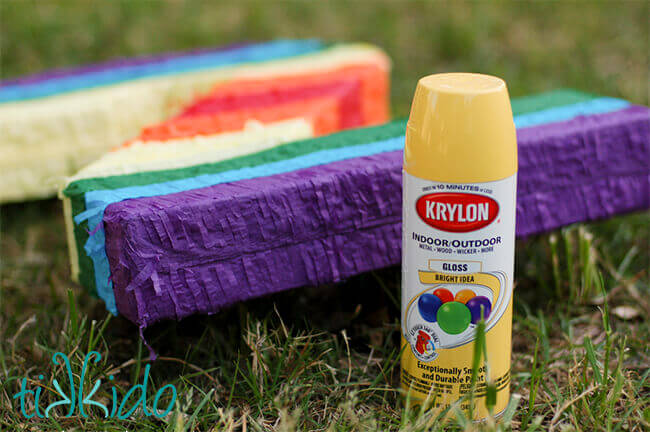 2) Make crepe paper ruffles. Lots and lots of crepe paper ruffles. You can use a sewing machine I'm told, but working with sewing machines really isn't my gift, so doing it by hand turned out to be a lot easier for me. A needle and thread and a simple
running stitch
made beautiful, easy crepe paper ruffles.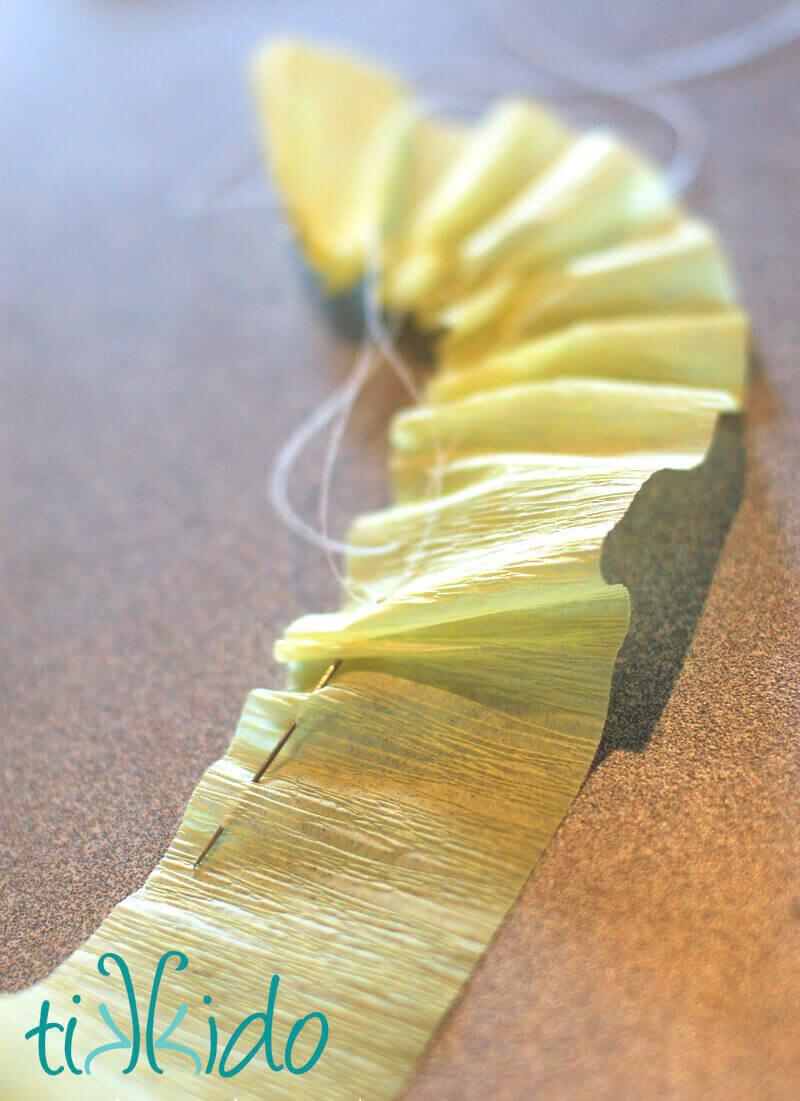 3) Glue the ruffles to your pinata using the hot glue gun. I always use a low-temp glue gun, because I always end up gluing myself when working on any project. Start at the bottom and work your way up, overlapping the layers of ruffles slightly.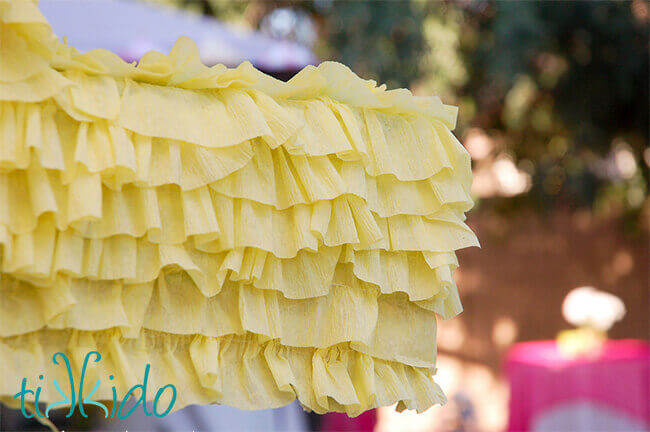 4) The pinata will already look fabulous at this point, but if you'd like to, you can gild the lily a bit more and add a crepe paper and lace flower. Cut a circle of felt to be the base of the flower. Use a glue gun to glue lace around the edge, pleating as you go to create a nice ruffled collar. Warning: you will glue your fingers during this step.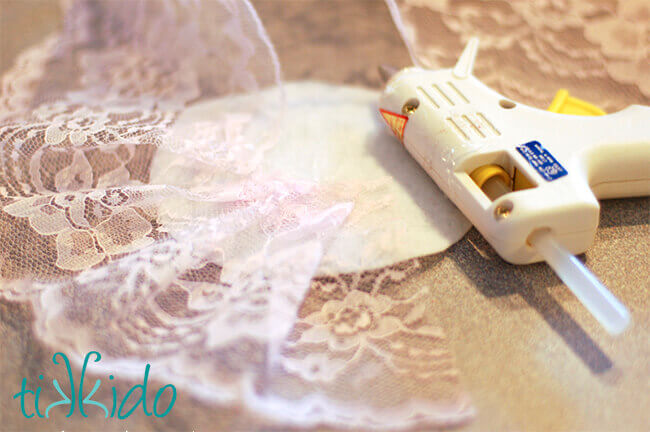 Make more crepe paper ruffles (a contrasting color works especially well for the flower). Use a glue gun to glue the crepe paper ruffles to the felt circle, starting at the outside and working in to the center.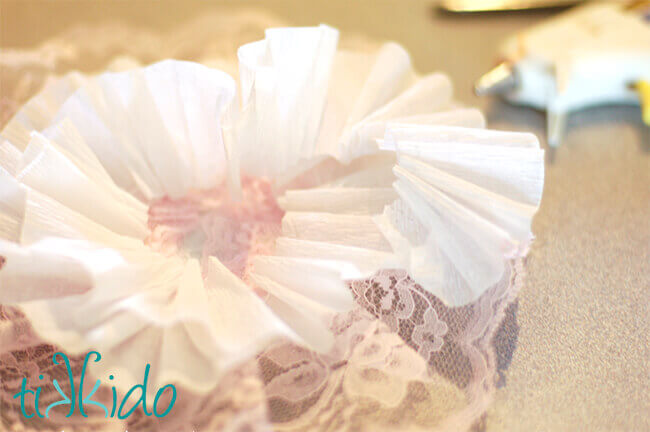 Once the flower is done, glue it to the pinata.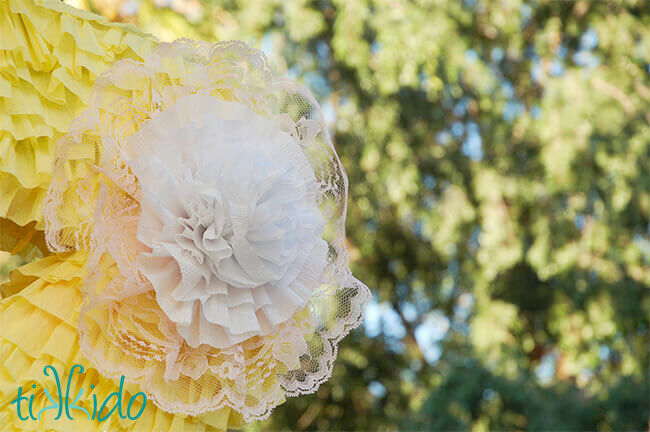 Beautiful piñatas are not only a great activity, but a dramatic, large decorative element at any party. It's well worth the little bit of effort to make your piñata match the theme. It's even fun watching all that work get destroyed!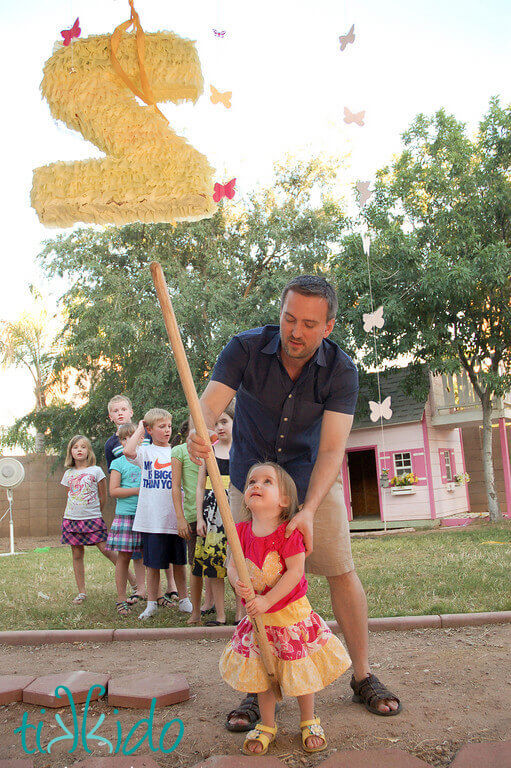 The smiles make it all worth it!