Printer-friendly version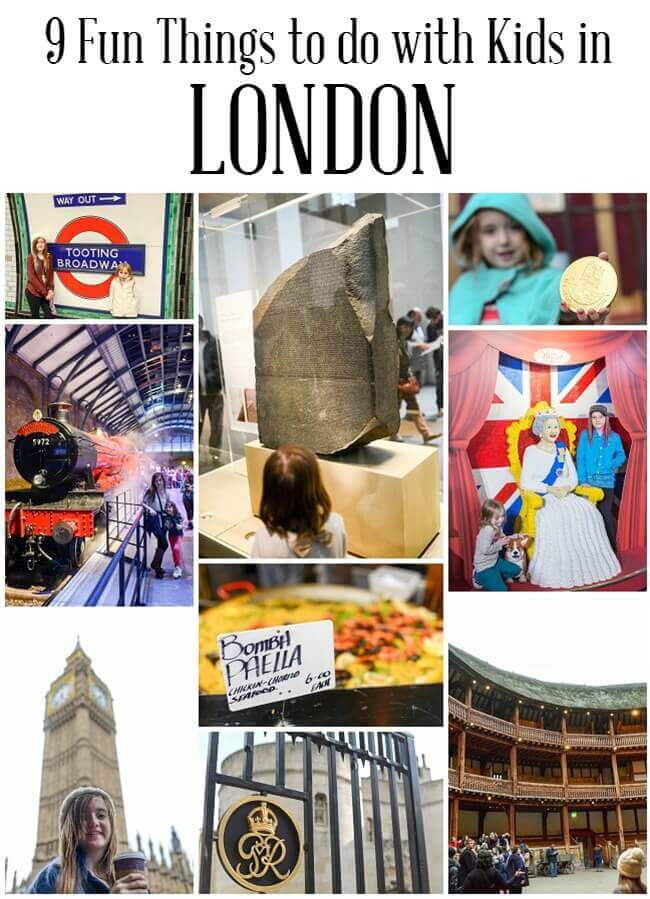 We just returned from a grand family vacation to the UK, including some time spent in London, and I thought I'd share with you some fun activities and sites that were great for the whole family, kids included.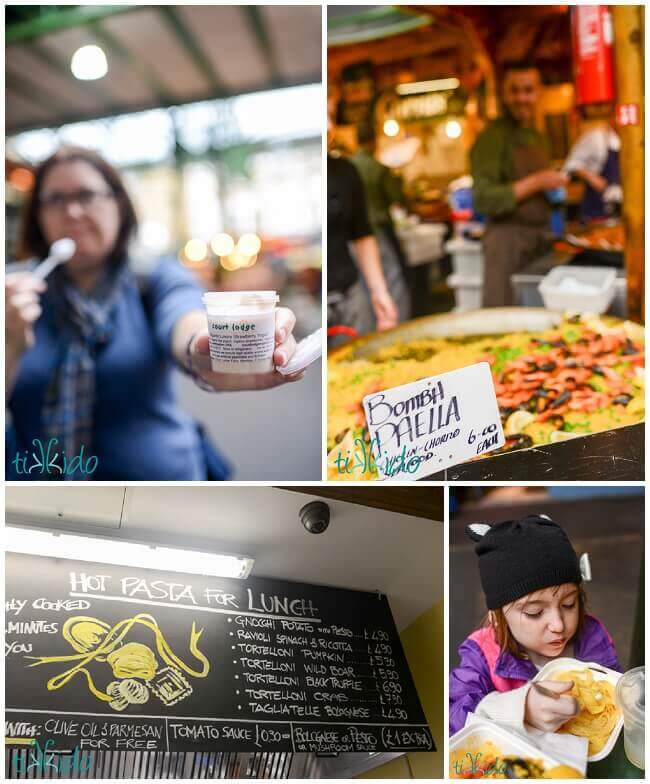 This market is heaven if you're a foodie, and even if you're not, it's still a feast for the eyes and stomach.  I guarantee that everyone will find something he or she wants to eat for lunch, and it will be absolutely amazing.  Pick up some snacks for the hotel room (or self-catering flat), too!  My girls never want to leave this magical place!
It's right next to the London Bridge tube stop, and is very easy to get to, too.  We had fun walking over London Bridge while eating amazing goat ice cream from the market, but honestly, London Bridge itself is just a modern, uninteresting bridge.  But the novelty of singing "London Bridge is Falling Down" while ON London Bridge cannot be overstated.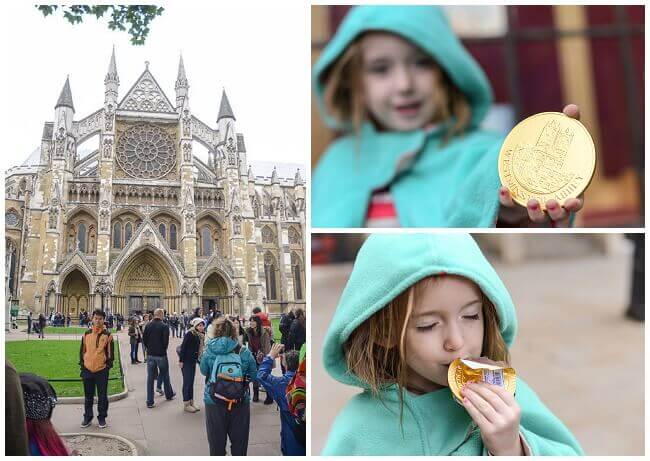 2)  Westminster Abbey
Westminster Abbey?  For the kids, you say?  Yes!  Not only is it gorgeous, and an important cultural site, but they have a fun scavenger hunt for visiting kids to do.  And if you answer all the questions, they give you a free HUGE chocolate coin at the end!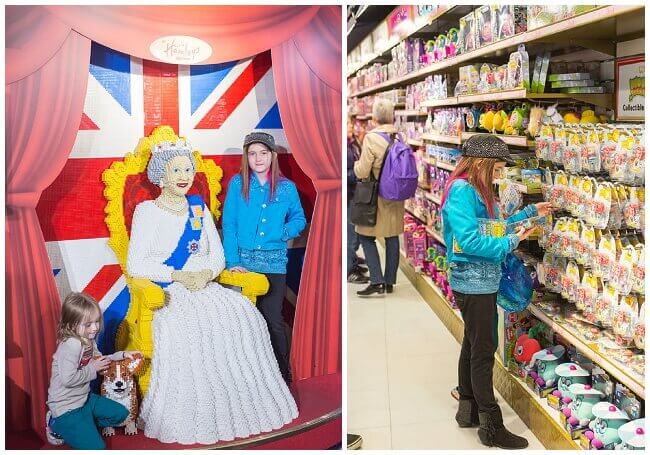 Want to take your kids to a place of pure magic?  Hamley's toy store in London is it.  Hamleys has been around since 1760, and it is floor after floor of kid heaven.  Honestly, it's so whimsical and amazing that I absolutely loved it, too.  Part of the reason for that is because there are workers all over the place playing with the toys, demonstrating, letting kids give something a try.  This is no sterile big-box with everything behind plastic barriers, untouchable.  This is a place to play.  Plus, there's a Lego Queen Elizabeth II and her dogs.   How can you not love a place like that?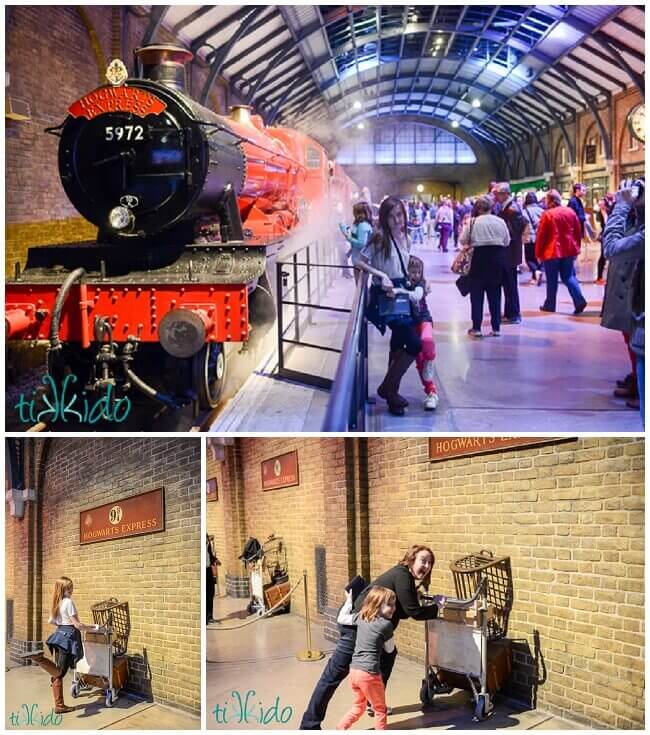 This is not just a studio tour--this is a Harry Potter and filmmaking museum.  And it is SO COOL.  Sure, you have to take a tube to a train to a bus to get there, but it's actually quite easy (love public transit in London!).  You're going to get more pictures of the Harry Potter studios, because I just couldn't help myself.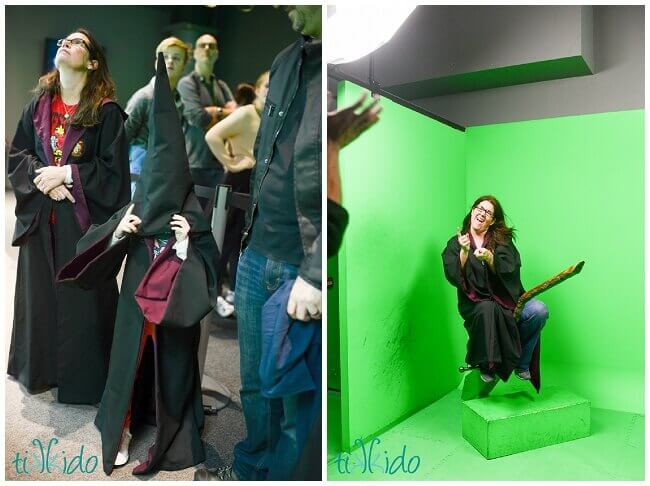 Learning about green screen special effects and flying a broom in a video!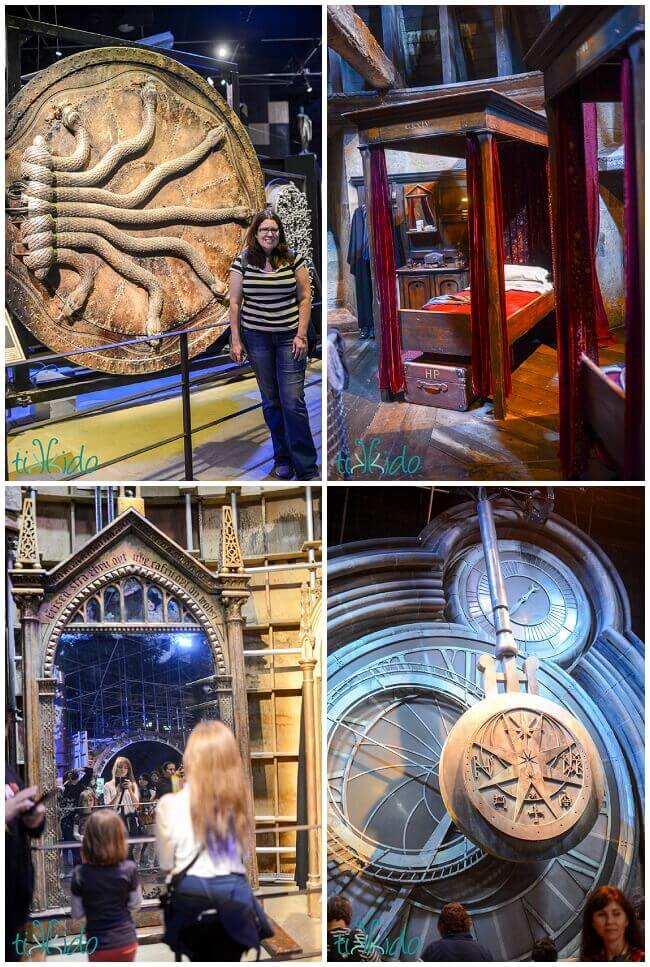 Seeing thousands of absolutely amazingly crafted props!  Did you know that the snake door is actually mechanical??  That wasn't special effects!  They engineered it!
I've decided that I could have a very happy career making paper scale miniatures for movie productions.  Miniature things, craftiness, and paper sculpture--I think I missed my calling!  Is it too late to decide what I want to be when I grow up?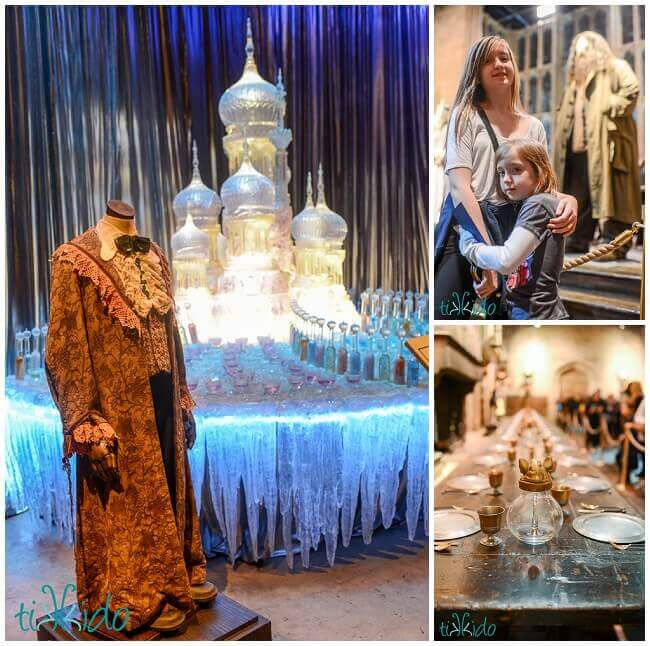 So many costumes!  I'll always have particular affection for Ron's dress robes.  And getting to wander around the great hall was a really cool way to start off the tour.
I was blown away by the level of detail.   (Ministry of Magic ID badges with complete information--not that you'd EVER see it on screen, but the production team went for full authenticity.  There were even half graded exams on Dumbledore's desk!  And I learned that the books in Dumbledore's office were re-covered phone books.  And the paintings in Hogwarts are actual paintings of members of the production team.  What a cool little fact I'd never have known if we hadn't visited!)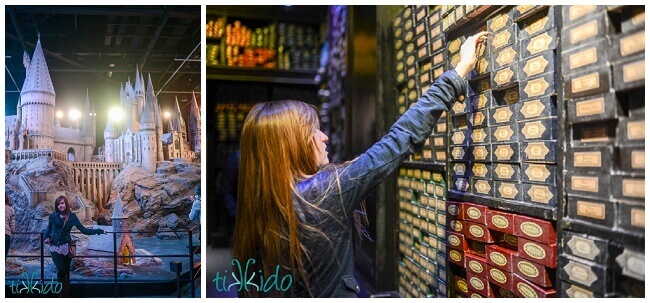 I got actual goosebumps when I stepped into the room with the giant model of Hogwarts.  Geek heaven!  
We promised Ainsley a wand several years ago for finishing Harry Potter and the Philosopher's Stone (aka Sorcerer's Stone) but never got around to ordering it, so she got to pick her wand at the Harry Potter studio gift shop.  I checked out all the wands, too, and Professor Lupin's is undoubtedly the right wand for me.  It just feels right in my hand.
I could go on and on (and I have many many more pictures!), but I'll get on with my list now.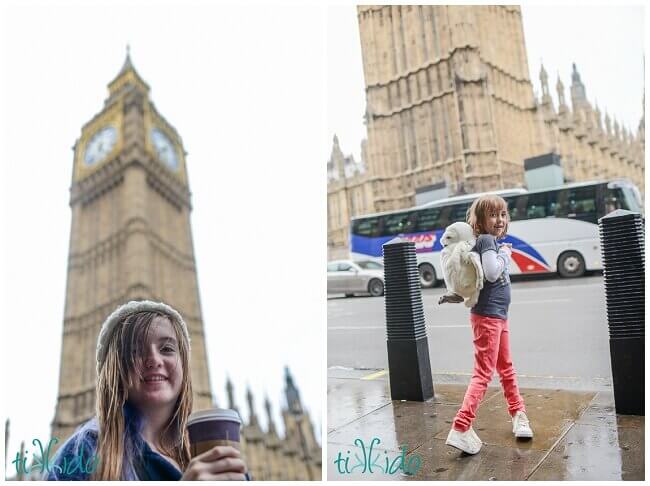 5) Do the most English thing you can think of in front of Big Ben and the Houses of Parliament!
 Ainsley is drinking tea and Niamh is wearing her Hedwig backpack!  ;-)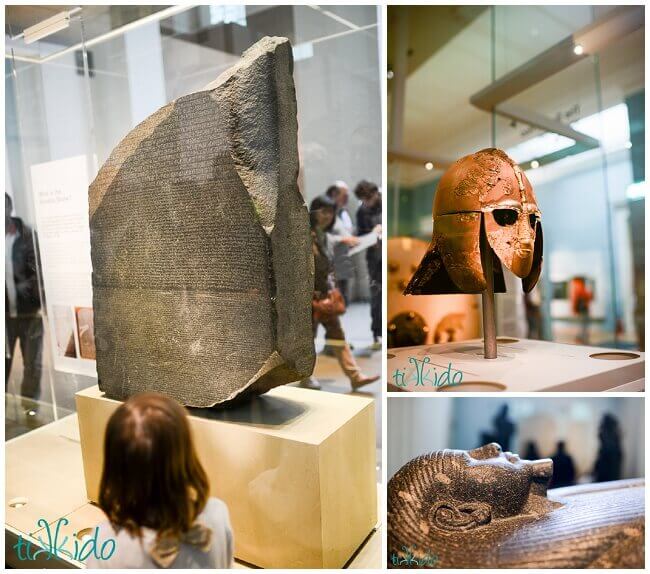 See amazing things, like the Rosetta Stone and the Sutton Hoo helmet and mummies!  Imagine scenes from The Red Pyramid happening right where you are standing!  And, if you're like me, get all geeked out in the Assyrian collection because you're reading The Ark Before Noah.  Awesome nonfiction book, by the way, if you're looking for a great read.  And the British Museum is free for general admission!  We did buy tickets to the special Celts exhibit, which was wonderful, but the regular museum is totally free.  How amazing is that?  I could easily spend all day there.  Lots of days there, in fact.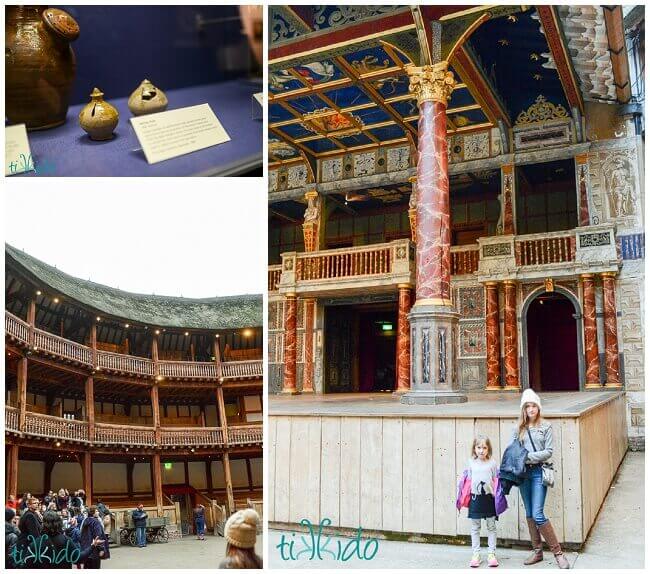 7) Visit The Globe Theatre.
Nope, not the original Globe.  That one is long gone, but this is an exceptional, faithful reproduction (based on every available point of data), down to the thatched roof (which, for fire safety reasons, was banned by building codes and only allowed by special dispensation).  There's a 30 minute theatre tour, and an exhibition space, with all sorts of fabulous artifacts, costumes, and a very robust audio tour.  Niamh (my 6 year old) LOVED all the audio tours, and insisted on listening to every. single. recording.  Trust the 6 year old to teach me patience and a deep interest and appreciation for a subject!  I was an English major, but while I appreciate theater, I was never a Theatre (With an RE) Person.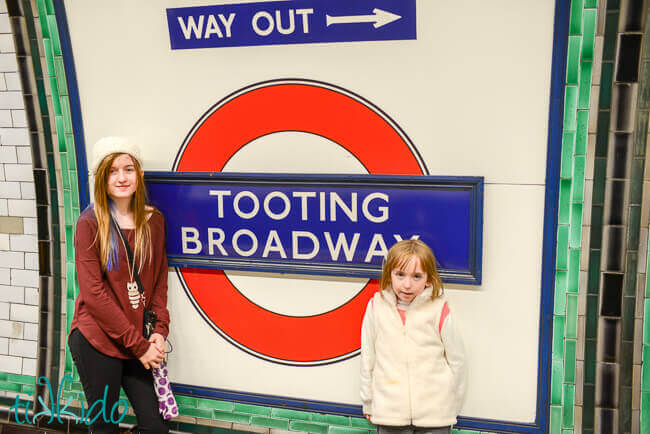 8)  Make use of the fabulous Tube system, and giggle at the names.
Yes, I am oh so American and evidently still 8 years old.  Tooting Broadway and Tooting Bec (I have a friend named Beck).  Cockfosters.  The public transit system in London is easy to use, fast, efficient, and wonderful.  And amusing.  Snicker, and pretend like it's your kids who are the ones who are truly amused.  If you are by the Tooting Broadway stop, and walk over to Upper Tooting (I stayed away from lower tooting, myself ;-) ), we had a spectacular meal at Dosa n Chutney, on what is affectionately called Curry Corridor in upper Tooting.  Go.  Feast.  You will not be disappointed.
Note: this is some of the tile that inspired the Ministry of Magic design in the Harry Potter movies, but their tiles were made of wood, because real tile was too heavy for the sets!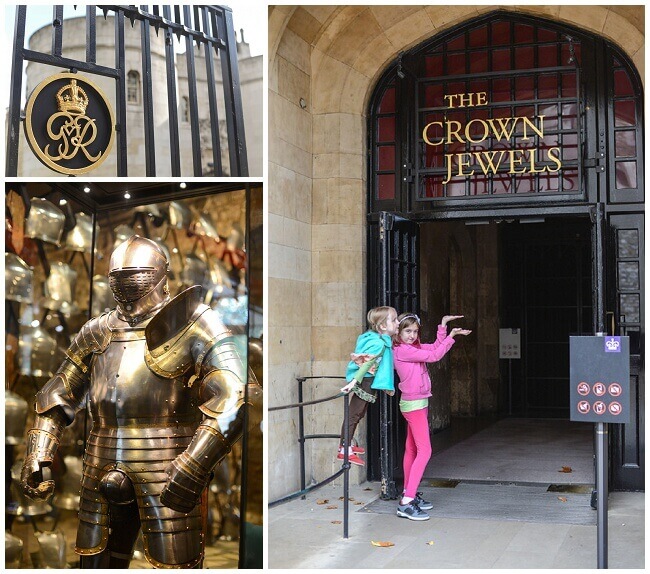 9) Visit the Tower of London
Beheadings, crown jewels, Beefeaters and Royal Guards, who could resist a trip to the Tower of London?  That's Henry VIII's suit of armor there, by the way.  Quite...confident, isn't it?  
For the kids, there's a special scavenger hunt to do, and the kids get a Practicing Princess pencil to fill it out.  Spectacular views of Tower Bridge, too.  
What are your favorite things to do in London?  We'll undoubtedly be back (we simply can't stay away from the Lowender Peran festival in Cornwall, the entire reason for our trip), and I'm always looking for new things to do with the family.