Printer-friendly version
The theme this month in the Make it Happen Blog Hop Challenge was organization.  It feels like my entire life is a struggle against the minions of Entropy (aka my children, and their amazing destructive powers).  My blog was similarly very chaotic; I'd often be photographing, writing, and posting a project the same day, with absolutely no clue what I'd be writing about the next day.  We took a three week vacation to the UK in October, and I knew I needed to figure out this blog planning thing before I left.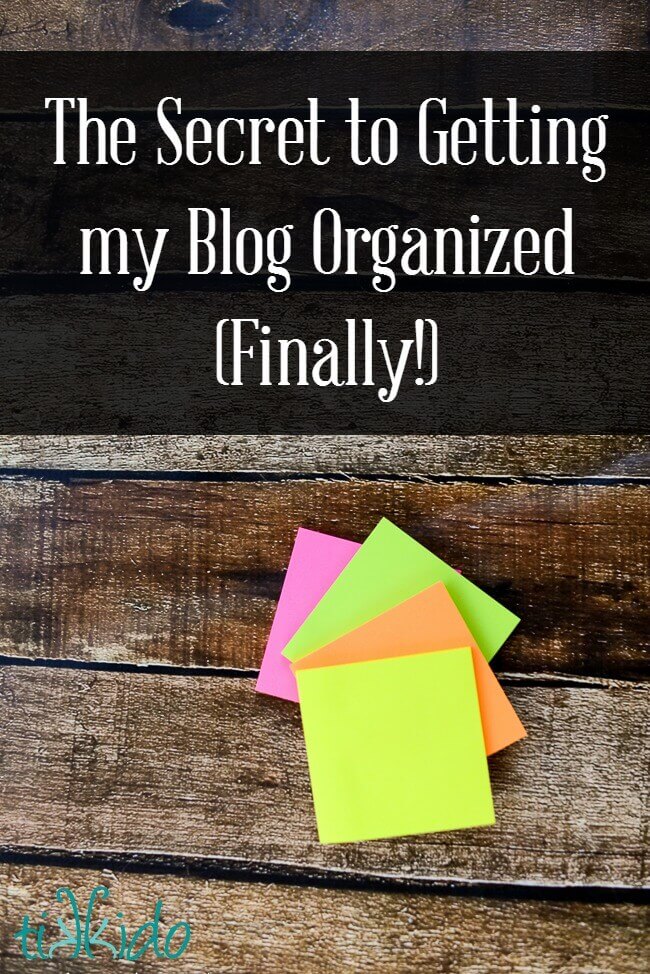 I've tried various printable blog planners, online calendars--anything I could find, really--but none of them quite fit my needs.  The printable blog planners were great, but I'd end up erasing and moving planned blog posts around so much that I'd practically erase a hole in the paper.  After a lot of trial and error, I finally hit upon the perfect blog organization method for me, and the secret to my success is the humble sticky note.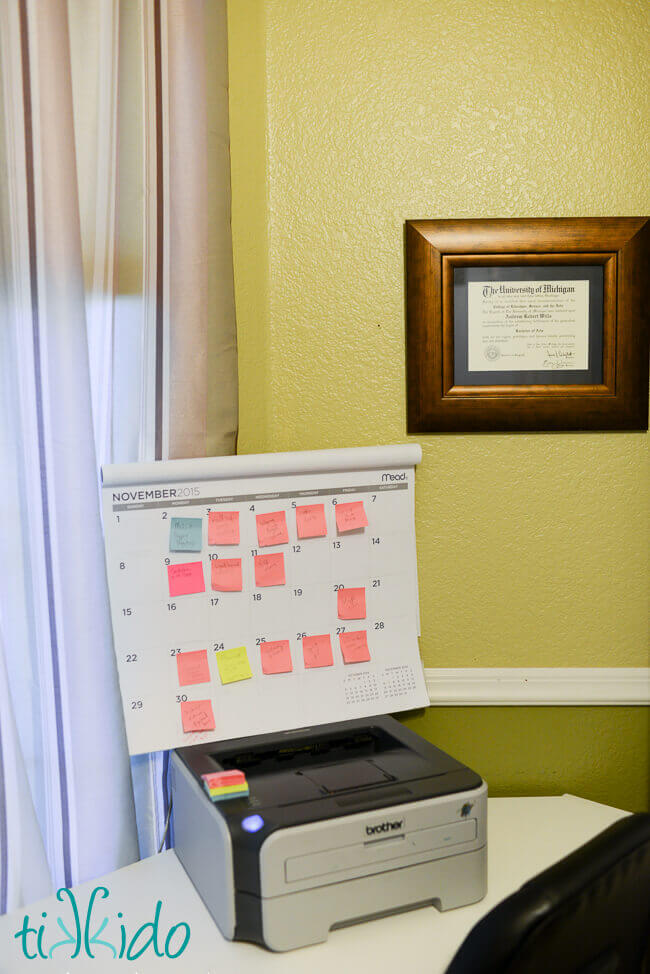 I bought a desk calendar for less than $2 at Walmart, and a stack of Post-Its sticky notes.  Note:  it was surprisingly difficult to find small enough squares or even the classic original rectangles.  The larger squares seem to dominate the market.  Before I found a stack of smaller squares, I just trimmed down the larger ones to fit on my calendar nicely.
When I get an idea for a blog post, I jot it down on a post it, and stick it on my calendar in a possible date.  The posts are color coded:  pink for regular posts, blue for posts that must be published on a certain date (like this blog hop) but aren't sponsored posts, and yellow for sponsored posts. I'm picky about the sponsored posts I accept, and don't like them to be clustered together, and my color coding system makes it very easy to make sure that doesn't happen.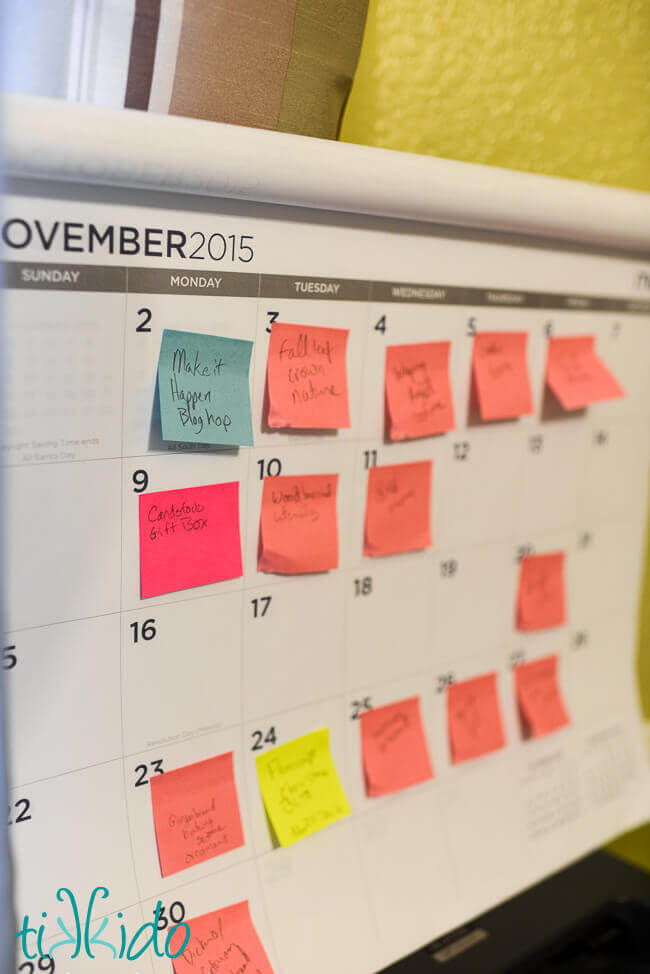 The best part about this system?  The versatility!  If I join a blog hop, or get a sponsored post opportunity, I can just move the sticky notes around to accomodate the new schedule.    And if I need a jump start in the morning to figure out what I should be working on, a quick glance at the upcoming posts gets me on the right track.  
Now, to buckle down, fill in that gap in the November calendar, and actually sit down and write them all so I can truly get ahead!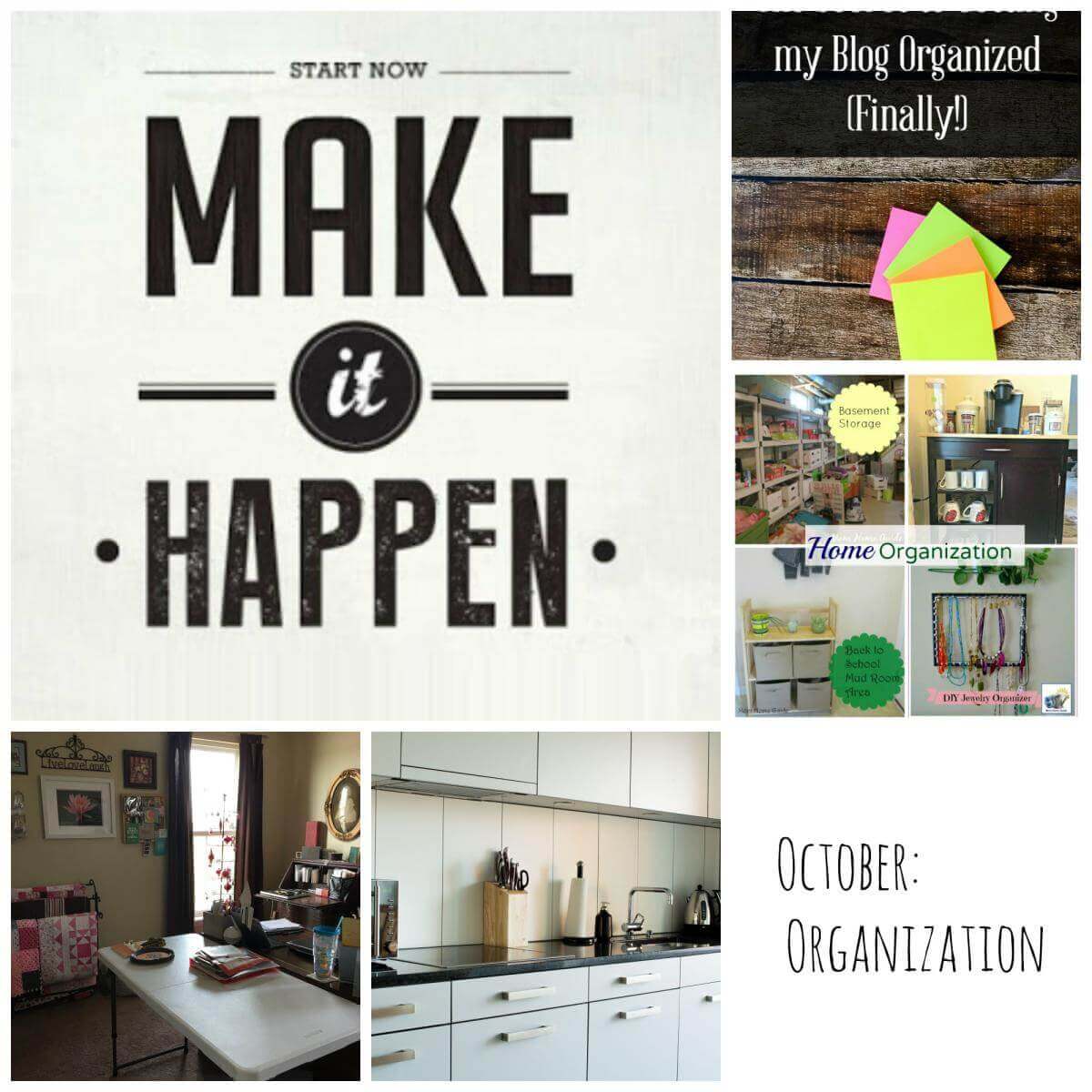 What more great organizing inspiration?  Check out the rest of the posts in November's Make it Happen Blog Hop!
Mom Home Guide  Home Organization
Lauren Caris Cooks  Kitchen Organization
Our Good Life  Work Space Organization