Printer-friendly version
Skip the takeout and make Chinese dumplings at home!  You can make a big batch of these potstickers and freeze them for quick dinners later.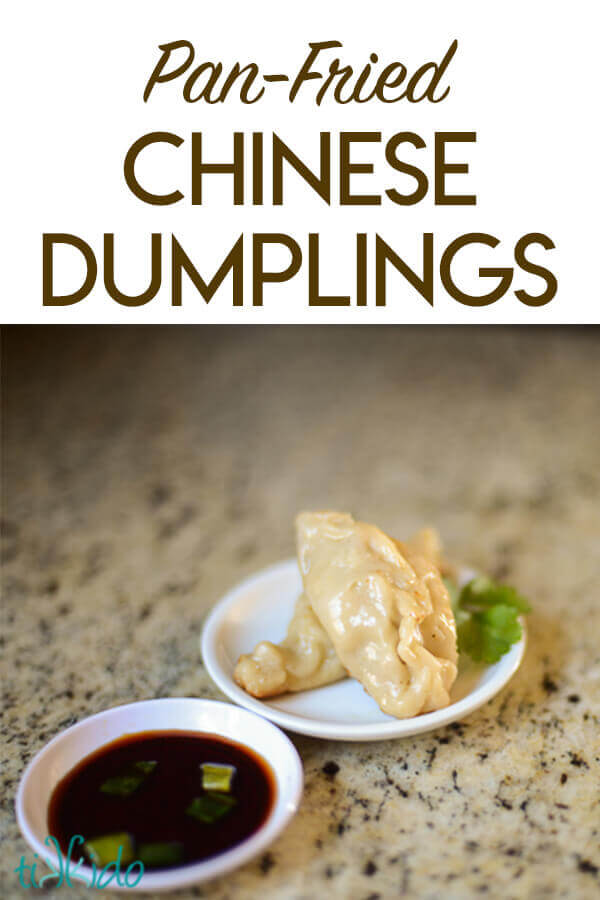 I made up a batch for the Firefly birthday party, as part of our Asian feast.  Someone well-schooled in the art of making dumplings would probably cringe at my technique, but the recipe is, at least, authentic.  It comes from a cookbook my parents picked up in Hong Kong when we lived in the Philippines, called Chinese Snacks.  It's written in actual Chinese, so I am assuming it's authentic, at least.  I can, however, guarantee that it's a delicious recipe.
Chinese Dumpling Filling:
1lb ground pork
4 cups cabbage, chopped finely
3 T freshly grated or minced ginger
2 T minced garlic
2 T sesame oil
3 T soy sauce
Combine all of the ingredients together in a bowl, and cover while making the dumpling wrappers.
Chinese Dumpling Dough Recipe:
4 cups flour
1.2 t salt
1 1/2 to 1 3/4 cups boiling water
In a large bowl, combine flour and salt.  Slowly add the hot water to the flour in 1/4 cup increments.  Mix with a wooden spoon (the recipe actually calls for chopsticks) until a ball of dough is formed.  As soon as the dough has cooled enough to handle, knead on a floured surface until it turns into a smooth, elastic dough ball.
Sure, you could use pre-packaged dumpling wrappers instead.  The dumplings will still be delicious.  But man oh man, homemade dumpling wrappers take these potstickers to another level entirely.  I think it's worth the extra effort.
On a floured surface, roll out the dough into a long, 1" diameter rope.  Cut small pieces (maybe 3/4" long), and roll out into a thin circle.  The dumpling wrapper should be about 3" in diameter.    
Place a small mound of filling in the middle of the wrapper.  Be careful not to let the edges of the wrapper touch the filling, as this will keep the edges from sealing properly, and will end up making a big (though tasty) mess when you're trying to cook the dumplings.
Gently fold the wrapper in half, dabbing the edges with water, and pinching to seal the dumpling completely.  The dumplings can be cooked immediately, or they can be frozen at this stage.  
Can you Freeze Uncooked Chinese Dumplings?
Yes!  If you're going to freeze your dumplings, place them on a sheet pan, and don't let them touch.  They must freeze individually.  If you need to do more than one layer, use parchment to separate them.  
After the dumplings are completely frozen, you can throw them in a freezer bag and they won't stick together.
You can cook the dumplings straight from the freezer--no need to defrost.
I love having a bag of these in the freezer for quick weeknight meals.
The dumplings are cooked the same way, no matter if they're cooked immediately or frozen first.  
How to Pan Fry Chinese Dumplings:
Heat up oil in the bottom of a nonstick skillet.  Place potstickers in the skillet and cook over medium heat until they're golden brown on the bottom.  Add one cup of water, and cover the skillet with a lid.  Let cook for five minutes.  Remove the lid, and cook until the remainder of the water evaporates, and the dumplings crisp up again on the bottom.  
Eat and enjoy!  After learning how to make these lovelies, there's only one place in town where I bother ordering dumplings--a place that makes their own noodles and dumpling skins.  We almost always have a bag in the freezer for a quick dinner option that even my husband can handle cooking.  (His one claim to culinary fame is a really amazing grilled cheese sandwich.)
You can serve these with plain soy sauce, or whip up an easy dipping sauce with equal parts soy sauce and rice wine vinegar, a bit of sesame oil, and some green onions for garnish.
Do you have a favorite make-ahead appetizer or freezer meal?  I'm always looking for new recipes to add to my repertoire.  
Other Asian Recipes You Might Like: