Printer-friendly version
Follow this easy pancit recipe to make delicious pancit Canton, a one-pot, amazingly fast and flavorful Filipino noodle dish.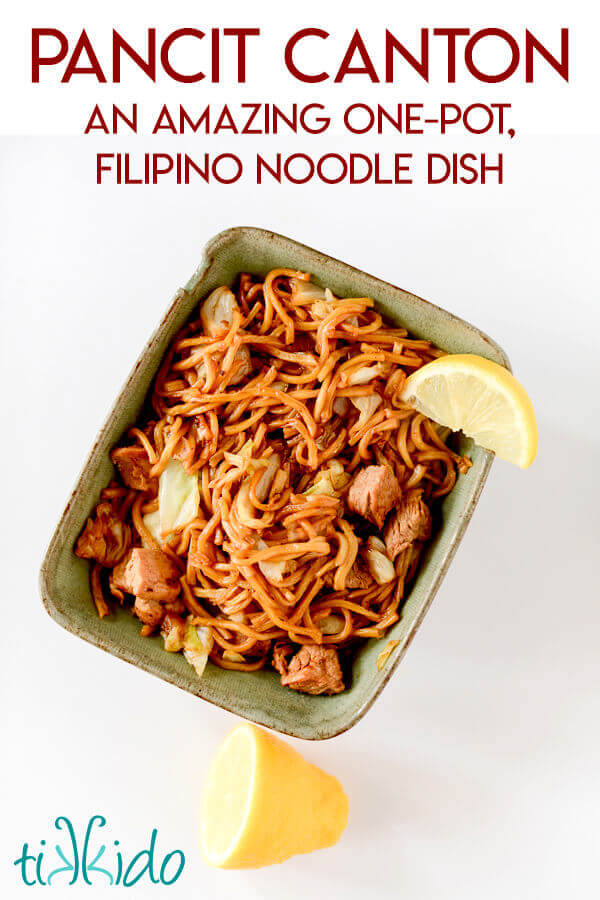 It's one of the recipes we learned to make when we lived in the Philippines, and it's a wonderful, one-pot (fewer dishes!) noodle dish, kind of like the Filipino version of Lo Mein noodles. This pancit recipe is made with the wheat based pancit canton noodles.
Pancit Canton:
1 package pancit Canton noodles
pork tenderloin, cut into small pieces
1/2 a head of cabbage, chopped
1/2 an onion, diced
4 cloves garlic, minced
1 carrot, cut into small strips
1/2 cup chicken broth
soy sauce to taste
The only thing that's a little tricky to find are the pancit noodles.  They're sold dry, and on the shelf at most Asian markets.  If you don't have a market near you, they are available online, though specialty realtors and event through
Amazon
.  Otherwise, everything else can be found at any grocery store.
What are the Different Kinds of Pancit?
There are two main kinds of pancit:  Pancit Canton and Pancit Bihon.  The difference is in the type of noodle. 
Pancit Canton noodles are a wheat-based noodle. 
Pancit Bihon noodles are rice noodles, and are thinner, too.  Both are delicious!  
Start by cooking the pork tenderloin and diced onions in a large (VERY LARGE) pot with a bit of oil.  Cook on high heat until the pork is cooked through and the onions are translucent.  Put the pork and onions aside in a bowl, to be added back to the pot later.
Deglaze with about a half a cup of chicken stock.  You could really use anything, but I always have chicken stock on hand, so that's what I typically use.  
Scrape up all those glorious browned bits of pork that got stuck to the bottom.
Toss in the minced garlic, chopped cabbage, and carrots.  Honestly, I usually just buy a big bag of coleslaw mix at Sam's club and use half of that.  So easy, and it's already got all the cabbage and carrots finely chopped!  I hate cutting carrots so much that if I have to do it by hand, I generally just leave them out.  Cook the vegetables in the pan with the broth until they start to soften (but aren't completely cooked yet--about halfway done).
In the meantime, soak the pancit noodles in hot tap water.  Not boiling--just as hot as your sink will get.  
How Long do you Soak Pancit Noodles?
Soak for about 3 minutes.  You want the noodles to soften, but not completely.  Aim for about halfway done.  
Drain the pancit noodles, and add to the large pot with the vegetables.  Add the pork and garlic back in.  Add soy sauce liberally, until the noodles are brown.  Stir to combine the ingredients, and put a lid on the pot to let the veggies and noodles steam for a couple more minutes. 
Traditionally, this is served with calamansi (a kind of citrus commonly used in the Philippines).  Calamansi is delicious, and kind of tastes like a tart blend of tangerines and limes.  I even planted a calamansi tree in the backyard, but alas, it's not calamansi season here.  It is, however, lemon season.  If you can't find calamansi (and you probably can't; it's hard to find), squeeze some fresh lemon juice over the noodles just before eating.  It's not the same, but it's close!
One batch makes a LOT of food.  I only made one batch for the Firefly party, and had leftovers.  (Yum!)  This is my go-to dish for potlucks, in fact.  
And only having one pot to wash at the end of a glorious meal?  I'm living the dream, folks.  The soy-saucy, noodles-from-heaven dream.
Printable Pancit Canton Recipe: