Printer-friendly version
Make easy, DIY, food-safe favor bags with parchment paper and washi tape.  These DIY favor bags can be made in any size, and using different washi tape designs, can fit any party theme.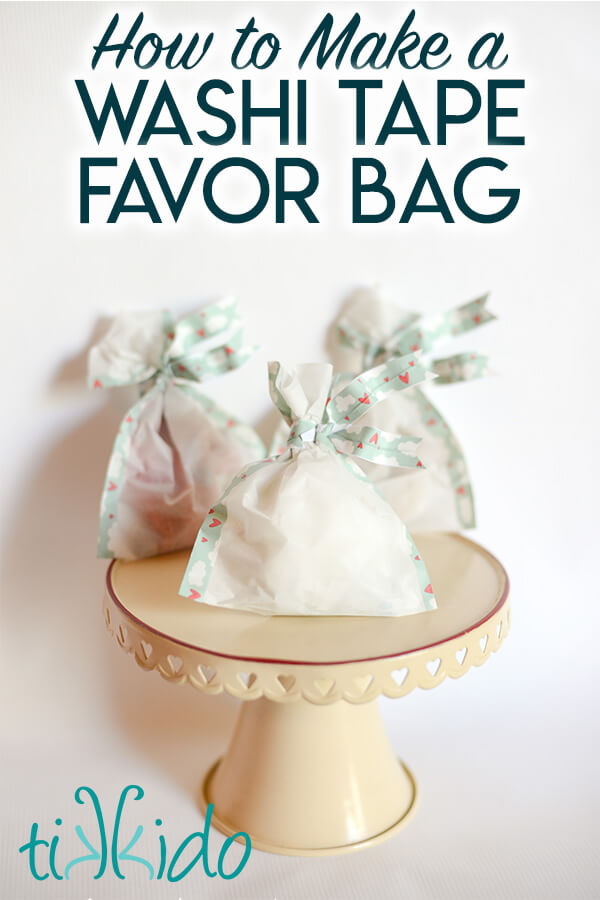 Need favor bags for an upcoming event?  A wedding, a birthday party--maybe Valentine's day treats?  I love cute packaging, and there is seriously cute stuff out there that can be bought, but I'm generally uninterested in spending more on the package than I am on the treat inside.  
As I was playing around with washi tape and making the homemade washi tape twist ties for yesterday's post, I came up with the idea for these incredibly quick and easy favor bags to match.
Materials for DIY Food Safe Favor Bags Decorated with Washi Tape:
How to Make Food Safe Favor Bags Decorated with Washi Tape:
I used parchment paper for the body of the favor bag.  I've always loved the slight translucence of glassine bags, and parchment paper comes close.  I also love the fact that parchment paper is a food-safe product, so if you're giving a cookie or some other tasty homemade treat, the bag is perfect all on its own; no need to double bag.   I didn't try making the bags out of waxed paper, but I'll bet that would also work well, and would be slightly more translucent.
Start by cutting a rectangle of paper and fold in half.  I wanted my bags to be 6" tall x 4.5" wide, so the whole rectangle was 12"x4.5".  You can make these bags absolutely any size you need.  One of the glorious things about DIY projects--endlessly customizable!  
Fold the rectangle of paper in half, and use decorative washi tape (or heck, even clear tape) to seal the sides of the favor bag.
Trim off any excess tape hanging over the edge of the bag.
Fill with goodies, and close up the bag.  You could fold over the top and use a bit of the washi tape, or tie it with a bow or some string, but I really do love how it looks with the matching washi tape twist ties.  
My girls will definitely be giving out little goodie bags like these this year for Valentine's day.  With cookies, if I'm feeling ambitious.  With Hershey's Kisses and Hugs if I run out of time.  Either way, they'll be a hit, and the bags are so easy to make that my older daughter could easily make all of hers herself.
Are you making anything special for Valentine's day?  
Other Washi Tape Crafts You Might Like: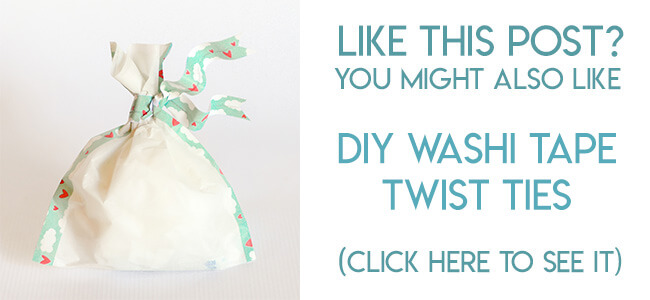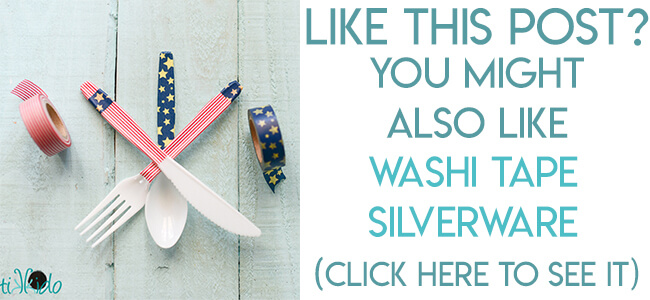 Other Favor Packaging Ideas You Might Like