Printer-friendly version
Make Custemized plastic cutlery for any theme using washi tape!  Washi tape plastic silverware only takes a few seconds to make, and adds a special touch to any party.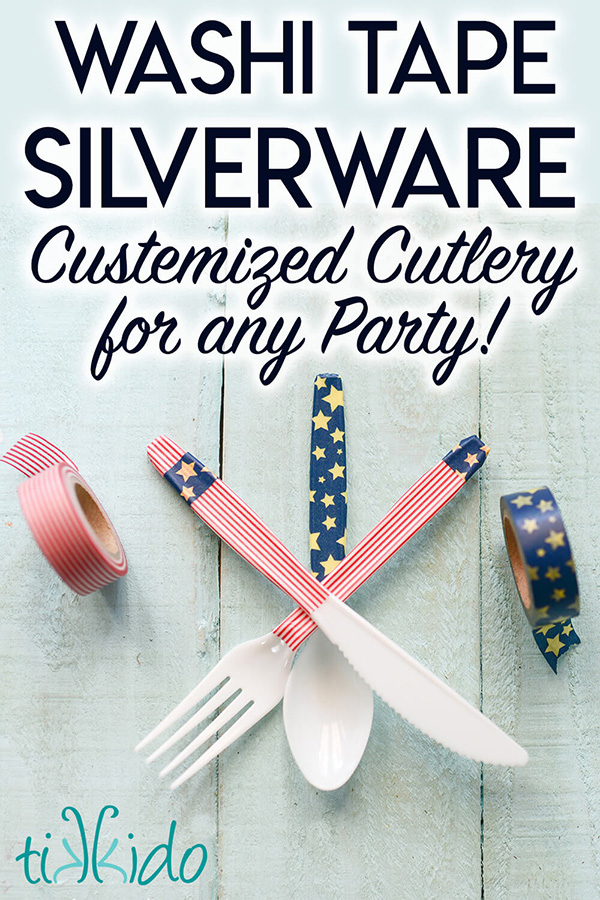 Who is having a barbecue this 4th of July?   (Pretty much everyone in the US, I'm guessing).  If you're looking for an insanely easy to to add a special little touch to your celebration, try these washi-tape decorated plastic silverware.
Materials for Washi Tape Customized Plastic Cutlery
washi tape that matches your party theme
plastic silverware
Washi tape comes in pretty much every design and theme you can imagine.   I used some designs that fit with a stars and stripes/4th of July kind of theme to decorate these forks, knives, and spoons, but this craft is so versatile.  The stars would be fabulous for a space party.  the red and white polka dot would have been perfect at the gnome birthday party.
I'm guessing you can figure out the instructions:  stick the tape on the silverware.  Ta da!  Done!
I tried this with both nicer plastic silverware (the red) and the super cheap variety (the white), and I ended up liking the incredibly inexpensive type better.  The slightly smaller size of the cheap white variety worked perfectly with the size of the standard washi tape.
I wish I'd thought of this for the Sprinkles birthday party!  Wouldn't these, with the polka dot washi tape, have been absolutely perfect?  
My only caution is to do this the day of the party.  After a couple days, the washi tape wants to peel off and doesn't look as awesome.  Luckily, this takes only seconds to do, so it is actually a feasible project to do on the day of an event.
Other Washi Tape Crafts You Might Like: