Printer-friendly version
Some stories just make you feel better about humanity.  This is one of those stories.  Plus, it has the most epic Girl Scout Cookie themed birthday cake ever.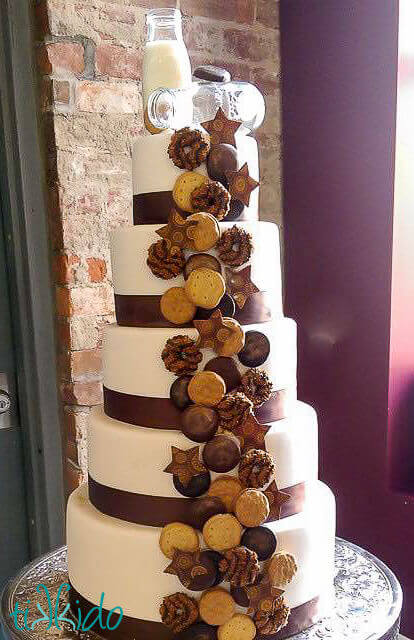 It all started when pastry chef Summer Genetti read this article about Girl Scout Troop 49632 in the Lower Price Hill neighborhood of Cincinnatti, Ohio.  Troop 49632 is not your average Girl Scout Troop.  It's a brand new troop in a community where the average yearly family income is less than $10,000.  Where the minimal cost of a yearly membership to Girl Scouts is a prohibitive cost to families.  Where a $4 box of Girl Scout cookies is an extravagance.  Where even the thought of attending Girl Scout summer camp is a nearly unimaginable dream.  But that didn't stop troop leader Ebony Butts and her troop of new scouts from dreaming, and they set a lofty goal of selling 1500 boxes of girl scout cookies, so that every member of the troop could attend summer camp.  
.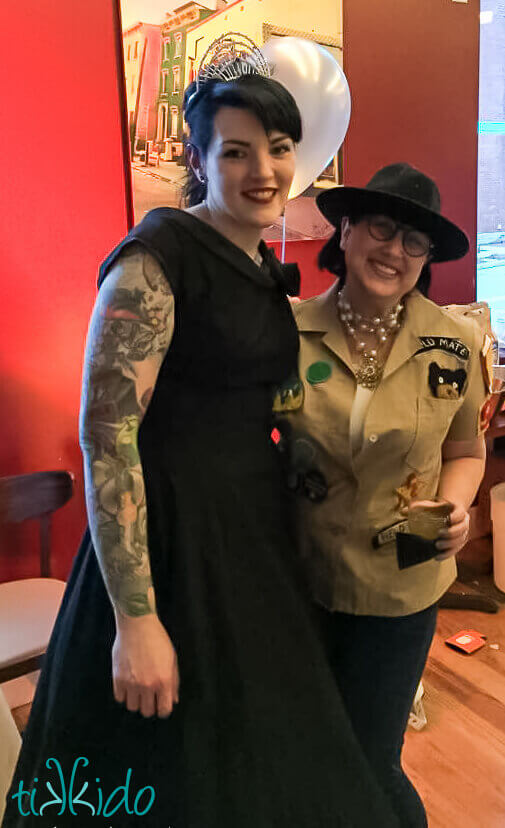 Summer read the article about troop 49632 and was deeply moved.  Summer had a birthday coming up, one she shared with Ilene, her friend.  They'd talked about having a joint birthday celebration before, but when they came up with the idea of throwing a Girl Scout cookie party to help troop 49632 reach their goal, they knew it had to happen.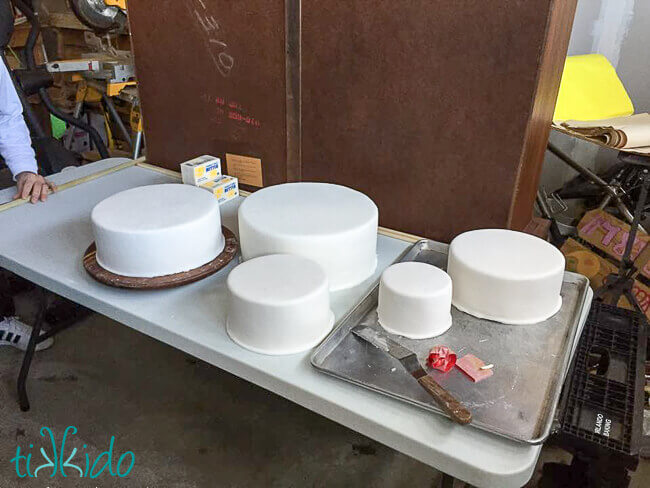 Summer, who is a pastry chef at Lola Bistro, made an absolutely amazing cake for the party.  It's actually the cake that first caught my eye.  My friend attended this birthday party, and the pictures appeared in my Facebook feed.  I was completely smitten with the cake at first sight, and then when I learned the story behind the party, I knew I had to share all the details.  
The top and bottom tiers were inspired by Thin Mint cookies, and were blackout cake with peppermint ganache filling.
The second tier was inspired by the Girl Scout Lemonades sandwich cookies, and featured lemon cake with tart lemon buttercream filling.
The third tier was inspired by Samoas cookies.  Vanilla cake with a Samoa filling made with unsweetened toasted coconut, dulce de leche, sea salt, and shaved 72% dark chocolate.  
The fourth tier was inspired by Tagalong cookies:  vanilla cake, homemade peanut butter, vanilla bean salt, and dark chocolate ganache.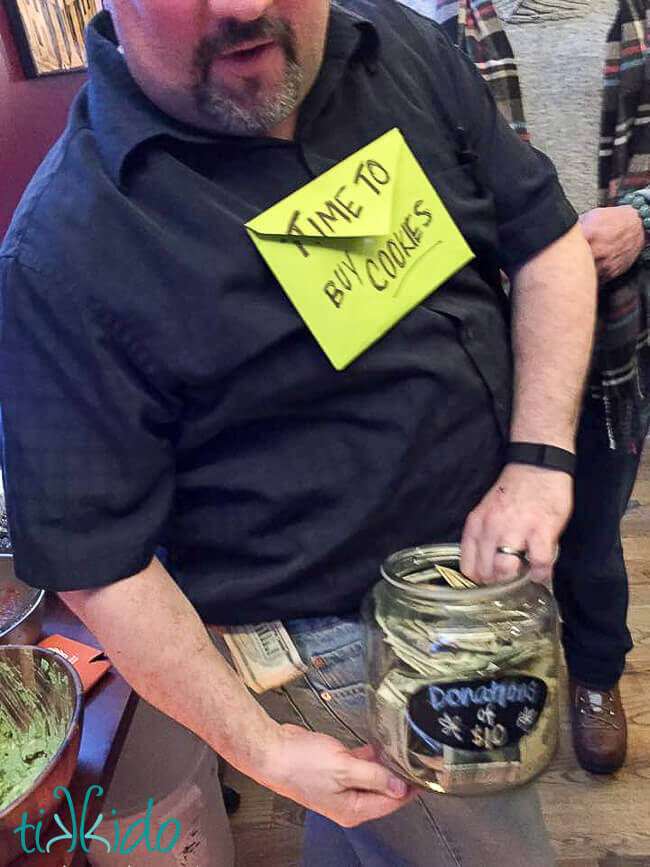 Not only did the party sound like a ton of fun, and DAMN does that cake sound delicious (I would have had to have some of every single tier had I been there), but they sold over 250 boxes of cookies and raised over $800 in cash for the troop over the three hours of the party.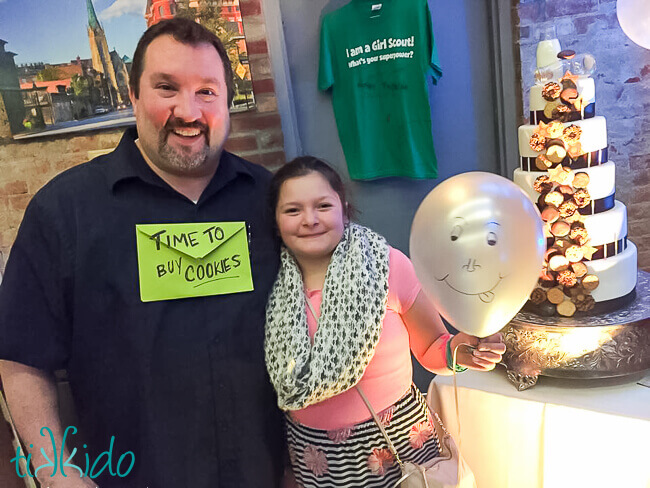 I told you you'd feel better about the world after hearing this story!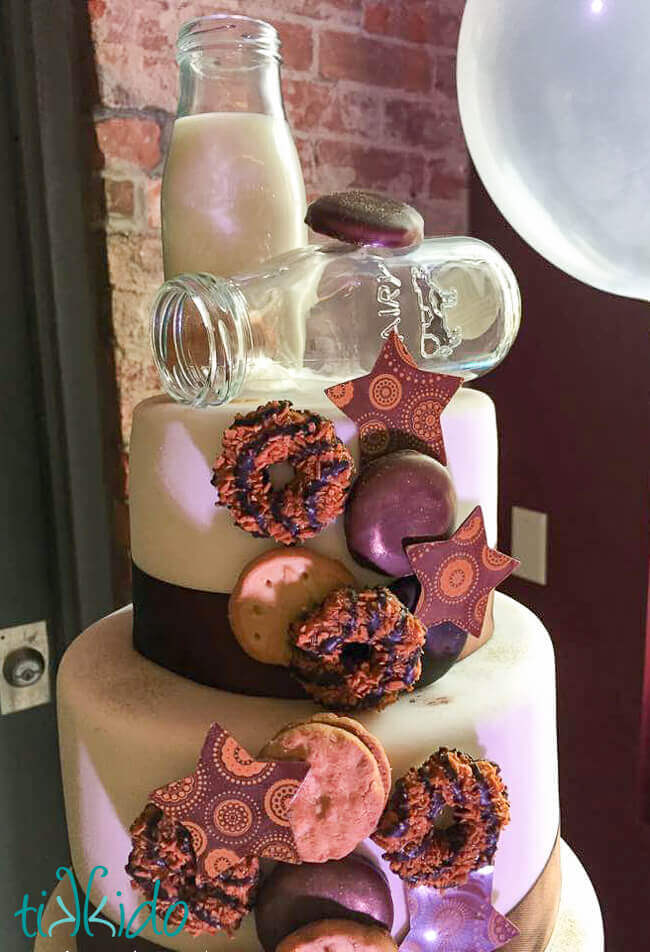 Summer told me that the milk bottle cake topper was a totally last minute addition.  I think it's absolute genius, and it's the most perfect finishing touch I could imagine.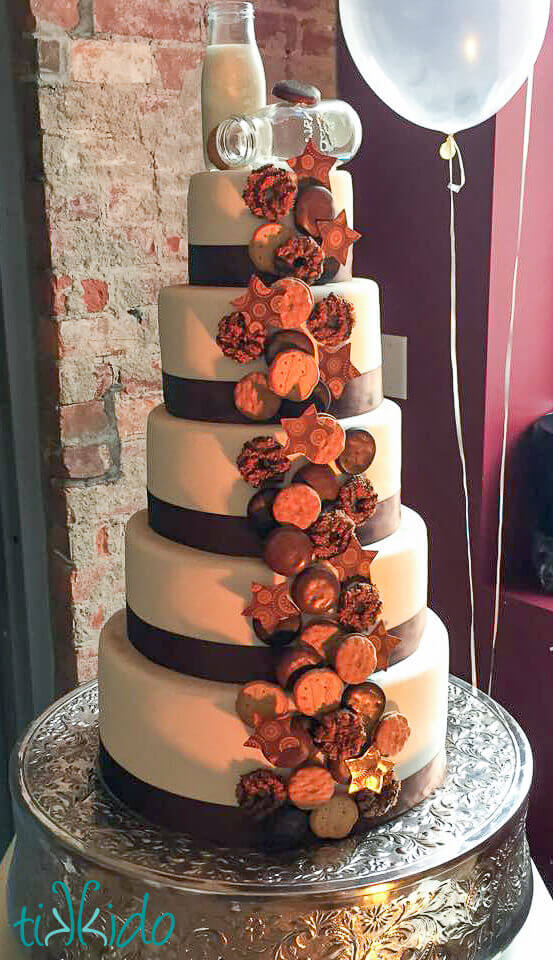 I loved my years in the Girl Scouts, and am delighted that both of my girls love being in the Girl Scouts now.  I'm actually the co-leader of my older daughter's troop (though our leader Natalie does all the hard work and I just show up--thanks, Natalie!!).  I love that this organization is there for my girls, and the girls of Lower Price Hill, and so many other communities through the country (and the world).  And I really love that there are people like Summer out there who are touched by a story and are moved to do something to help out.  To everyone involved in every part of this story, thank you so much for making the world a better place.