Printer-friendly version
Make these DIY One Ring napkin rings for your Hobbit or Lord of the Rings party.  These LOTR ring napkin rings are inexpensive and make a great finishing touch for any Hobbit party.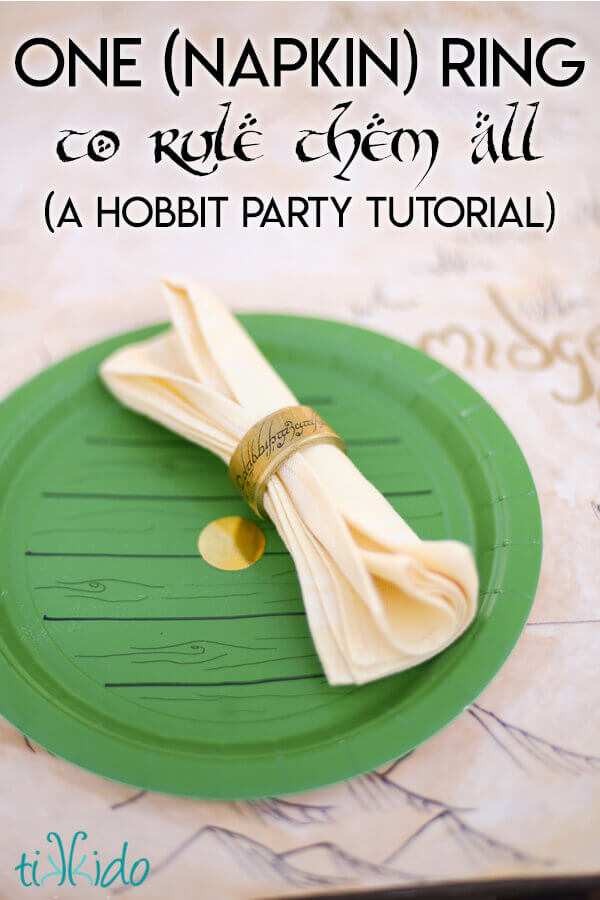 The 4th of July has come and gone--fireworks watched, burgers eaten, sparklers all used--and it's time to turn back to the last of the Hobbit party tutorials!
One (Napkin) Ring to Rule Them All!  (Or a set of 8, whatever works for you.)
Materials Needed for Lord of of the Rings Napkin Rings:
PVC Pipe
gold spray paint
gold tissue paper
printer paper
tape
Mod Podge
Tools used in this project:
The first step is to cut the basic napkin ring shapes out of 1 1/4" PVC pipe.  I made each one about 3/4" wide.  I used a miter saw to make quick, clean cuts, but you could certainly use a pipe-cutter hand tool as well (available at the hardware store).    Sand down any rough edges with a grinder or sandpaper.
Alternately, you could just buy some pre-made gold plastic napkin rings like these ones.  I totally would have done that if I'd been able to find them when preparing for this party!  
Use gold spray paint to coat the napkin rings well.  There are a lot of spray paints out there that you would think would be gold.  They say they're gold, they have a golden cap--but they look suspiciously like silver or chrome.  But Krylon's 18k Gold color is a dependable, true gold.
While the paint on the PVC rings is drying, cut a piece of gold tissue paper slightly smaller than a standard piece of printer paper, and tape the tissue to the printer paper.  This will make the tissue sturdy enough to run through your printer.  (You might remember this technique from the decoupage river rock tutorial)
There's the ring text for you, too.  I just copied that multiple times into a word document and printed it out.
Cut the ring text into strips slightly narrower than the PVC form, and use Mod Podge to glue the tissue paper with text on the napkin ring.
Once it dries, you're left with a golden Napkin Ring of Power.
Just the thing I need to clean up the remarkable messes my four year old and her friends can make.  
Other Hobbit Party Ideas: