Printer-friendly version
This Lord of the Rings birthday party is full of fabulous ideas, decorations, and so much good food that even a hobbit would approve.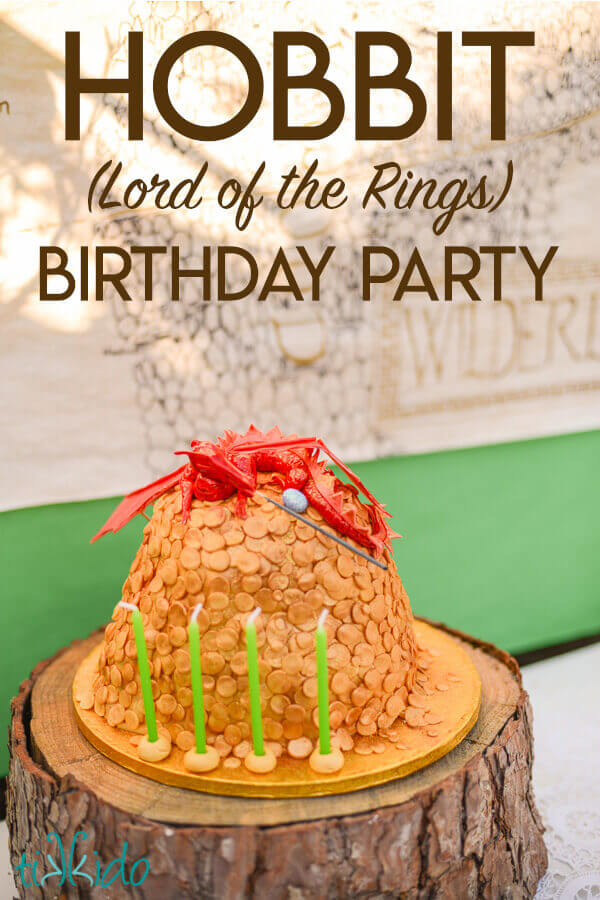 When my three year old daughter, Niamh, asked for a Gollum themed party, I was torn.  On one hand, I think that a Gollum party would be awesome and funny.  On the other hand, I didn't want to terrify all the other little four-year-olds at the party.  It took some finesse and convincing (and maybe a wee bit of bribery), but I eventually convinced my daughter that Hobbits more generally would be a great party.  Happily, she eventually agreed!
I have been dreaming of a Hobbit party for years.  Maybe decades.  I've certainly loved the book The Hobbit for most of my life.  It was the first big novel I ever read (at age 3--really, reading has always been my gift) and I've been hooked on fantasy ever since.  For me Gollum was the monster living under my bed, however.  I'm not really sure why Niamh adores him so much, but hey, I'm not going to discourage her from any sort of geeky fandom!
Any good party starts with an invitation, and I had a lot of fun making these.  Shaped like Bilbo's iconic round green door, complete with a brass doorknob in the center, the cards opened to reveal the details of the party. Here's the tutorial for how to make them for yourself.
I made a replica of the sign on Bilbo's gate to hang on our door to greet guests.  A little watercolor, a sharpie, and a candle to burn the edges were all it took.
The dessert table wasn't particularly robust for this party, but was full of fun details.  I love the way my map turned out for the backdrop.  It took a couple hours to draw all of that, but it was so worth it!  My husband has carefully saved it to turn his cubicle into Middle Earth for Halloween this year, so it even will have a life after the party.  I love it when that happens.
The centerpiece of the table was, of course the cake.  Smaug's hoard.  I must have made thousands of little golden gumpaste coins to cover that thing.  Smaug even breathed fire, thanks to a sparkler we had left over from last 4th of July!
Sure, the arkenstone looks a little more like a dragon egg than a gem.  Oh well--it still made the kid happy.
As happy as I was with how the cake turned out, my favorite element of the dessert table was the tree full of dwarves.  In The Hobbit, the dwarves get captured by giant spiders in Mirkwood forest, and trussed up in spiderweb, and Bilbo comes to the rescue.  
Our dessert table version was made out of cotton candy, and alas, there was no Bilbo to save these dwarves from our ravenous little guests.
Bilbo's seed cake--fed to the dwarves on their first, rather unexpected meeting--was an unusual and delicious addition to the dessert table.   I used this recipe from Good Cheap Eats , and the only change I made was to bake in a single 8" round cake pan, rather than 4" springform pans.  The caraway seeds in the lightly sweet cake were really interesting and tasty.  I'll definitely make this again.  Hmm, it is drawing close to second breakfast...
I want to interrupt the dessert talk to point out the design of the tented labels.  The runes at the top and bottom of the labels are a nod to the orignal cover design of The Hobbit, but in my version here, actually spell out "Happy Birthday Niamh."  I'm quite sure nobody at the party noticed that, but it sure made me happy!
I always like to offer some sort of healthy fruit option on my dessert tables, and Bard the Bowman's Skewered Fruits were the perfect way to do so at our Hobbit party.
Gollum, as an honored guest at our party, of course had to have his favorite food there.  
Orcrist, Goblin-cleaver peanut butter balls were a big hit with all the little kids.  
I thought about shaping them into little goblin heads, but wasn't sure how that would go over with the pre-schoolers.  Or their parents.
I had a bunch of leftover royal icing dots from the ice cream sandwiches, so as a last-minute addition to the dessert table, I dusted them with gold luster dust and dubbed them Bilbo's Brass Buttons.  
And speaking of ice cream sandwiches...
Easy to make, and easy to do ahead.  I'm a fan of not scooping out sticky ice cream at a party!
Dinner (pizza made in the wood-fired oven I built) was served at the Green Dragon, of course.
Wine and beer were available for the adults, and for the kids, the Green Dragon's Famous (Ginger) Ale and (Root) Beer.
Instead of a tablecloth, I made a large paper table runner map of the Shire.
And we ate off of hobbit door plates.
Messes were wiped up with napkins, bound with One (Napkin) Ring to Rule Them All.
Golden ring wine charms were the perfect accent to the adult beverages.
And kids drank from Lonely Mountain cups.
For tomorrow's post, I'll tell you all about the favors and the fun at the party.  Here's a little teaser for you...
Is there a party you've been waiting to do practically your whole life?