Printer-friendly version
We are raising proper geeks in our family, I'm delighted to report.  My girls have requested birthday parties themed around hobbits, Firefly, and MLP.  Oh yeah, I'm the luckiest geek mom alive.  And this year, my youngest, Niamh, came through with another amazing birthday request:  Doctor Who!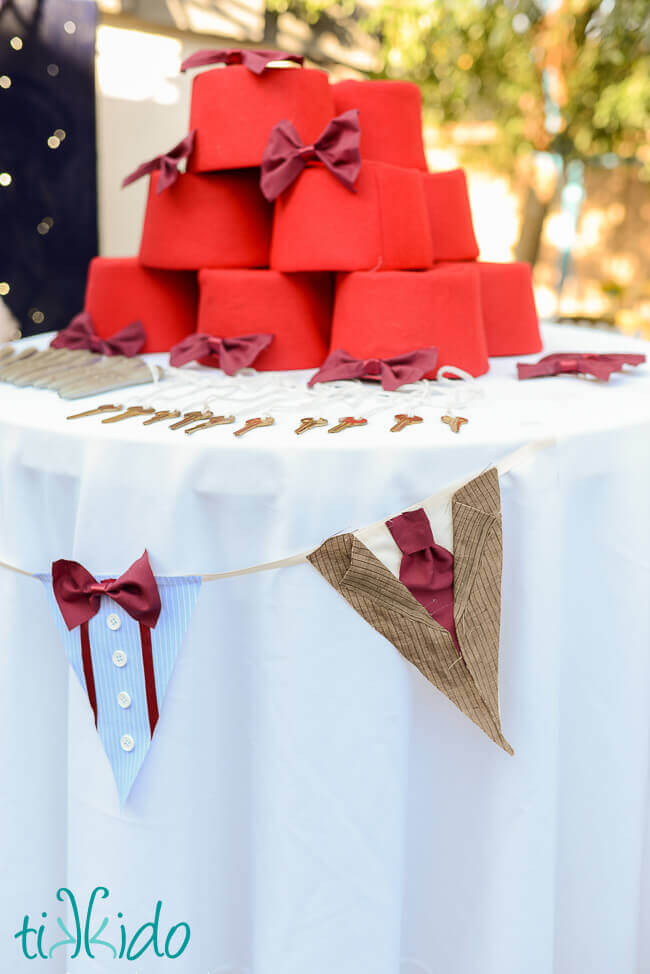 Actually, Niamh requested a Weeping Angels birthday party, because she LOVES the Weeping Angels.  (Remember, this is the same odd little duck that requested a Gollum themed party for her 4th birthday; I had to convince her to do hobbits more generally.)  The first time she ever saw the weeping angels, she turned to me and asked, "How do the weeping angels make friends?  It would be hard for them to make friends."  I love the way that kid thinks!  But still, weeping angels as a 6 year old's birthday party theme probably not a good idea for most of her little classmates.  Luckily, she liked the idea of a Doctor Who party, if I promised that the weeping angels would play some part, and I promised to make her a weeping angel costume for halloween.  Deal, kid.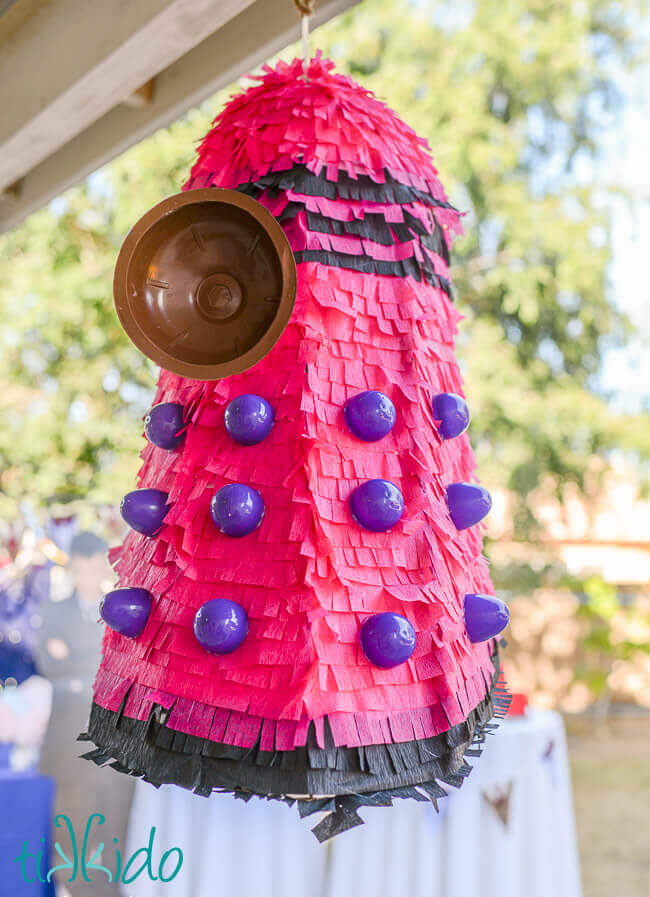 The first thing the guests saw when they walked through the doors to the backyard was the Dalek pinata.  A hot pink dalek pinata, at that (Niamh's color request).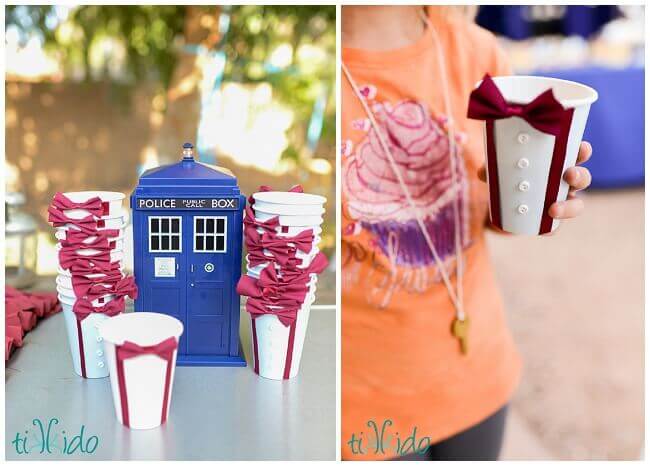 I had so much fun dressing up plain paper cups in bow ties and suspenders, ala the 11th Doctor.  That TARDIS beside the cups is actually an ice bucket!  I found it on Zulily just as I started planning the party.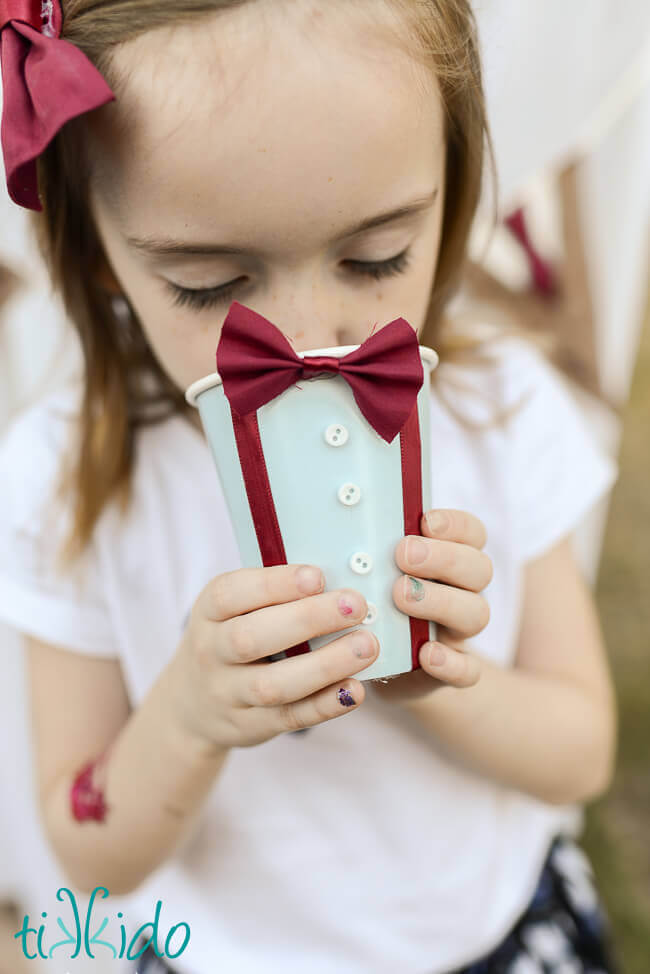 11th doctor cups, complete with shirt buttons!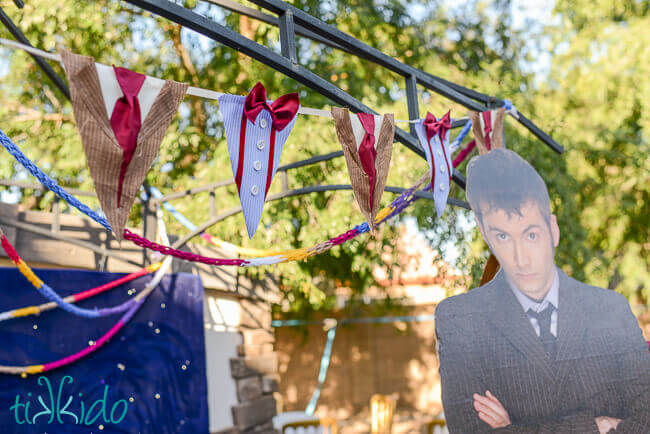 I had a ton of fun making the bunting for the party.  Completely no sew, and representing the 10th and 11th doctors.  I think it would make a fabulous Father's Day bunting, too!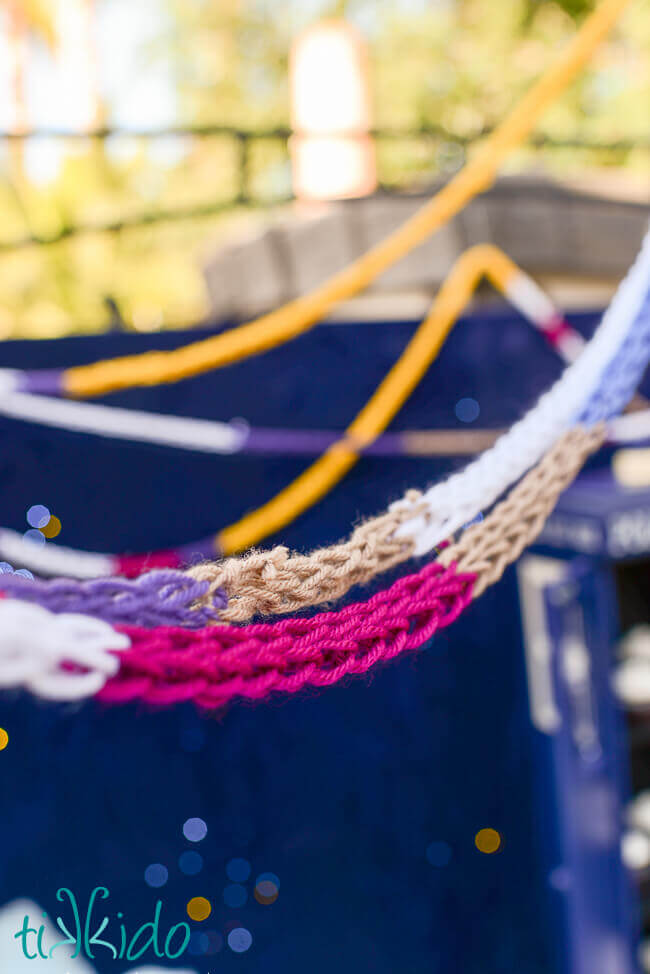 Niamh helped me finger knit an absurdly long yarn garland as a nod to the old series, and the 4th doctor's ridiculously long scarf.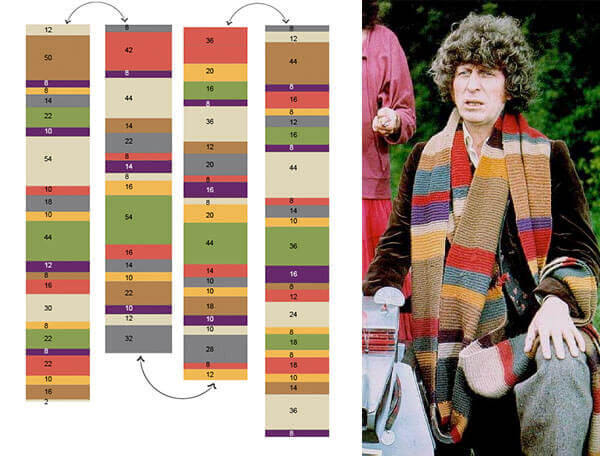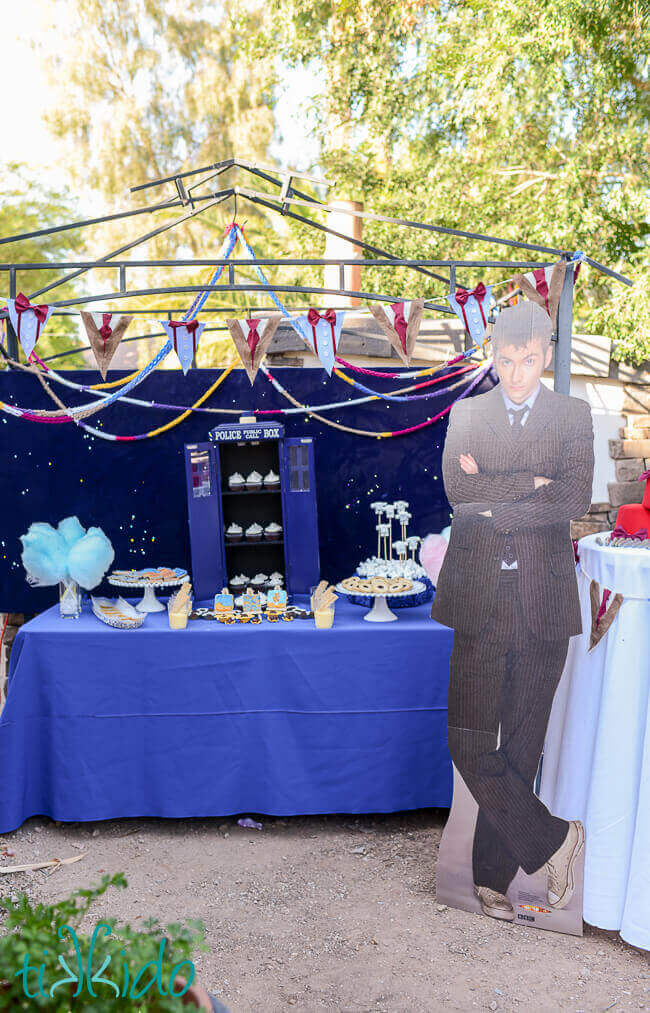 The life sized cutout of the 10th Doctor was loaned to us by my friend Liz (who also made all the fezes and Niamh's skirt for me!  Yay, best friends!).
On a related note, my dog is NOT smart, and barked ferociously at the doctor every time he saw it in the living room for days.  DAYS.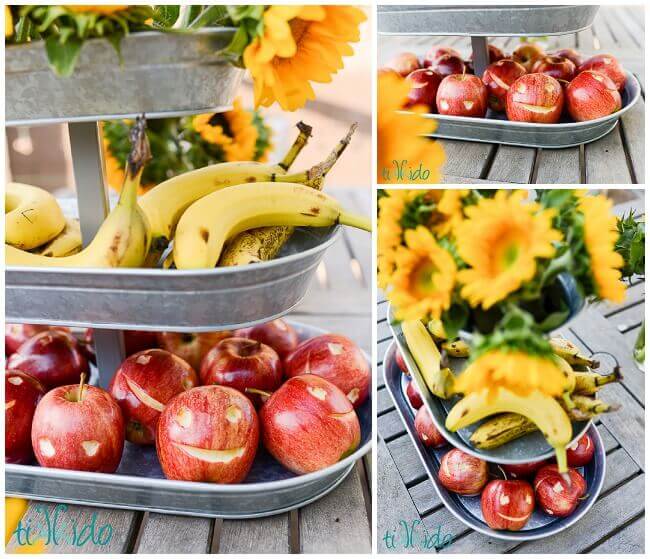 Amelia Pond's smiling apples, bananas (always take a banana to a party), and sunflowers made a beautiful centerpiece (and delicious party food).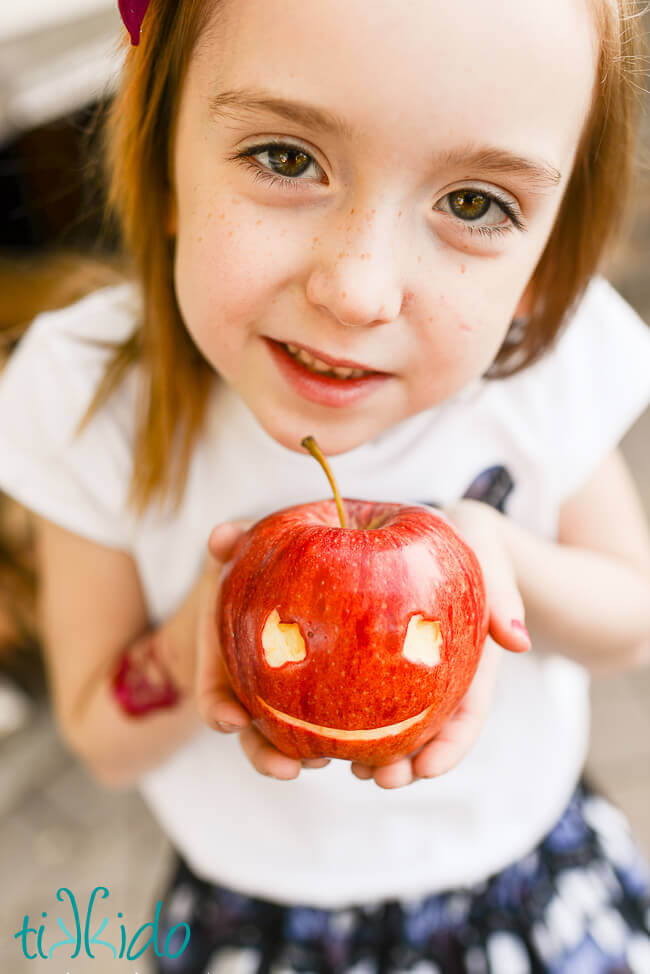 Still fresh! (My secret is lemon juice, not time travel.)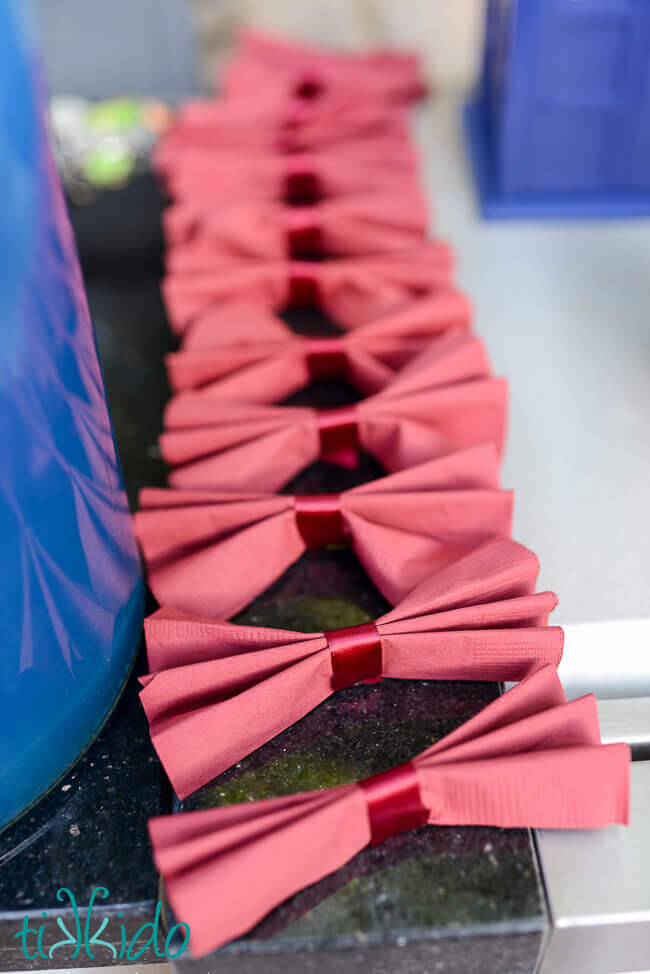 Bow tie napkins!  (Bow ties are cool.)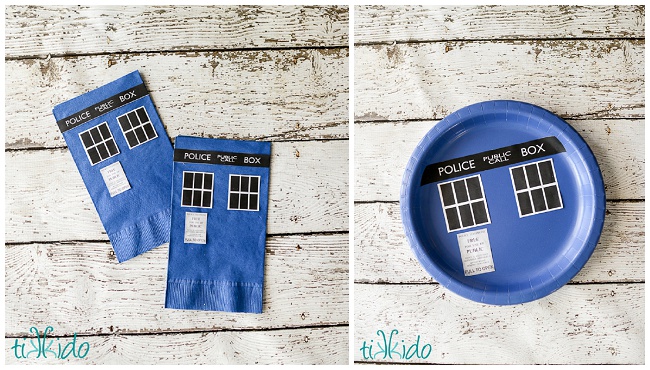 TARDIS napkins and plates! (And here's the tutorial and printables for doing it yourself!)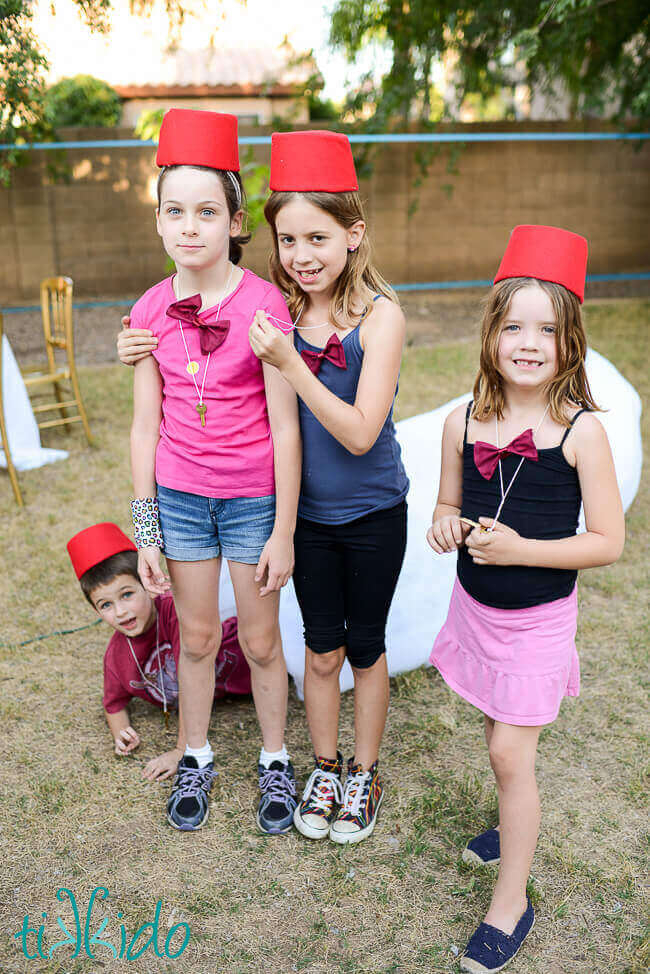 Fezes and bow ties for everyone!  (Keys to the TARDIS, too.)  I love how kids enthusiastically jump into any theme.  There's a silly hat?  I want it on my head!  They totally get the Doctor.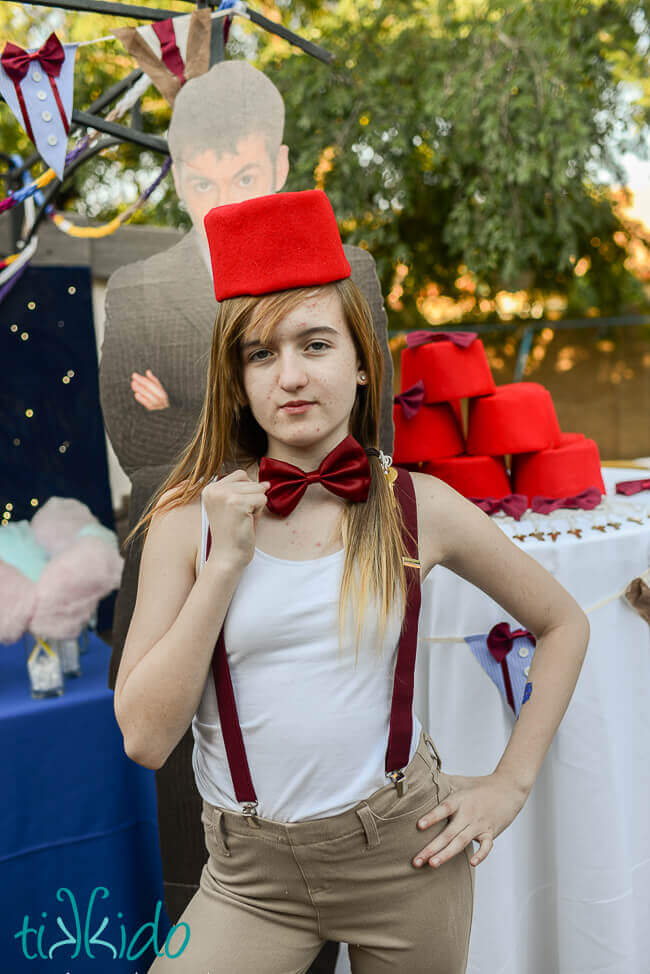 Big sister loves any chance to dress up as her favorite Doctor, too.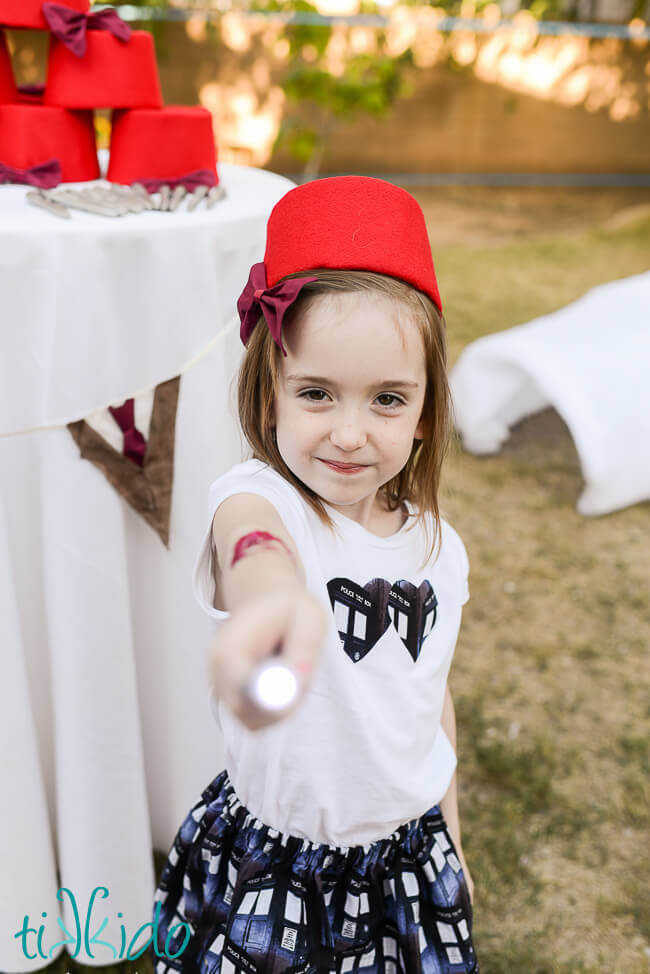 And here's my birthday girl, my very own life-changing companion.  Happy birthday, Niamh!
I'll have all the dessert table and party activity details coming up in posts tomorrow and Friday.