Printer-friendly version
I love creating new, original drinks when I'm entertaining, but it's rare that I'll find any sort of pre-made mixer that I like; for me, it's all about the homemade and the fresh.  I like things that are intensely flavored, but not too sweet, and commercially prepared stuff typically is SO over-sugared.  Plus, I actually really love making things (crafts, cocktails--let's just make craft cocktails!), so my pickiness (can I get away with saying "selective and refined tastes" instead?) creates a total win-win situation for me!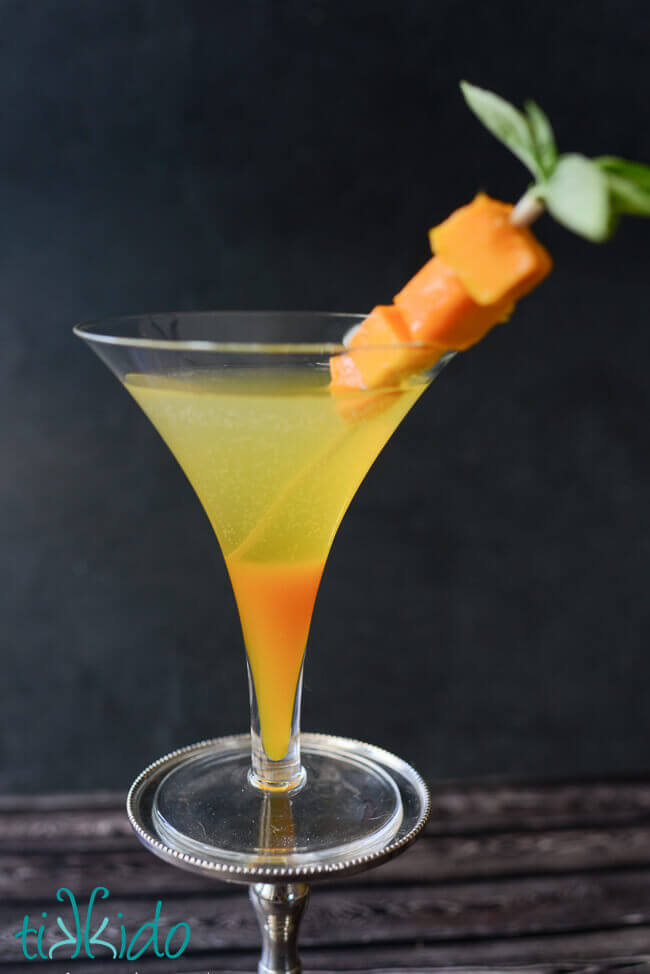 Now this is the kind of thing I like:  a mango and Thai basil cocktail bursting with intense tropical flavor that I've decided to name the Siam Sundown.
Want to make one yourself?  Oh yeah, you do.  Luckily, it's incredibly easy to do.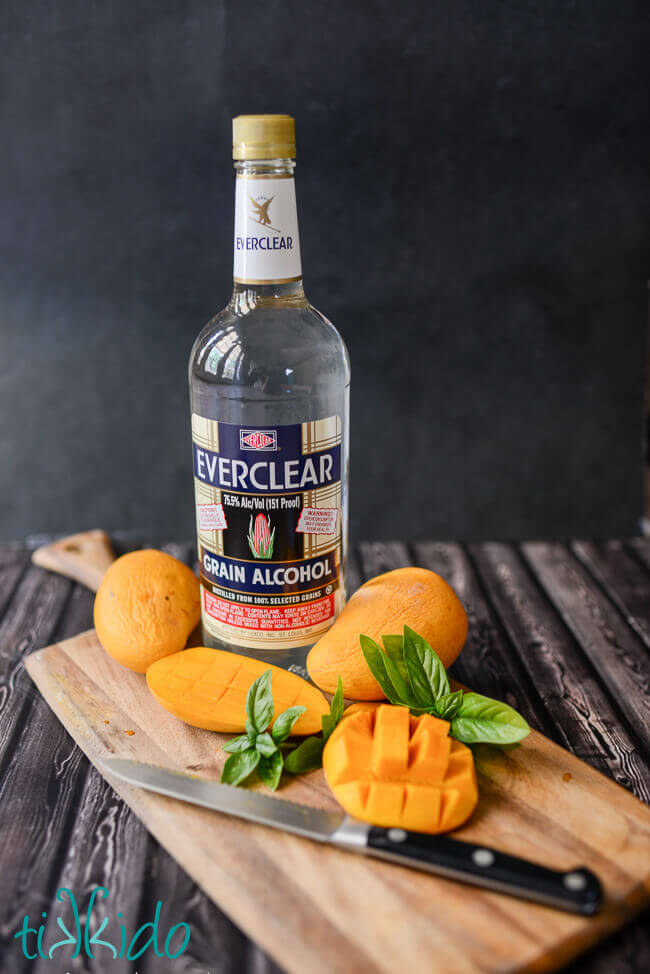 It all starts with an amazing homemade Mango Thai Basil infused liqueur. 
Mango Thai Basil Liqueur Recipe:
3 cups Everclear®
two sprigs of Thai basil (or regular basil works well, too)
two mangos
3 cups simple syrup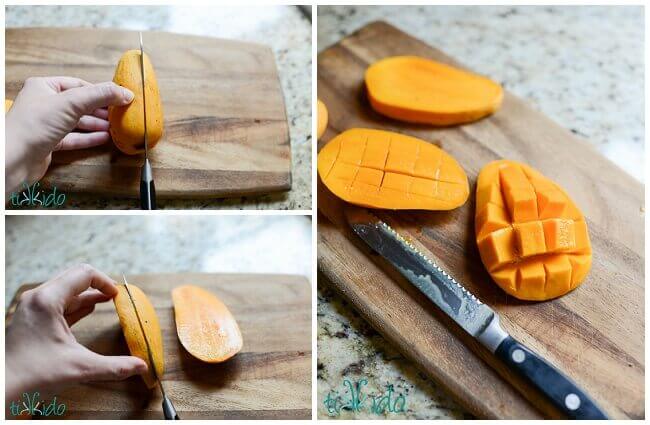 Cut the mango into cubes.  Mangos are easy to cut--if you know the right technique.  There's an incredibly tough, fibrous center in the mango, so don't try to cut directly down the middle.  Instead, cut just to either side of the middle, avoiding the tough center entirely.
Score the flesh of the mango in a grid pattern, and sort of pop it inside out to make it easy to slice off the cubes of fresh fruit.  
Note: don't be tempted to use the mango skin, like you would if you were making limoncello!!  Mango skin contains urushiol, the same itch-inducing chemical that's in poison ivy.  We don't eat or use the mango skin, just the delicious fruit inside.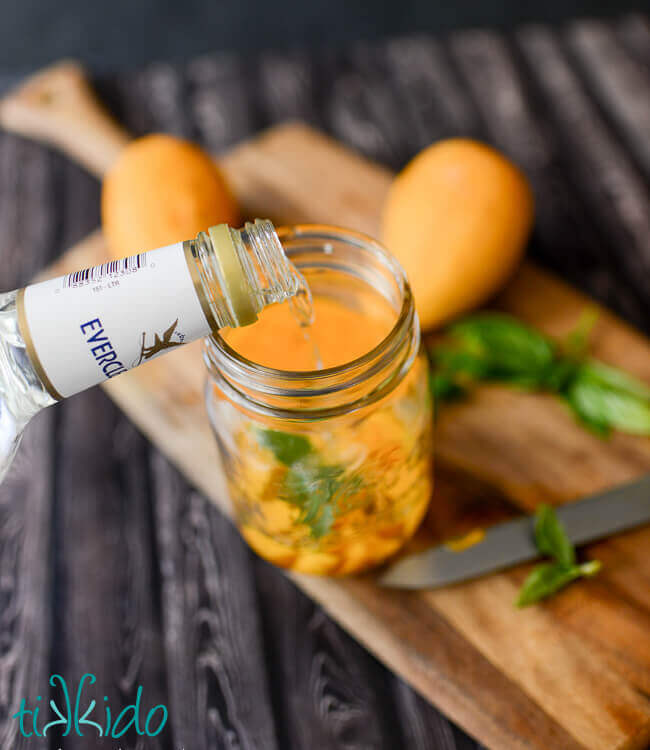 Place the Everclear®, basil, and mango in a sealable glass container (mason jars are easy to find, and are what I used).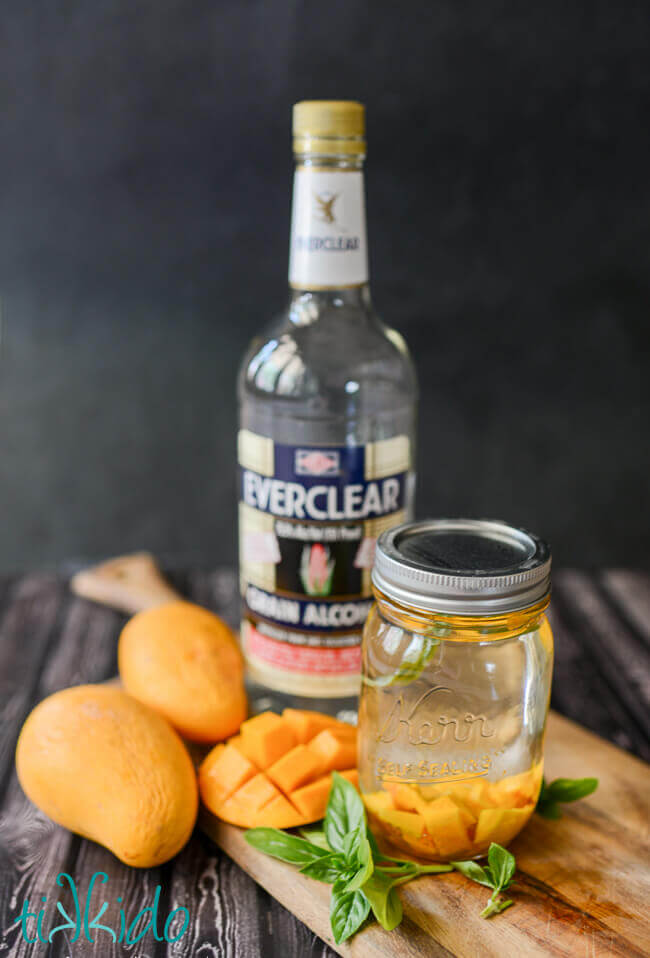 Then all you have to do is wait.  Several days, several weeks--it's up to you.  Just keep the jar in a reasonably cool, darkish place.  I put mine on a corner of the kitchen counter that never gets direct sunlight.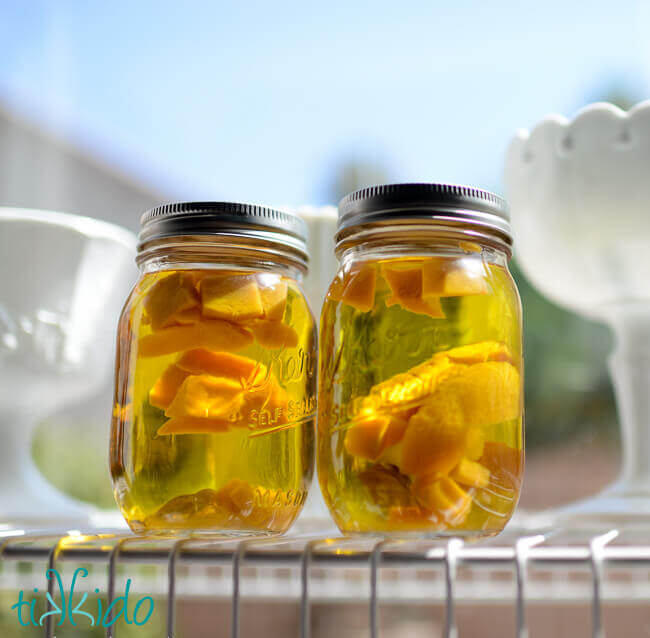 When I was making limoncello, I learned just what a difference Everclear® makes in a recipe like this.  Vodka just doesn't cut it, and I have photographic proof in the limoncello tutorial, plus delicious proof in my freezer, if you want to pop over for a drink.  ;-)  If you want to pull out maximum flavor and beautiful color, Everclear® is the very best neutral alcohol to use for a project like this.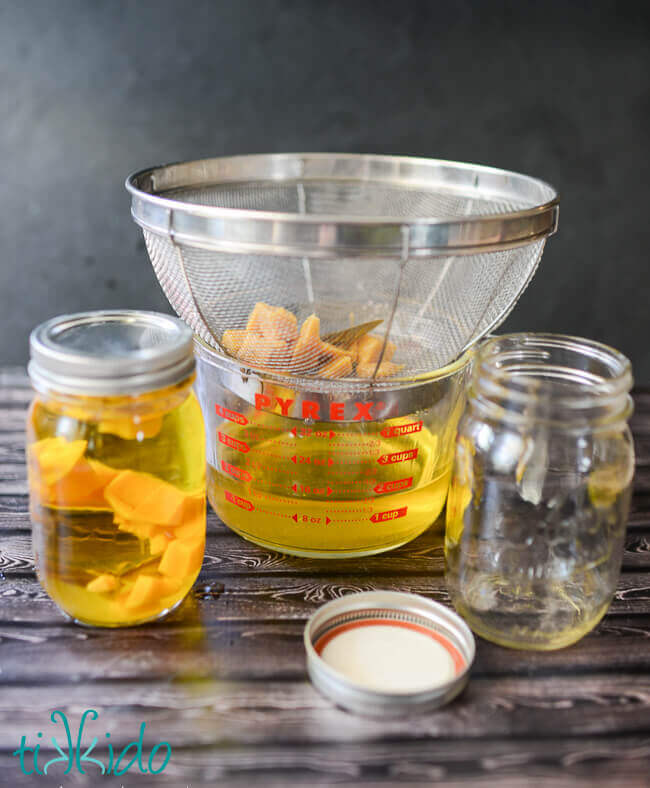 After letting the mango and basil infuse in the Everclear® for several days (I let mine sit for a week), drain out the fruit and herbs, and you'll be left with just the golden, fruity essence in the alcohol.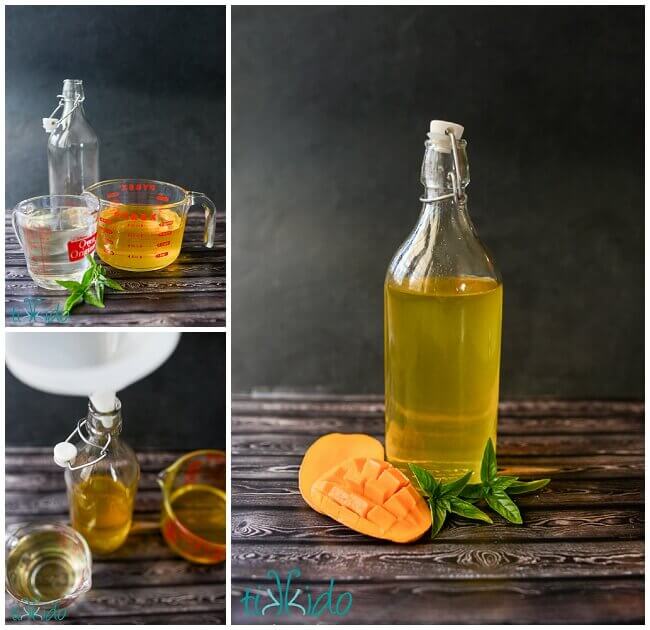 Mix up a batch of simple syrup (that's just equal parts water and sugar heated until the sugar is dissolved).  Mix equal parts simple syrup and infused Everclear® to create your amazing Thai Basil Mango Liqueur.  Store in the freezer, where it will stay fresh and be amazingly cold and refreshing when you pull it out to make cocktails.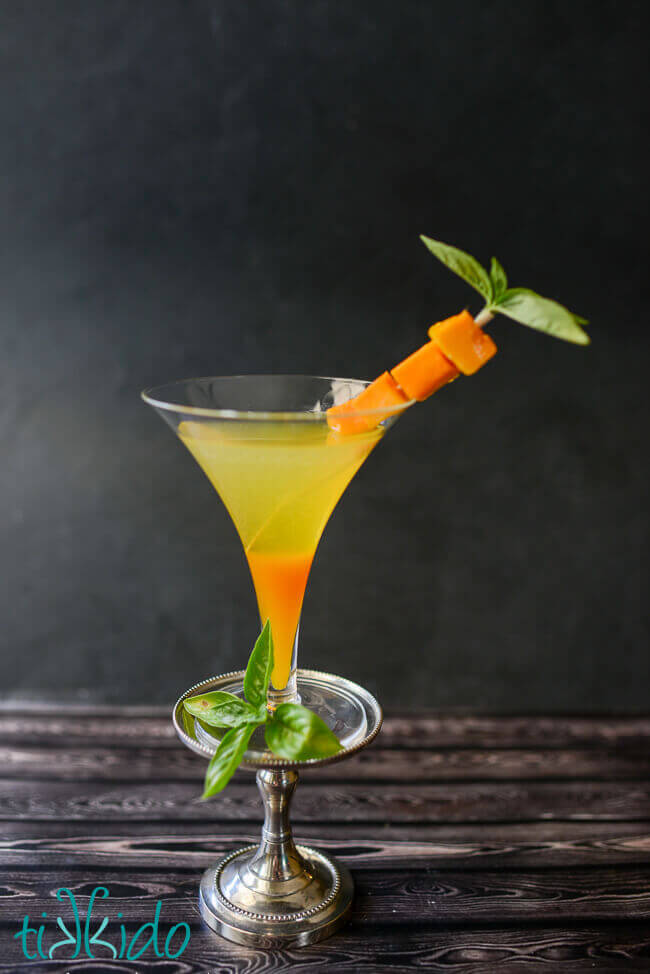 I can think of all sorts of fabulous ways to use the Thai Basil Mango Liqueur, but  the first cocktail recipe I developed was this, the Siam Sundown.
Siam Sundown Mango Thai Basil Cocktail Recipe:
one Tablespoon Mango Peach Orange juice concentrate, thawed
1.5 ounces Thai Basil Mango Liqueur
3 ounces (approximately) sparkling water (could sub lemonade or sparkling lemonade)
Using the mango peach orange juice concentrate is an easy way to create that beautiful, layered drink look, because it is...well...concentrated and dense, and sits beautifully at the bottom of the glass.  Put approximately one Tablespoon of the juice concentrate in a martini glass first, then gently pour in the Thai Basil Mango Liqueur.  Top gently with sparkling water, and add a mixer stick with skewered mango cubes and topped with a basil garnish.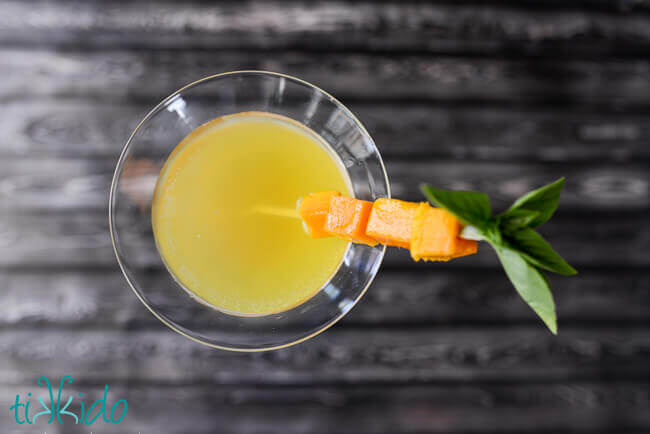 If that's not summer in a glass, I don't know what is.
Be sure to check out the Make It Your Own by Everclear® website for tons of other fabulous, creative, flavor-filled recipes and cocktail ideas.  
Everclear® is the perfect ingredient for craft cocktails and home mixology, allowing you to put your own spin on new and old favorites. With its neutral grain composition, Everclear® extracts the optimal flavor to infuse your cocktails — whether you're making bitters, liqueurs, tinctures or extracts. Visit makeityourown.com for recipe ideas, tips and more!
"This post was brought to you by Everclear®, the "original" grain alcohol, and Luxco. I received compensation to write this post. The opinions and text are all mine.