Printer-friendly version
Did you love Magic Shell ice cream topping when you were a kid?  That chocolate sauce that your pour on ice cream, and it hardens, and crackles and crunches as you eat it?  I did, but this is an even more amazing, more grown up, more flavorful version of that old childhood favorite.  This is Peanut Buttler Magic Shell ice cream topping. There's a free, printable, one page version of the Magic Shell recipe at the bottom of the page, if you want to skip directly to it.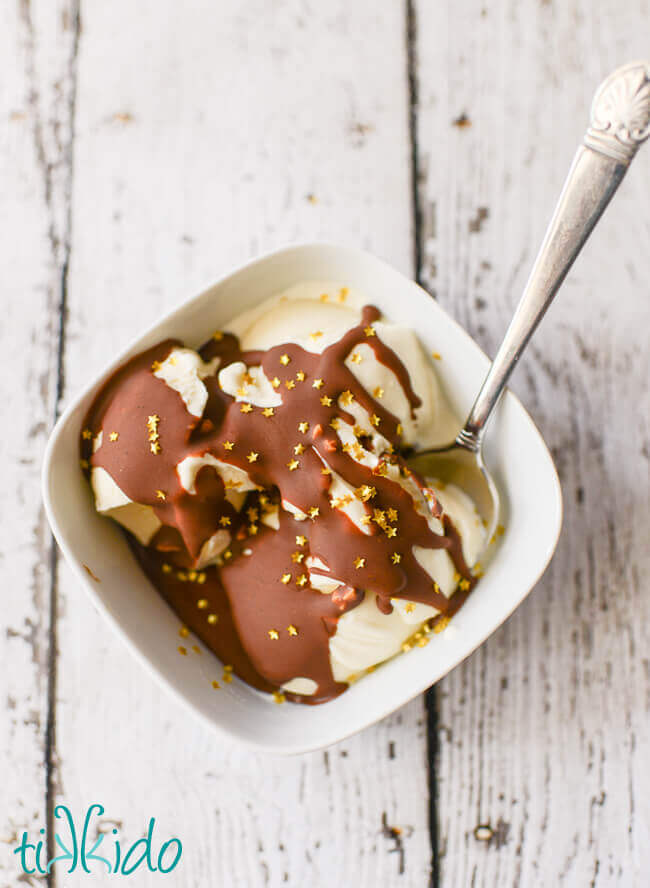 There's a restaurant in Scottsdale, Arizona, called Don and Charlie's.  It's a classic Chicago style steak house, and they do make really good steaks.   When my husband and I go out to dinner, we don't typically order desserts, but we always, always save room for dessert at Don and Charlie's, because they make this amazing confection that they call the Goldbrick Sundae. It's an amazing house-made magic shell type ice cream topping, but it's SO much better than the magic shell I remember from when I was a kid.  It's flavorful, it's more complex, it's kind of peanutty...  it's hard to describe, but it's delicious!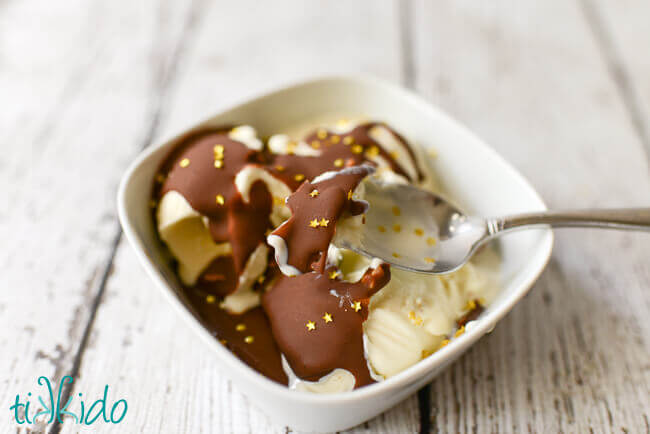 And it's just fun to eat, cracking that magically delicious sauce that hardens into a delicious shell of yumminess, then pouring on more sauce once the first layer is gone.   
I had such easy success making blue chocolate magic shell ice cream sauce for the 4th of July, that I decided to experiment, and see if I could come up with a recipe for Don and Charlie's Goldbrick Sundae sauce.  I'm happy to report that I think I managed to do it--or at least make something that tastes really similar, and really damn delicious.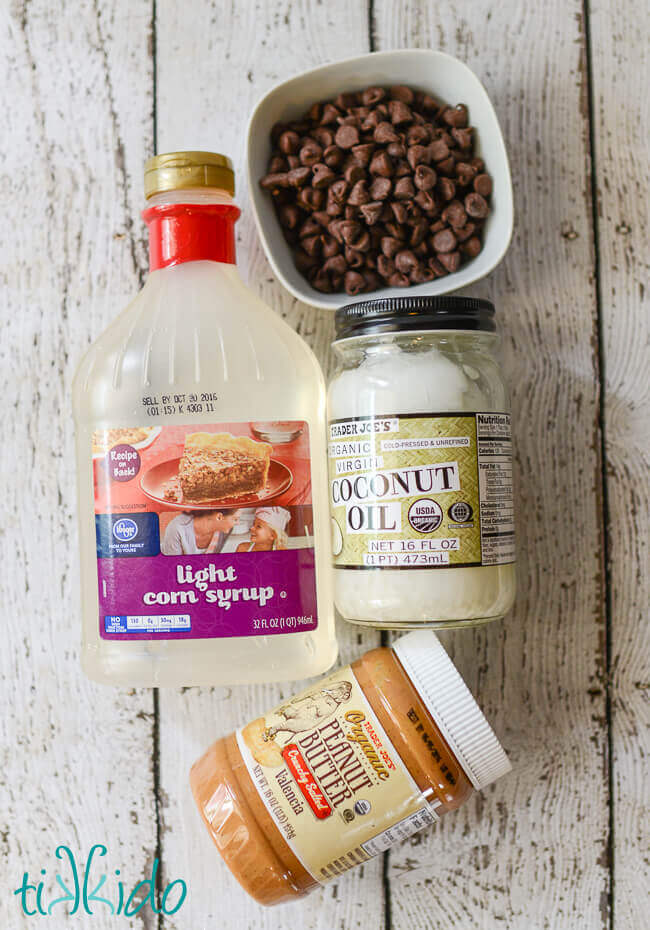 Chocolate Peanut Butter Magic Shell Ice Cream Topping Recipe:
100 grams semi-sweet chocolate chips
80 grams coconut oil
40 grams crunchy, salted peanut butter
10 grams light corn syrup
I stuck with the same general proportions as the basic magic shell recipe, and the same microwave technique.  You'll need to use a kitchen scale, since my recipe is by weight, not volume.
Technique for Making Homemade Magic Shell:
 Put all ingredients in a bowl, and microwave for about 45 seconds, stopping to stir about every 15 seconds.  How easy is that?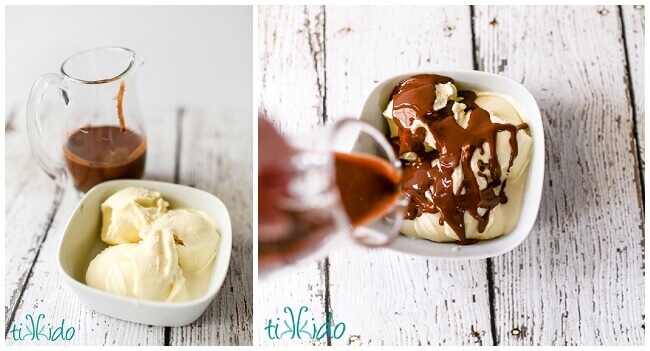 Seriously.  You're 45 seconds away from this amazing, chocolate and peanut butter deliciousness.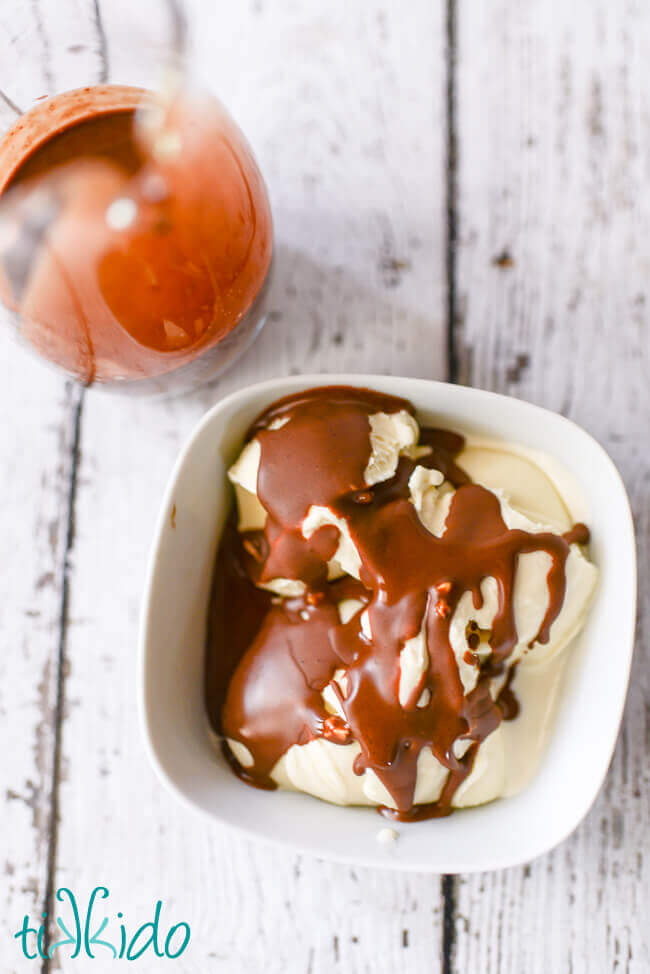 The sauce will stay liquid at room temperature, and hardens when it gets cold, when you pour it on top of ice cream.  I went with classic vanilla ice cream, just like the sundae at Don and Charlie's.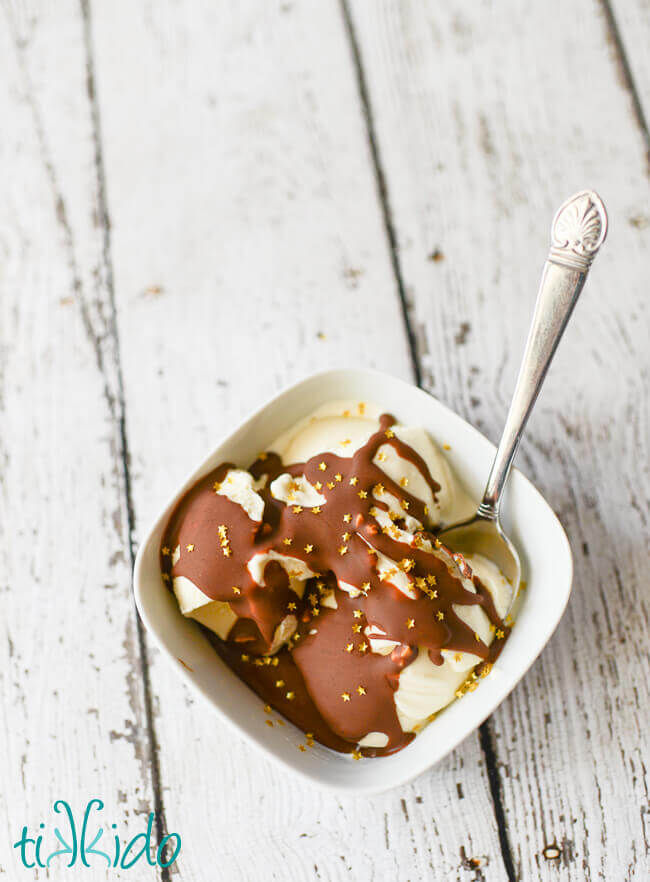 I sprinkled on a dusting of edible golden stars in honor of the Goldbrick Sundae, my inspiration for this recipe.  Plus, they're just pretty.  Who wouldn't want gold stars on his or her dessert?
Want a free, printable, one page version of this recipe?  Here you go: Printable, one page Peanut Butter Magic Shell Ice Cream Topping Recipe