Printer-friendly version
I've discovered a Truth (capital T) in life:  you will always have fun if you're wearing feathers.  It just happens.  You can't be in a bad mood with a feathery accessory.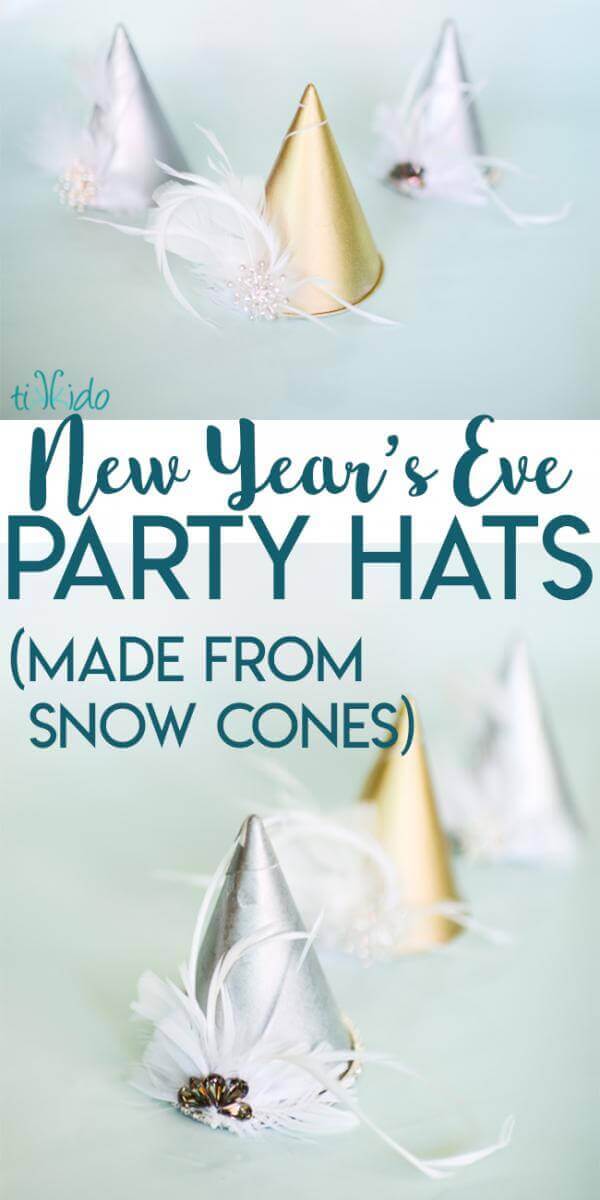 This is true absolutely any time of the year, but on a party night like New Year's Eve, it feels especially true.
It would have been nice if I'd posted this before New Year's Eve, right?  Well, I didn't come up with the idea for these New Year's Eve hats until a half an hour before our NYE guests arrived.  That gives you a sense of how quick and easy these elegant little party hats really are to make.
I was getting ice out of the freezer in the garage, when I saw my stash of snow cones (left over from the popcorn bar at the Firefly Theater outdoor movie night)  Inspiration struck.  I made my husband take care of setting out the drinks and pulled out my hot glue gun.  
A quick coat of silver or gold spray paint added pizzazz to the plain white cones in seconds.  I added elastic straps by tying a knot in the end of elastic cord, stapling it to the inside of the snow cone, and securing it with a dab of hot glue.
After that, it was a simple matter to use my hot glue gun to add on a few feathers and rhinestones.  
I had some inexpensive rhinestone buttons I'd bought wholesale some time ago.  They cost around $1 each, but added a big, sparkly splash of fun to the hats.  And it's not like the rhinestone buttons were being put to a better purpose in my bead stash in the garage.  I was delighted finally to find a good use for the leftovers.
They were silly and fun (so the kids liked them) and at the same time elegant (so the adults liked them).  They were perfect for New Year's Eve, of course, but they'd also be spectacular for any birthday celebration.
My youngest daughter liked wearing hers as a unicorn horn.
The tiny size lends itself to the hats being worn a little askew, fascinator style.
I used elastic bands, but these would also be incredibly easy to glue to a headband.  That would probably be more comfortable for some children.  
Like mine, who can't stand anything under her neck.  That may have influenced the wearing of the hat unicorn-style.
What kind of party would you use these for?  I love them so much, I'm thinking I might just actually throw myself a birthday party this year.