Printer-friendly version
The holidays were fun, right?  But now it's time to rejoin regular life, where there aren't cookies being proffered at every turn.  Time to get back to cooking at home, and eating healthy, balanced meals.  Without feeling deprived.  That's where this amazing dinner salad comes in.
It's light and healthy, but packed with hearty flavors and protein, so it feels solid and substantial.  No, "Oh, poor me, I'm eating a salad for dinner!" thoughts when this is served.
Curry Yogurt Chicken Marinade
1 cup plain yogurt
3 cloves garlic, minced
1 t fresh ginger, grated
the juice of one lemon
2 T curry powder
1 t salt
For the record, I've made this using fat free yogurt, and I've subbed fat free sour cream instead of the yogurt.  Both work fabulously.  I've also used 1T curry powder and 1T of chicken shawarma spice blend.  Yum!  
Mix up the above ingredients and let 4 chicken breasts marinade for at least an hour.  You could do this the night before if you were more organized than I am.
Bake at 350 for 30 minutes.  And in the meantime...
..whip up a super simple lemon vinaigrette salad dressing.
Lemon Vinaigrette Salad Dressing Recipe
1 t mustard (Dijon if you have it.  Plain yellow works too, though!)
the zest of one lemon
the juice of one lemon
6 T olive oil (walnut oil would probably also be fabulous in this recipe)
2 t honey
coarsely ground pepper to taste
If you've never tried making your own salad dressings, you really need to.  They're incredibly easy to make, and taste SO much better than the bottled stuff you can buy!
Whisk all the ingredients together in a small bowl.  Give it a good shake or stir right before using the dressing, too, to make sure all of the ingredients are well incorporated.
Also, while the chicken is cooking, cook up some brown rice.  I used a mixture of brown rice and quinoa here, but it's just as good with just one or the other.  
Assemble the salad portion:
mixed greens
cucumber slices
grapes, cut in half or quarters
toasted walnuts
raisins
Dress lightly with the lemon vinaigrette.  
Top with about a half a cup of warm brown rice.  Trust me on this one.  I know it sounds strange, but it's so good!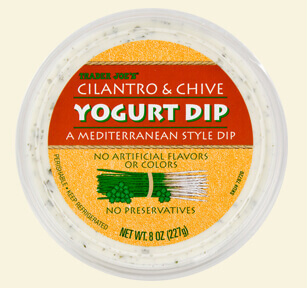 The chicken is great just baked in the marinade, but if you really want to take the flavors over the top, chop op the chicken into bite sized chunks, and then coat the chicken with about 2T of Trader Joe's amazing cilantro chive yogurt dip.  Holy cow, is that stuff delicious.  I think it could make anything taste good.
Put the warm chicken on top of the warm rice and cool, dressed greens.  garnish with a little fresh parsley if you'd like.  Or crumbles of pita chips--that added crunch is really excellent with this dish!
Here's to happy, healthy, hearty eating this new year!