Printer-friendly version
It's time for the January edition of the Make it Happen blog hop!  This month, we were challenged to review the top five posts from our blog.  I always do a Top Ten Tikkido posts for the year (I like the aliteration), but I'd never gone back and taken a look at the highest pageview posts of all time.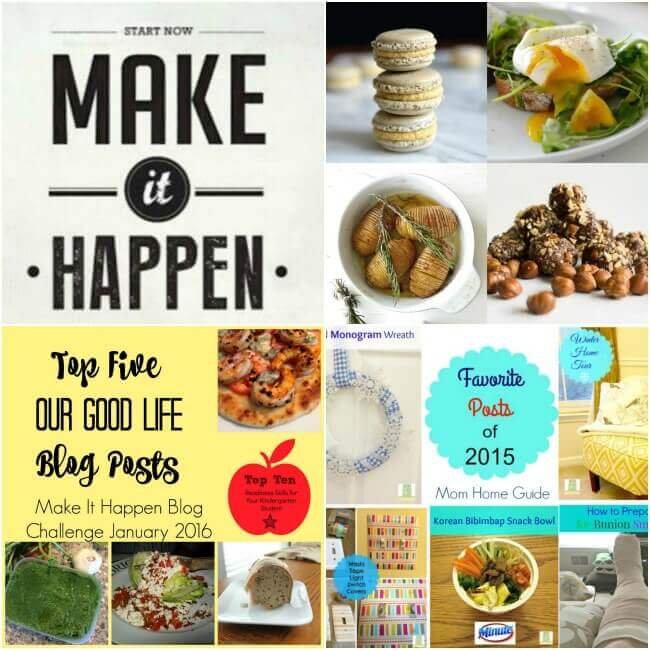 It's been an interesting exercise, and looking at where the traffic has come from for different posts has been particularly interesting to me, as a blogger.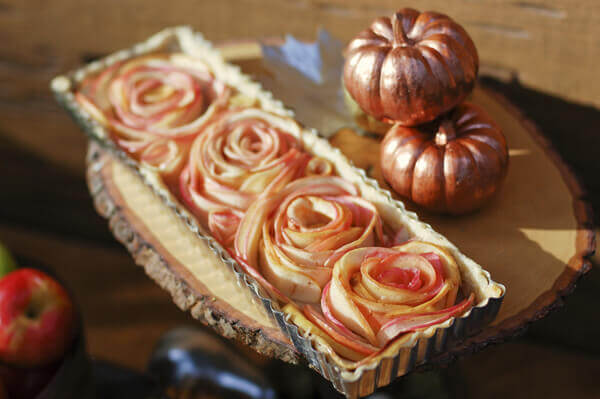 My number one post of all time is still my Rose Apple Tart recipe and tutorial.  Interestingly, that one has only been pinned 10,810 times, but it seems to go viral on StumbleUpon once a year or so.  The StumbleUpon traffic is fleeting, and not very engaged, so I haven't done much with that platform myself.  Plus, one time it stumbled me into malicious software.  I'm sure they have safeguards in place for that, but sometimes something slips through the cracks, and I was kind of soured on SU for a while.  But clearly it's a powerful blogging tool, and I should pay more attention to it.
My second most popular post is my recipe for Pretzel Bites and Beer Cheddar Dipping Sauce.  Mmm, now I'm hungry.  Definitely time to make this again soon!  Homemade bread, plus hot cheesy-beery goodness?  It's no wonder this is a popular recipe.  It's been pinned 54,136 times so far, and Pinterest is my biggest referrer for this post.  Other sites like BuzzFeed and MSN picked it up, too, which was also a big boost to the post.  Love those high Google PR links!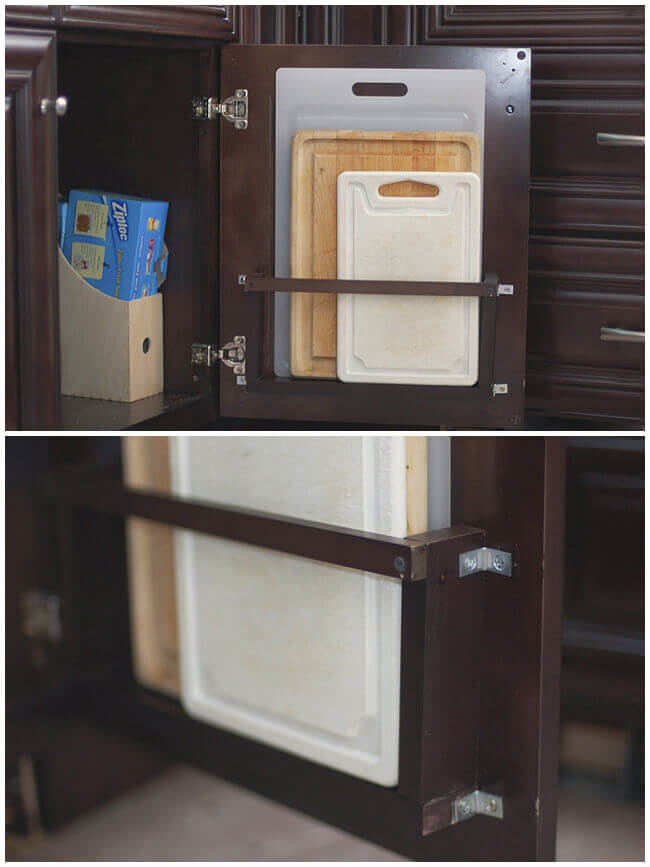 Number three on the list is my vertical, behind the cupboard door cutting board holder.  This has only been pinned from my site 40,527 times, but that's not the whole story.  If you look up the number of times that has been pinned from DwellingGawker (where I submitted it), that adds another 300,000+ pins.    This post has been picked up by MSN, RedBook Magazine, the Better Homes and Gardens website, and many, many more.  It may be annoying to submit your posts to all the sharing sites, but you never know what's going to catch someone's eye, and I firmly believe that it's an important part of the business of blogging!
You know how to look up how many time a page has been pinned, right?  Even if you don't have WordPress (I don't, this is a Drupal based blog), the creators of the "Pin it" Wordpress plugin button have a resource for you: a page where you can enter any URL and see how many times it has been pinned. 
Most popular post #4 is my Salted Caramel Buttercream recipe.  It's definitely more fussy than a regular buttercream recipe, but holy cow, is it worth the effort.  YUM.   This is the most pinned post (pinned directly from my website, at least), with 149,066 pins, and I get notable, steady traffic on this post from Pinterest every single day.
And post #5 is my collection of tips (learned the hard way) for throwing a black light party.  This post has a respectable 32,597 pins, and I get regular traffic to this post all year, but it's definitely most popular leading up to Halloween.  It's interesting that the rest of my popular posts are evergreen topics, and only one (more) seasonal one hit the top 5 list.  On a short term basis, the seasonal stuff definitely outperforms the evergreen, but clearly, long term, timeless posts are an incredibly powerful part of the blog. 
Be sure to check out my fellow bloggers in the Make it Happen Blog Hop, and see what their top five posts are, too:
Our Good Life
Lauren Caris Cooks
The Make It Happen Blog Hop is going through some exciting changes in 2016, and we want you all to be a part of it! From February 2016 we will be hosting the Taste Creations Link Up! Each month, we will be choosing an ingredient, then your job is to create a dish or recipe incorporating that ingredient in some way. There are absolutely no rules on how you include it, so be as creative as you like! You can then add your blog post containing your Taste Creation to the linkup which will be at the bottom of the blog post!
The linkup will go live at 7pm (central US time) on the first Monday of every month and will be open for you to submit your recipes for 7 days. We will pick our favourites to feature the next month!
February's ingredient is… Leeks!
Submission will be open from Monday 1st February at 7pm (CT) for 7 days. Come back here between those times to add your recipe! We can't wait to see what you create!