Printer-friendly version
Butterflies are everywhere. Tons of people have done butterfly parties--gorgeous ones!--and I usually like to use slightly more unique themes. That makes it easier to come up with original ideas. But my youngest daughter's nickname is Tykki-dyw, which means "butterfly" in Cornish. I tried to go with a different theme, I really did. But I kept coming back to "Tykki-dyw is Turning Two," so a butterfly theme it was.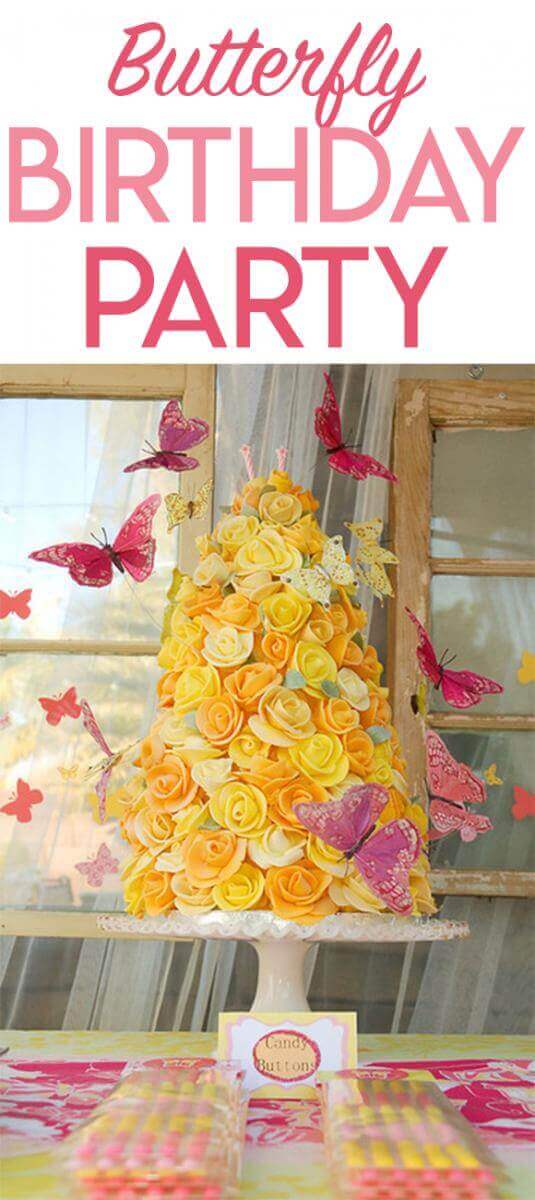 Still, with all the butterfly things available in the springtime, and with a clear party theme, I floundered for a bit. I didn't know what direction I wanted to take. Until I found the Dab of Jazz line of fabrics.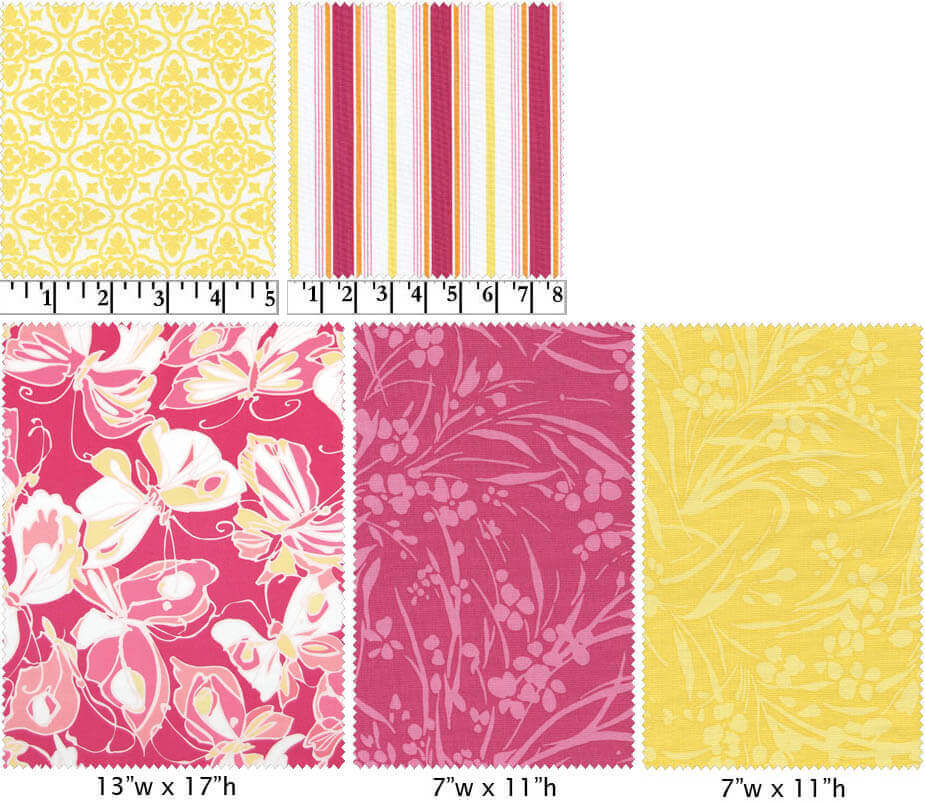 As soon as I saw these fabrics, I knew I had my inspiration. The sunny yellows, the raspberry pinks, the butterfly print--all absolutely perfect! I knew I wanted to incorporate these fabrics and colors in as many places as possible through the party.
I sent the above image to Paula at
Frog Prince Paperie
, and she created the most stunning, whimsical, bright, absolutely unimaginably perfect set of printables for the party.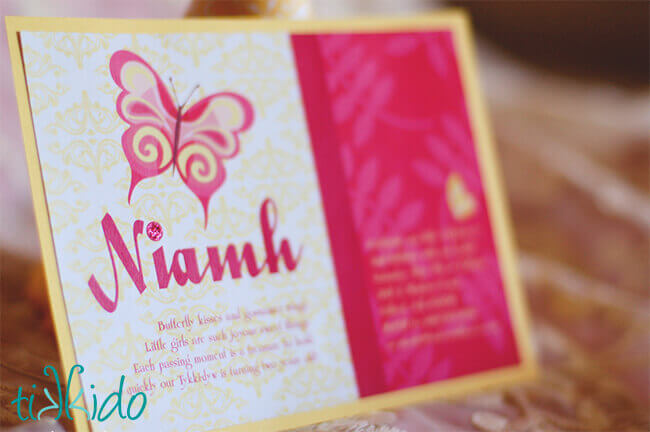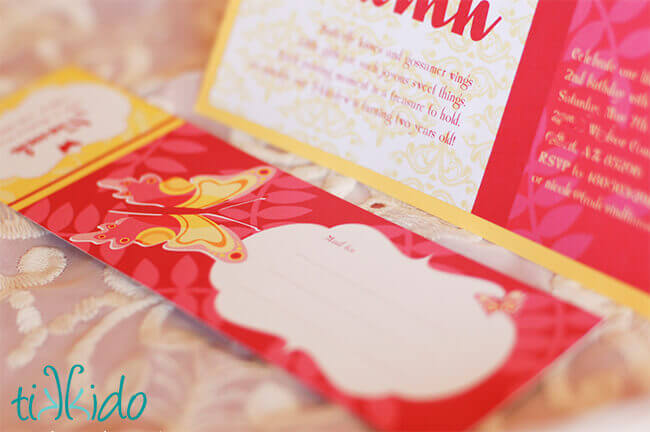 They were amazing. The invitations and envelope wraps set the perfect tone for the party, and the printable touches I used throughout the party helped to unify the entire affair. I can't say enough good things about working with Frog Prince Paperie!

The covered porch at our house is dinky. Code minimum 8x8. Too small to put anything there, really, so I treat it as the foyer into the backyard. I decided to make butterfly garlands and hang them from the ceiling of the porch, so the guests would walk through hundreds of butterflies as they entered the party area. Such a simple project, but it created a fun, effective, dramatic entrance.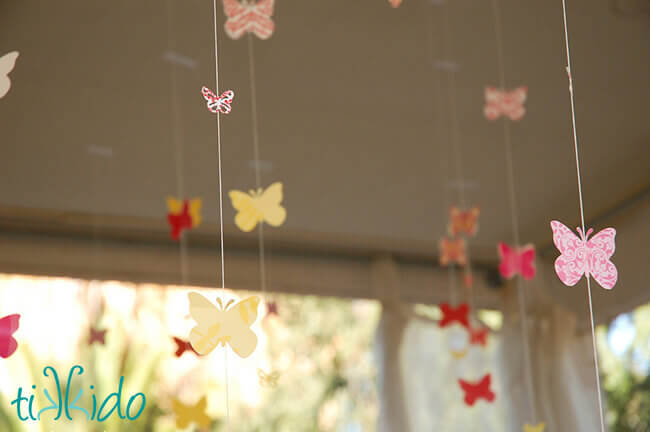 I used two butterfly punches, cardstock, and the printable scrapbook paper Paula created for me so that my paper crafts would coordinate with her printables.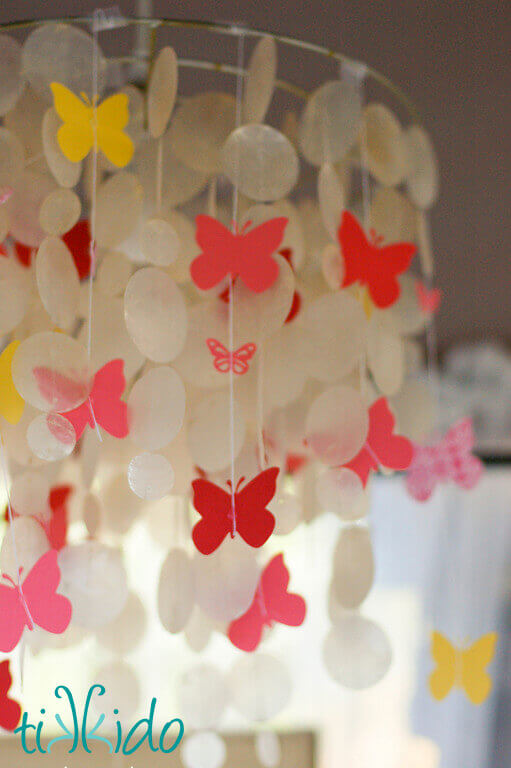 More butterflies were added to a capiz shell chandelier I hung over the dessert table.

The pinata also hung from the porch and doubled as party decor.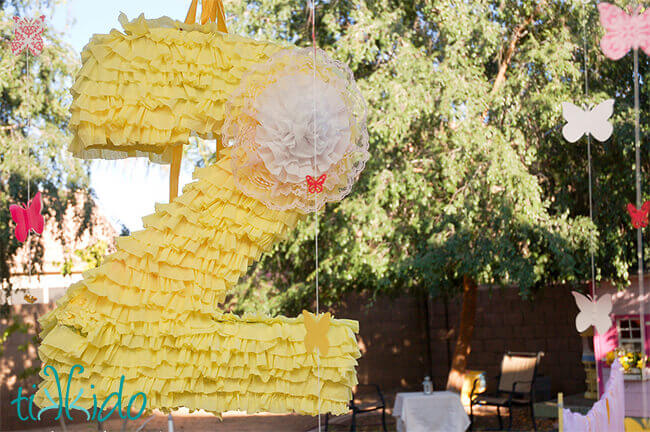 This pinata started life as a rainbow-hued $10 pinata from the local party store. I loved the shape, but not the look, so I took the aesthetics into my own hands. Watch for a tutorial in a few days.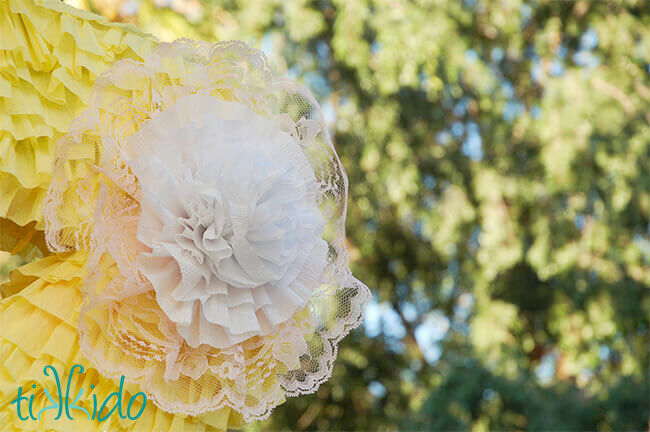 Of course, I used the Dab of Jazz fabric to make bunting for the dessert table tent and on the table coverings.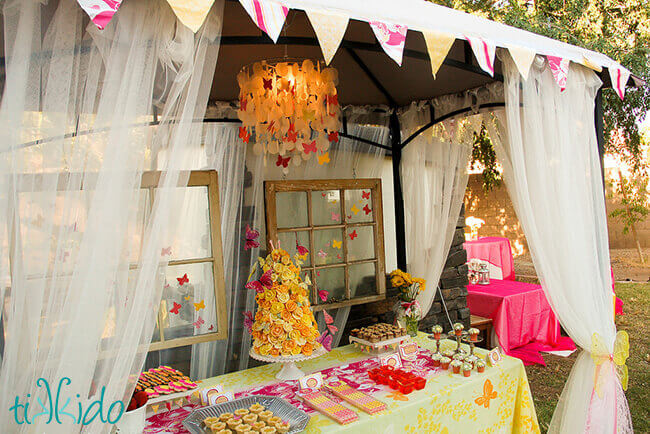 It even made adorable miniature bunting for the cake stands.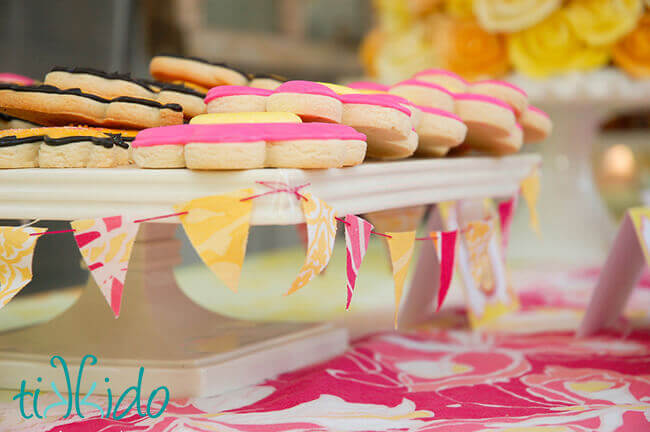 The dessert table was surrounded by soft tulle curtains, and I hung antique windows embellished with more butterflies as a backdrop.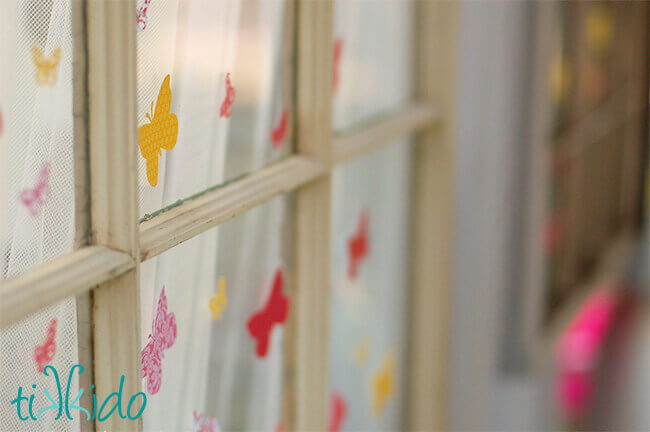 Centerpieces were simple: a collection of embellished votives, daisies and sunflowers, and a couple lanterns I already had for my bedroom makeover.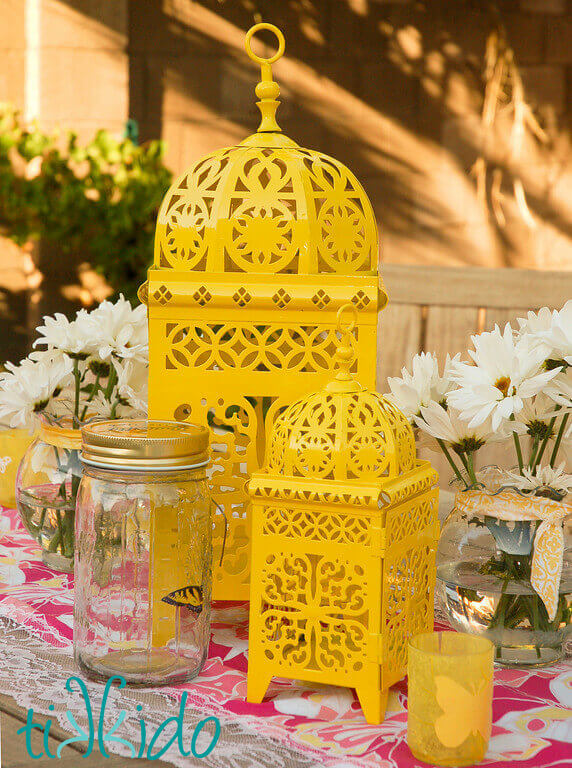 Oh, and a butterfly in a jar! It's not real, but it's so realistic that it fooled a lot of people. Tap on the jar, and the butterfly flits around just like the real thing. I found mine at Big Lots a few days before the party.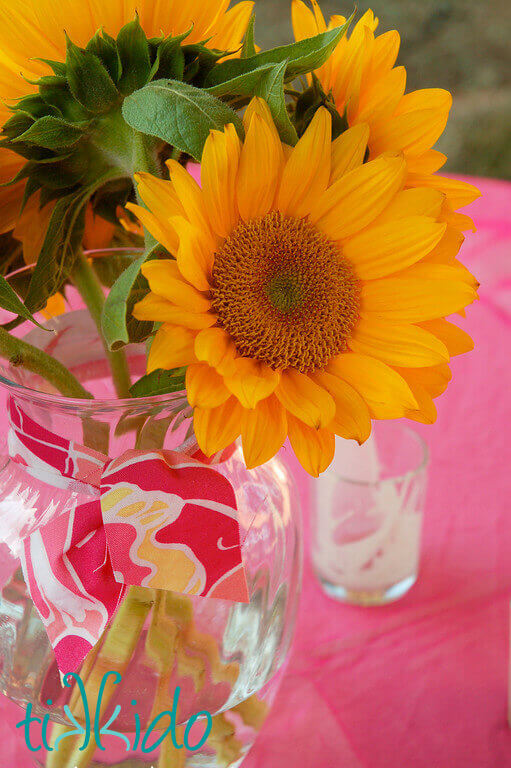 And more Dab of Jazz fabric strips were tied around all the flower vases, helping to unify the casual, summery look.

Here in Phoenix, the weather can be glorious in May, or it can be wickedly hot. I always throw evening parties when heat might be an issue, since our temperatures do drop rapidly once the sun goes down (love that desert living). But I knew that I had to keep my guests cool before the sun dipped low, so I found these fabulous yellow parasols and displayed them in a galvanized pail I covered with more of my fabric.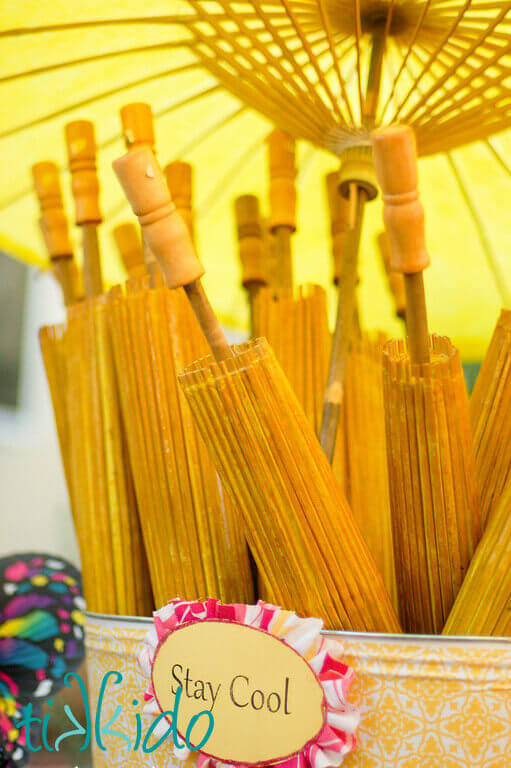 Butterfly-shaped fans were also available and put to good use by kids and adults alike.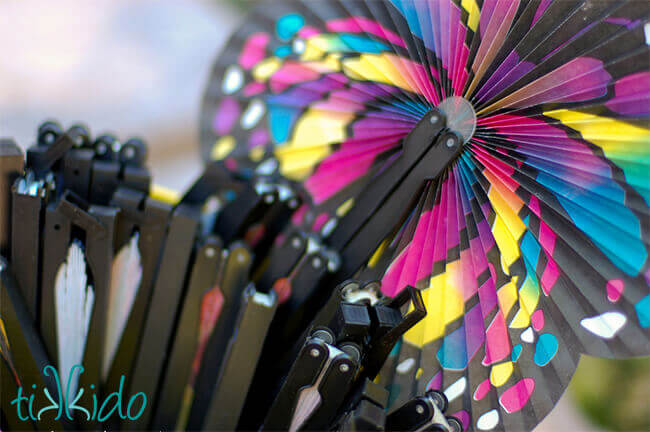 The fabric party hats were my favorite part of the party, I think. I just love how they turned out! More of my fabric, of course, and they were displayed on a white wicker cabinet that used to be in my room when I was my daughter's age.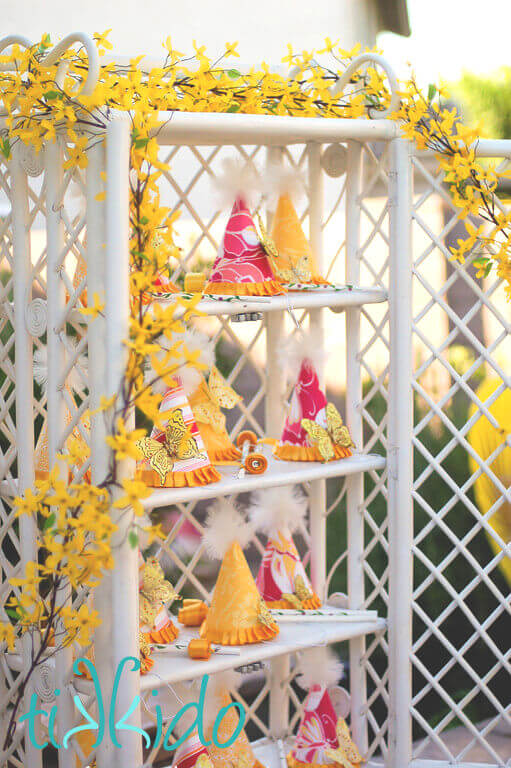 I also made hand-painted ribbon wands for the kids to play with during the party. This station, with the hats and ribbon wands, was set up near the entrance to the party so that they would be noticed and used before heading home.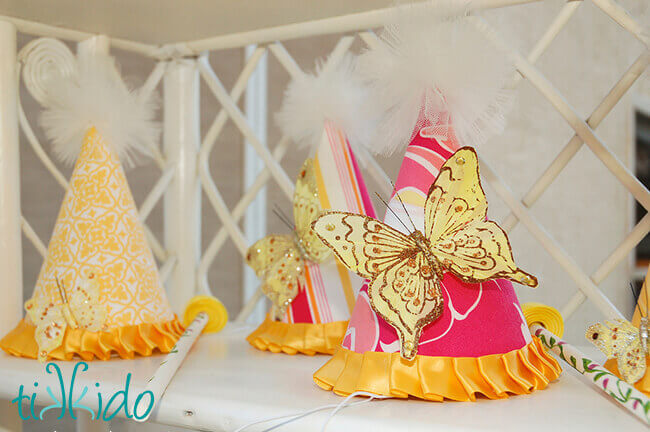 Butterflies were everywhere! Sparkly, edible butterfly garnishes on desserts and glasses...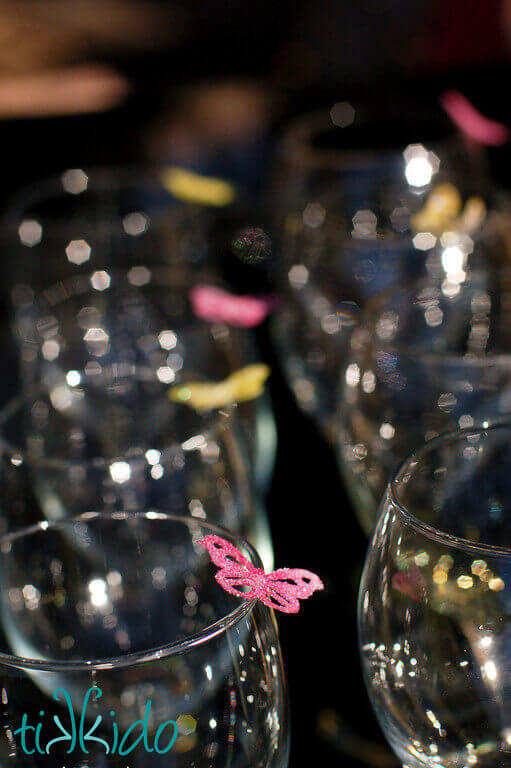 ...paper butterflies and Swarovski rhinestones accenting simple paper cups...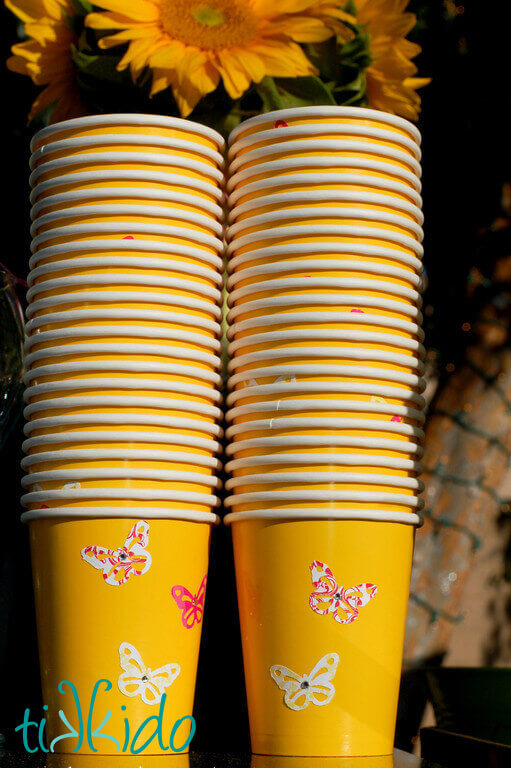 ...paper butterfly napkin rings (not in all my colors, but a bit of spray paint fixed that)...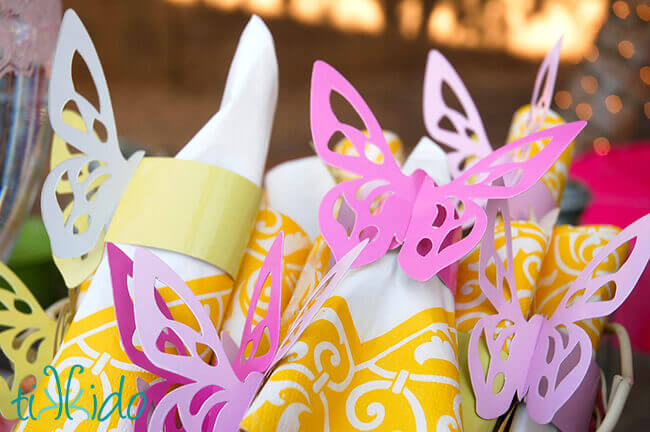 ...even on the beverage labels.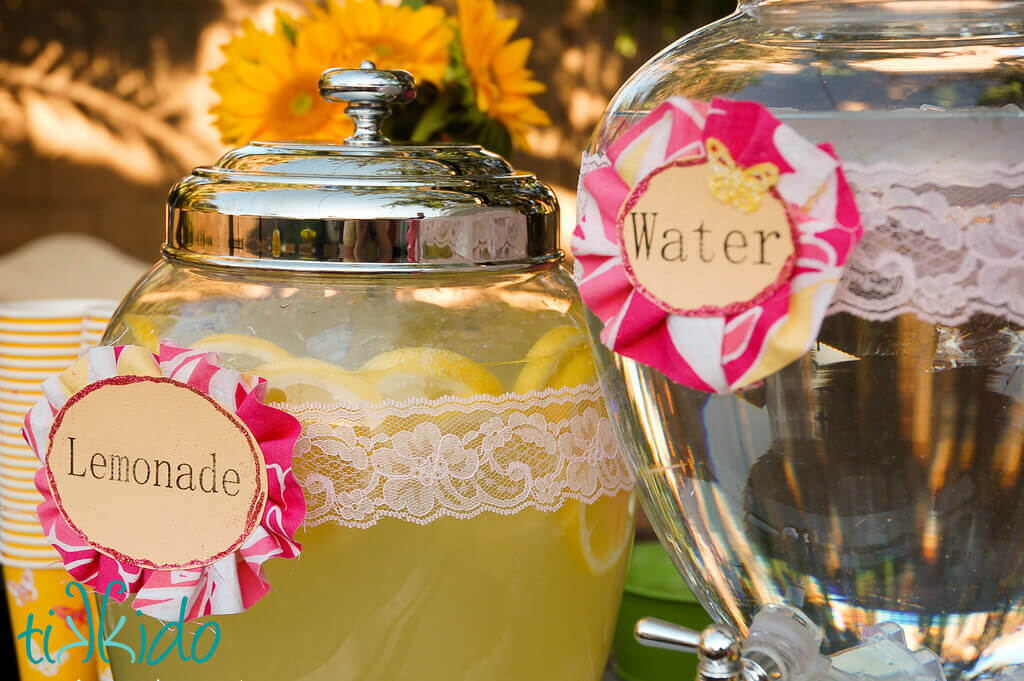 This ribbon and lace "net" made for the butterfly badminton game was inspired by Frog Prince Paperie's gorgeous Beach Baby party decor.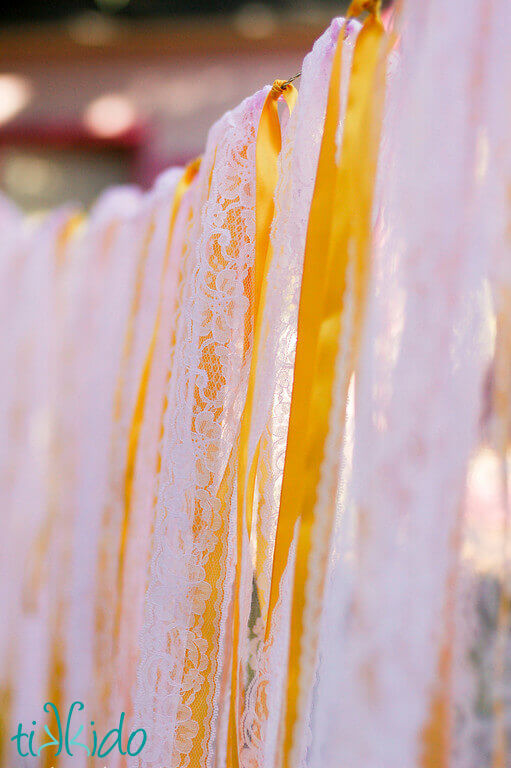 Butterfly nets were used as rackets for the game (more on that in a future post).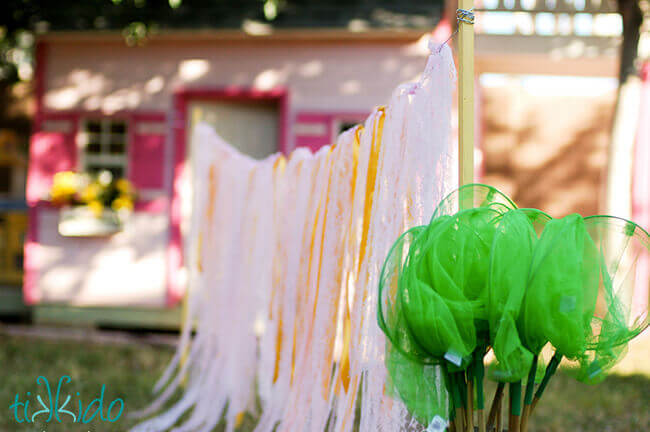 At the end of the party, each child was given a terracotta pot filled with butterfly treasures: a butterfly headband, pencils, butterfly-shaped bath fizzies, butterfly-shaped chalk, and a tiny flower pot with sunflower and zinnia seeds to plant at home.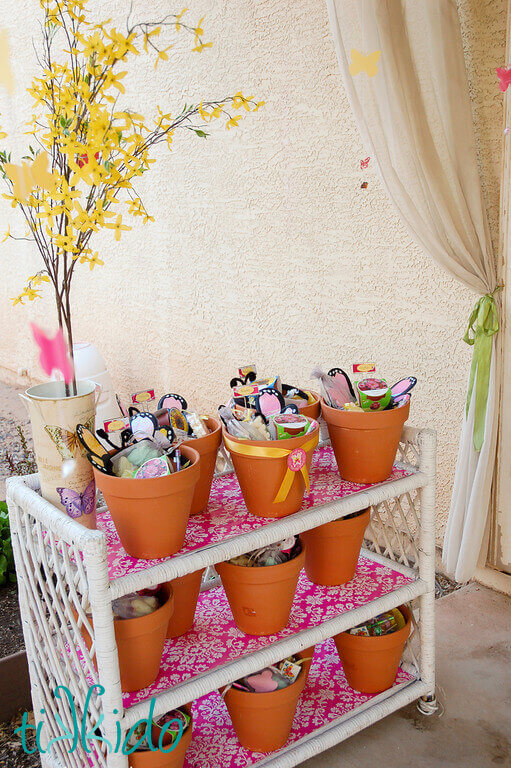 This white wicker shelf has lived outside for a number of years, and has seen better days. I lined the shelves with coordinating wrapping paper for an inexpensive and striking way to make sure that there would be no chipping, flaking paint.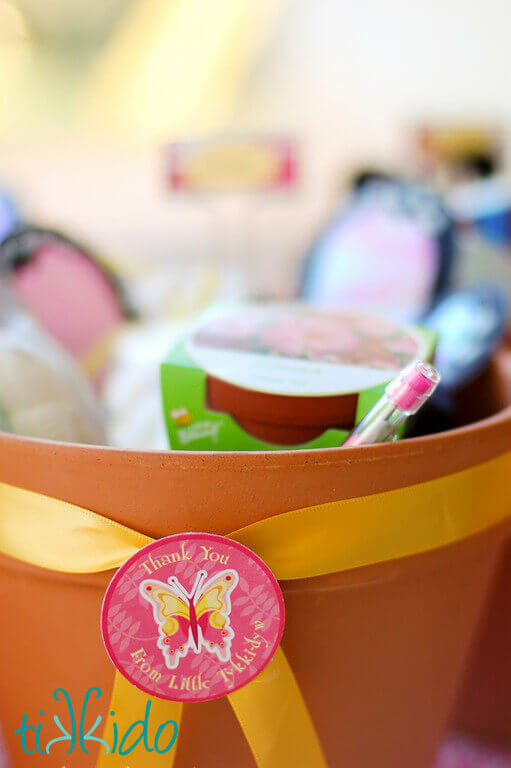 Garden picks (from the Target $1 section) embellished with more of the Dab of Jazz fabric let each child know which favor was hers.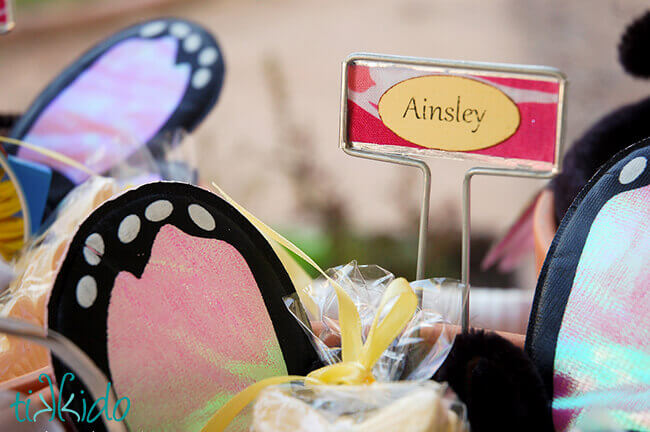 I had so much fun coming up with and crafting all these elements! Sure, my dining room looked like a tornado had ripped through a craft store, but it's all these little touches that make a party really special to me.

Come back for more posts on the party, and tons of tutorials for many of the elements.