Printer-friendly version
It's time for the Taste Creations Blog Hop for February, and our theme this month is CHOCOLATE.
I decided to adapt my favorite sugar cookie recipe to make a chocolate sugar cookie, and then I made them even more awesome by turning them into marshmallow-filled sandwich cookies.
With sprinkles, of course.  Sprinkles make everything better.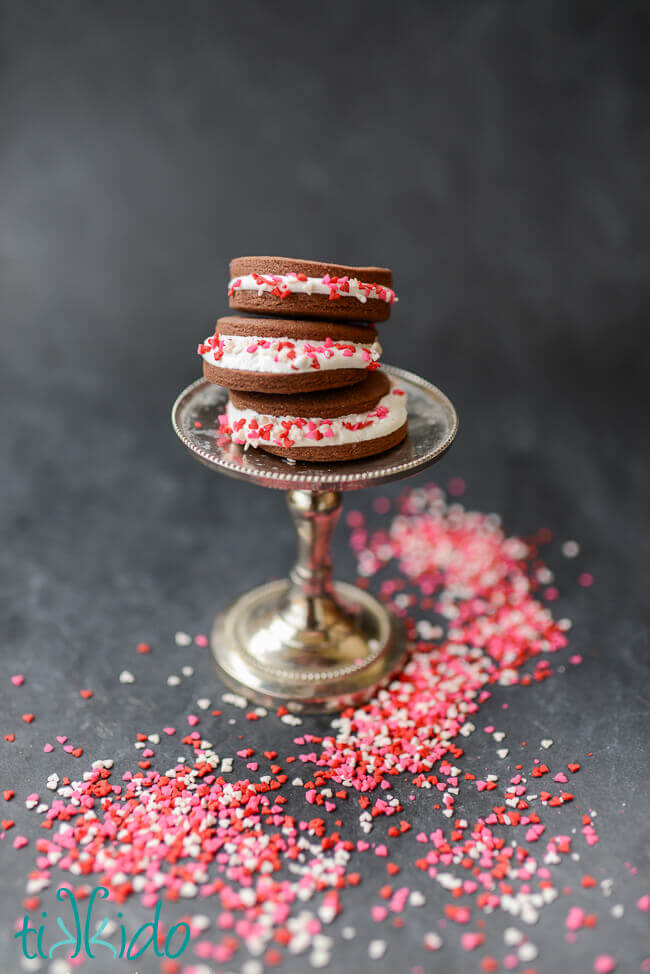 Especially little heart sprinkles for Valentine's Day!
And look, I made a video!
Ready for the full recipe and tutorial, including a free, printable, one-page version of the recipe?  Head over to page two.
[pagebreak]
Marshmallow Filled Chocolate Cookie Recipe (With Sprinkles!) for Valentine's Day
Chocolate Marshmallow Sandwich Cookie Ingredients:
2 1/2 cups flour
1/2 cup cocoa powder
1 cup (two sticks) butter
1 cup sugar
1 egg
1 teaspoon vanilla
1/2 teaspoon salt
1/2 teaspoon baking powder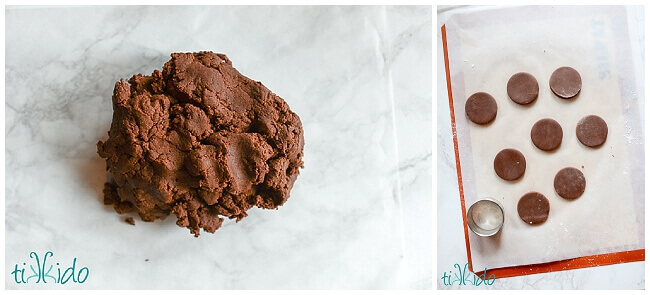 Preheat oven to 350 degrees Fahrenheit.
Cream together butter and sugar.  Add egg and beat.  
Add vanilla, salt, and baking powder, and mix.
Add flour and cocoa powder, and mix until well incorporated.
Roll out and cut dough into circles (I love my set of Ateco circle cookie cutters) Bake for 10 minutes.  Let cookies cool completely before filling.
Fill a disposable pastry bag with the marshmallow fluff.
Cut off the tip of the bag and pipe marshmallow fluff on the underside of one cookie.
Top with a second cookie, and add some sprinkles to the marshmallow fluff.
Just don't use too much, or the delicious marshmallow goo will ooze out slowly.  I learned that the hard way.  The commercial marshmallow fluff is really pretty runny.  I think I'll experiment with making my own marshmallow fluff so I can control the texture (plus, homemade marshmallow is always a good idea).
Want a one page, printable PDF version of this recipe?  Here you go:  Marshmallow-Filled Chocolate Sandwich Cookies
And be sure to check out the other amazing chocolate recipes from my blogger friends in the Taste Creations Blog Hop.
Our Good Life:  Chocolate and Red Wine Trifle
An Italian in my Kitchen: Thin Chocolate Cookie Layered Dessert