Printer-friendly version
Let Unicorn Week (Part Deux) continue with this easy and quick unicorn themed gift wrapping tutorial!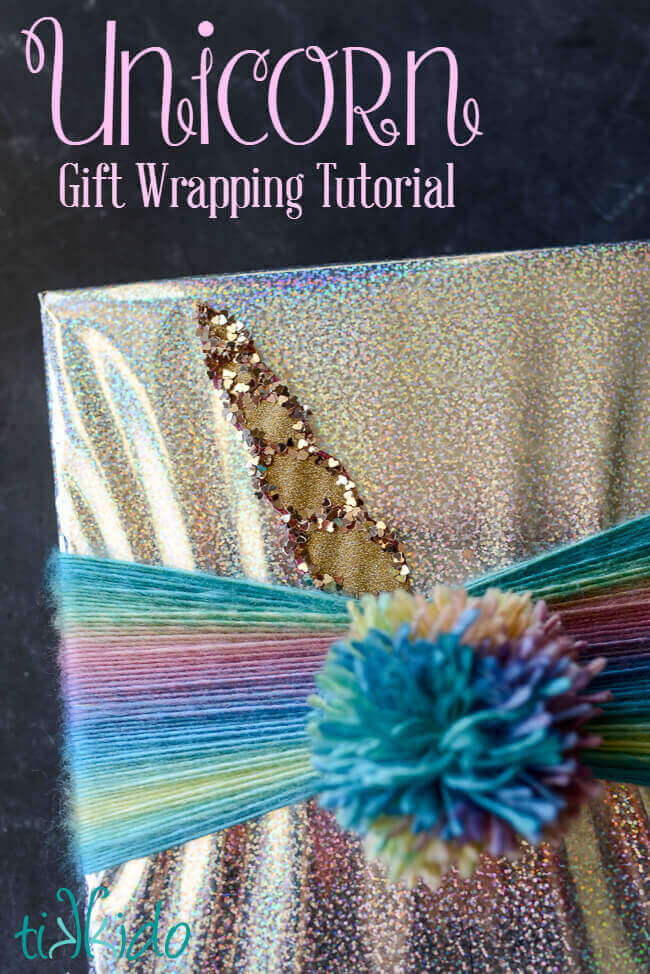 Best part?  I'm using the same materials I've used over and over for the other Unicorn Week crafts.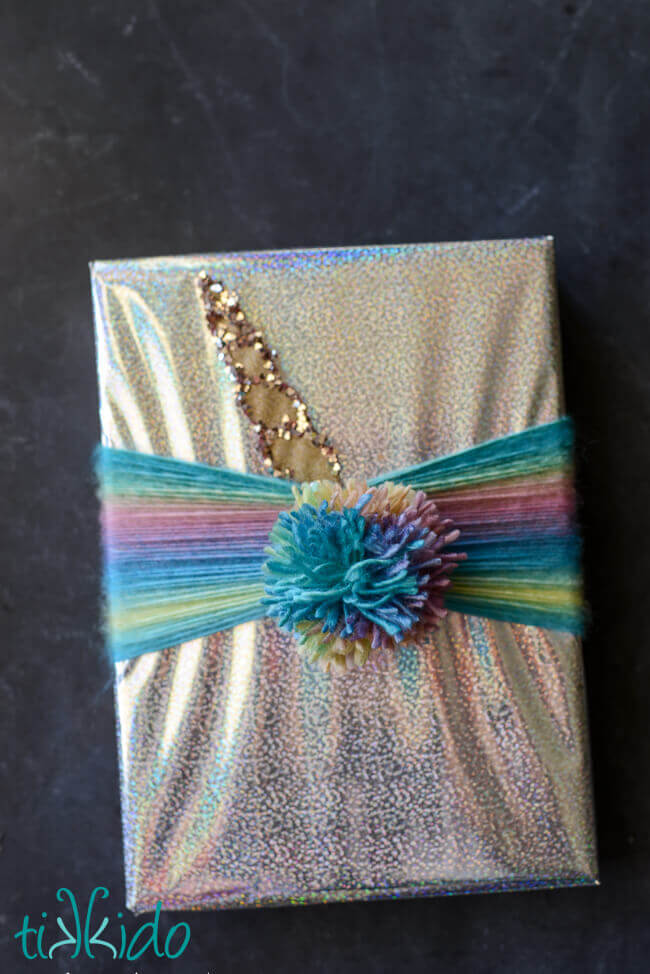 I just can't get enough of that pastel rainbow yarn!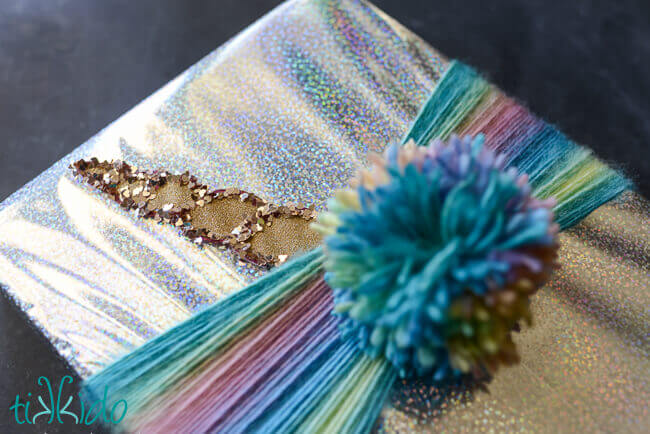 The horn gift tag is the same as the one I used for the Unicorn Gift Bag tutorial.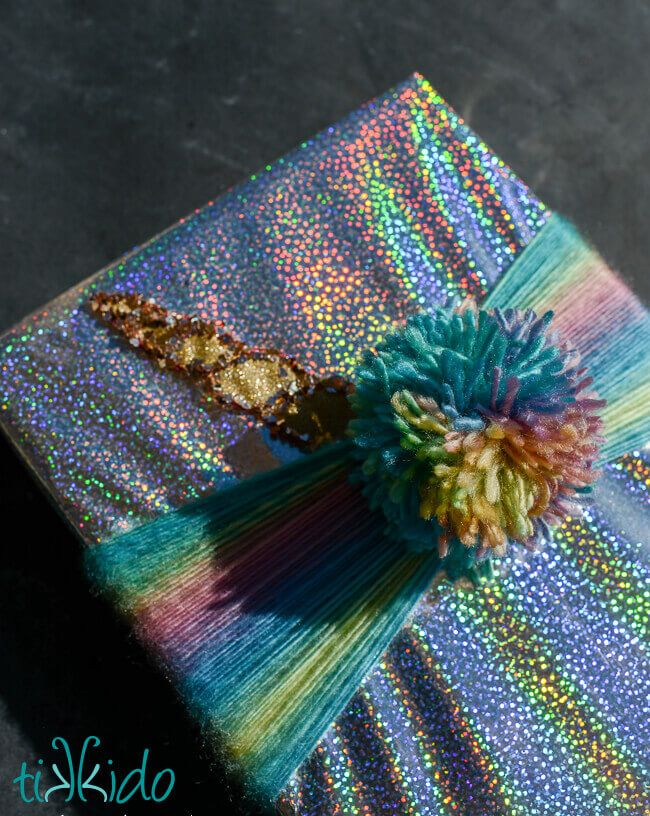 The only new material in this craft is the holographic silver gift wrapping paper.  Isn't it gorgeous?  I don't usually shoot in direct sunlight (for good reason, this isn't a particularly good photo), but I wanted to show you how amazingly sparkly and wonderful this paper is as it catches the light.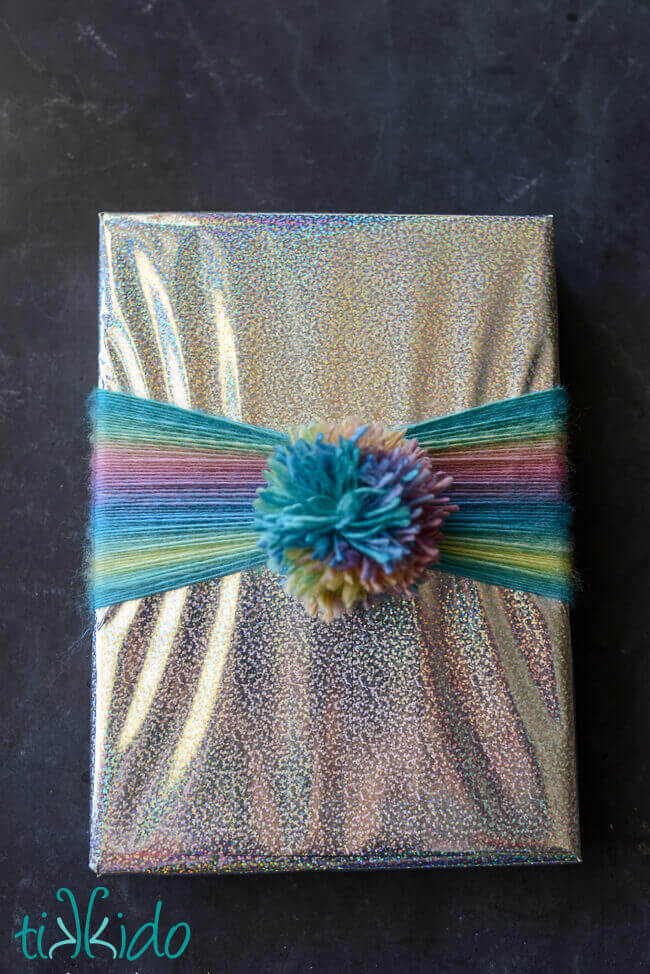 No need to make fancy unicorn horn gift tags, of course.  The package looks amazing with just a yarn pom pom.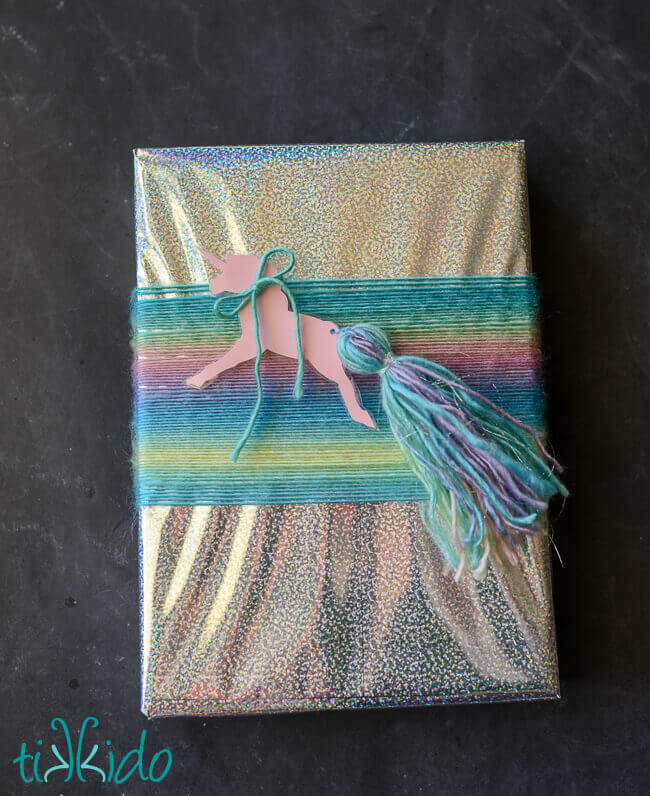 Or you could even use the unicorn bookmark (tutorial here) as a gift tag and present topper!  How perfect is that, plus it's like two gifts in one!
Unicorn Themed Easy Gift Wrapping Tutorial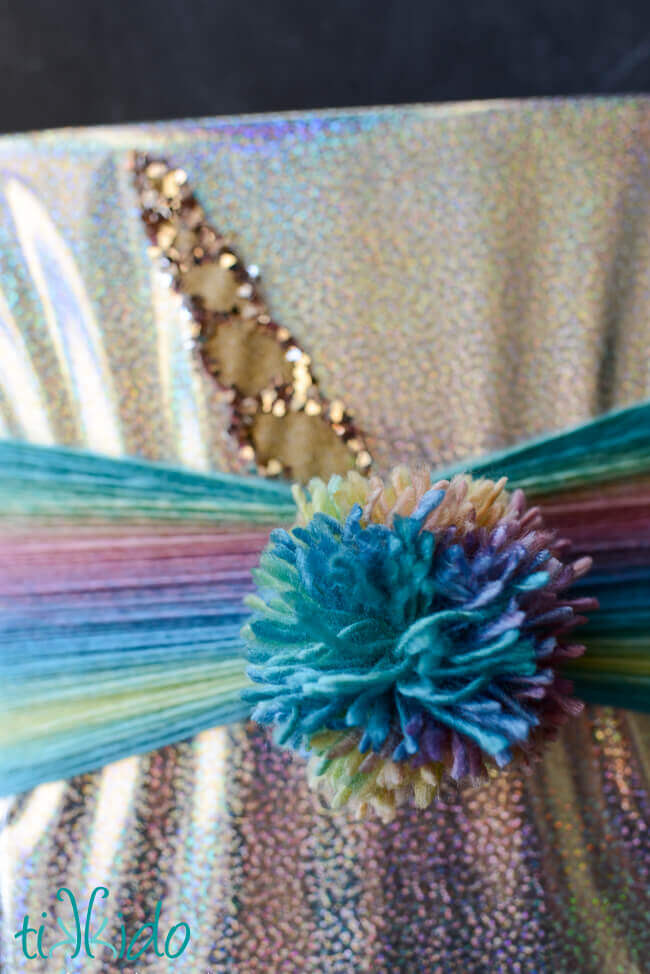 Materials for Unicorn Themed Gift Wrapping Tutorial: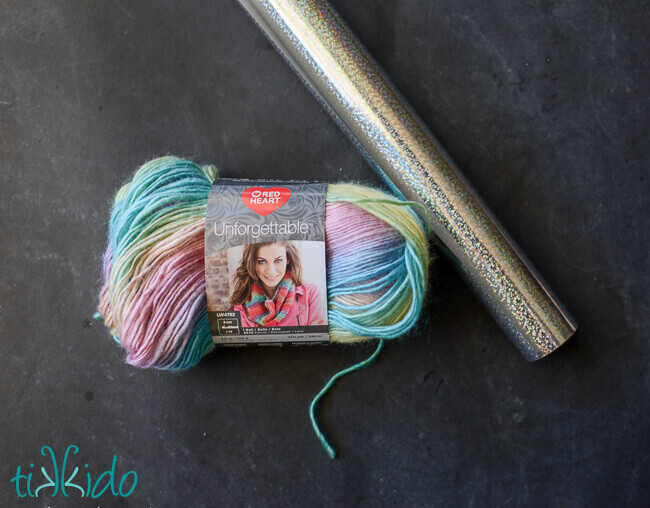 I found this pretty, glittery, iridescent gift wrapping paper at my local Michaels craft store.  I really wanted to find some opalescent white gift wrap, but all I found was a cellophane version.  That's not so great for wrapping presents, obviously.  But this silver wrapping paper was really beautiful, too, even if it wasn't exactly what I had in mind.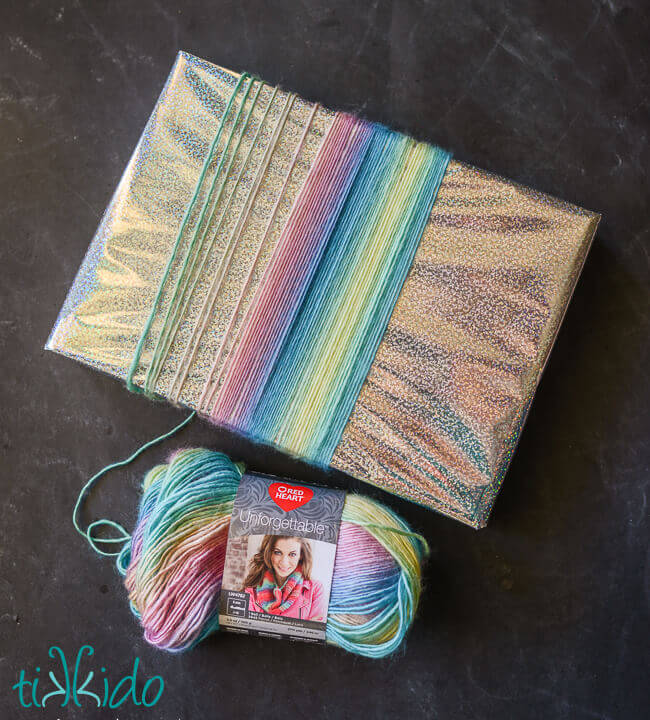 Wrap the present in the iridescent paper.  Wrap the yarn around the present--many, many times--so that you see the beautiful color variation.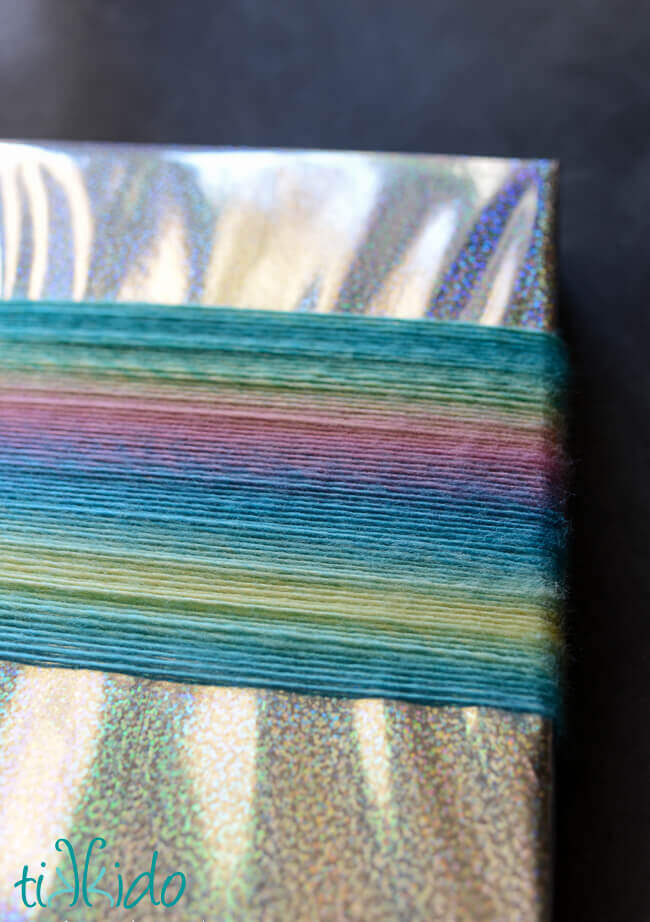 I just taped each end of the yarn to the back side of the package.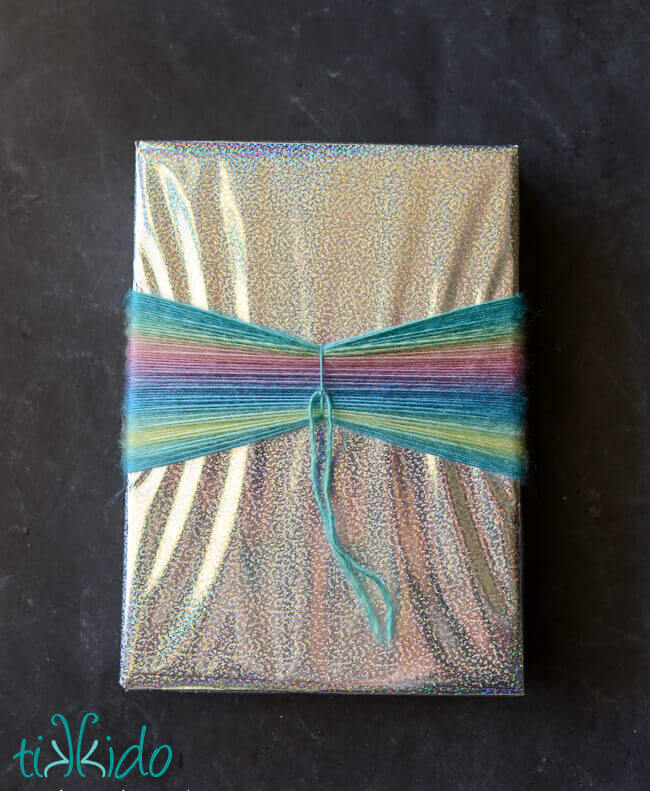 I decided to gather the yarn a bit in the center with a second, shorter length of yarn.  It gave it a fun prismatic look.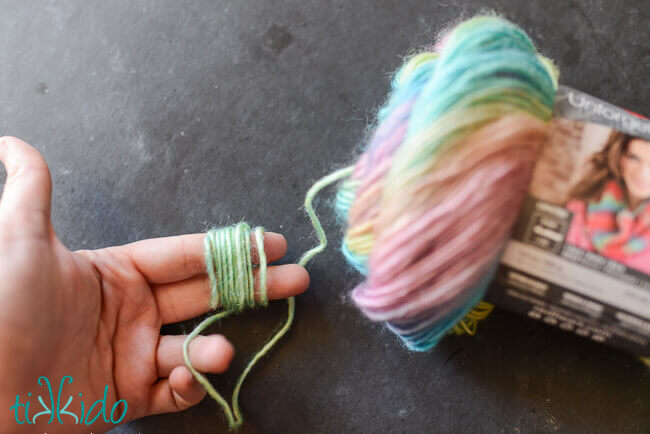 The pom pom gift topper was made with the same basic technique I used to make the cake bunting tassel garland. But instead of wrapping the yarn around my fingers just ten times, I wrapped it a LOT more.  If you think you're done, keep wrapping.  And then wrap some more.  You can basically never have a pom pom that's too full, but one that's not full enough just looks sad.
Slip the loops of yarn off your fingers, thread another piece of string through the yarn loops, and tie in a tight knot.  Cut the loops of yarn into strands.  Trim and shape the pom pom to your liking.  
If you want to make easy, perfect pom poms every time, you can use a pom pom maker tool.  I've never tried them myself, but I have friends who swear by them.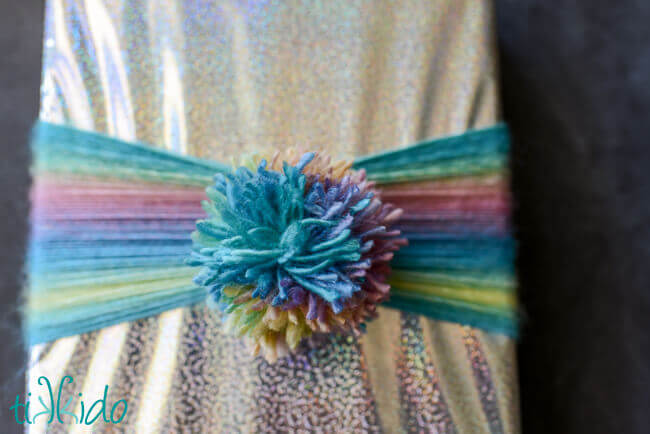 Tie the pom pom to the center of the package, where you would normally place a bow.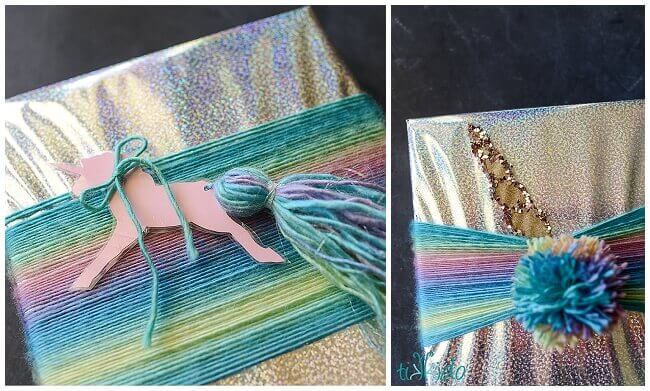 If you want to, add a fun gift tag, like the unicorn bookmark or the horn from the unicorn gift bag tutorial.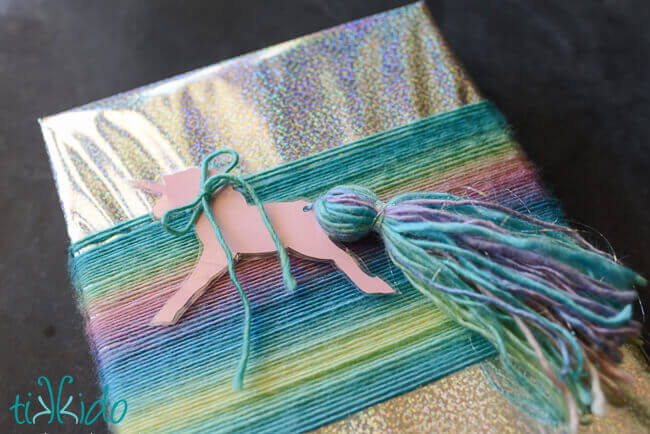 No matter how you choose to embellish the package, it's sure to be magical.  
Love creative gift wrapping ideas as much as I do?  Be sure to follow my Packaging Pinterest page!