Printer-friendly version
When I'm throwing a party, I also want to enjoy it.  So anything I can come up with to minimize the work I have to do at the party is good.  That's where the idea for these mini ice cream sandwiches was born.  I love anything miniature, and I love ice cream sandwiches, and I love sprinkles, so all three came together to create these adorable, irresistable bite-sized ice cream sandwiches.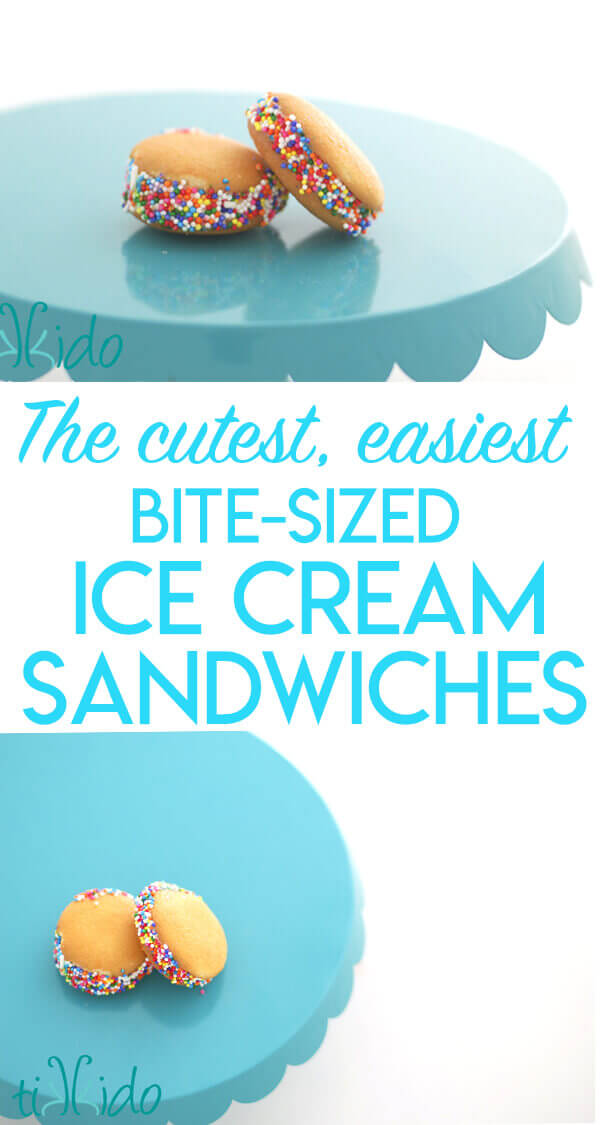 Bite sized, adorned with festive, thematic sprinkles, and best of all--prepped ahead of time so I wouldn't have to dish out sticky, melting ice cream as well as cut cake at the party.  Plus, these little darlings are the perfect size for tiny guests (who won't eat much anyway) and the adults (who often want a bite of the goodies without going overboard).
How to Make Mini Ice Cream Sandwiches
Nilla Wafers
Ice cream, any flavor, but chunky flavors will be more difficult at this scale.
sprinkles
1)  Let the ice cream soften just enough to scoop it out with a spoon, but don't let it get too soft!  This actually works best if the ice cream is just scoopable.  Scoop a spoonfull onto the flat side of one Nilla Wafer.
2) Sandwich the ice cream between a second Nilla Wafer, and squish slightly, so that the ice cream flattens out, and extends to the edges of the cookie.  Then simply roll the edge of the ice cream sandwich in sprinkles, and the sprinkles will adhere to the ice cream.
Pop your ice cream sandwich back in the freezer, and when it's cake time at the party, simply bring them out and serve!  This can easily be done a week ahead of your party.  And anything that can be done well ahead of time is great!  There are enough things that have to be done at the last minute, that anything I can get off my plate (and into the freezer) ahead of time is a big deal.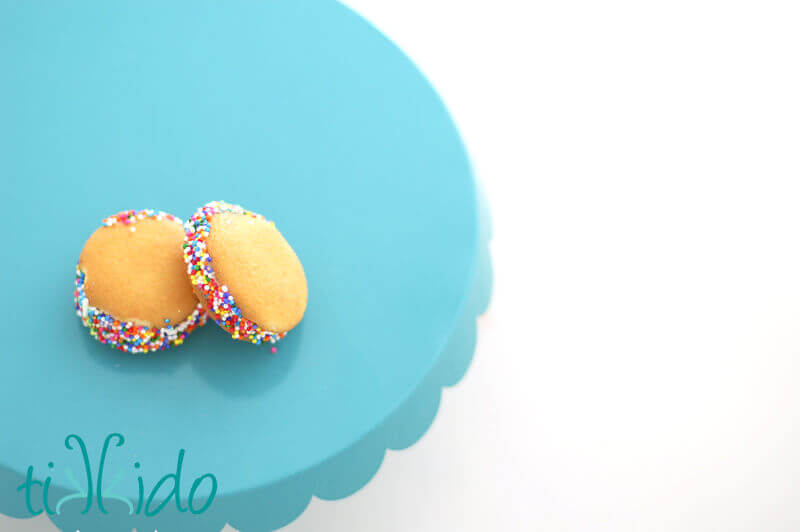 The only problem with doing them ahead of time turns out to be that they're likely to get pilfered by children and spouses.  Hide them behind the broccoli!  I speak from experience.