Printer-friendly version
The little girl who lived next door when we moved in this house got married, you guys.  Holy cow, I can hardly believe it!  And I got to make the cupcakes for the wedding reception.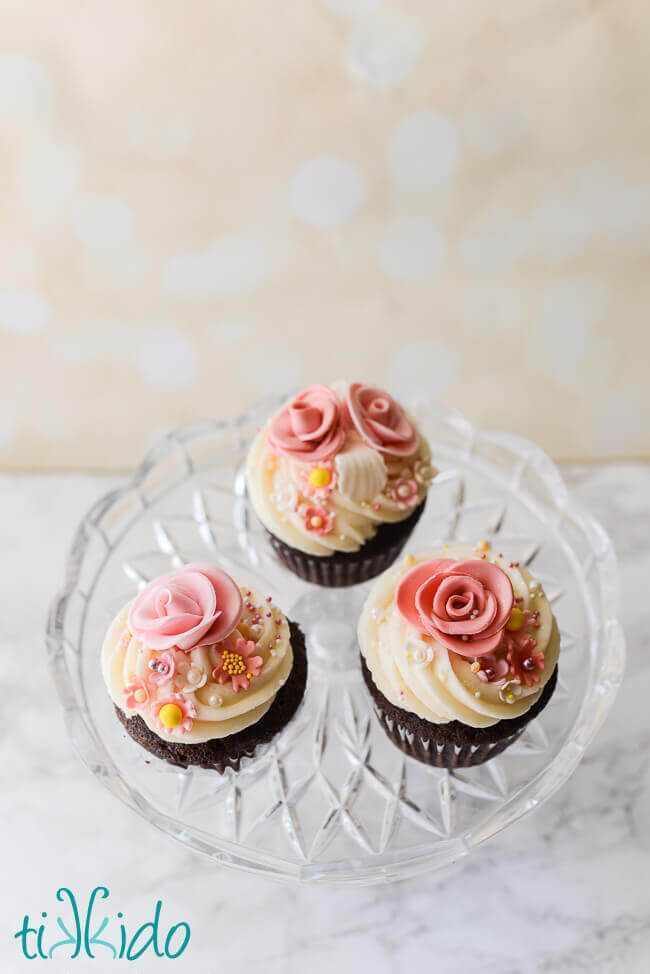 I love getting to make cakes and cupcakes for friends and family (I don't sell my baked goods, and only do this as a hobby), in part because I always get a lot of creative license.  I was told:  1) Cupcakes, 2) Pinks, 3) Go for it.  I love that kind of assignment!  
The wedding reception was just a few days after our BIG gingerbread house decorating party (the last of four gingerbread parties of the season), and right after Christmas, so I knew I had to make something that was actually pretty simple, but would look impressive.  The easiest elegant solution?  A bunch of simple gumpaste flowers.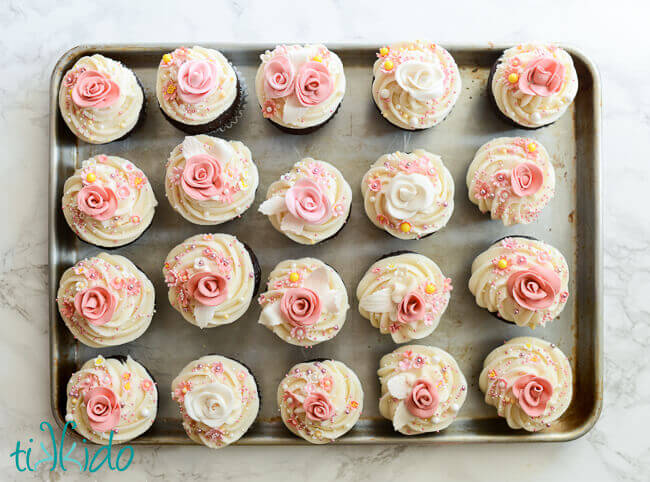 Each little flower isn't all that impressive on its own, but when collected together, the effect is truly striking.
I started by making a bunch of simple gumpaste roses using this technique (no cutters required!).  And then I made oodles of teeny tiny gum paste flowers (Satin Ice Gum Paste is my favorite brand to work with).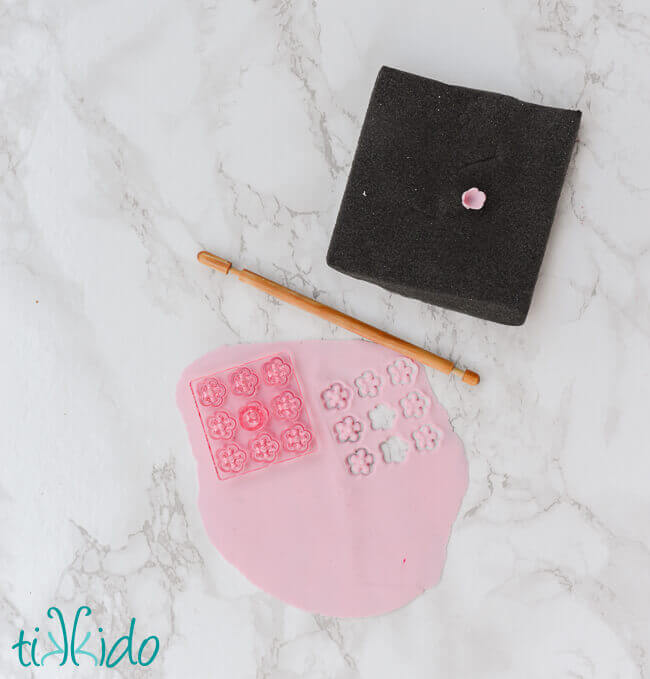 For itty bitty flowers, especially when I need to make a LOT of them, I absolutely love my JEM multiple flower cutters (buy the set of three sizes here).  This set has the smallest flowers I've ever encountered, which can be very useful in certain circumstances, and it cuts out nine at a time!  I cannot stress how much I love that.  Sure, every once in a while, since it's not a plunger style cutter, some gum paste will get stuck in the cutter, but I just use a toothpick to pull it out quickly and easily.  On the whole, it's a big time-saver.
I'm actually not a big fan of the modern plunger style cutters in general, because you can't thin out the petals with a ball tool (mine is so old it's wooden!) to get a nice, realistic looking petal without losing any embossing and shape the plunger gave you in the first place.  And gum paste flowers look a LOT more realistic when you take just a bit of time to thin out the edges by using a ball tool and a piece of foam.  Just put your cut out flower on the foam, and press the ball tool on each petal with a small circular motion to thin the petals.  Press the center of the flower with the ball tool to form the nice cupped shape.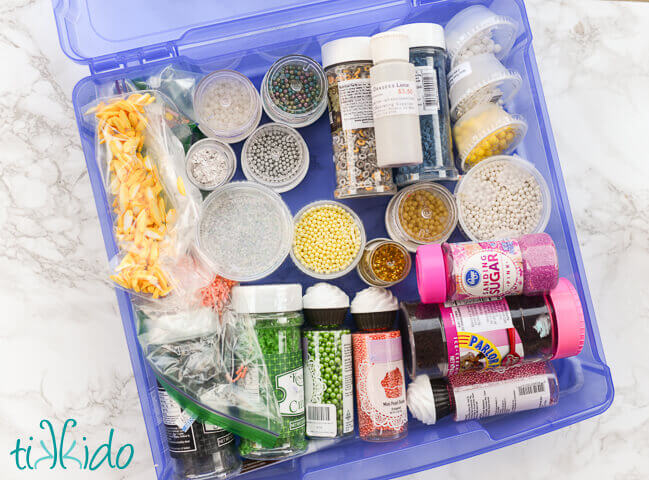 The centers of the flowers look fancy, but they're just different types of sprinkles.  This is only part of my collection of sprinkles, so I had a lot on hand from which to choose.  I clearly am outing myself as a fan of sprinkles here.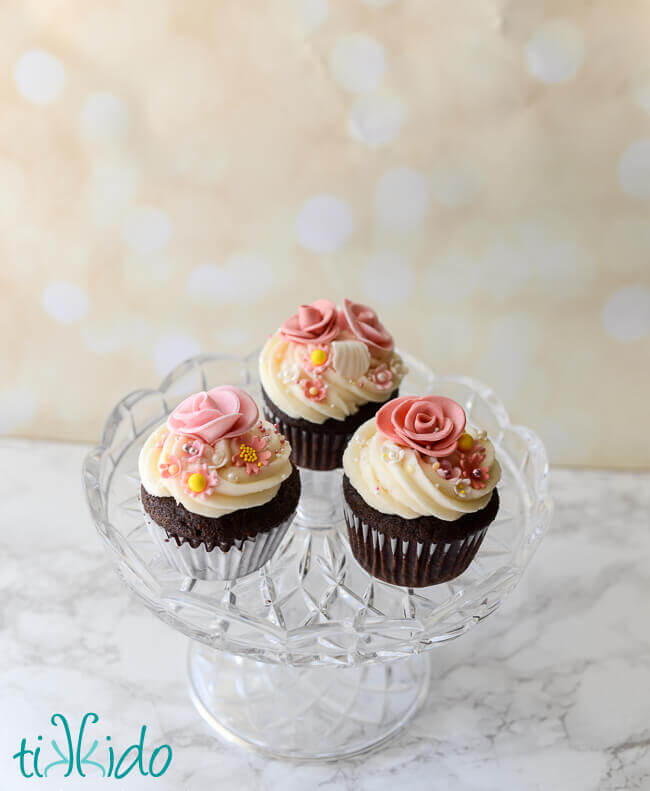 Use Everclear (preferred, since it evaporates so quickly) or vodka to glue sprinkles to the centers of the gum paste flowers.  
The cupcakes were easy to decorate with a quick swirl of buttercream icing, and a scattering of the pre-made gum paste flowers.  I even let my seven year old daughter help me put the flowers on the cupcakes, and I would not have let her help on such an important project (it's a wedding, after all!) if there was any chance she could have messed it up.  But you just can't mess up putting these flowers on the cupcakes!  Any number of flowers, any mix of flowers, any arrangement of the flowers is beautiful.  It's outrageously simple, but it looks so beautiful.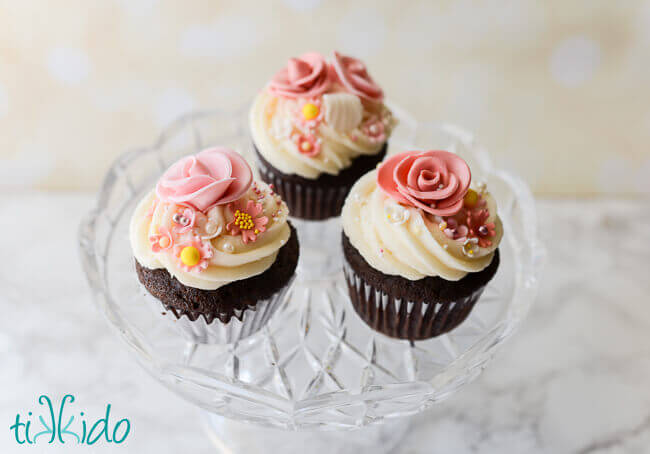 Congratulations Rebecca and Mark!  I'm so glad I was able to be a part of your wedding celebration.
Want to make cupcakes like these but the thought of making gumpaste flowers is too intimidating?  It is possible to buy pre-made gumpaste flowers for cake decorating!  I found some beautiful ones here.