Printer-friendly version
I've had a thing for Hobbits and Middle Earth since I was a very little girl, so when my friend said her son wanted a Hobbit birthday party, I jumped at the chance to make some cupcakes.  I was so excited there may have been some literal jumping.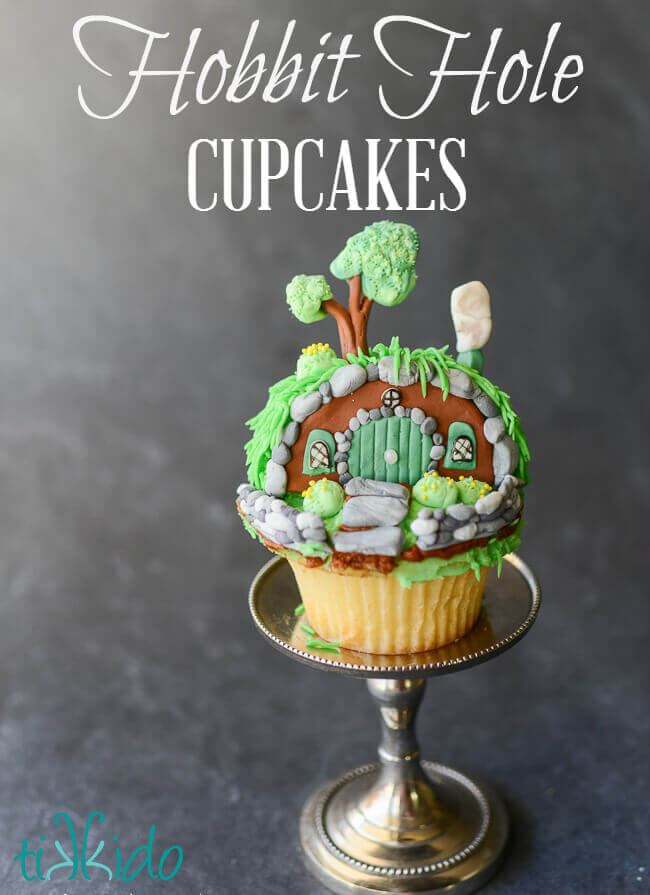 The birthday boy wanted cupcakes, and I alomost instantly had this vision of each cupcake as a hobbit hole, that, when assembled, created a cupcake Shire.
I love it when things turn out (at least mostly) like they are in my imagination!!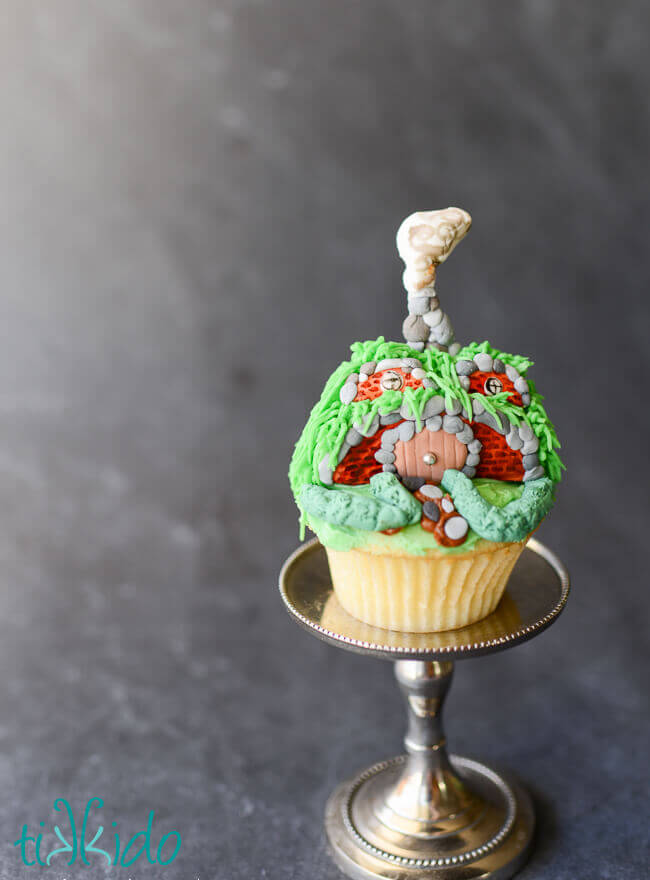 Each little hobbit house was slightly different.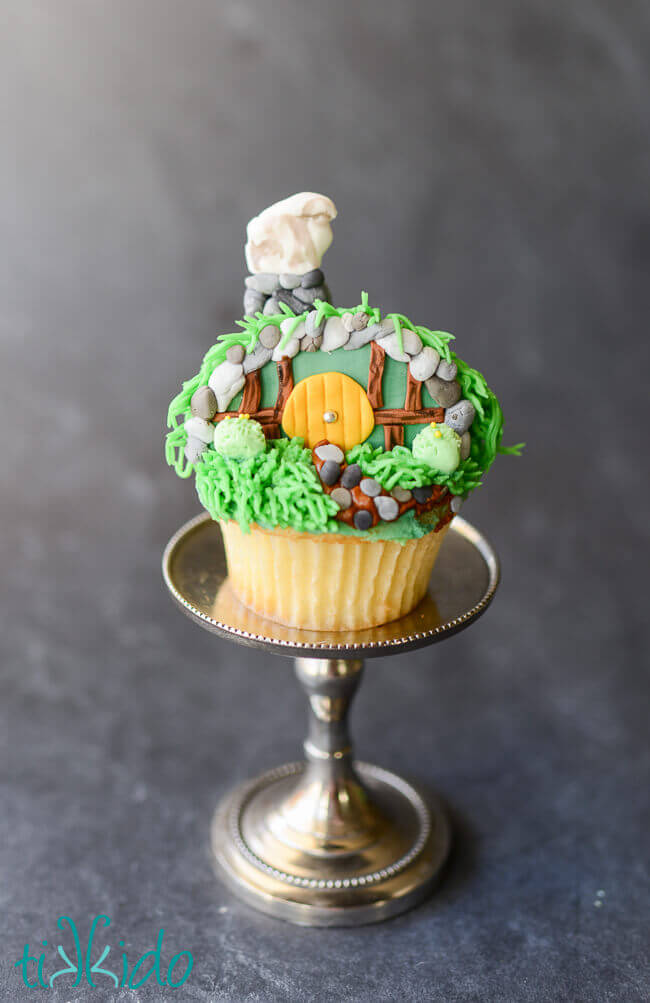 I love how the gum paste rocks I made have some cracks in them.  Usually that means that I didn't roll the gum paste quite enough to get it smooth, but for rocks and pebbles, that just adds to the look.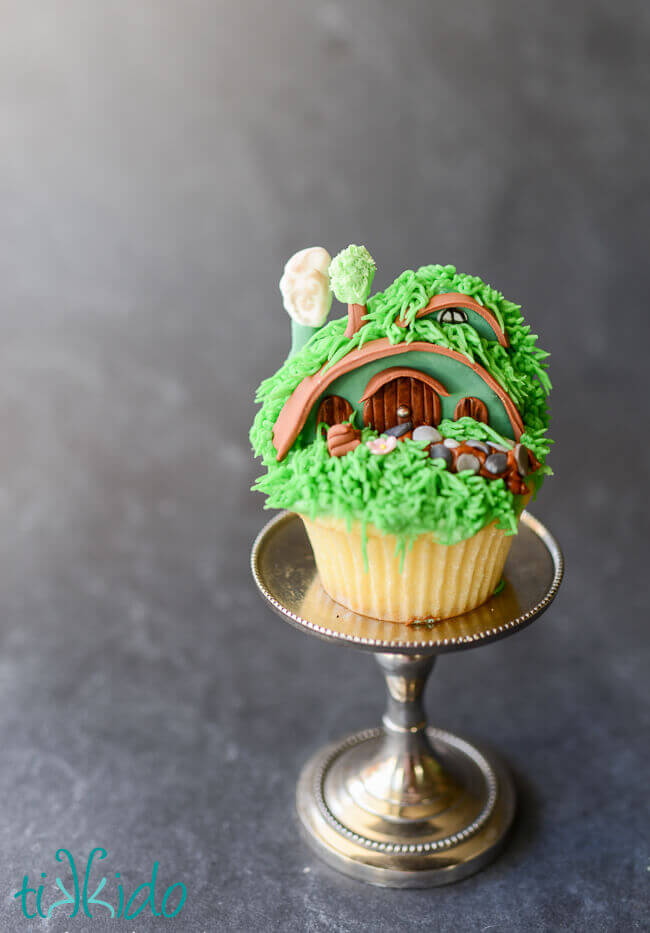 I love Hobbits, I love anything miniature, I love cupcakes.  I hit geeky-crafty gold with this project!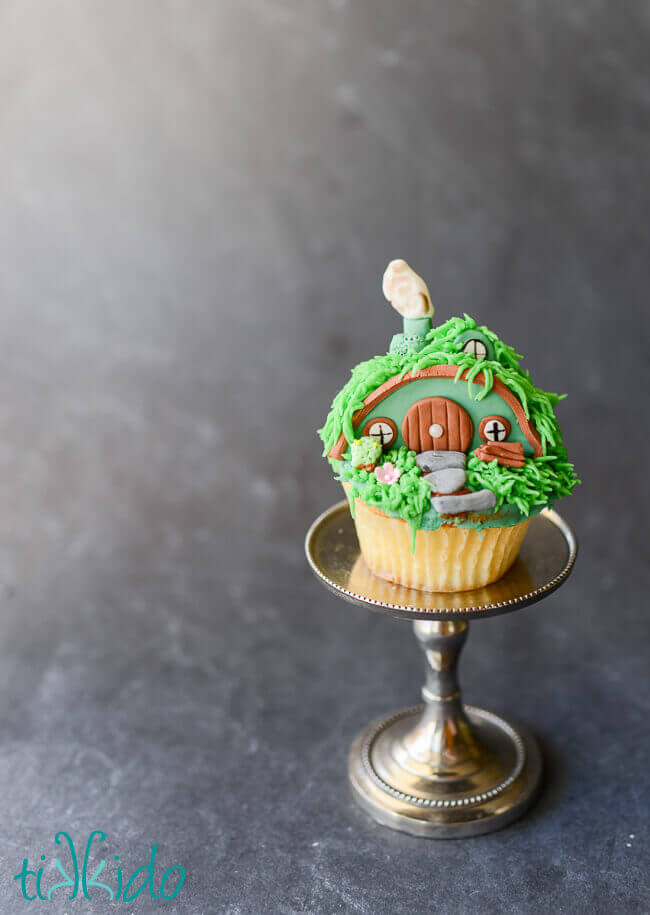 Hobbit Hole Shire Cupcakes Tutorial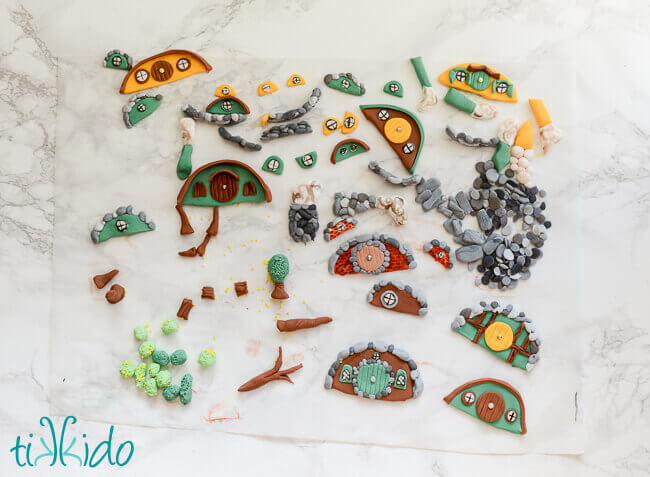 Materials Used in the Hobbit Cupcakes:
extremely small paint brushes
Everclear or vodka (to use as fast-drying gum paste glue)
All of the decorative elements of the Hobbit hole cupcakes were made with gum paste.  It's like sugary, edible play dough (you can buy it here) that dries nice and hard (but still edible).
I didn't follow any patterns for creating my Hobbit homes, and instead just made semi-circles for the basic shapes, and started adding embellishments.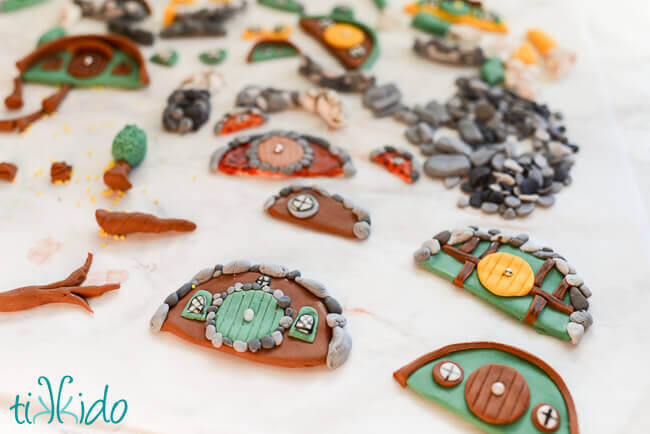 Tips for Decorating the Hobbit Holes:
Make tiny gum paste stones in a few shades of grey to create a more natural, varied look.
Dragees (the big round sprinkles, also called sugar pearls) make excellent hobbit doorknobs.  
If you can buy Everclear in your area, it makes a fabulous glue for attaching gum paste elements.  The moisture activates the sugar and binds the pieces together, and dries very quickly because of the high alcohol content.  Use vodka if you don't have Everclear.
Mix gel food coloring with Everclear or vodka to create edible paint to paint on details.
Use a small open star icing tip (like the saw-tooth ones here) to create texture on the bushes and trees.  Form the basic shape of the greenery, then poke and twist the gum paste gently, many times, to create the miniature leafy texture.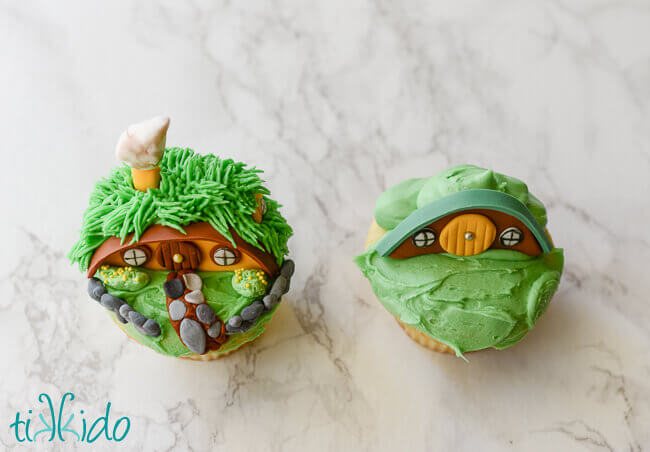 Once the  gum paste elements have had a chance to dry (several hours at least--and I always give them at least a night to dry, if at all possible), you can assemble the cupcakes and create some edible Middle Earth magic.  
What's inside the Hobbit houses?  Frosting.  A LOT of frosting.  I spread a thin coat of green icing on the front garden area of the cupcake, then mounded the icing high on the back half of the cupcake to create the hill, and support for the front of the hobbit house.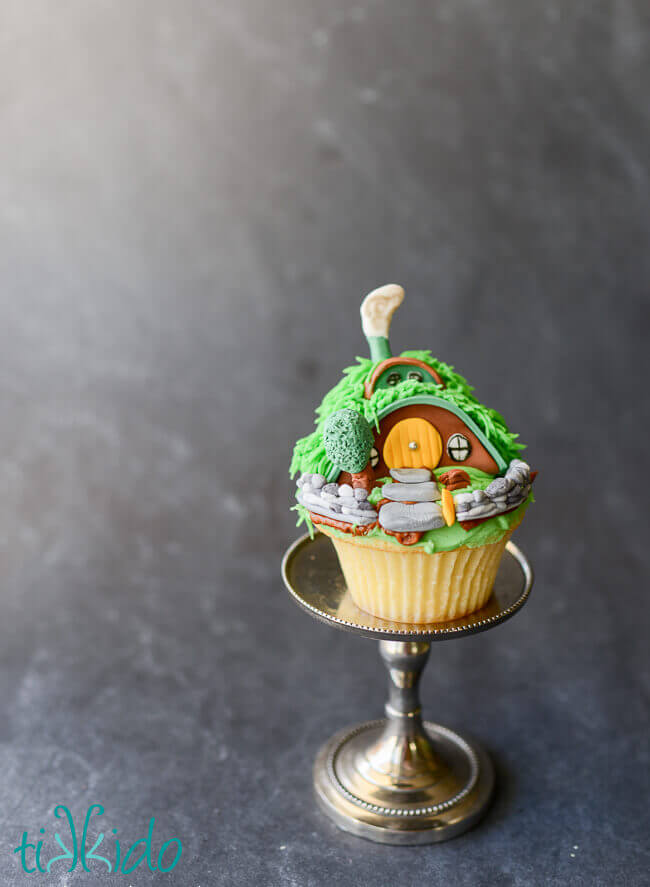 The mounds of icing were covered by more icing piped with a grass icing tip.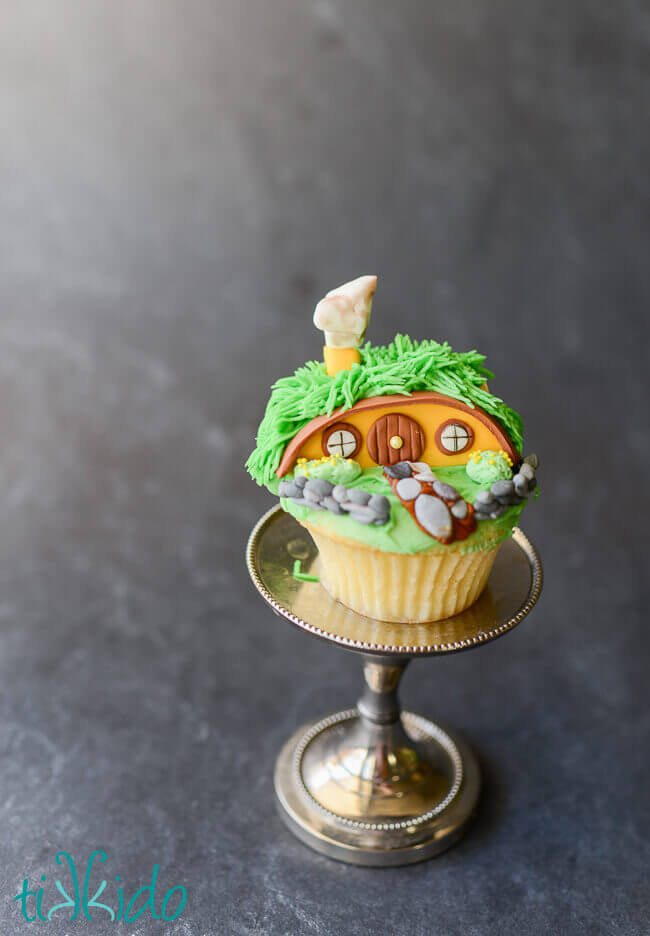 Pathways were created by piping brown icing in the shape of the path, and embedding my tiny gum paste stones.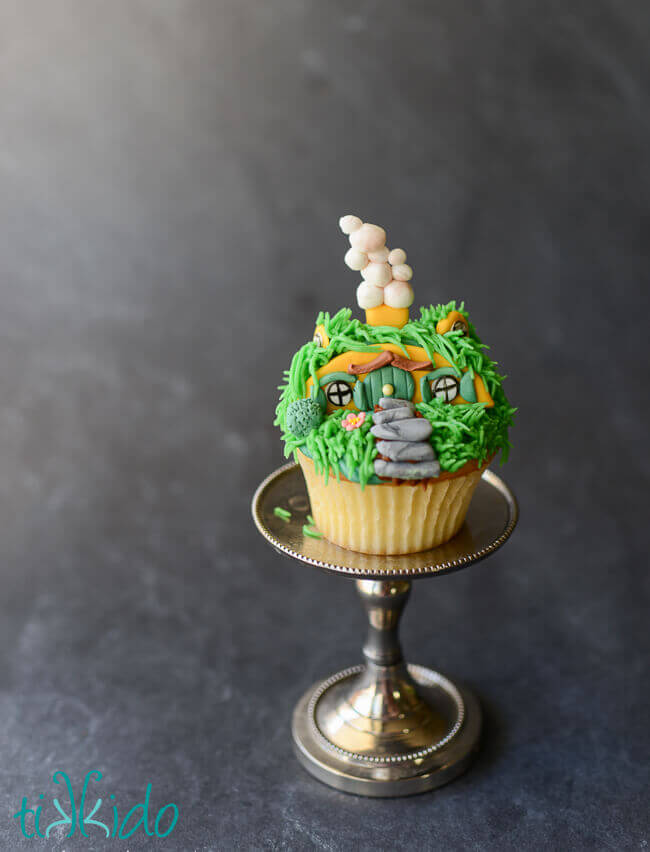 Add bushes, fences, flowers--any decorative element that you created out of gum paste earlier.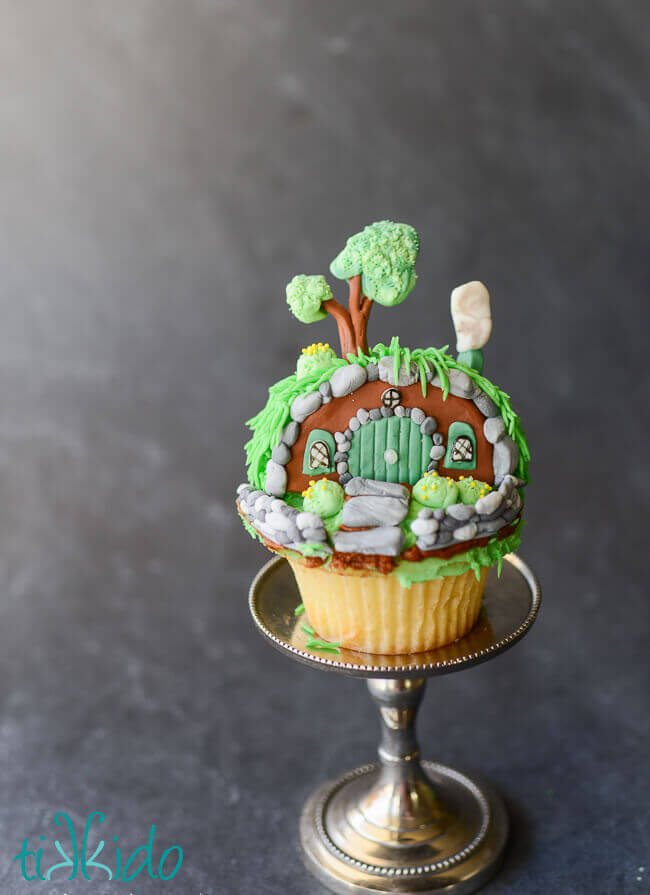 This photo nicely shows the texturing on the trees and bushes created with the star icing tip mentioned in the tips above.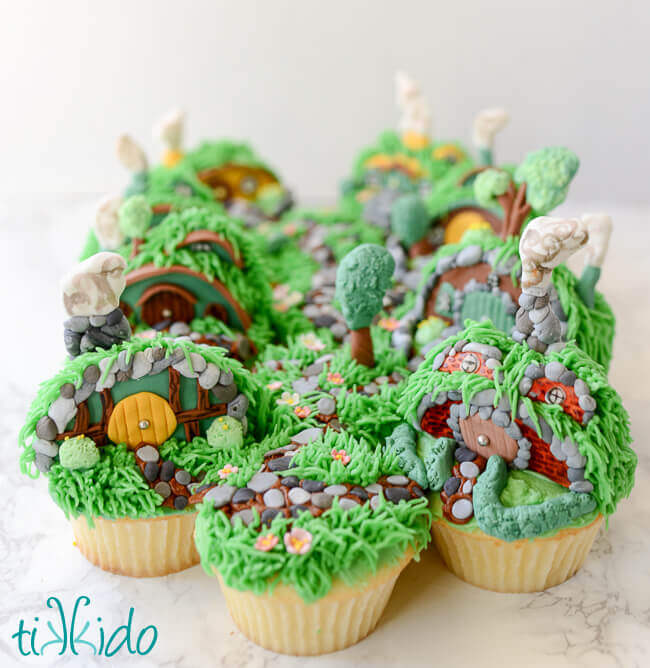 Yes, it's definitely a labor of love, and I LOVED making these cupcakes!  I don't sell any of my baked goods, but getting to make fun projects like this for wonderful friends makes me so happy!