Printer-friendly version
I completely forgot I had one more tutorial prepared from the Tykki-dyw butterfly birthday party! How to make easy translucent votive holders to match any party theme.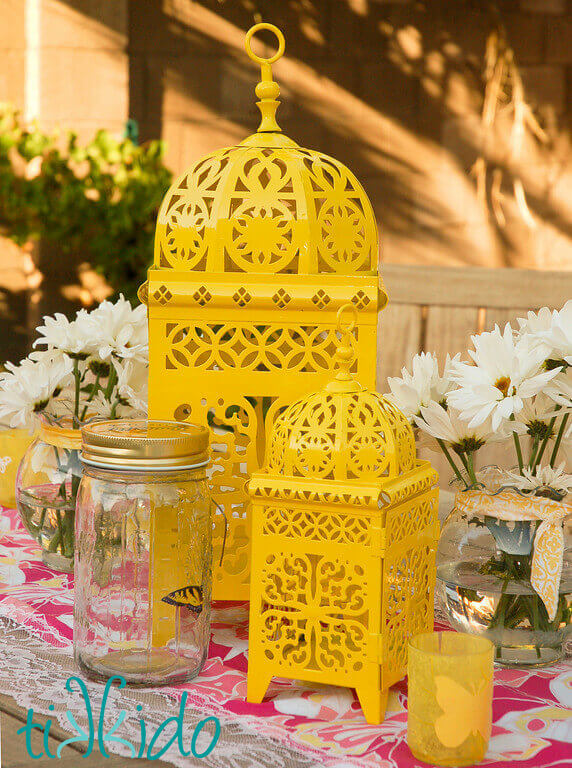 Candles always set a romantic, soft mood. And whether they're real flame, or one of the great LED candles (the only kind I use if the candles are within the reach of the kids), they add a special magical glow that feels like a celebration.

Plain glass votive holders are great, but it's fun to dress up those inexpensive glasscylindersto match the party theme. It's just one of those "She thought of everything!" details I love so much.

How to make tissue-covered votives to match your party theme:

Materials:
 
Glass votive holders (straight, not tapered are easier to cover)
Tissue paper in your party colors
Mod Podge or white craft glue and a clean paintbrush
Scissors
Craft punch and complimentary scrapbook paper or cardstock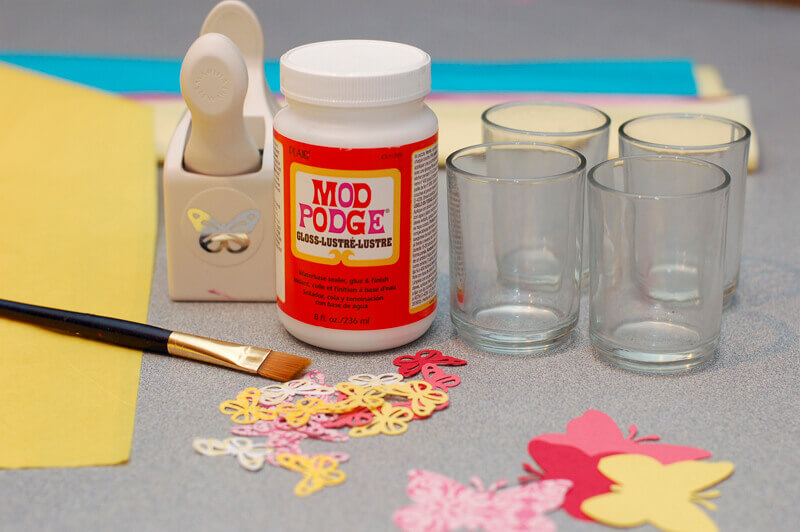 Instructions:
1) Use the craft punch to punch shapes out of scrapbook paper or cardstock that compliments your party colors. I used two different butterfly punches (bought at Michael's), for my project. You want to use a heavier paper for this, like cardstock, so that it blocks more of the light when the candle is lit. That way you see the beautiful shapes both in the light and the dark.
2) Cut out rectangles of tissue paper to fit your votive holders. It's better to make the paper slightly large rather than a little bit too small.
3) Paint the glass with Mod Podge, and quickly adhere the tissue paper to the votive holder. Take care to align the top edge of the tissue paper with the top edge of the glass. Don't worry much about anything else at this point.
4) Use more Mod Podge to coat the exterior surface of the tissue paper. You might get some wrinkles in the tissue, but I actually wanted that to happen, since I loved that varied parchment look. If your tissue paper extends below the base of the votive holder, simply glue the excess paper to the bottom. It gives the candle holder a lovely, finished look.
5) Use more Mod Podge to glue the paper punch shapes to the outside of the votive.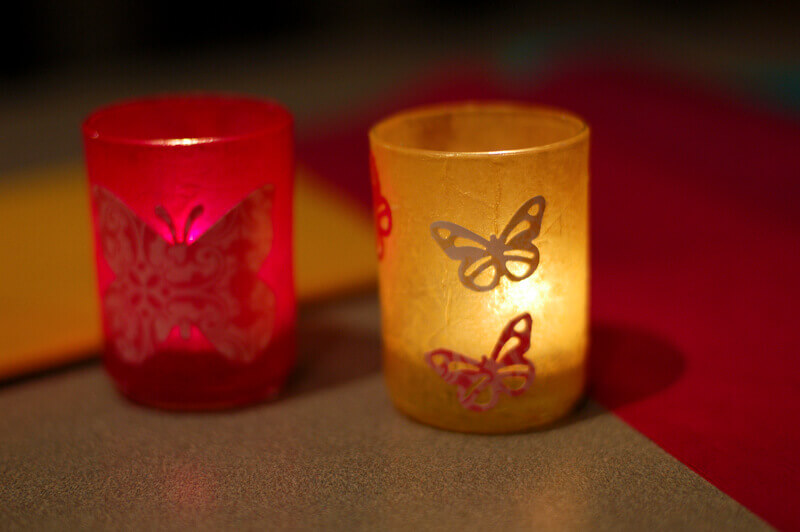 All that remains is to let the glue dry, light the candles, and enjoy the beautiful glow!