Printer-friendly version
Here's a quick tutorial for making sparkling, edible, wafer paper glass embellishments.  They're easy, cost next to nothing, and can be made to go along with any theme.  And they make your cocktail that much more special.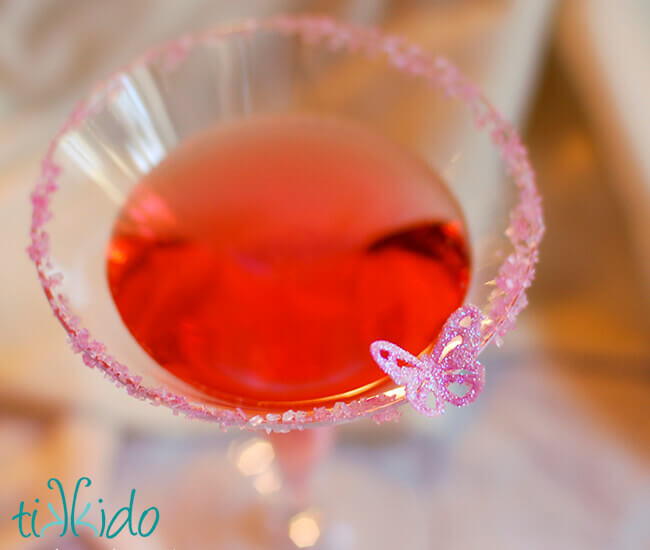 I could have used paper and cautioned people not to eat the decoration, but that's really not my style. If it's on food, I like it to be made of an edible material. (That's why I'm so obsessed with making edible cupcake toppers, by the way.) I experimented with using edible paper made from potato starch, also called
wafer paper
. It worked gorgeously, and easily made semi-translucent, white, edible shapes.
The shapes were beautiful as they were, but I wanted more, so I started experimenting with coloring and embellishing the wafer paper shapes. Edible food coloring markers work well--especially if you want to write on the glass decorations. Dusting with
petal dust and luster dust
proved to be the best way to give soft, overall color to the punched-out shapes.  If you want more intense color, check out my tutorial on
three different techniques for coloring wafer paper.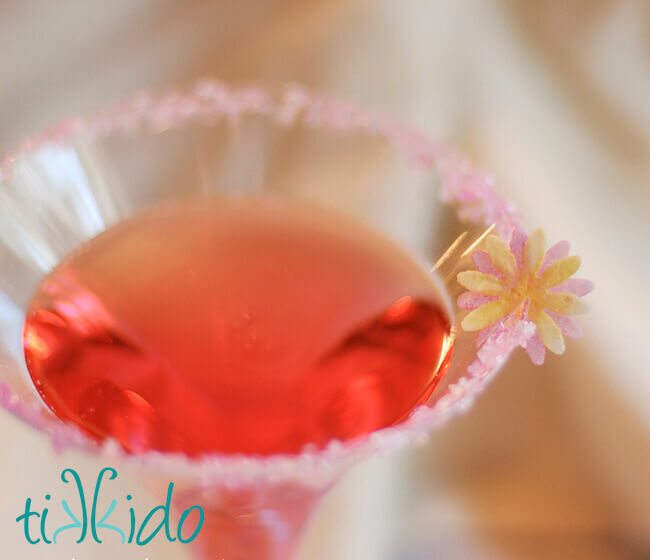 When I tried to add
disco dust
to the butterfly to make it sparkle, using vodka to wet it down (a classic cake decorating trick) simply dissolved the fragile shape and made a gummy mess. A very light spray of canola oil worked gorgeously, however, to help the disco dust stick to the butterfly.
I rimmed the glass with pink sugar crystals, and filled with a signature cocktail. The butterfly was attached to the glass with a tiny dab of
clear piping gel
. The flower (made by layering two flower punches over each-other and gluing together with a small dab of the piping gel) was attached to the glass by cutting a slit into the middle of the flower, and simply sliding it on the glass. Both techniques worked equally well. The shape of the punch would dictate which method would look best.
The sugar crystals rimming the glass are entirely optional. The wafer paper punch embellishments look just as beautiful on their own.