Printer-friendly version
I absolutely adore the fall, and miss the change of seasons here in Phoenix.  Now, there's a lot to be said for 80 degree Halloween evenings, too.  But I miss the changing leaves, the crisp air, actually having a good reason to wear sweaters and boots.  So I love heading up to our family cabin up in the White Mountains of Arizona to at least visit true autumn weather.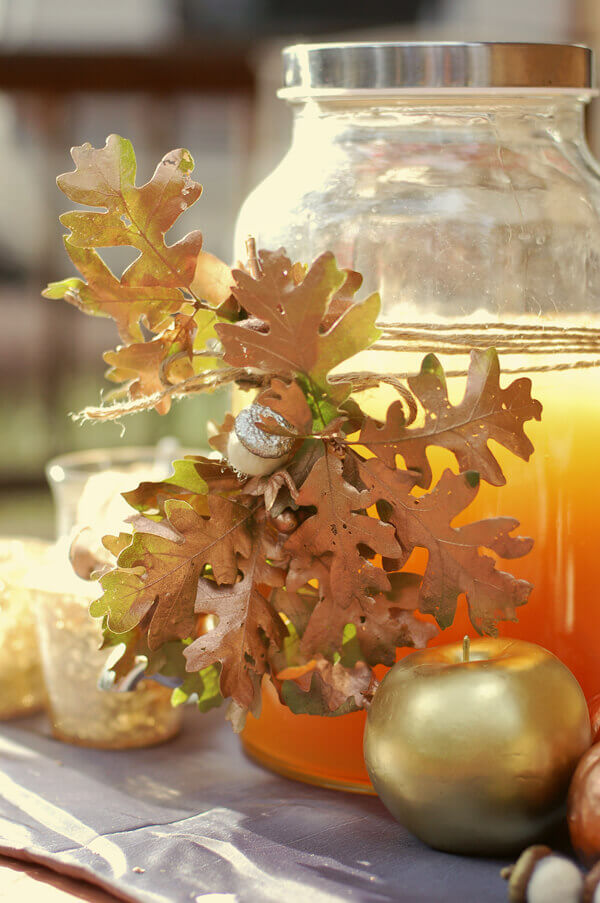 With thoughts of apple cider and acorns and oak leaves dancing in my head, I created this Harvest Rehearsal Dinner shoot for the winter issue of Festivities magazine.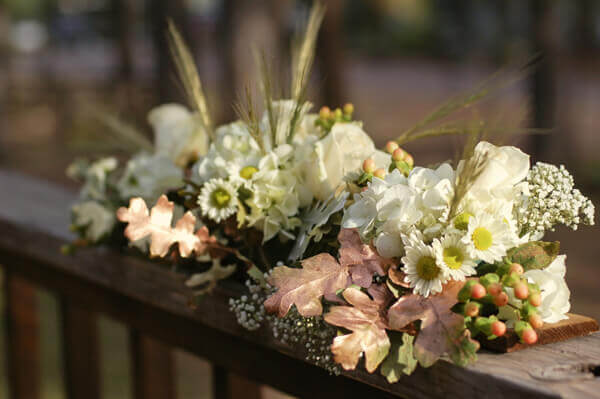 I wanted it to be elegant, but inexpensive, and easy to do well ahead of time.  A rehearsal dinner deserves to be memorable in its own right, but let's face it, most brides already have more than enough to do the day before the wedding without planning another elaborate event!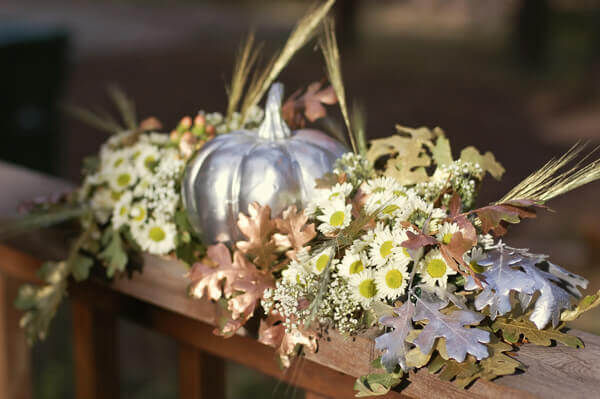 The floral arrangements at the party were a perfect example.  I spent a grand total of $29 on three large floral arrangements.  A lot of inexpensive bulk came from using spray painted pumpkins and fruits (some real, some artificial).  I used a single length of incredibly inexpensive wooden bender board from Home Depot as the base for all of my florals.  I didn't even bother cutting it; wooden bender board is typically so thin that it breaks with a bit of effort, and the rough edges were perfect for the rustic/elegant look I was after.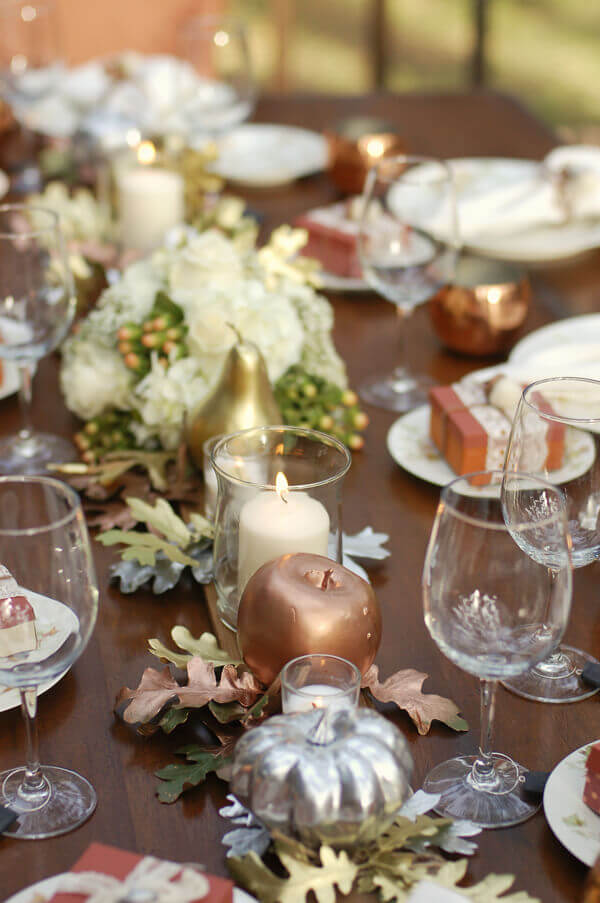 A huge percentage of the centerpieces was created for next to nothing by using oak leaves.  I wanted everything to be in a range of metallics (gold, silver, copper) and creamy neutrals, so I simply spray painted sprigs of oak leaves I gathered from the yard.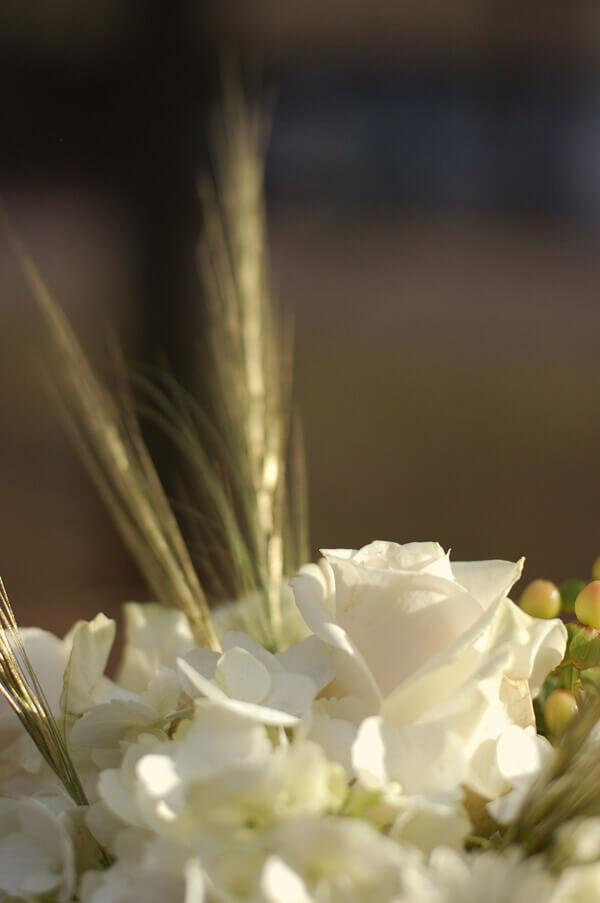 I even found some wheat-like grass stalks (ahem, weeds) in the yard that I spray painted and included in the arrangements.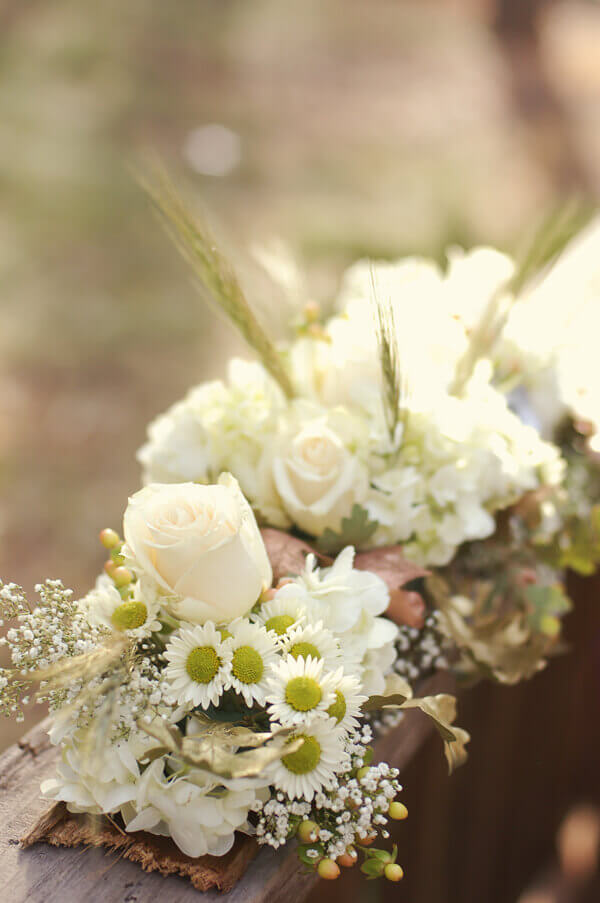 I chose to use real flowers (inexpensive ones from the grocery store) in my centerpieces, but I think they would have looked just as gorgeous with the metallic gourds and fruits and oak leaves.   If I'd gone that route, I could have made my centerpieces weeks ahead of time, and they'd last through the whole fall season.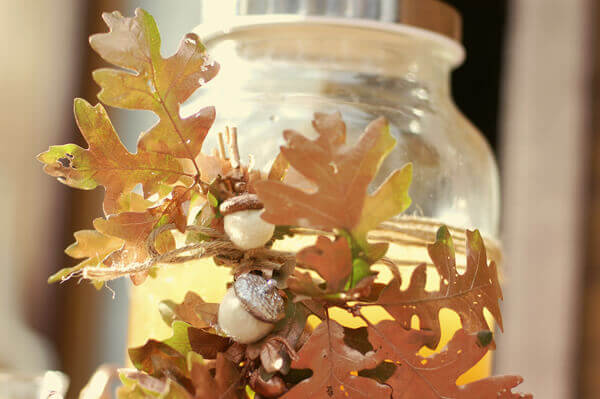 I used more of the oak leaves, twine, and felted wool acorns throughout the party.  Like the acorns?  Check out the tutorial I wrote for Catch My Party for all the details and instructions.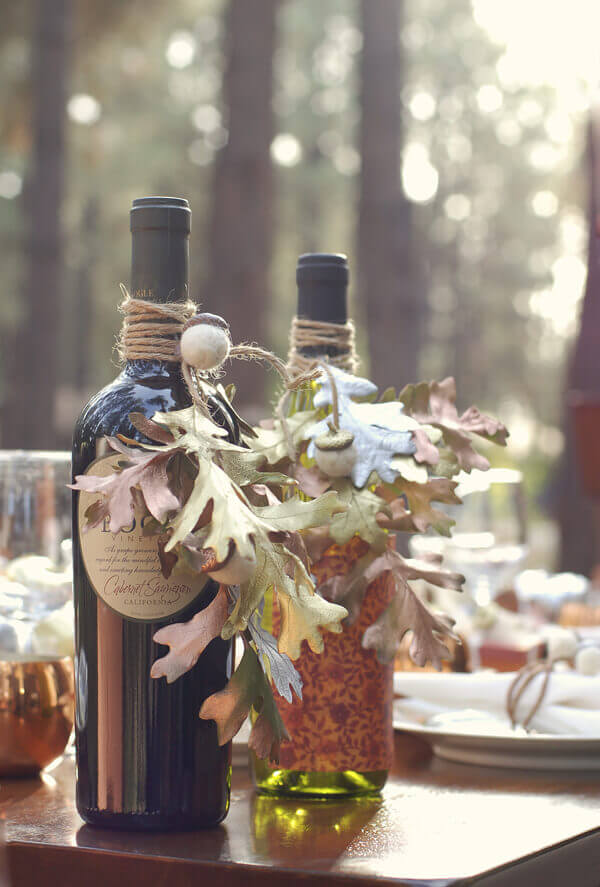 Wine is always a great hostess gift, but wouldn't it be extra thoughtful and special decorated like this?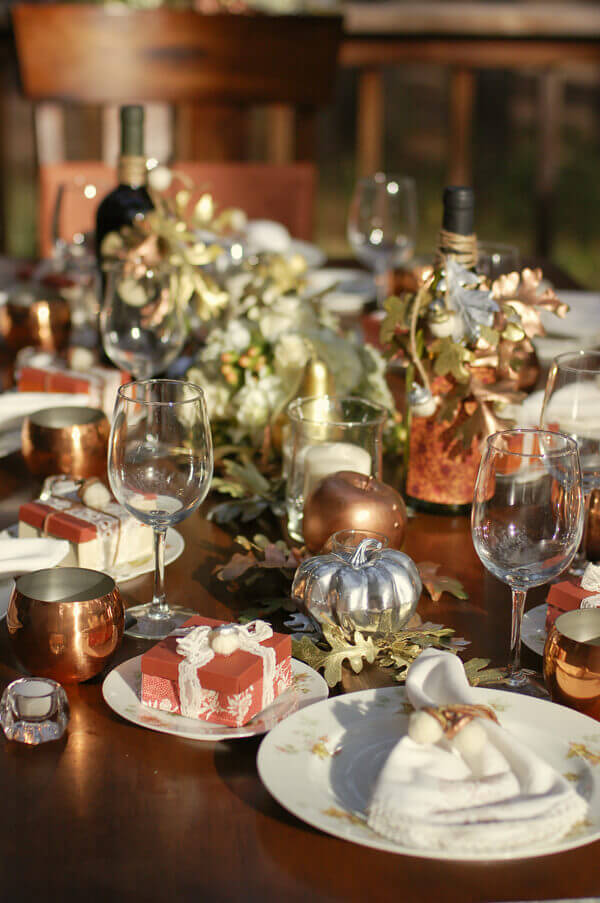 The table was set with borrowed china and copper water cups, and inexpensive wine glasses.  Real glass wine glasses can be bought for less than $1 each, and though they're not the most exquisite crystal around, it's a huge step up from plastic cups.  And at that price point, you won't care if someone breaks the occasional glass.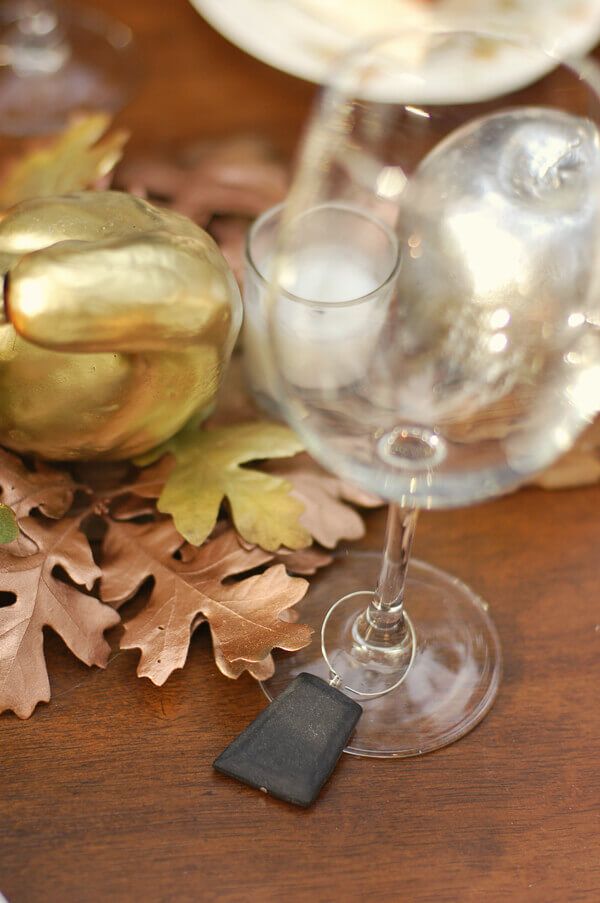 Natural stone chalkboard wine charms fit our rustic theme perfectly, and are fun for the guests to personalize.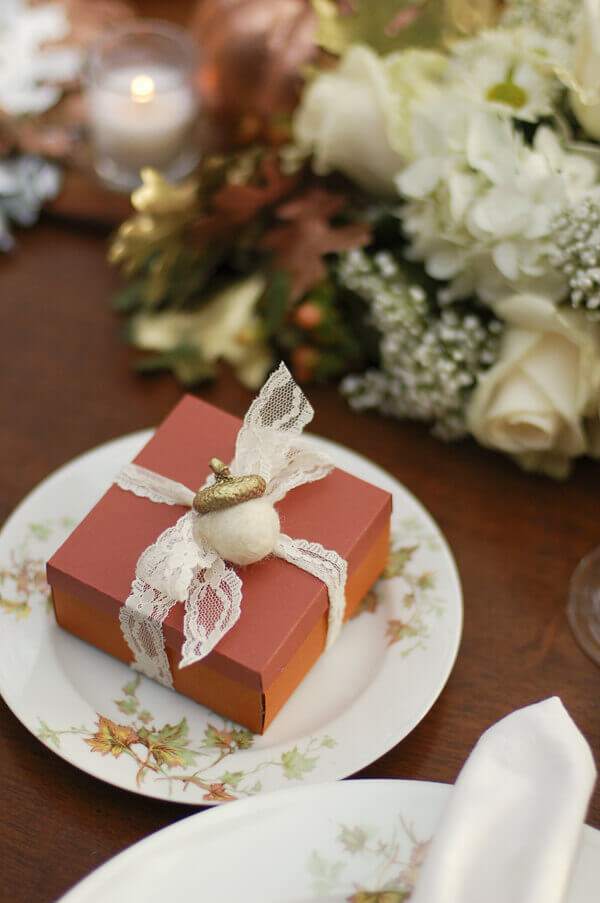 I made the favor boxes out of cardstock, and decorated them with scraps of yarn, lace, and more of the adorable felt acorns.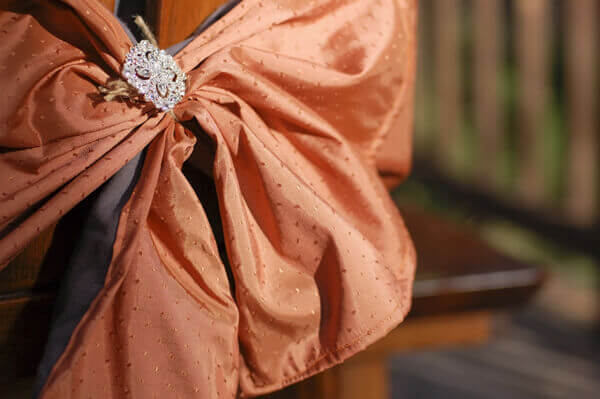 The chair wraps were my favorite element of the table, though.  I bought clearance fabric, and made lovely wraps in colors that matched the party.  Well, I came up with the idea, but my friend Liz sewed them for me.  She's much, much better at that kind of thing than I am, and also insanely nice.  They're pretty, sure.  But the really cool thing is that these were designed with a dual purpose.  They decorate the chairs while the sun is shining, but as the sun sets and the temperature cools, they're made to be used as flannel-lined wraps for the ladies!  I also made the rhinestone brooch that secures the wrap in place.  
This would be a pretty expensive idea if I'd hired someone to do it for me.  But with a little DIY ingenuity and smart shopping, each wrap cost less than $4.  For an intimate outdoor dinner party, that's a thoughtful, reasonably priced touch.  Heck, a lot of places charge more than $1/day to rent chair sashes that aren't as nice.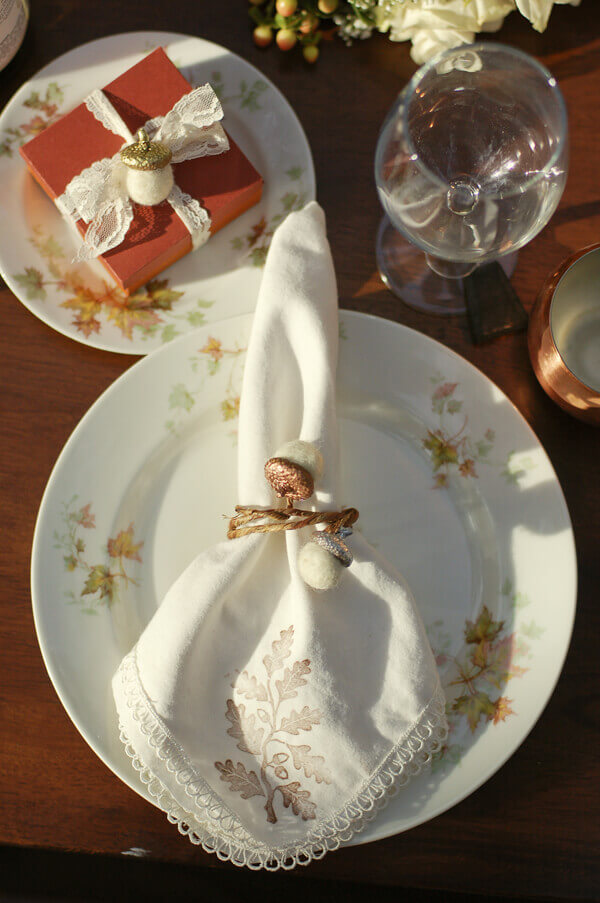 I decided to make my own napkins for the party, and wanted something elegant, but inexpensive.  Unbleached muslin was the perfect choice.  I decided to add a hem and venise lace edging, but it would have been even simpler to use pinking sheers to cut out my 18x18 inch squares and have an incredibly simple no-sew cloth napkin.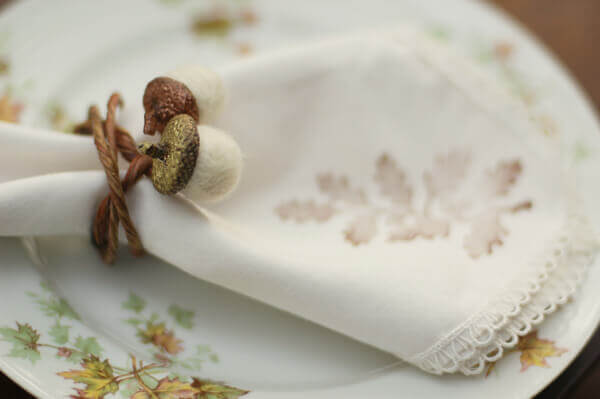 I further customized the napkins for my theme by adding a hand-stamped design.  Want to know how to do it yourself?  Check out tutorial I wrote in Festivities magazine.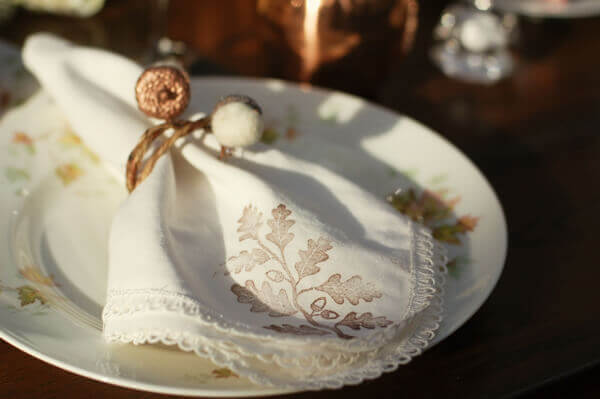 I used more of the acorns to make darling, super simple napkin rings.  Tutorial coming up tomorrow, so come back for all the details!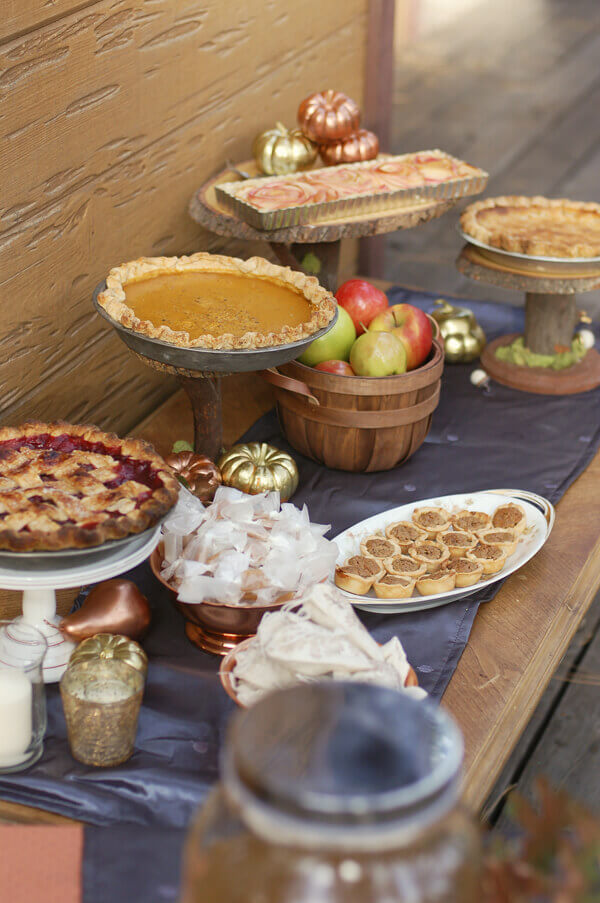 Cake gets all the attention at the wedding reception, but I wanted the star of the rehearsal dinner to be pie.  What could be more perfect for a fall gathering?  But I didn't want to be baking all day of the event.  The idea was to create a party that could be done well ahead of time.  So I turned to two of my friends, chefs Tracy DeWitt and David Smoake, who happen to be winners of the National Pastry Championship competition.  With their advice, I was able to choose pies that could be made weeks ahead of time, and either simply defrosted or baked straight from the freezer on the day of the party.  Want to know the tips and tricks shared by these world-class pastry chefs?  Read all the details here.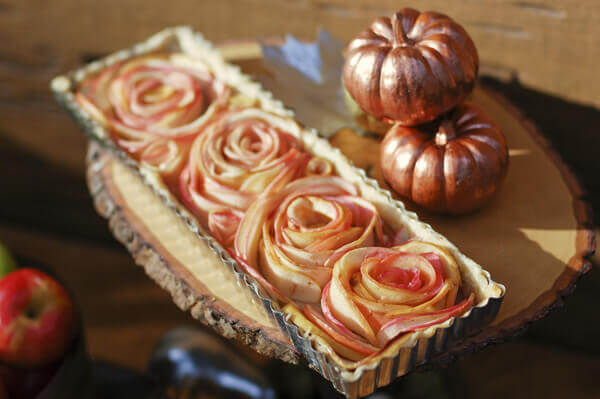 We served cherry pie, hand pie, pumpkin pie, and pecan tassies as well, but the show stopper was definitely the rose apple tart.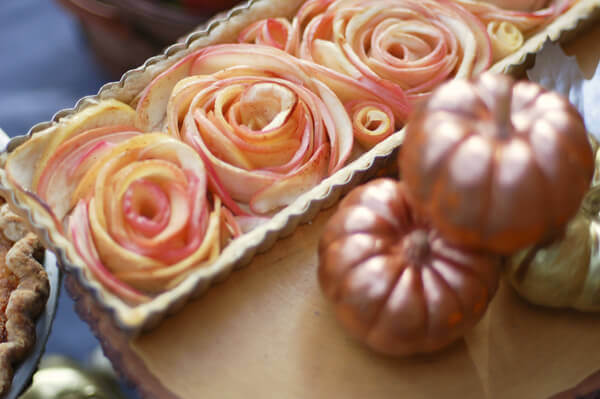 You won't believe how easy it is when I show you!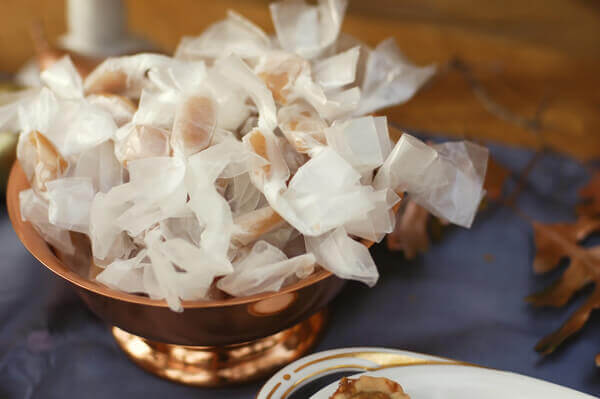 Also on the dessert table were apple cider caramels.  Holy cow, people, these things are amazing!  I found the recipe over at Blondie's Cakes and Things.  They're a little fussy, but so worth the effort.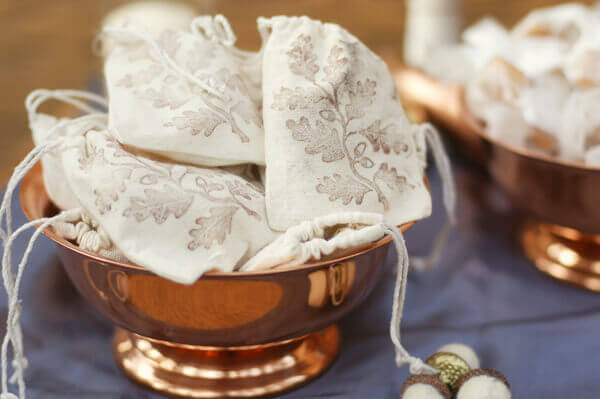 Some of the caramels were loose, some were packaged in muslin bags stamped with the same design as the napkins.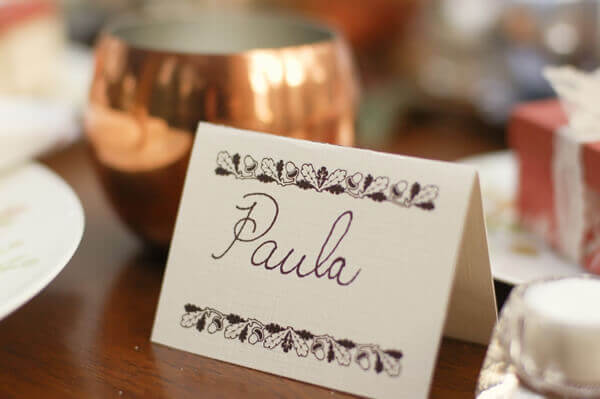 No elegant affair would be complete without table cards.  These lovely designs were designed by Frog Prince Paperie.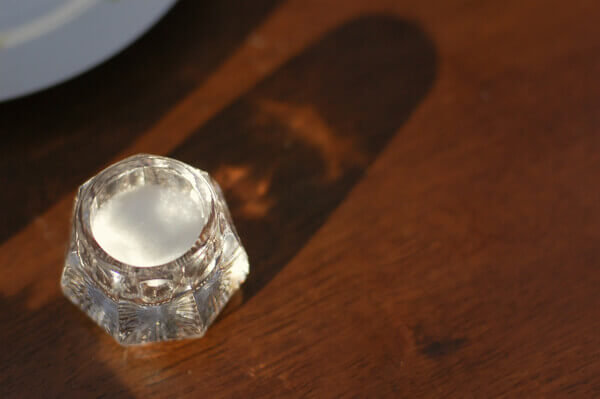 And my favorite elegant touch: salt cellars.  I love salt cellars!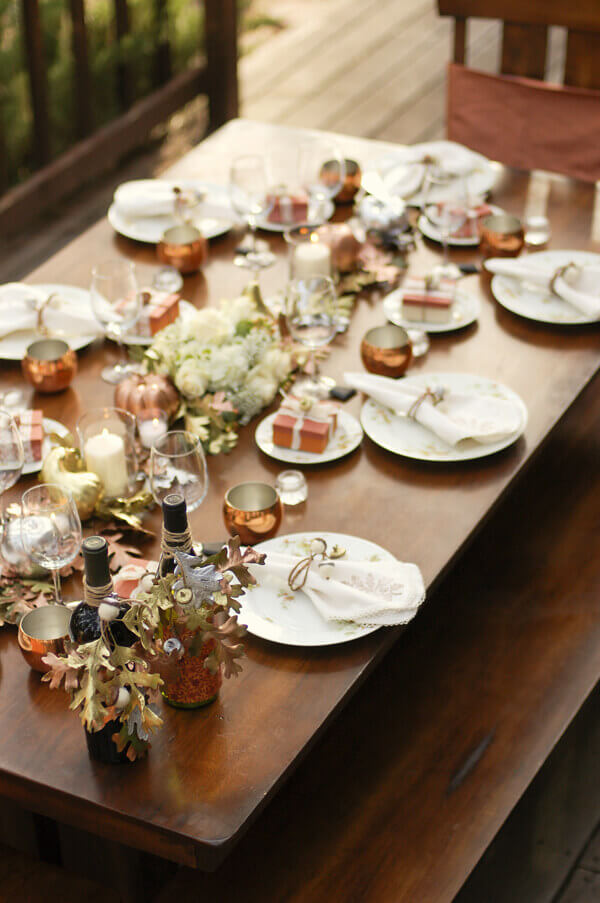 With all the prep work done well in advance of our dinner, everything came together remarkably quickly at the end.  A bountiful, beautiful dinner celebration without lots of last-minute stress.  Now that's something to be thankful for!