Printer-friendly version
We had guests over to our house on Saturday evening for pizza made in the wood-fired oven I built in our backyard.  We had a wonderful time.  Friends, wine, great food--what could be better?
Whenever we host a pizza night, I like to err on the side of having too much food, rather than too little.  And I like to offer a lot of different toppings and flavors to our guests.  That means that we always have leftover dough and pizza fixings the following day, and that means calzones.  
I almost always end up making a standard pepperoni calzone, and usually a mushroom/goat cheese/spinach version.  
But this time I came up with a fun new idea:  the Philly Cheesesteak Calzone.
I started with my leftover pizza dough.  I always use this classic Neapolitan pizza dough recipe.  It's simple, delicious, and incredibly easy to make when I just dump all the ingredients in my bread maker and set it on the dough cycle!
(Do you like the scrapbook container I use as a dough box?  They stack, they're the perfect size, and they fit in our side-by-side-most-hated-fridge.)
I pre-cooked the mushrooms and onions first, and set them aside.  I'm not a big green pepper fan, so I didn't include them.  But it would be easy to cook those up with the other veggies if they're a must on your Philly cheesesteak.  
For the meat, I browned some beef eye round in the skillet.  It's nice and lean, and I get it already sliced amazingly thinly at my local Asian market.  I typically keep this in the freezer for making bulgogi, but it turned out to be absolutely perfect for my Philly cheesesteak.
Once my fillings were cooked, I stretched out the dough and heaped beef, mushrooms, onions, and provolone cheese in the center.  I pinched the package of dough shut and gave it a quick egg wash to make the bread bake up nice and shiny.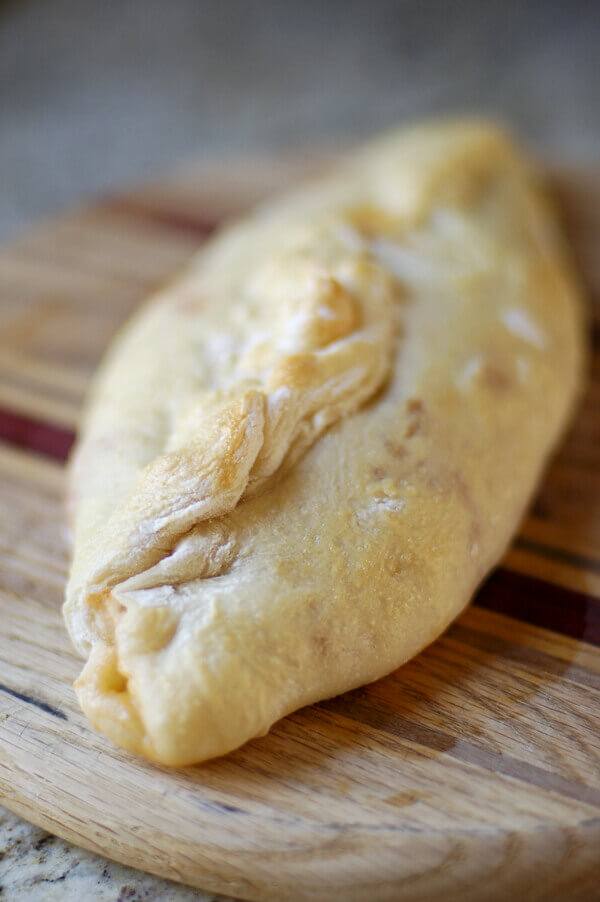 I baked the calzones on a parchment-lined baking sheet for 30 minutes at 400 degrees Fahrenheit.  
Pizza night with friends is absolutely wonderful.  But eating warm, melty, Philly cheesesteak calzones while lounging around in my fuzzy pj pants the following day might be even better.