Printer-friendly version
This shop has been compensated by Collective Bias, Inc. and its advertiser. All opinions are mine alone. 
Are you excited for Easter?  The pastels, the flowers, the CHOCOLATES.   I love it all!  And you know what else I love?  A bargain.  If I can get a fun, crafty project out of it, even better.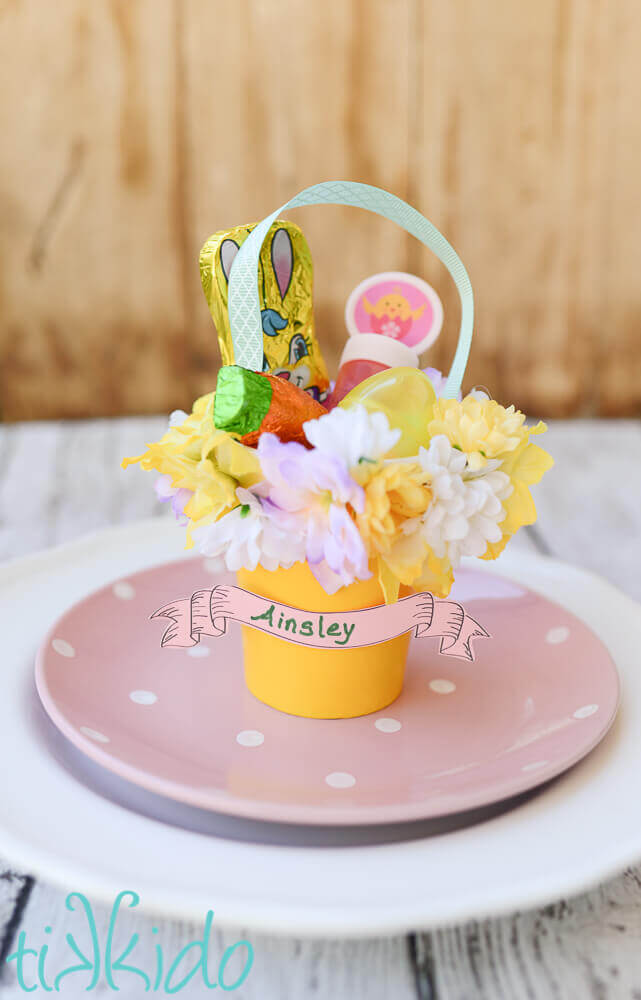 99 Cents Only Store is one of my favorite places to shop for crafty holiday supplies and inspiration.  I never know what I'm going to find when I go in, but I always come out with great supplies and fun new ideas, like this miniature Easter basket place setting.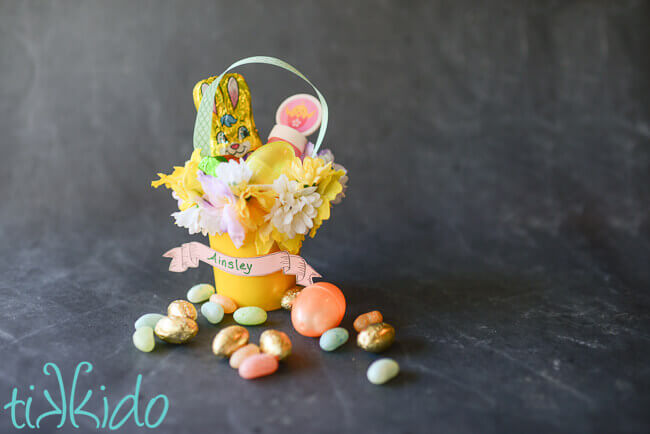 These would make fabulous, inexpensive little Easter baskets to make for classmates, neighbors, friends, teachers... you get the idea!  They work out to a little less than $1 each.  Now that's a deal!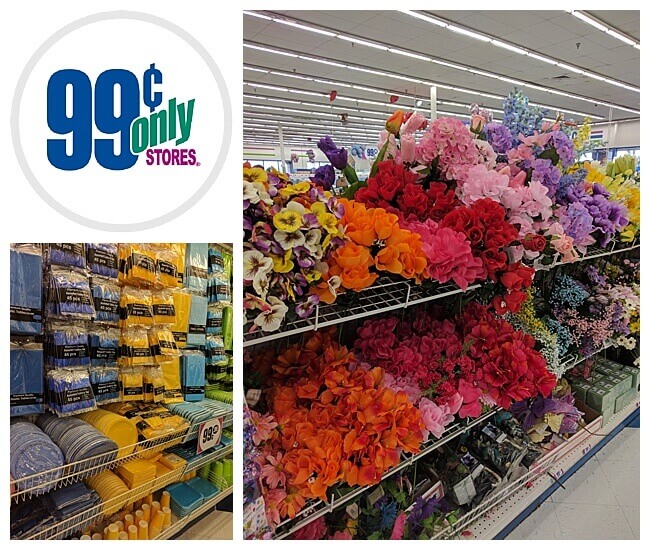 I didn't know what Easter project I was going to make when I went to the 99.  Some items they always stock, but so much of what they carry is new and different every time I go, that I prefer to go in with an open, creative mind, instead of looking for something specific.  I do know that I can always count on them to carry great basic disposable party-ware, and my idea started with some bright, springy yellow paper cups.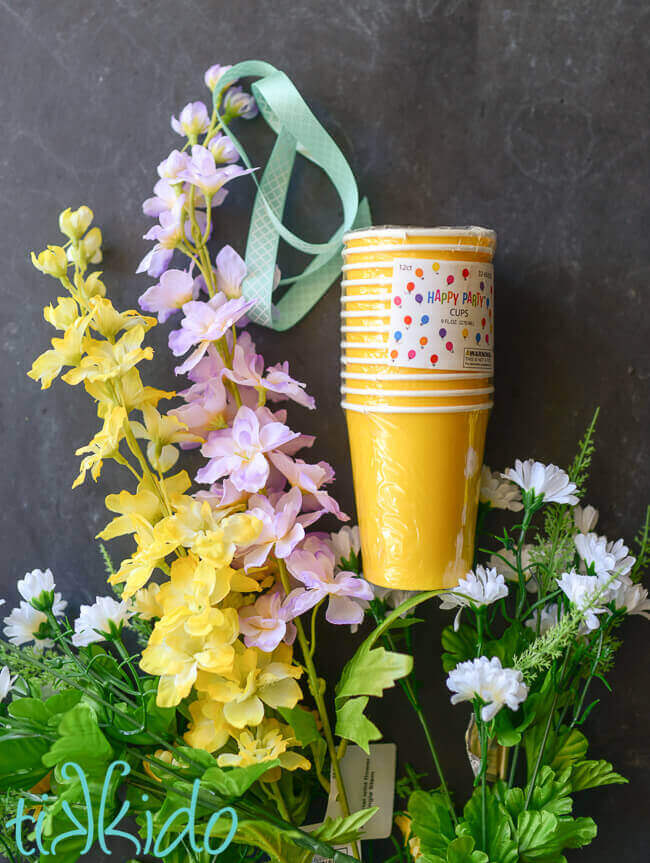 Next I found lovely spring silk flowers (SUCH a bargain, compared to other stores!).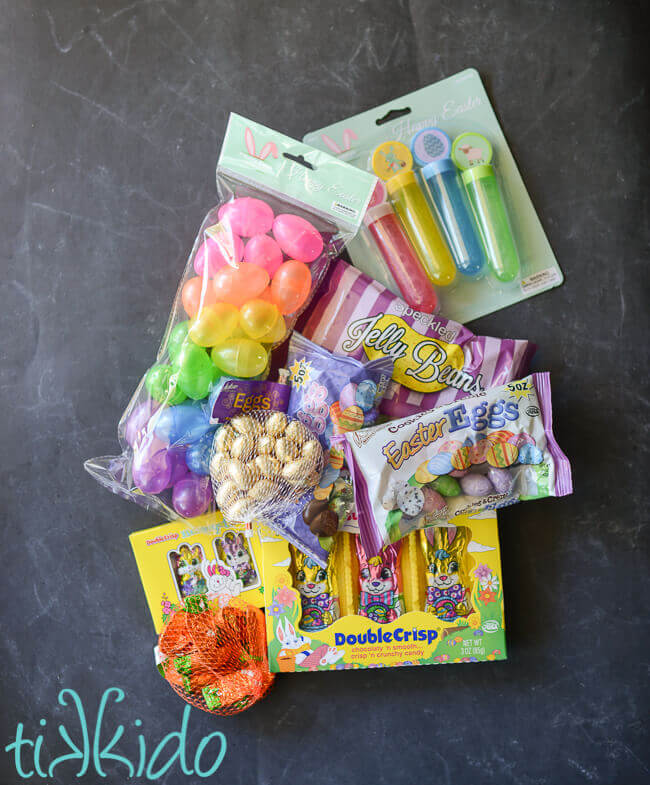 And I found perfect mini-basket fillers, obviously.  Including the cutest little fillable Easter eggs.  Eek, so cute! I have a thing for anything miniature.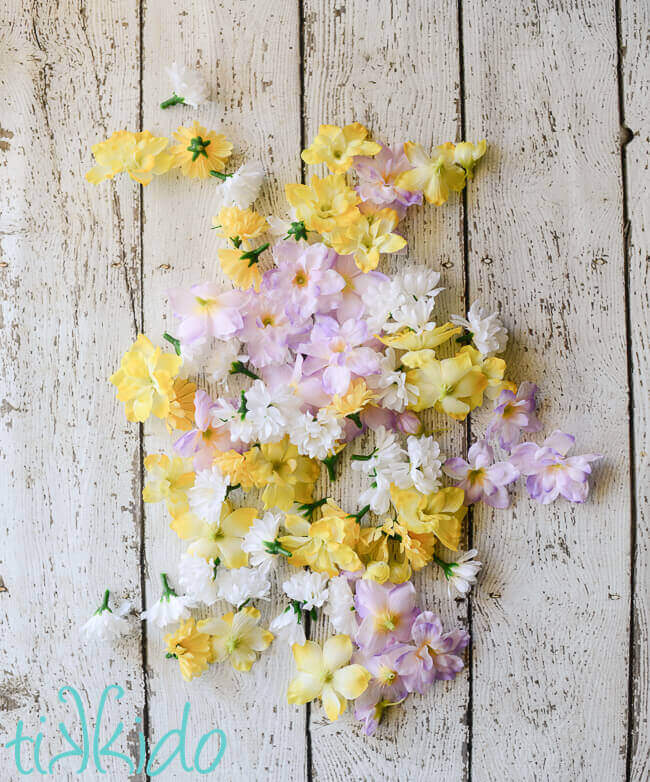 First, I removed the silk flowers from their stems.  They just pop right off.  I used scissors to trim the remaining bits of stem on the flowers, so I could glue them easily.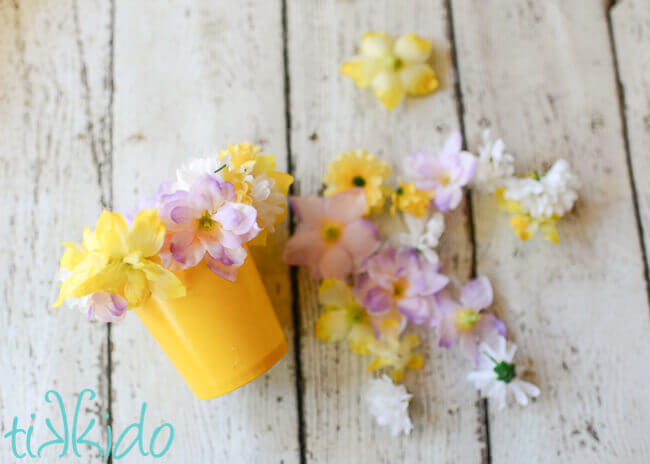 I then just glued the silk flowers to the top rim of the paper cup.  (99 Cents Only is also a great place to buy hot glue gun sticks, by the way.)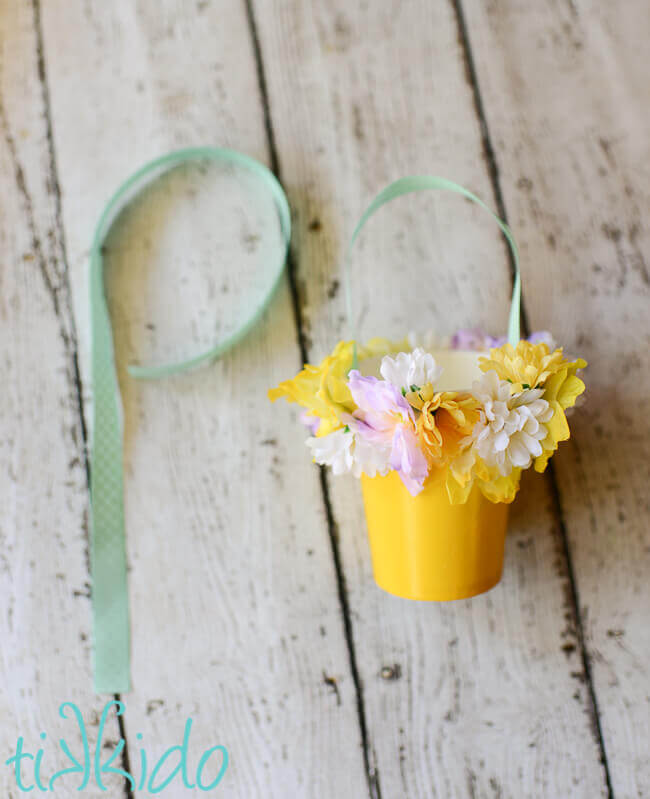 I added a little bit of pretty ribbon for the handle of my miniature Easter basket.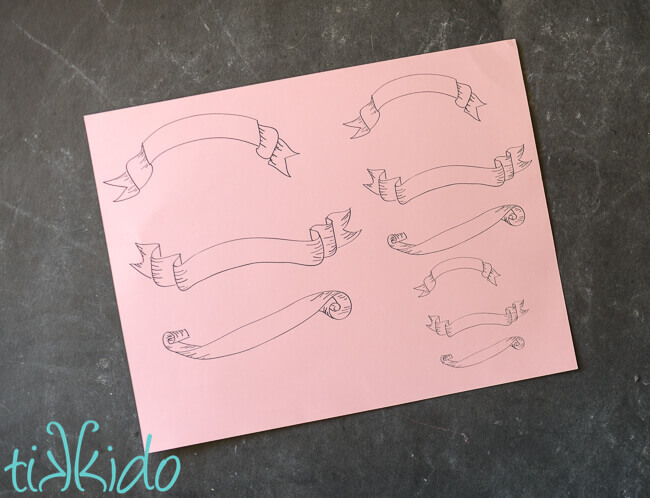 I wanted to make these mini-baskets into pretty place settings for my Easter dinner table, so I printed out some scroll shapes on pink cardstock.  And lucky you, I'm giving you a free printable version of these scrolls so you can make them, too!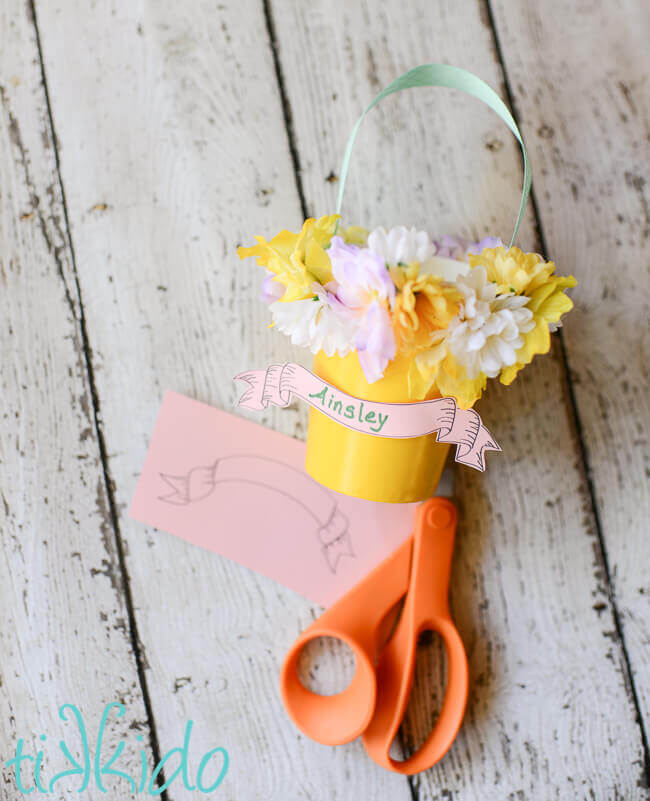 Cut out the banner shape, write a name (preferably with better handwriting than I have), and glue it to the front of the miniature Easter basket.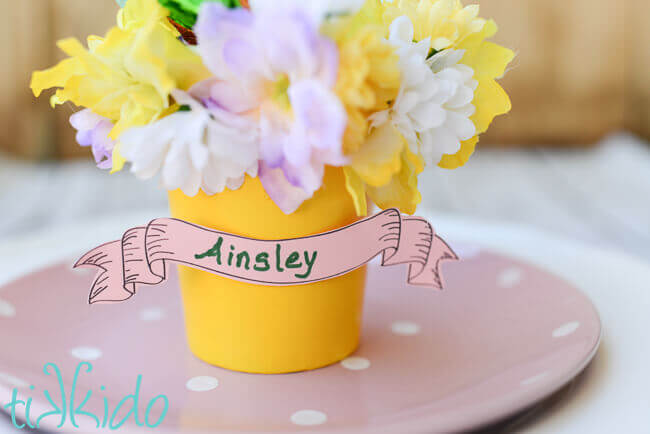 Set one at each place setting on your Easter dinner table, for a sweet, personal touch.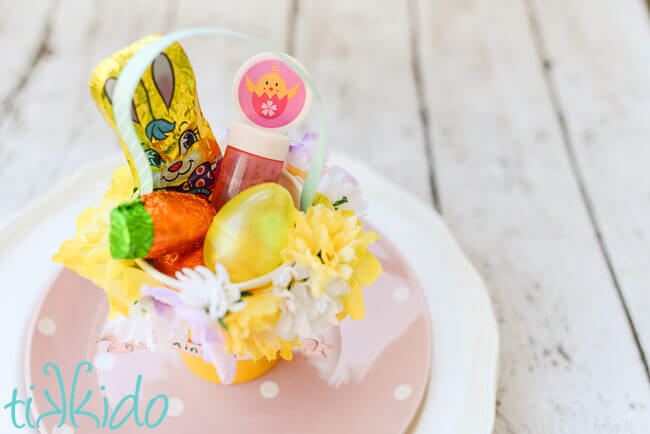 The polka-dot plate actually came from 99 Cents Only, too--but a few years ago.  I didn't see them in my local store this year, sorry.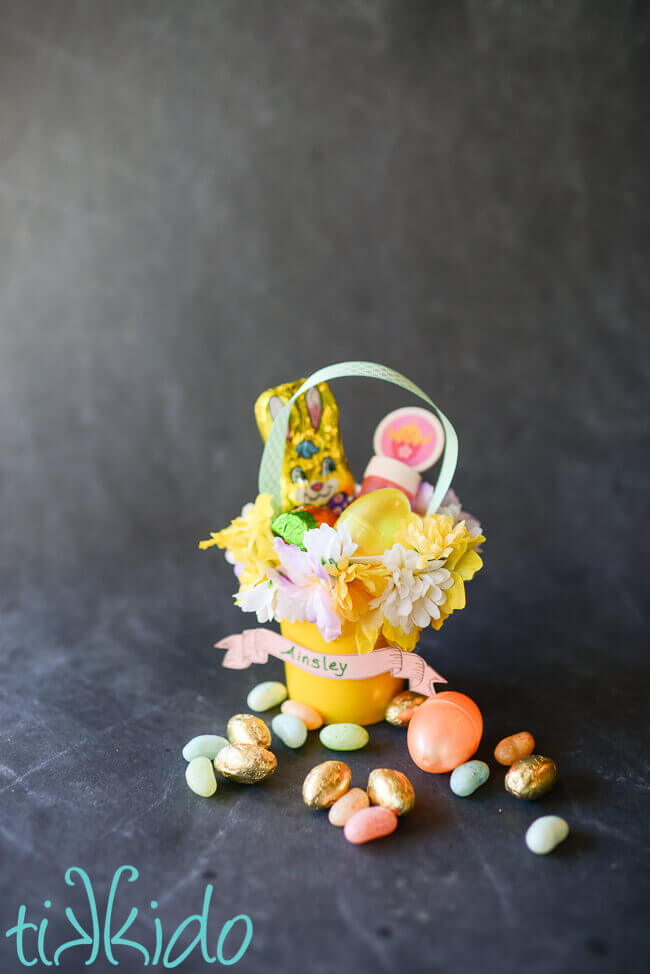 How do you like to decorate your Easter table?  I love creative table settings ideas!  If you'd like to see some of my favorite tablescape ideas, check out my Pinterest board all about setting the table.