Printer-friendly version
I've loved games my whole life. There were no games written for kids available for the computer my dad built in the 70s, so he wrote simple games for me. I had my own PC by the time I was 7 or 8. (I'm still nostalgic for those games I played then!). When I was around 8 or 9, I used to save all of my allowance money and save up for these amazing new handheld electronic games from an exotic new company called Nintendo.
They were so tiny! I could take them anywhere with me! I seem to remember them being about $40 or $50 dollars, which was a LOT to a kid, especially in the mid 80s. I was so obsessed with these handheld games that I saved enough to buy three of them, so you know I was serious.
Now I have two daughters, a kindergartner and a 5th grader, and it's no surprise that we're raising two delightful gamer-geek daughters. We were all absolutely blown away by the new Nintendo 3DS XL; look how far we've come!
We decided to have a little gaming girl fun, and invited four of our BFFs over for a pizza and games play date.
If you've played any Nintendo device in the past several years, I'm sure you're familiar with the concept of a Mii, a little cartoon version of yourself that you create to represent your character in the games you play. I thought the girls would love making their own personal pizzas for lunch, using the toppings to create faces--their own personal Miizzas (Mii pizzas). ;-)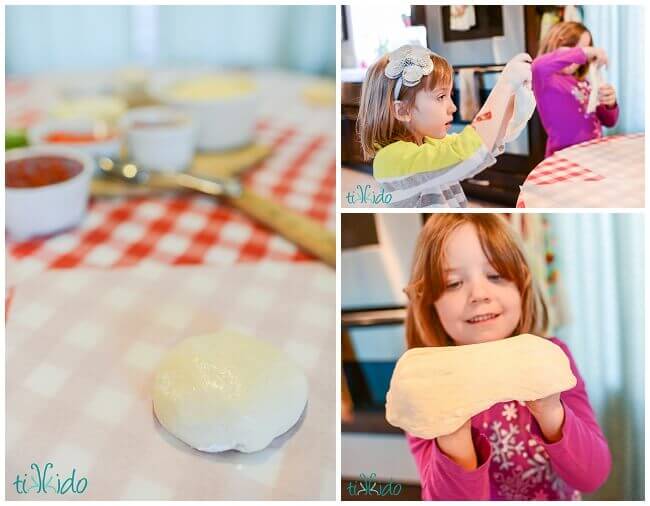 I made small little pizza dough balls for each girl, and taught them how to stretch and shape the dough in classic Neapolitan style. I think we have some budding chefs in our midst!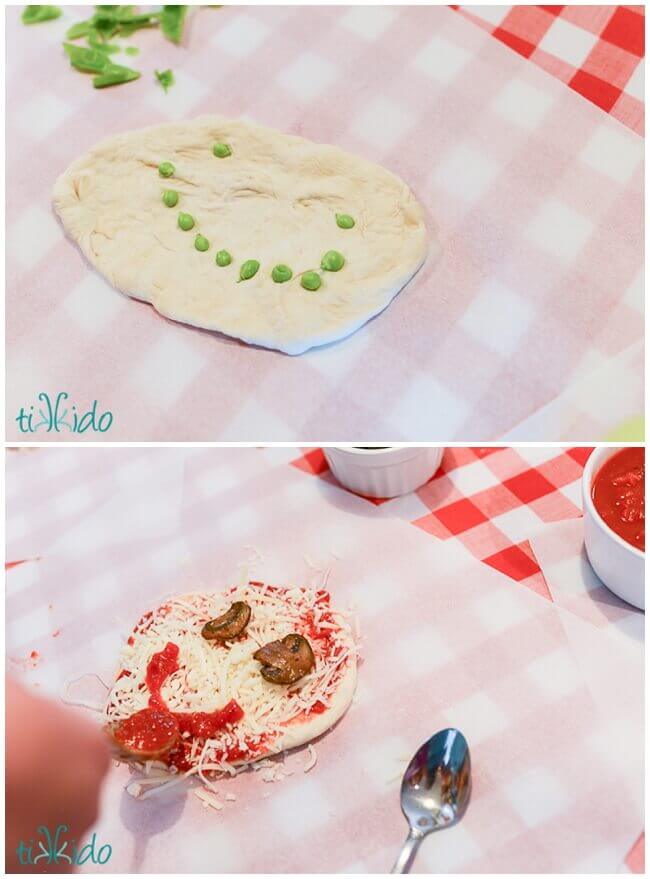 I loved seeing how the girls chose to make their Mii Pizzas!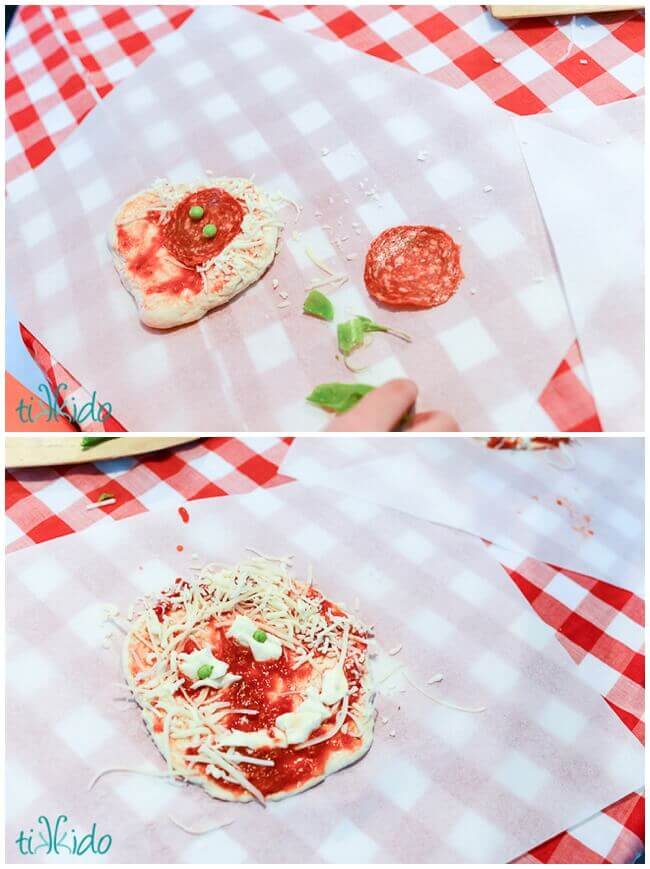 Each one was different, just like their Mii characters.
I love activities that kids of all ages like. My girls have a pretty big age gap, so it's always fun to find things that they both love to do. Getting to play with your food definitely counts.
And the Nintendo 3DS XL gaming system is clearly another thing they both enjoy a ton, too. All the kids were utterly amazed by the 3D graphics on the upper screen. (Ainsley's comment: "WOW, I didn't know they meant the 3D part of the 3DS!")
We played Animal Crossing: New Leaf and Tomodachi Life, and while all the kids liked both games, the Animal Crossing game caught them up more quickly. Of course, today, Tomodachi Life is all my youngest daughter has played until the batteries finally ran out, so they're clearly both winners! I absolutely love that you can download the games directly instead of buying those itty bitty cartridges. My older daughter has an old DS and has taken pretty good care of the games, but I lived in fear of them getting lost in the disaster zone that is her room. If it's in the hard drive of the device, I feel much more secure, especially with my kindergartner!
I think the pizzas were pretty cold by the time the girls decided they could take a break to eat.
But eventually hunger won out, and they ate their fabulous Miizza creations.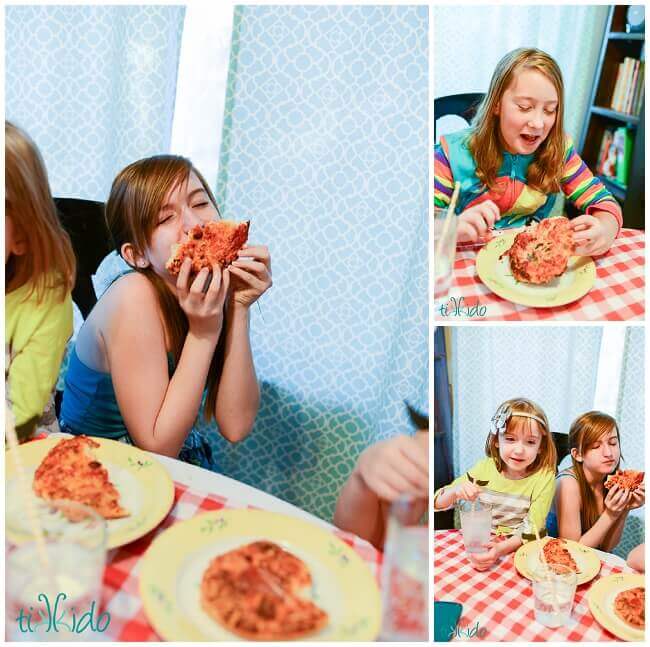 I may have suggested that Kate was about to commit cannibalism in the upper right corner. She wasn't deterred.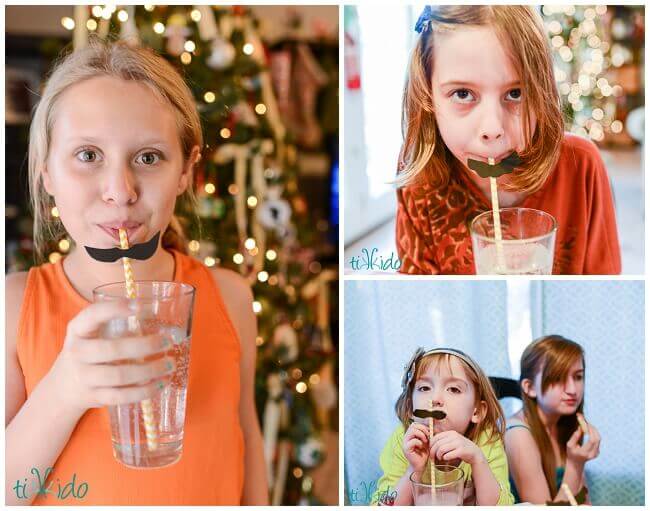 The girls loved their old-school Mario and Luigi style mustache straws.
There was also a fun surprise at the bottom of the glass!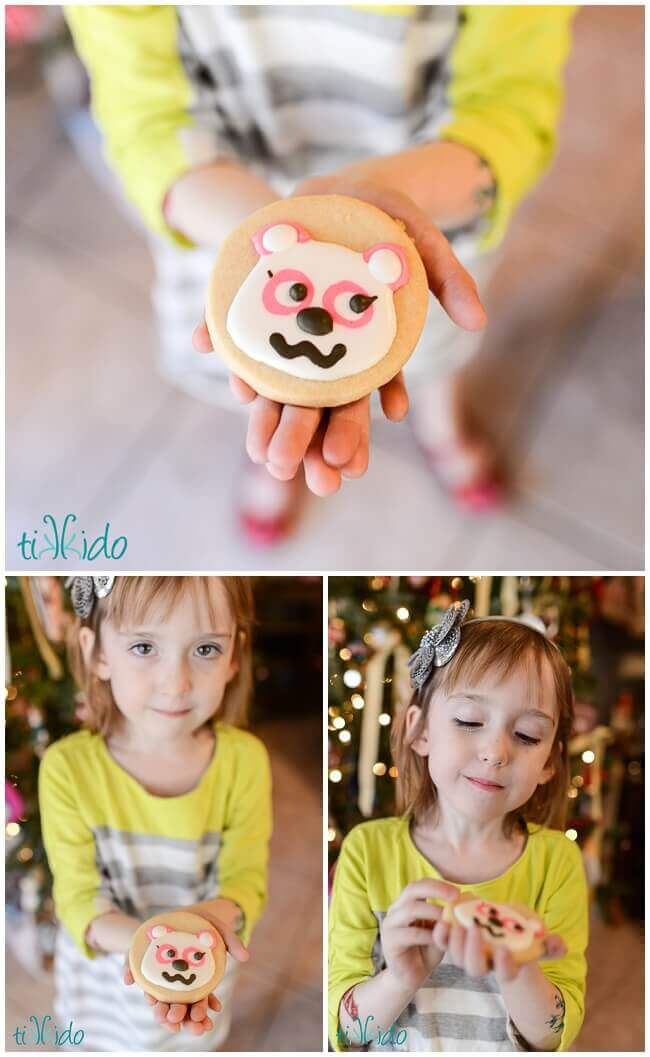 After lunch, it was time for more gaming! More and more and MORE! And cookies. Cookies were good, too.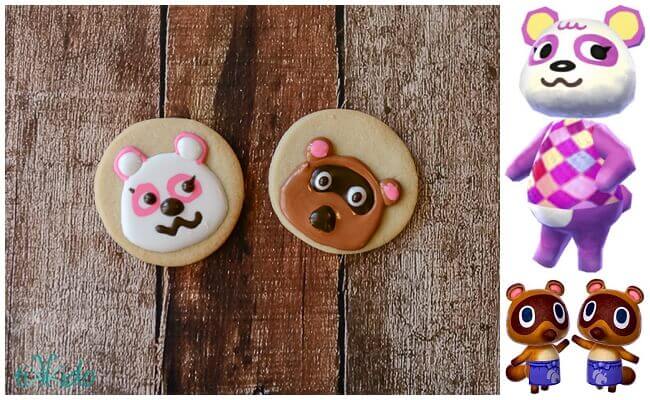 I made some quick cookies to look like some of the characters from Animal Crossing: New Leaf. They sure do know how to make super cute characters over at Nintendo! So kawaii.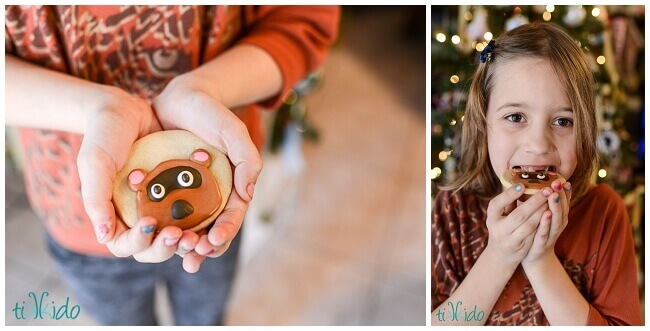 Mmm, cookies. That makes waiting for the next turn with the 3DS worth it.
I think Sarah's excited. ;-)
I predict the girls will be adding new Nintendo 3DS XL games to their wish-list for Santa!