Printer-friendly version
Eggnog cookies are the perfect addition to your Christmas cookie tray.  This recipe for eggnog cookies makes a delicious, soft cookie full of real eggnog flavor.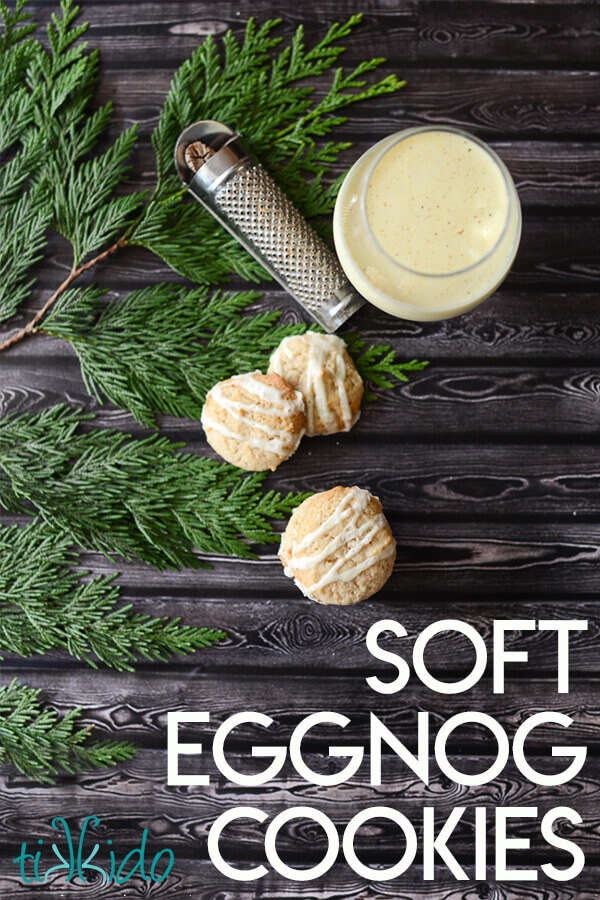 I absolutely love eggnog, and get excited when I see it for the first time in the grocery store each year.  I'm an eggnog purist--no pumpkin flavored eggnog for me, not even spiked eggnog, please.  I love the flavor of the eggnog so much that I just want to taste that and that alone, perhaps with a grate of fresh nutmeg on the top.  I went looking for an eggnog cookie recipe this year, and was very happy with the recipe I ended up with, a semi-soft sugar cookie full of eggnog flavor.  
Eggnog Cookie Recipe Ingredients:
2 cups white sugar
1 1/2 cups butter, softened (3 sticks)
1 cup eggnog
2 t vanilla
4 egg yolks
2 t nutmeg
2 t baking powder
1 t cinnamon
1 t salt
5 1/2 cups flour
How to Make Eggnog Cookies:
Preheat oven to 350 degrees Fahrenheit.  
Cream sugar and softened butter, then add egg yolks, and beat until well combined and fluffy.  Add the eggnog, vanilla, nutmeg, and cinnamon, and mix to combine.  Consider getting a nutmeg grater and using freshly grated nutmeg.  This little grater tool makes it so easy to have freshly grated nutmeg, and the difference in flavor is absolutely amazing.  I'm not one of those people who only uses freshly ground spices; I don't have a dedicated coffee grinder for spices.  But nutmeg is just so darn easy with a nutmeg grater, so why not?
 In a separate bowl, mix together the flour and the baking powder, then add the flour mixture to the wet ingredients and mix just until completely incorporated.
Use a small cookie scoop (my two teaspoon sized small cookie scoop was perfect for this cookie) to portion out the cookie dough on a cookie sheet.  I always use parchment paper to line my cookie sheets, but they're not necessary.  They just make clean up a lot faster, and it lets me be more efficient, since I can scoop out the next sheet of cookies while the previous batch is still baking.  Pull the hot, freshly baked cookies out of the oven, slide them on the parchment on a cooling rack, and slide the new parchment with cookie batter ready for baking on the cookie sheet and right back in the oven!
Bake for approximately 15 minutes, or until the edges at the bottom start to turn a light golden brown color.
Eggnog Glaze for Eggnog Cookies:
Once the cookies cooled, I topped some of them with eggnog glaze.  I made the glaze by mixing about 1 1/2 cups of powdered sugar with enough eggnog until I got a consistency I liked.  
I piped the eggnog glaze on top of the cookies, but you know, I liked them just as much without the glaze.  And the glaze was honestly kind of gross when I first mixed it up.  Something to do with all the actual eggs in the eggnog, I'm sure, but it was very viscous, and that put me off.  The texture was fine once the glaze dried, though.
I might experiment with a glaze made with brandy and powdered sugar instead  I know, I know, I said at the top that I was an eggnog purist, and didn't like mine spiked.  But I am willing to try new things.  You know, for YOUR sake, dear reader.  I will eat more cookies for you.  I'm generous like that.
Printable Eggnog Cookie Recipe:
Want a one page, printable version of the recipe for eggnog cookies?  Click on the image below to print or download a PDF version of this recipe.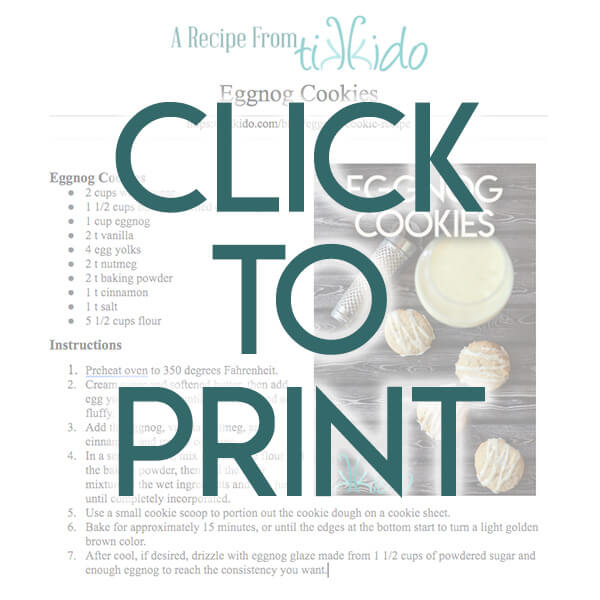 Other Eggnog Recipes and Tutorials from Tikkido You Might Like: