Printer-friendly version
Throwing a Peter Pan birthday party?  Make this easy felt Peter Pan bunting and take that party decor to the next level.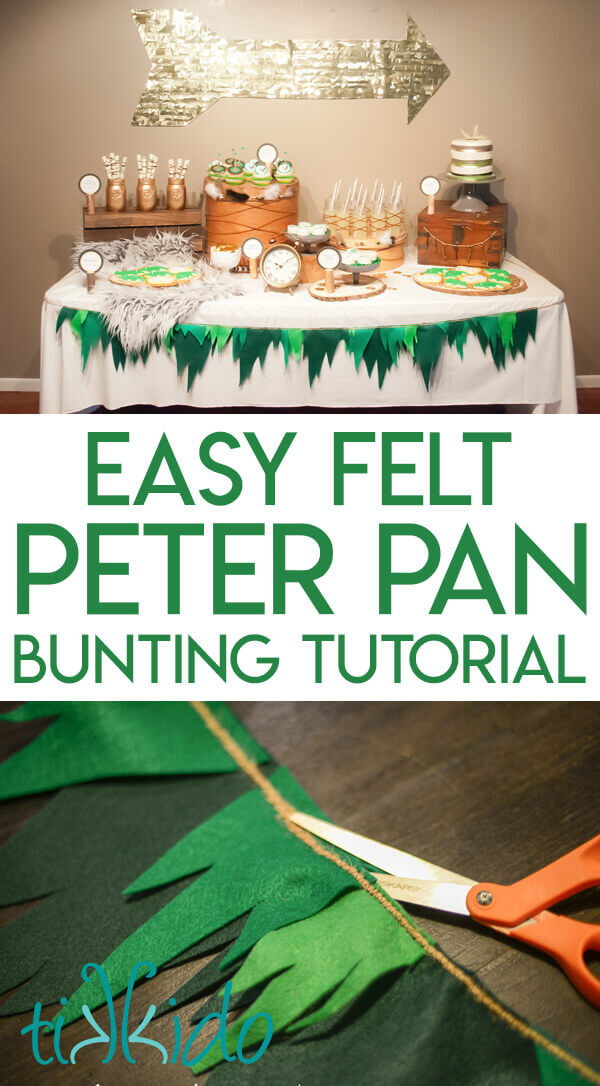 Have you seen the absolutely amazing Feathers and Arrows party by One Stone Events?  It was originally published in the most recent issue of Festivities magazine, and the full write-up with tons of fabulous photos by Emma Grace Photography.
I had the great pleasure of contributing two small elements to this amazing party:  Peter Pan/Robin Hood hats for the kids at the party, and the Peter Pan bunting adorning the dessert table.  The layers make it look complicated, but if you can sew a (reasonably) straight line--or heck, use a glue gun!--it's actually very easy to make.
Materials for Making Peter Pan Bunting
Green felt, in three different shades
scissors
twine
sewing machine (or glue gun)
The first step is simply to cut out a lot of jagged pieces of felt in various sizes.  No need for a pattern; you want the pieces to look different and organic.  Layer them on a flat surface (like the table in the photo above) and temporarily attach the pieces together using straight pins.
Next, sew the felt pieces to twine, using a wide zig-zag stitch to bind everything together.  I used a sewing machine here, but if sewing isn't your thing, I'm quite sure a glue gun could do the job, too.  In fact, it would probably be easier and faster!
Finally, trim off the excess felt from the top of the bunting.  
So perfect for this clever fairy tale mash-up party theme!