Printer-friendly version
Savory pancakes are the perfect quick dinner.  And these savory cornmeal pancakes full of cheddar cheese and corn kernels are absolutely amazing!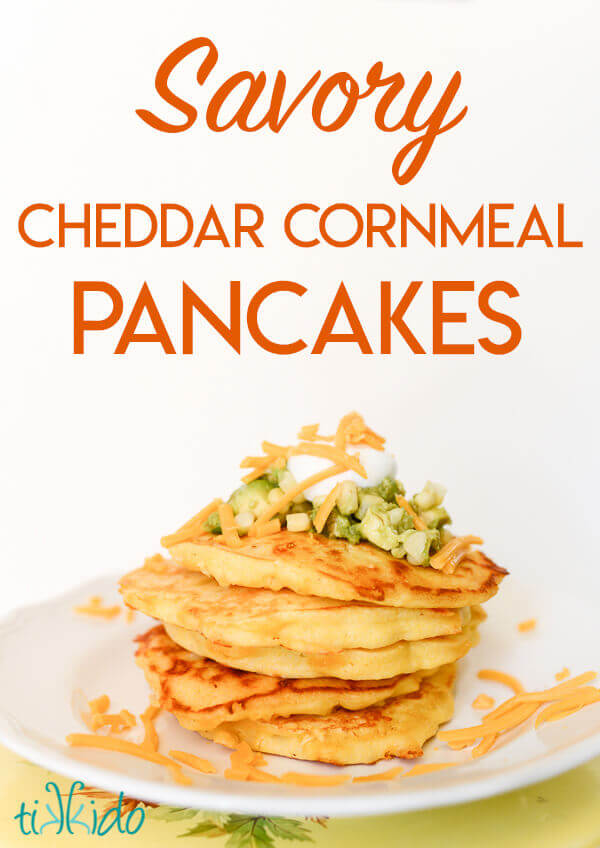 You might not know it by the number of cookie recipes I post, but I'm a bigger fan of salty than sweet things, so I have no idea why it didn't occur to me to explore the world of savory pancakes until very recently.  Pancakes with maple syrup are fine, but don't really tempt me much.  But a savory pancake...oh my...now that's an idea that could get me up in the morning.
I've had cornmeal pancakes made in sweet ways before, but I immediately started dreaming up a hearty, salty version, and developed this recipe for Savory Cornmeal Pancakes with Cheddar and Corn Kernels.
Cornmeal Pancakes with Cheddar and Corn Kernels
1 cup boiling water
1 cup cornmeal
1 cup milk
1 cup corn kernels
1 cup grated cheddar cheese
1 cup flour
2 teaspoons baking powder
1 teaspoon salt
1 Tablespoon oil
Before you do anything else, start by boiling the water.  We want the cornmeal to hydrate and soften a bit, so the very first step is to combine the cup of boiling water with the cup of cornmeal and let it sit for a few minutes while preparing the rest of the recipe.
Combine the dry ingredients and mix them together in a bowl.  Add the milk and beaten egg, then mix in the rest of the ingredients.  You'll end up with a fairly thick batter.
It's similar to a normal pancake batter consistency, just a little more lumpy with the cheddar and corn in there.
Scoop 1/4 cup of batter onto a hot, buttered griddle and cook just like normal pancakes.
And by that, I just mean cook them until they're golden brown on each side, and cooked through the middle.  
These smelled SO AMAZINGLY GOOD while I was cooking them!
They were even better tasting hot off the griddle and slathered in butter.  Isn't anything slathered in butter good, of course?  But these were especially delicious.  The cheese and cornmeal make these pancakes hearty and more filling than standard pancakes, and the burst of sweetness from the corn kernels provided the perfect contrast to the other salty ingredients.
That was good on its own, but I decided to have even more fun with the flavors and try some other toppings.
Fresh avocado, corn, sour cream, and a sprinkle of cheddar cheese--yes yes yes.  A thousand times,  yes.  I think the only thing that could have made this better would be a sprinkling of bacon crumbles.
Do you have a favorite savory pancake recipe?  I need to explore more on this theme!
Savory Cornmeal Pancakes with Cheddar Cheese and Corn: