Printer-friendly version
 Buttermilk pancakes are so easy to make, so fluffy and delicious, that once you try them, you'll never be tempted to get a box of pancake mix again.  Homemade buttermilk pancakes make fabulous leftovers, so we make a big batch with this recipe and enjoy them for days.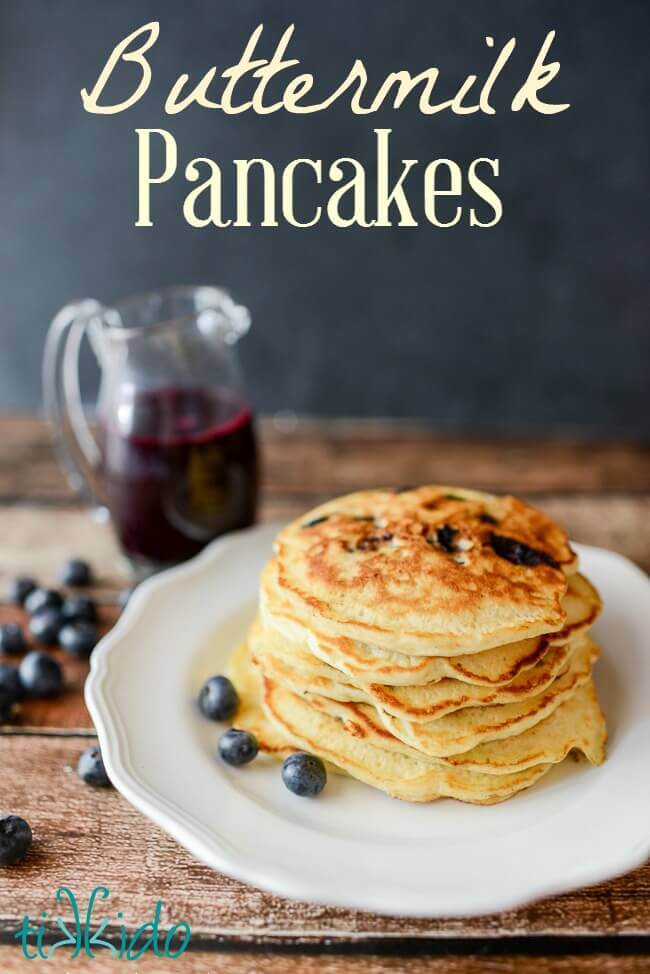 I visited my parents in Alabama this past week, and came back with 10 pounds of blueberries that we picked.  Delicious, flavorful, fabulous blueberries.  The first recipe I used them in was my favorite classic homemade buttermilk pancakes recipe.  (I needed something fast and extremely easy, after the hellish travel experience I had on American Airlines/U.S. Airways.) 
Buttermilk pancakes are amazing all on their own, but I absolutely love adding fresh blueberries to the batter.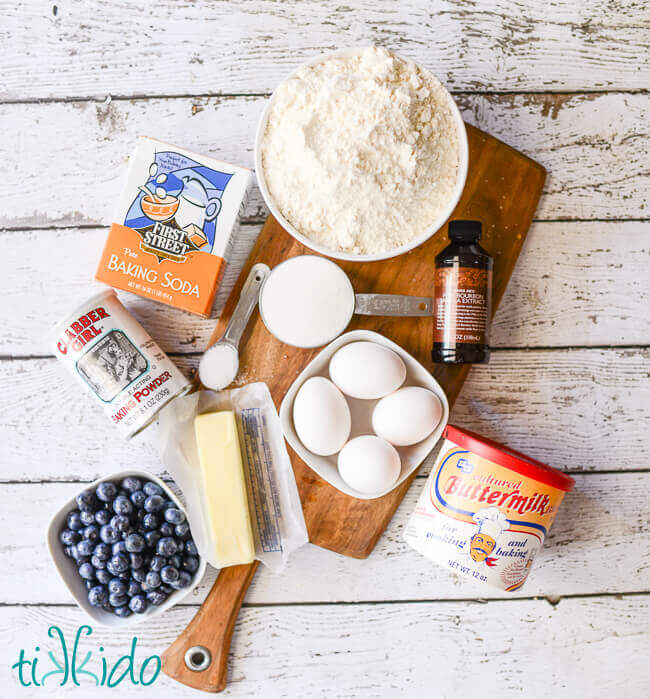 This recipe makes a VERY large batch, and can easily be cut in half; we just love having leftover pancakes in the freezer for quick and easy breakfasts.
Homemade Buttermilk Pancakes:
1 stick (8 Tablespoons) butter, melted
4 cups flour
1/2 cup sugar
5 teaspoons baking powder
1 teaspoon baking soda
1 teaspoon salt
4 cups buttermilk
4 eggs, beaten
1 teaspoon vanilla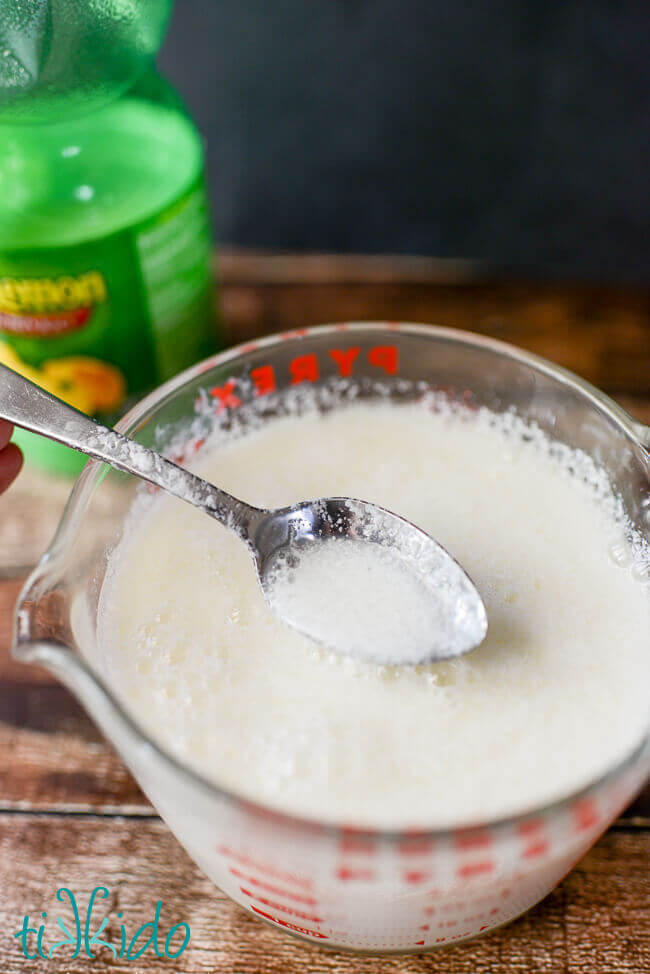 Substitute for Buttermilk:
If you don't have buttermilk on hand, there are two work-arounds you can use.  The first is powdered  buttermilk, which is actually quite wonderful in cooked items.  I always have some in the pantry.  
If you don't have any of the powdered buttermilk, either, fear not.  You can use regular milk and an acid (lemon juice or vinegar) as a substitute.  Just add enough of the acid for the milk to curdle (get lumpy, like in the picture above).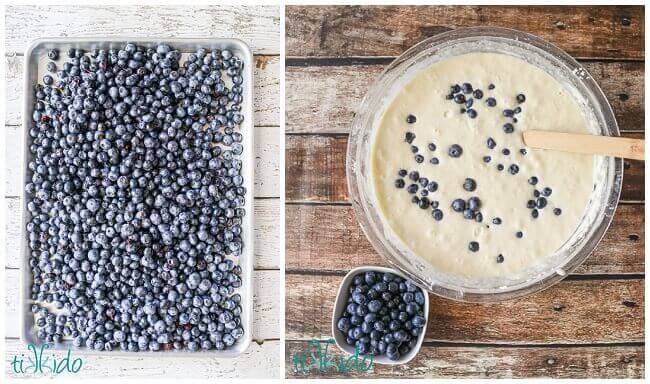 Mix up all of the ingredients, and then add fresh blueberries (or whatever fresh fruit fits your fancy).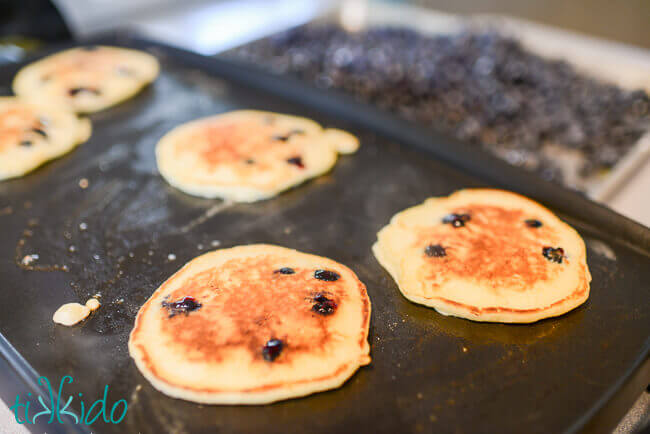 Cook up the pancakes on a buttered griddle (I love my electric griddle for making lots of pancakes at once), and enjoy.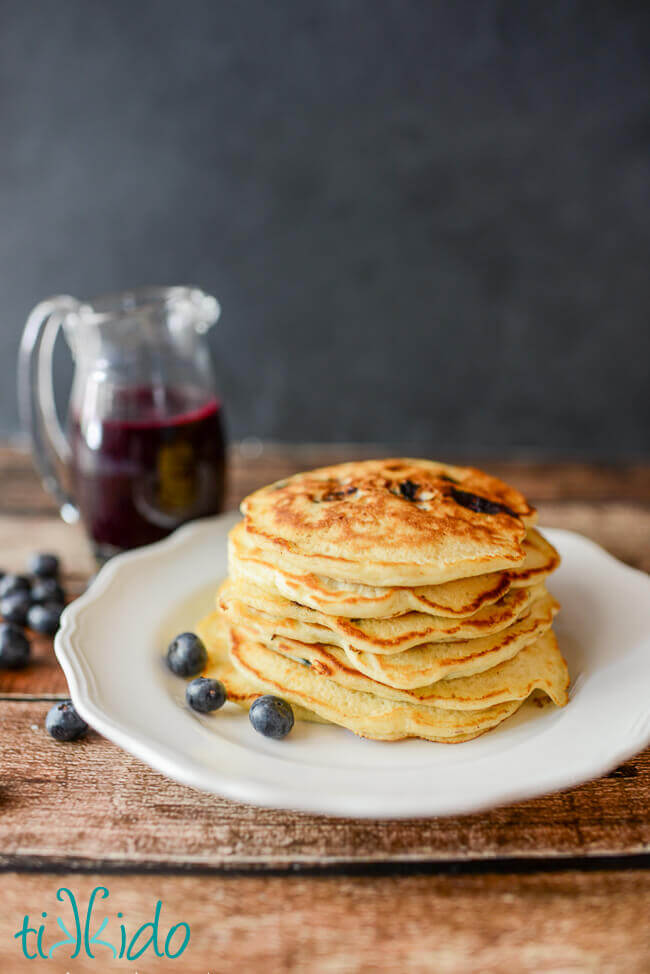 So simple, but so, so good.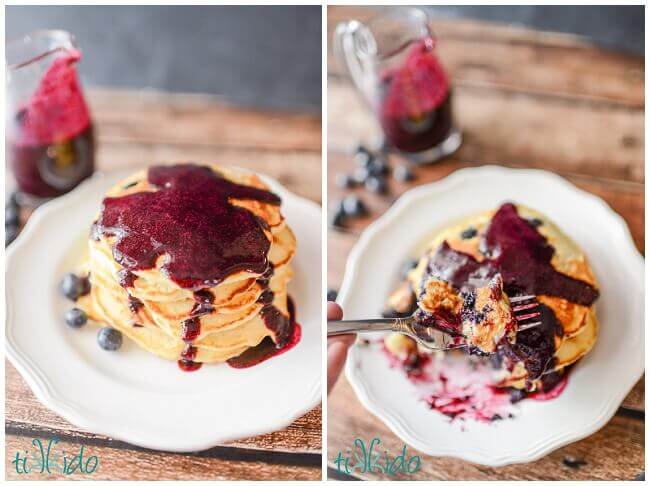 And even more amazing with homemade blueberry syrup (recipe here).  Blueberry heaven.
Printable, One Page, Buttermilk Pancakes Recipe:
Other Breakfast Recipes You Might Like: