Printer-friendly version
I'm a sucker for a big, soft cookie. Give me that over a thin, crispy cookie any day. And one of my favorite recipes is for a big, soft, sugar cookie--a recipe that came from my grandma, a baker and cake decorator of some renown in Iowa in her day.
We've always topped them with sanding sugar for a little bit of sparkle, but I knew I'd be able to adapt the recipe for the sprinkles party.
Grandma Berta's Soft Sugar Cookies Recipe
1 C sugar
1 C brown sugar
1/2 C butter
1/2 C shortening
2 eggs
1 t vanilla
1/2 t lemon extract
1 t ground nutmeg
3 1/2 C flour
2 t baking powder
3/4 t baking soda
1 C buttermilk
3/4 t salt
1) Beat sugars and shortenings for approximately two minutes. Add eggs, one at a time, and beat for about a minute after adding each one.
2) Mix the dry ingredients together, and add the dry mixture alternately with the buttermilk to the sugar and shortening mixture.
3) scoop 1 T dough onto a greased or parchment lined cookie sheet, and sprinkle with sugar.
4) Bake for 8-9 minutes at 400 degrees Fahrenheit.
To Adapt for a Sprinkle Covered Cookie
When you scoop the wet dough, don't put it directly on the cookie sheet and sprinkle the tops with sprinkles. You won't get a satisfying sprinkle coverage that way.
Instead, plop it on a plate or bowl full of sprinkles. Gently roll in the sprinkles, covering the entire surface of the wet, gooey dough.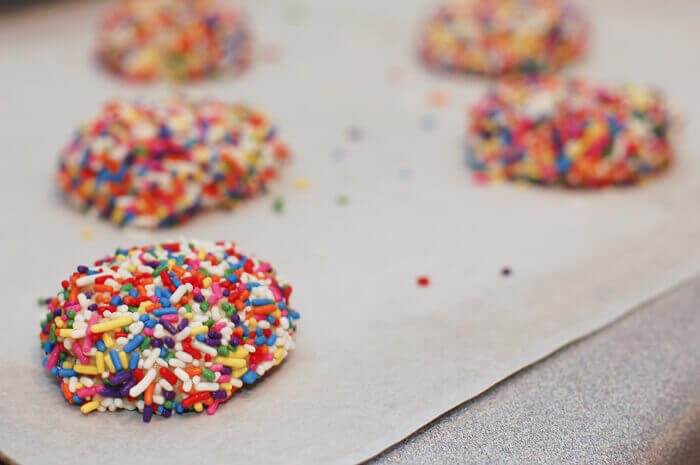 Carefully transfer to your parchment paper or greased baking sheet. You'll still get some spreading when the cookies bake, but the sprinkle coverage is much more dense and fun this way.
There's just something about a well made, homemade, classic sugar cookie that appeals to children and adults alike. These big softies are a huge crowd pleaser.