Printer-friendly version
Desserts with sprinkles are always fun, but are especially perfect for a sprinkles themed birthday party!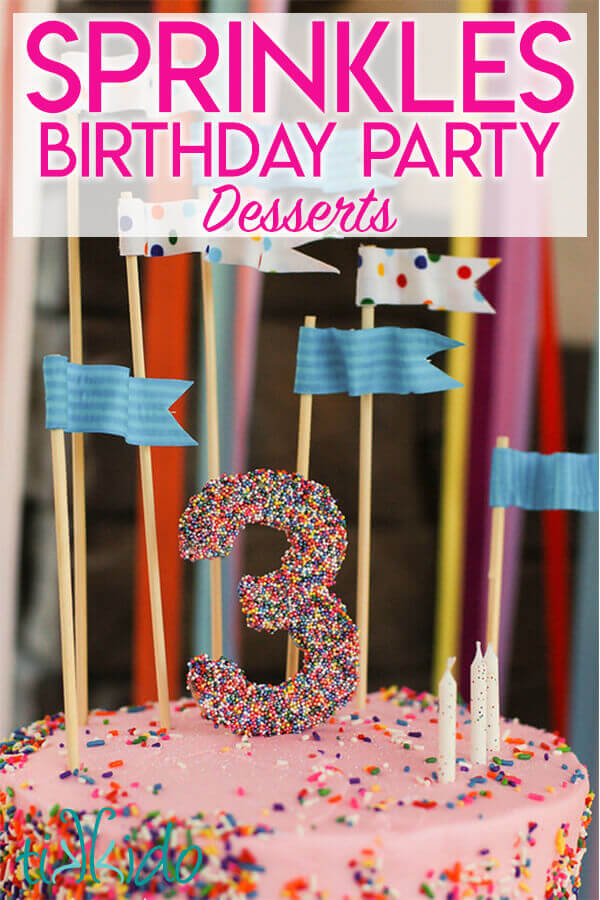 The sprinkles party all started with the cake, of course.
I usually make grand, fondant covered cakes.  I enjoy doing them, and honestly, I find fondant and gumpaste work easier than getting a clean buttercream coat on a cake!  But my daughter just wanted a sprinkles cake, and I was happy to oblige.  Six layers of homemade funfetti white cake with a vanilla soak and cream cheese icing filling.  Simple, sweet, and festive.  
I was going to make cake bunting, but as soon as I stumbled across this tutorial from Poppytalk, I knew I was going to make waving fabric flags instead.
I made the edible, sprinkle-covered number 3 cake topper using this method.  
Strawberry Sprinkle Kisses (meringues) were a last-minute addition to the dessert table.  Who lets me on Pinterest the day before a party, really?  But as soon as I stumbled across this post from Easybaked, I knew I HAD to make them.  Too cute and perfect!
I made two kinds of sugar cookies for the Sprinkles dessert table.  The first, a classic cut-out sugar cookie, with disco dust sparkle and sprinkle edging.  Simple, adorable, and perfect for our sprinkles theme birthday.
The second type of sugar cookie was a large, soft, sprinkle covered sugar cookie.  I started with on of my favorite recipes from my grandmother, for fabulously soft and cakey and flavorful sugar cookies, and then figured out how to add as many sprinkles as possible!  Watch for the recipe and tutorial in the coming week.
The strawberry cheesecake sprinkle bites were also a huge hit, and so easy to make.  Tutorial on these coming up, too!
The Funfetti Cake Batter Fudge was seriously easy to make using a recipe from Pursuit of Hippieness, and absolutely perfect for our party.   (Sadly, the website seems to no longer exist, so I've removed the broken link.)
A donut topiary was a simple, fun addition to the dessert table.  Who can resist Dunkin' Donuts Munchkins embellished with sprinkles and towered high?
I just love the sweet and salty combination of flavors in chocolate covered pretzels, but in May in Phoenix, it's just too hot to risk anything chocolate.  I came up with a way to get the same look without the risk of melting chocolate.  Tutorial coming up for this as well!
When I read this recipe for brigadeiros from America's Test Kitchen, I knew I had to make them for the party.  Caramely, chocolaty, easy-to-make candies covered with sprinkles?  Yes, please!  One of the ingredients is sweetened condensed milk.  You know how you can boil the closed can of sweetened condensed milk to make dulce de leche?  I've never tried it, but am assured that it's not as scary as it sounds.  I did discover, however, that if your can of sweetened condensed milk has been sitting in your pantry long enough to have an expiration date of 2000, it also turns into dulce de leche all by itself!  I'm not sure which one is scarier.  ;-)  Yes, I threw away my disgusting, 12 year old can of sweetened condensed milk turned dulce de leche and bought a new one to make my brigadeiros.  That's clearly not an ingredient I use often!
The star of the dessert table had to be the cotton candy.  Who can resist cotton candy?  Especially when you add sprinkles to it!
Simple, whimsical, kid-friendly and kid-approved.  Those were my goals in putting together this dessert table.  
It looks like my guest of honor thought I got it right!