Printer-friendly version
It's time once again for the Taste Creations Blog Hop!  Our theme this month is Sweet Corn, and I made my favorite sweet corn cornbread to share with you.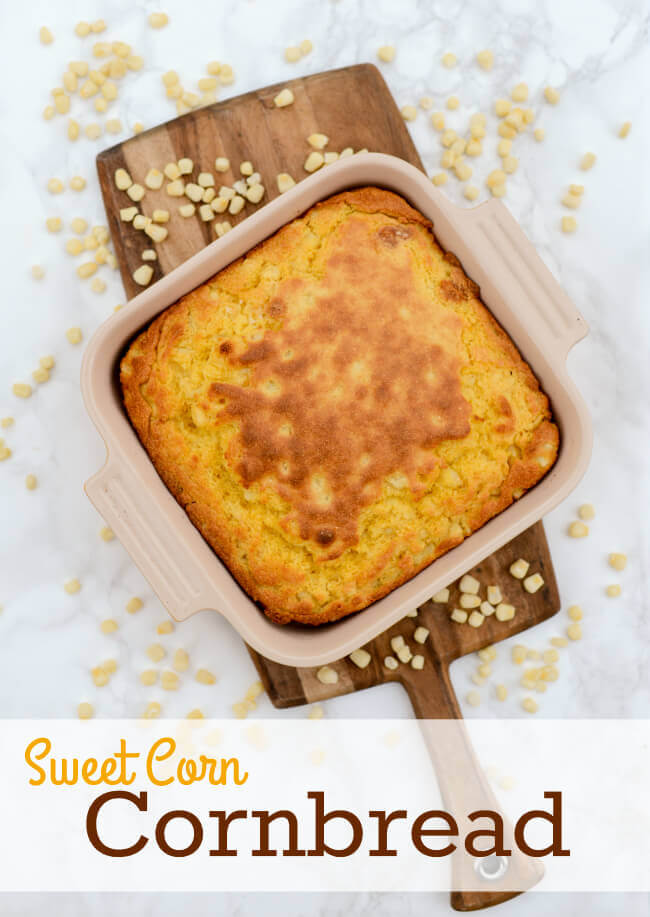 The basic cornbread recipe I have and love is on a hand-written card from my mother.   The original recipe doesn't add sweet corn kernels, but I absolutely love the extra flavor it gives to the cornbread.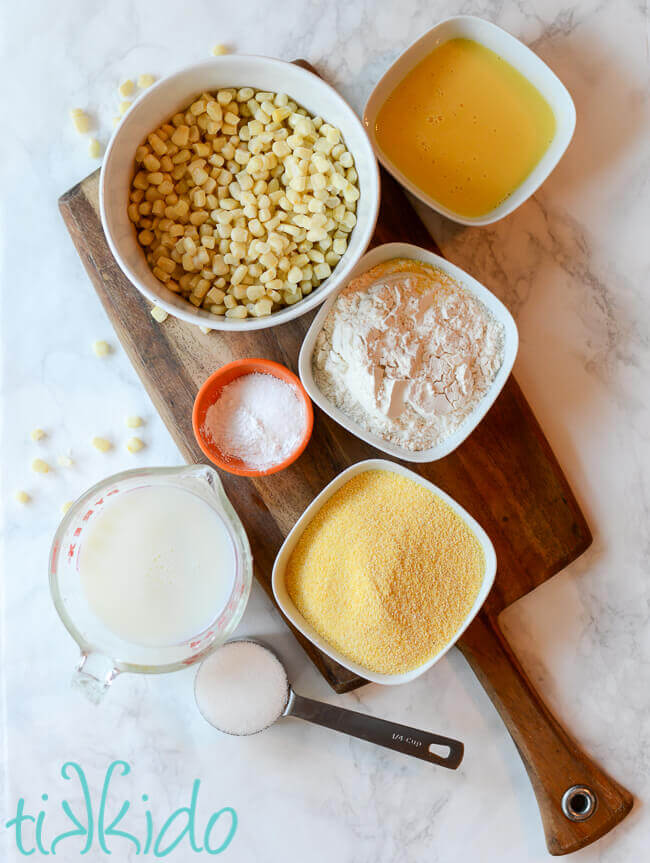 Sweet Corn Cornbread Recipe:
1 cup flour
1 cup yellow cornmeal
1/4 cup sugar
4 teaspoons baking powder
3/4 teaspoon salt
1/4 cup butter, melted (not pictured, oops!)
2 eggs, beaten
1 cup milk
2 cups corn kernels (I use Trader Joe's frozen corn.  It's always exceptional!)
about 1/4 cup vegetable oil or shortening for the pan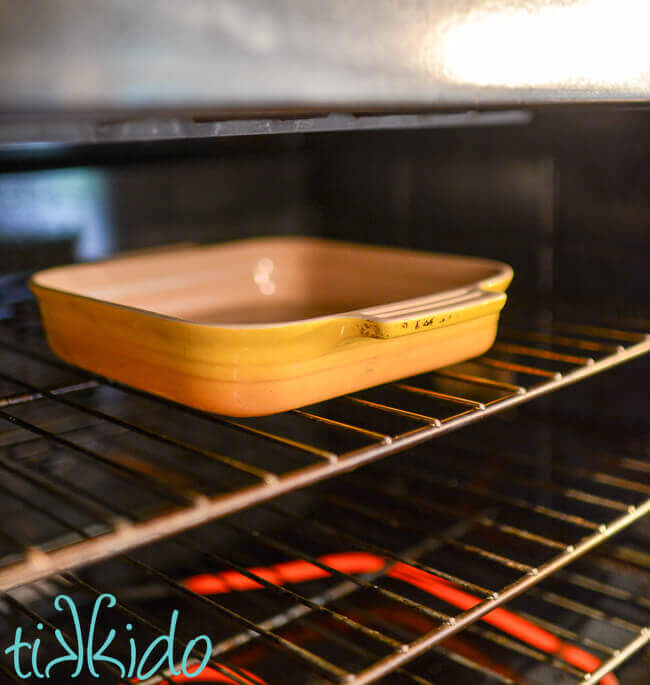 Before you start mixing the cornbread ingredients, put about 1/4 cup of oil or shortening in a 9x9 pan (I use my Le Creuset, but a cast iron skillet is very traditional and more affordable).  Heat oven to 425 degrees Fahrenheit, and heat the pan and the oil while you're making the cornbread batter.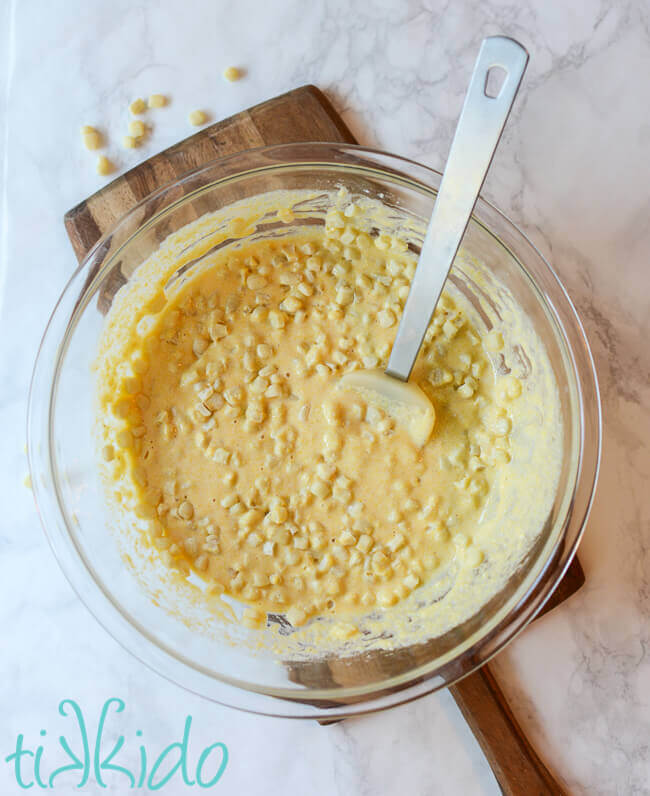 Mix all the dry ingredients together, then add the wet ingredients and mix with the dry to form a batter.  Add the corn kernels and mix (about half the Trader Joe's bag of corn, if you don't feel like measuring).  I don't bother thawing the corn kernels when I mix them in the batter; It cooks up beautifully using frozen corn.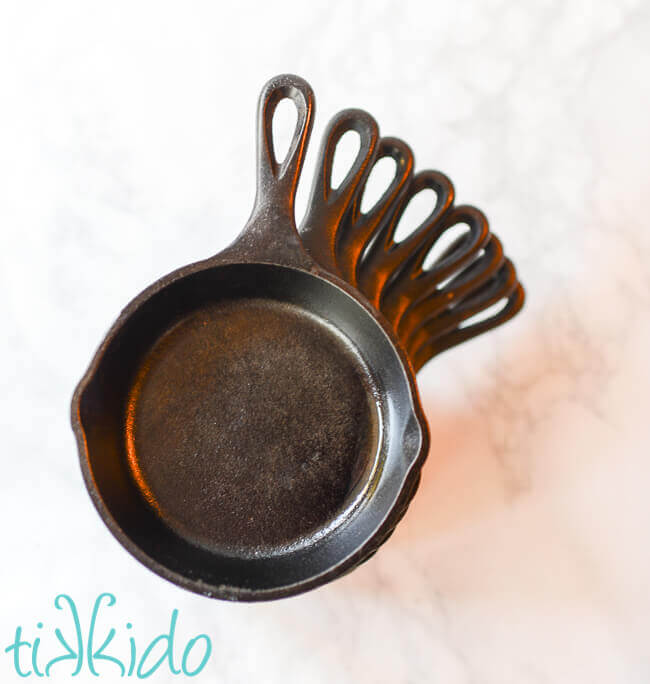 I also have these mini, single serving Lodge cast iron skillets that are awesome for making individual cornbreads.  And they're so cute!  I'm a sucker for anything miniature.  But I went for a regular pan of cornbread this time.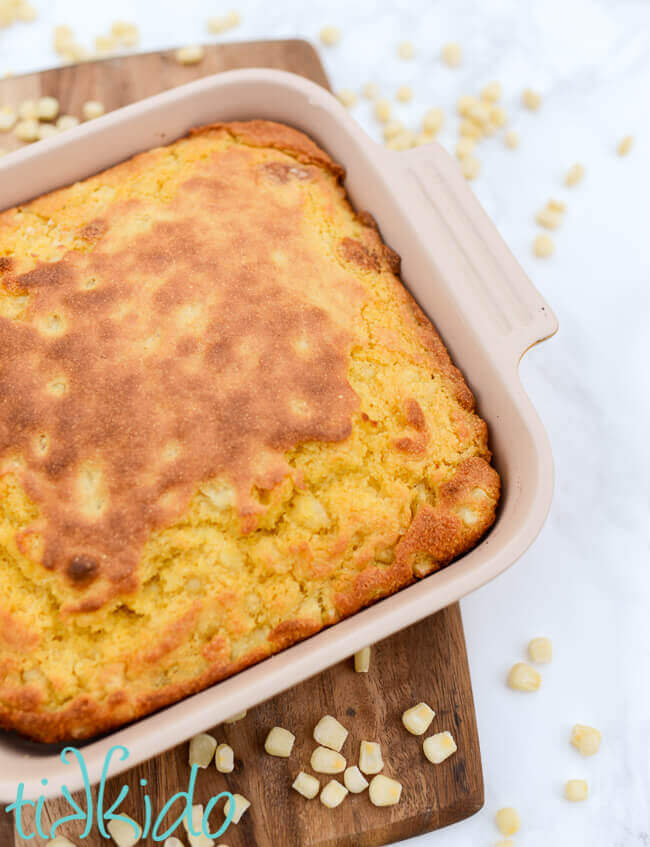 Pour the batter into the hot, sizzling oil in the pre-heated baking vessel, and bake for 20-25 minutes.  The extra, pre-heated fat in the pan isn't strictly necessary, but it does give the cornbread an amazing crust.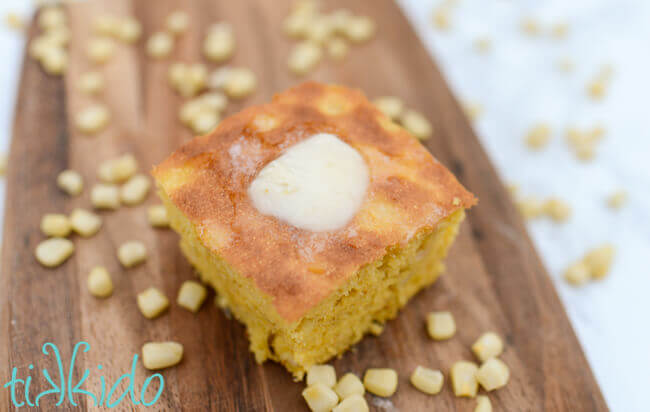 Sweet corn cornbread is so full of flavor and naturally sweet that honey butter kind of seems like overkill.  But I'm not going to stop you.
Be sure to visit the rest of the fabulous sweet corn recipes in this month's Taste Creations Blog Hop:
Roasted Corn Dip from The Freshman Cook
Crockpot Corn on the Cob from Our Good Life