Printer-friendly version
When Niamh finally settled on a Flower Fairy costume (inspired by the fairies in the Spiderwick books) for Halloween, I knew in an instant that I wanted to make a natural crown out of real twigs and sticks.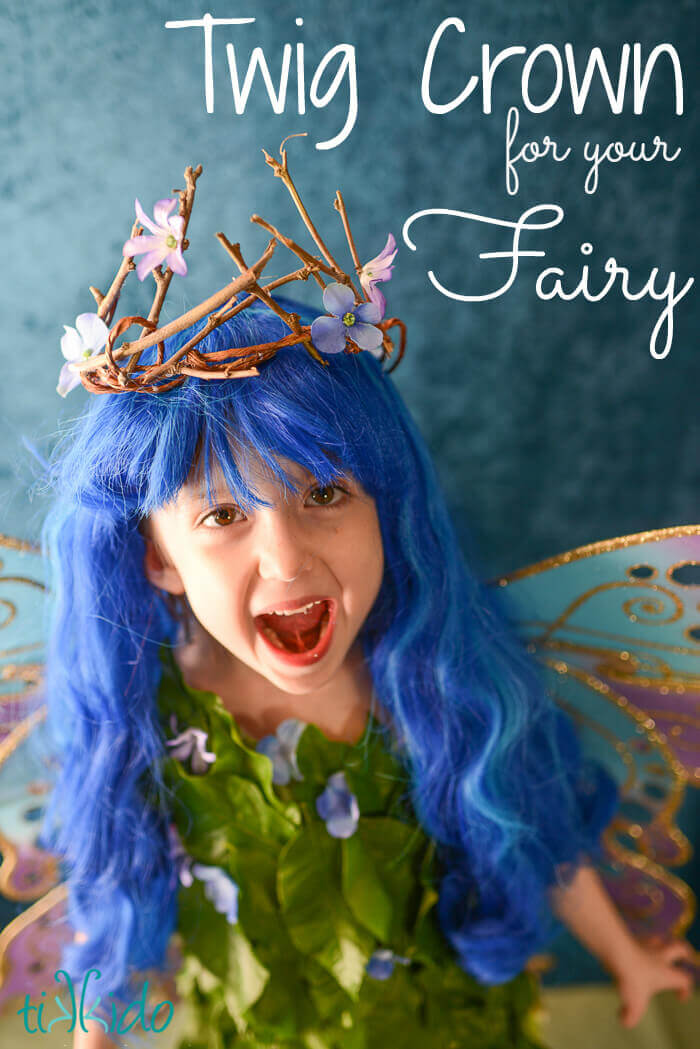 It only took a few minutes to put together, and used materials I had in the house (or outside the house, in the case of the twigs!)
How to Make a Flower Fairy Crown out of Sticks:
wire cutters
hot glue gun
twigs gathered from the yard
spray paint (optional)
silk flowers and rhinestones (optional)
Cut a length of craft wire made to resemble grape vines.  It should be about three times the measurement around the head the crown will sit on.  The grapevine wire is fabulous stuff--easy to work with, looks beautifully natural, and inexpensive.  Twist the cut length of wire into a circle the size of the wearer's head, and wrap the excess wire around, twisting and looping the wire as you go.  This creates a flexible, sturdy base for the rest of the twig crown.
Use the hot glue gun to attach small, broken twigs to the crown.  Arrange them however you think it looks good.  I added a light mist of gold tone spray paint at this point to match the gold accents on the fairy wings we used, but that's totally optional.  
Niamh specifically requested that she be a flower fairy, so I hot glued some inexpensive silk flowers in a random pattern on the crown of sticks.  A rhinestone glued in the center of each silk flower gave the silk blossoms a nice shape, and added that extra bit of fun sparkle my 5 year old loves.
My five year old daughter is predictably wiggly and bouncy, especially when she's excited (as she certainly was when she put on her fairy outfit!).  It's easy to use a few bobby pins to keep the crown perfectly in place for the duration of a party of trick or treating.  
And before we figured that out, we learned that this crown is incredibly durable, and can be tossed to the hard tile floor multiple times without any damage.  Always a good thing, when making costumes for kids!